This post may contain affiliate links. Click here to see what that means.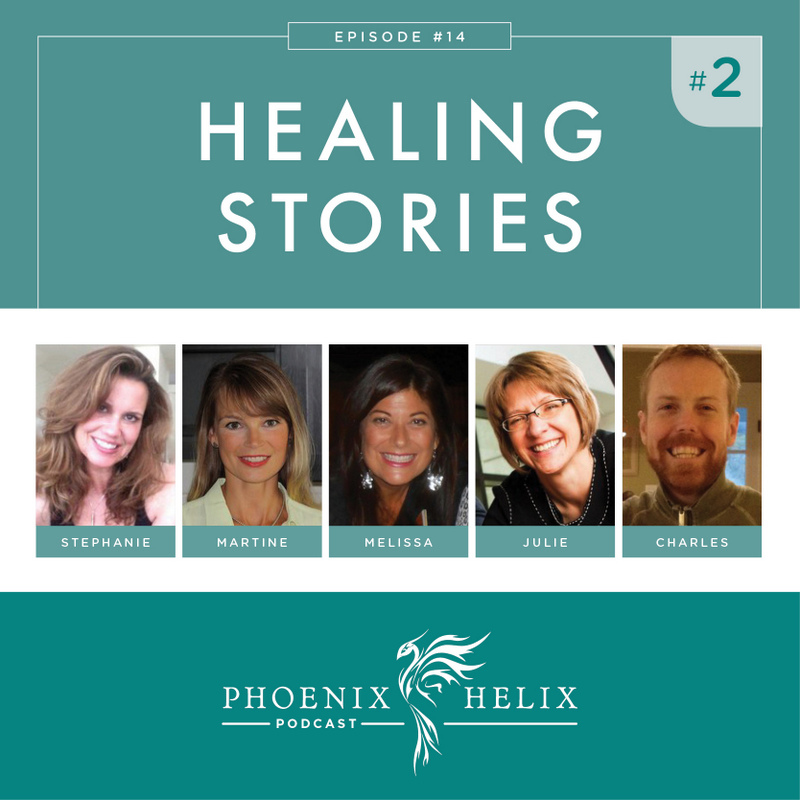 Real-Life Stories of Reversing Autoimmune Disease
The very first episode of this podcast was called Healing Stories. I shared my own journey, and interviewed four other people who had reversed their autoimmune disease through the paleo diet and lifestyle. What does that mean exactly? It means taking our health into our own hands and reclaiming abilities we thought we had lost forever.
In the introduction to every podcast, I say this, "While there is no cure for autoimmune disease, the choices we make every day can have a powerful impact on how we feel." There's nothing more inspiring than real-life examples, and Episode 1 remains the most popular episode. Today, I'm doing a sequel. I've interviewed five more people, each with a different autoimmune disease than was shared in Episode 1. Some have achieved a medication-free remission. Others have gone from near-death to a beautiful life through a combination of medication and the paleo lifestyle. There is no one definite of success. We celebrate every healing journey.
Listen to the Show
There are three ways to listen:
You can subscribe to my podcast through iTunes.
You can listen through Stitcher.
You can also listen to the episode right here through the play bar at the bottom of this post. If you subscribe to my blog by email, you'll got notified of future episodes.
Show Notes
Intro (0:00)
Stephanie's Healing Story (1:37)
Martine's Healing Story (12:48)
Melissa's Healing Story (28:27)

Melissa Wohlust has Myasthenia Gravis.
Her symptoms were mild for 18 years and controlled by medication (Mestinon).
Suddenly, she experienced a severe worsening of symptoms, which Mestinon couldn't address. At her worst, she couldn't walk or take care of herself. She needed help bathing and brushing her teeth. She had trouble breathing and was no longer able to read stories to her daughter at bedtime. She was bedridden for 18 months.
She was put on high doses of immunosuppressant and steroid medication, This did save her life. As a side effect, she developed Cushing's disease and gained 90 pounds in 4 months and developed fluid retention in her heart.
The AIP was the key to getting off the steroids, and she immediately lost 75 of the 90 pounds she had gained.
After one year on the AIP, her health has improved dramatically. She was able to chaperone her daughter's field trip to a wildlife preserve, which included a lot of walking. She's independent in self-care and no longer disabled. She needs to rest after periods of activity, but she has quality of life again. And she's reduced her medication substantially. At her worst, she took 36 pills a day. Now she's down to 8.

Julie's Healing Story (41:24)

Julie Stiles has type 1 diabetes and sarcoidosis.
Sarcoidosis is an autoimmune disease that causes the growth of inflammatory cells throughout the body. Julie's case was severe and impacted the function of every organ, putting her life in danger. She was put on heavy doses of steroids and immunosuppressants, which saved her life, but she worried about the long-term side effects of these medications.
She was diagnosed with type 1 diabetes at age 10, and started having sarcoidosis symptoms once she hit puberty. Whenever she had her period, she would become critically ill and have difficulty breathing, often needing to be intubated.
She started experimenting with diet as a teenager and discovered links to between food and autoimmune intensity. She eventually found herself following a diet very similar to The Wahls Paleo Plus Diet. She has since met Terry and feels like she met a kindred spirit.
Now, her life is significantly better. She has no trouble breathing and no fear of being hospitalized. She has energy for work and activities with friends and family. She has no need for steroid medication. Through a ketogenic diet, she has been able to lower her insulin dose from 100 units daily to 20. She occasionally has "off" days, but she has more good days than bad, and continues to feel better all the time.

Charles' Healing Story (52:09)

Charles Comey has ankylosing spondylitis (AS) and had (past tense) cardiomyopathy.
Charles had back, hip and leg pain for years before he received a diagnosis of AS. It eventually interfered with his ability to walk and left him in constant daily pain.
Around the same time, he was diagnosed with cardiomyopathy, and his doctor gave him a prognosis of a short life.
He started the No-Starch Diet and started feeling improvements within 2 weeks.
Now 3 years later, he is 100% symptom free and can engage in all physical activities without pain. His heart condition has disappeared, and tests show normal heart function. He takes no pain medication. He does take a low-dose beta blocker as a precaution for his heart.
Charles wrote an essay about his healing journey in The Point Magazine: A Plea for Human Food.

Summary (1:05:48)

If your diagnosis wasn't discussed today, please know that these stories still apply to you. Autoimmune diseases have much in common, which is why they are treated similarly by conventional medicine, and why the paleo diet and lifestyle works for so many.

Outro (1:06:25)
Spreading the Word
If you like the podcast, please leave a positive review in iTunes or Stitcher. It would mean the world to me, and also helps others find the podcast and learn about their potential for healing. Instructions using your iPhone: (1) Click the purple podcast icon. (2) In the lower right corner, click the magnifying class. (3) Type Phoenix Helix in the search box. (4) Click the podcast cover in the lower left. (5) Click the center tab: Reviews. (6) Click on the phrase: Write a Review. (7) Fill out the stars, title, and text for the review itself. (8) Click Send. (9) Thank you! Positive reviews give the podcast a higher search ranking in iTunes, helping people find it and letting them know it's a quality podcast and worth their time to listen.
Listen to the Show
There are three ways to listen:
You can subscribe to my podcast through iTunes.
You can listen through Stitcher.
You can also listen to the episode right here through the play bar at the bottom of this post. If you subscribe to my blog by email, you'll got notified of future episodes.
Podcast: Play in new window | Download
Subscribe: Apple Podcasts | Android | RSS
Have you checked out my books?