This post may contain affiliate links. Click here to see what that means.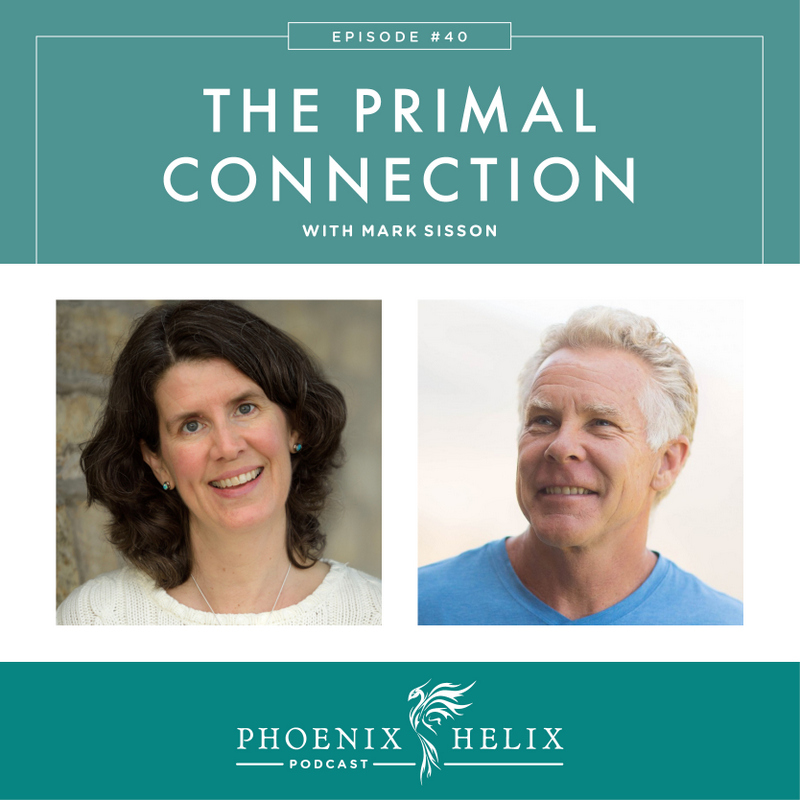 What Is The Primal Connection?
We have a special guest on the show today – Mark Sisson, the paleo leader and voice behind Mark's Daily Apple, and the author of many books including The Primal Connection. One of the things I've always loved about Mark's message is that health is about more than just food. It's about every aspect of life. The Primal Connection explores the disconnect between modern life and the life of our ancestors – how we live completely differently now. We can't go back in time, but we can learn from our past. Today, we talk about what aspects of ancestral living we can incorporate into our modern lives, and what we can gain from doing so, in terms of health and happiness.
Listen to the Show
There are three ways to listen:
You can subscribe to my podcast through iTunes.
You can listen through Stitcher.
You can also listen to the episode right here through the play bar at the bottom of this post. If you subscribe to my blog by email, you'll got notified of future episodes.
Show Notes
Intro (0:00)
Thank You to our Podcast Sponsor – Paleo on the Go (2:02)
Meet Mark Sisson (2:41)

Well-known leader of the paleo movement.
Voice behind Mark's Daily Apple.
Author of numerous books, including The Primal Blueprint, The Primal Blueprint Cookbook, N=1 Self-Experiment Journal and The Primal Connection.
Former endurance athlete turned health educator.
Pre-paleo, he suffered from arthritis, tendonitis, irritable bowel syndrome, acid reflux, hemorrhoids, and chronic pain. After switching to the paleo diet, all of those health problems disappeared. For him, grains are his biggest inflammation trigger.
A biology major in college, he's always been interested in science and health. As an adult, he was fascinated by evolution and epigenetics, which is what led him to the paleo diet.

Defining Epigenetics (7:34)

Our DNA is a set of genes whose goal is to build a healthy human being, although sometimes we inherit a vulnerability to disease. Epigenetics are the forces that turn our genes on and off – sometimes in a beneficial way, and sometimes in a harmful way. Our choices regarding diet and lifestyle are strong epigenetic influences, which is empowering because it means we aren't defined by our genes.

The Primal Connection Philosophy (11:42)

What are the expectations of these hunter-gatherer genes that we inherited? How can we meet those expectations for greater health and joy in the context of modern life?
The book is very practical. It describes how we're hardwired ancestrally, how modern life has disconnected from that behavior, and has practical tips and exercises to reconnect to our primal needs.

Inner Dialogue – How We Talk to Ourselves (16:01)

People average 50,000-70,000 thoughts per day, and most of those are repetitive, and too often they're negative.
Our brains evolved to be like a computer that's always on, assessing our environment for both danger and opportunity. 10,000 years ago, that kept us alive. Now, it keeps us stressed. In the past, the stress response was short-lived and interspersed with large periods of feeling peaceful. In modern-life, we stimulate the stress response all day every day, and it's very harmful to both our physical and mental health.
Primal Connection – Practice mindfulness, gratitude and awareness of the present moment. Create peaceful places between those negative thoughts.
Mark's recommendation: Go on a hike alone with no smartphone or ipod. It immerses you in nature and makes awareness of the present moment both easier and more enjoyable. If your health prevents hiking, you can do the same thing by sitting outside in nature.

The 10 Habits of Highly Successful Hunter Gatherers (31:11)

Take responsibility
Be selfish
Build a tribe
Be present
Be curious
Trust your gut
Pick your battles
Get over it
Sharpen your spear
Be affluent

Why Being Selfish Is Necessary (31:54)

"Being selfish does not mean valuing yourself above all others. It means being as generous with yourself as you are with others. If you believe all people should be protected, nurtured, loved, and filled with joy, then recognize that you are a person, too, deserving of all those things as well." ~ quote from The Primal Connection

The Wisdom of Getting Over It (35:27)

Life is 10% what happens to us and 90% how we deal with it.
Traumas and tragedies happen every day, and there are people who overcome them and people who carry them, feeling like a victim to that event.
Regret, bitterness and resentment are all toxic feelings that release a cascade of stress hormones throughout our bodies that become epigenetic triggers for inflammation and illness.
Forgiveness isn't necessarily easy, but it's the best gift we can give ourselves. Like anything, it's a skill that we can learn through practice, starting with small acts of forgiveness and working our way up to larger ones – forgiving not only others but ourselves as well.
If you have suffered childhood trauma, listen to Episode 24 of this podcast, where I interview the author of Childhood Disrupted on the impact this has on your likelihood to develop autoimmune disease as well as techniques to heal those traumas.
EMDR is a therapy that's a very effective treatment for PTSD.

Reconnecting With a Body That Has Autoimmune Disease (41:26)

People with autoimmune disease often disconnect from their bodies either out of anger at feeling betrayed by our bodies, or simply because it hurts to much to be present in a body that's sick. However, the fact is that we are one with our bodies. We can't truly separate, and part of healing is connecting to and loving our bodies into health.
We are wired for touch, and it releases beneficial hormones throughout our bodies that are epigenetic triggers for health. Collect hugs, get a pet, get a massage, hold hands, snuggle, have sex, go barefoot through the grass. Balance the painful feelings with pleasurable ones.
Petra from the blog petra8paleo has written a great article on how autoimmune disease often changes a sexual relationship but how it shouldn't halt the intimacy altogether: 3 Steps for Hacking Sexuality.

Mark's Own Self-Experiments for Health (48:11)

He used to love 2 glasses of wine with dinner and published research on his blog that supported this as healthy behavior. But he knew that alcohol is a toxin in the body, so he decided to do a personal test. He gave up wine for a month and noticed his sleep improved. Now 2 years later, he only has wine on special occasions and he chooses "paleo wines"  – ones without additives.
Marks is a big proponent of n=1 self-experimentation and has published a journal where people can record their process and results.

Primal Kitchen Franchises – Coming Soon (52:21)

Approximately 15 locations are scheduled to open within the next 18 months.
Mark himself is opening the first location in Studio City, CA.
Keep track on their website: Primal Kitchen Restaurants.
They will have an AIP-friendly menu. Woot woot!

Outro (55:35)
Spreading the Word
If you like the podcast, please leave a positive review in iTunes or Stitcher. It would mean the world to me, and also helps others find the podcast and learn about their potential for healing. Instructions using your iPhone: (1) Click the purple podcast icon. (2) In the lower right corner, click the magnifying class. (3) Type Phoenix Helix in the search box. (4) Click the podcast cover in the lower left. (5) Click the center tab: Reviews. (6) Click on the phrase: Write a Review. (7) Fill out the stars, title, and text for the review itself. (8) Click Send. (9) Thank you! Positive reviews give the podcast a higher search ranking in iTunes, helping people find it and letting them know it's a quality podcast and worth their time to listen.
Listen to the Show
There are three ways to listen:
You can subscribe to my podcast through iTunes.
You can listen through Stitcher.
You can also listen to the episode right here through the play bar at the bottom of this post. If you subscribe to my blog by email, you'll got notified of future episodes.
Podcast: Play in new window | Download
Subscribe: Apple Podcasts | Android | RSS
Have you checked out my books?