This post may contain affiliate links. Click here to see what that means.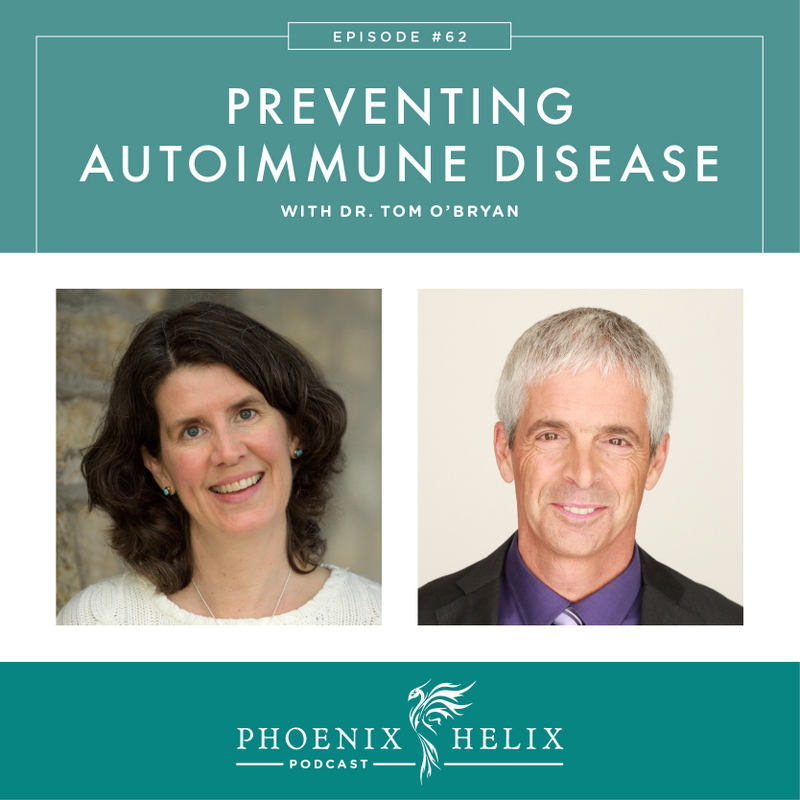 Identifying Yourself on the Autoimmune Spectrum

I have rheumatoid arthritis – a diagnosed autoimmune disease, and most of my readers have autoimmune diagnoses as well. But what if you have symptoms with no known cause? You've gone from doctor to doctor, and they simply tell you: "Your lab tests are normal." While in some ways this is good news, it can also be incredibly disheartening. You have no answers and no direction about what to do next.  Dr. Tom O'Bryan is an expert on the development of autoimmune disease, and he writes about the autoimmune spectrum. The autoimmune process begins in our bodies long before enough damage has occurred to warrant a diagnosis. His goal is to help people intervene at this point (or even before they have symptoms) and prevent autoimmune disease before it takes hold. That's what today's podcast is all about.
Listen to the Show
There are three ways to listen:
You can subscribe to my podcast through iTunes.
You can listen through Stitcher.
You can also listen to the episode right here through the play bar at the bottom of this post. If you subscribe to my blog by email, you'll got notified of future episodes.
Show Notes
Intro (0:00)
Thank You to Our Podcast Sponsor – Paleo on the Go (2:11)
Meet Dr. Tom (2:52)
Health Education in Baby Steps (6:07)

Dr. Tom recommends people dedicate 1 hour per week to learn more about health. It can be reading articles, listening to podcasts, reading a chapter in a book, reviewing a pubmed study. Pace yourself, and little by little, you will become your own best health advocate.

What Happens After a Gluten Exposure? (7:05)

If you have a wheat sensitivity, you can't reap the benefits of a wheat-free diet unless you give it up 100%. One tiny gluten exposure can create antibodies that can last for up to 6 months. Each of us has a different genetic weak link where those antibodies will attack. For rheumatoid arthritis it's the joints, for celiac it's the intestines, for Hashimoto's it's the thyroid, etc. If we "cheat" on our diets, we keep inflammation and autoimmune risk active.
Articles on Gluten Sensitivity and Autoimmune Disease:

What Is the Autoimmune Spectrum? (11:36)

Autoimmune disease develops for years before diagnosis. When you have elevated antibodies but no symptoms, or you have symptoms that aren't severe enough to lead to an autoimmune diagnosis, you are on the spectrum and at risk for developing autoimmune disease.
In The Autoimmune Fix, there's a medical symptoms quiz. We often dismiss negative symptoms as a "sign of getting older", but we are meant to have good health as we age. Just because things like fatigue, brain fog, and inflammation are all common, does not mean that those symptoms are normal.
If you'd like to test for antibodies, Dr. Tom recommends the Cyrex Array 5, which can be ordered through his website. When he took this test back in 1997 prior to going paleo, he had elevated antibodies to his brain. That was a wake up call for him.
Research articles:

Lupus research that showed elevated antibodies up to 9 years before diagnosis.
Cancer might have an autoimmune component.
Heart disease might have an autoimmune component.

Phase 1 of Dr. O'Bryan's Diet: No Wheat, Sugar or Dairy (23:23)
The Most Common Mistake People Make When Going Gluten-Free (34:03)

Eating gluten-free versions of the same food. While they don't contain wheat, they contain no nutrition either. They also contain additives that can be hard on an autoimmune body, and can be contaminated with gluten unknowingly. Eat real food instead – grassfed meats, wildcaught seafood, vegetables and healthy fats. Shop the perimeter of the grocery store rather than the aisles.

Gluten Cross-Contamination (37:35)

FDA Survey into gluten-free foods shows gluten contamination is common in foods often thought to be naturally gluten-free, especially if it's a packaged food. Oats are the most commonly gluten-contaminated ingredient. Always look for a certified gluten-free label.
Quinoa is a naturally gluten-free grain from Peru, but now some strains are farmed in the United States, and a study found that 4 of 15 strains of quinoa contained traces of gluten.
Glutenza – a gluten-digesting enzyme that can help in restaurants when you're at risk for exposure. This doesn't make gluten safe to consume in large quantities but can help minimize inflammation from cross-contamination.
Resource articles:

Should You Get Tested for Celiac Disease Before Going Gluten-Free? (48:27)

Dr. Alessio Fasano believes you should.
Dr. Tom believes that celiac disease is just one manifestation of an autoimmune reaction to gluten, so as a test it shouldn't be prioritized over others. If you want to get tested prior to going gluten free, he recommends a complete wheat sensitivity panel – Cyrex Array 3 (which includes a test for celiac antibodies.) Resource article: The Conundrum of Gluten Sensitivity and Autoimmunity. However, he also believes testing is optional. Doing an elimination/provocation test with gluten can let you know if you have a problem with wheat as well.

Phase 2 of Dr. Tom's Diet: AIP (52:27)

If people don't see beneficial results giving up gluten, dairy and sugar within 3 weeks, Dr. Tom recommends they progress to phase 2 of his protocol, which is a version of the Paleo Autoimmune Protocol.

What's Dr. Tom's Personal Diet (54:26)

He is 100% gluten-free and follows a paleo template, with the addition of white rice a few times per week, and a gluten-free blueberry muffin once every few months. He doesn't have autoimmune disease himself, but did find himself on the spectrum before changing his diet.

Dark Chocolate as Part of a Healing Diet (55:01)

Dr. Tom believes a square of dark chocolate a day is both beneficial to health and delicious. His technique for getting the benefits of chocolate without being tempted to overeat: Take a square of high-quality dark chocolate and lay it on or underneath your tongue. Don't let it touch your teeth. It will dissolve over the course of 2-3 minutes. This activates the release of endorphins (the feel good hormones) in a way that's uplifting and satiating. People rarely want more than 2 squares.
Resources:

Outro (58:30)
Spreading the Word
If you like the podcast, please leave a positive review in iTunes or Stitcher. It would mean the world to me, and also helps others find the podcast and learn about their potential for healing. Instructions using your iPhone: (1) Click the purple podcast icon. (2) In the lower right corner, click the magnifying class. (3) Type Phoenix Helix in the search box. (4) Click the podcast cover in the lower left. (5) Click the center tab: Reviews. (6) Click on the phrase: Write a Review. (7) Fill out the stars, title, and text for the review itself. (8) Click Send. (9) Thank you! Positive reviews give the podcast a higher search ranking in iTunes, helping people find it and letting them know it's a quality podcast and worth their time to listen.
Listen to the Show
There are three ways to listen:
You can subscribe to my podcast through iTunes.
You can listen through Stitcher.
You can also listen to the episode right here through the play bar at the bottom of this post. If you subscribe to my blog by email, you'll got notified of future episodes.
Podcast: Play in new window | Download
Subscribe: Apple Podcasts | Android | RSS
Have you checked out my books?