This post may contain affiliate links. Click here to see what that means.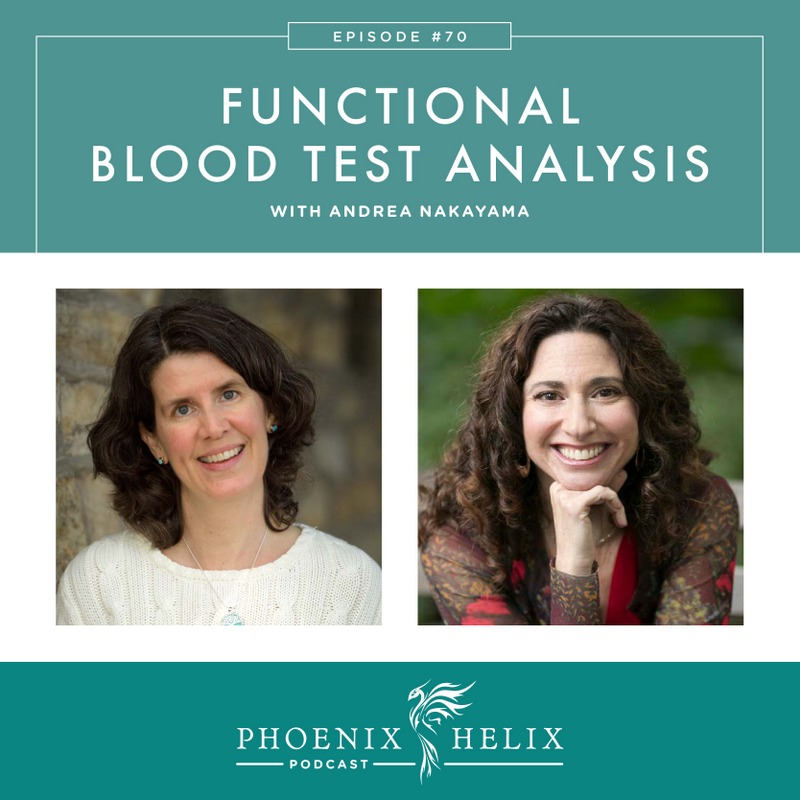 Reading Lab Results with a Functional Medicine Eye

When we think of functional medicine testing, we often think of expensive tests not covered by insurance. But there's actually a lot we can learn from the regular bloodwork commonly ordered through our conventional doctor's office. Andrea Nakayama is a world-renowned Functional Nutritionist, educator and speaker, whose mission is to change the way we do healthcare by empowering patients to reclaim ownership over their own health. In today's podcast episode, she walks us through two blood tests that are very common: a CBC with Differential and a Complete Metabolic Panel, and tells us how she interprets these from a functional perspective.
Listen to the Show
There are three ways to listen:
You can subscribe to my podcast through iTunes.
You can listen through Stitcher.
You can also listen to the episode right here through the play bar at the bottom of this post. If you subscribe to my blog by email, you'll got notified of future episodes.
Show Notes
Intro (0:00)
Thank You to Our Podcast Sponsor – Paleo on the Go (2:32)
Meet Andrea (3:45)
Self-Assessment Before Lab Testing – The 3 Tiers of Epigenetic Mastery (9:40)

Don't underestimate the power of tuning into your body. There's so much we can learn and improve before ever turning to a lab test.
Andrea teaches a 3-Tier approach to working with clients (listed below). Often, doctors and patients want to jump straight to Tier 3, when those interventions will be much more successful (and sometimes aren't even needed), when the other tiers are addressed first:

Andrea's Baseline Lab Testing Wish List (Tier 2) – (24:52)

Complete Blood Count (CBC) with Differential
Complete Metabolic Panel
Complete Thyroid Panel: TSH, Free T3, Free T4, Reverse T3, TPO antibodies and TgAB antibodies
C-Reactive Protein and Sedimentation Rate (inflammation markers)
25-Hydroxy Vitamin D
Homocysteine (provides information on folate levels)
Methylmalonic Acid (provides information on B12 action)
Complete Lipid Profile: Cholesterol (LDL & HDL) and Triglycerides
Complete Iron Panel: Iron saturation, Ferritin, Transferrin and TIBC
If possible, serum MTHFR
*These are all blood tests, and many are common ones ordered by doctors and covered by insurance. You can request the other tests, and if your doctor refuses, you can still gain a lot of information from the most basic bloodwork. If you want the full wish list, you can order those extra tests independently through Direct Labs.

What Is Functional Analysis? (36:53)

Looks at the whole person and how systems interact.
Seeks to find root causes of illness.
Works in partnership with the patient.
On a lab report, you'll see an H or an L if the lab has identified something as pathologically out of range. These lab ranges actually vary based on the location of the lab and what is "average" for that area. So, you could get a "high" result from one lab and a "normal" result from another. These are the results that will get your doctor's attention.
In functional analysis, practitioners look at how the results reflect optimal health or hint at imbalances. It's as much an art as a science. Andrea cannot teach us all that she's learned in years of practice, but she can give us an overview. The functional lab ranges she is sharing don't mean a diagnosis. Instead, they're information that can help guide your healing journey. Lab tests are just a snapshot in time, and they're nothing to fear; trends that continue to show up on these tests over time are more powerful indicators than one elevated result. A skilled practitioner looks at these results in combination with your health history to prioritize treatment. Andrea uses these results to choose specific functional medicine tests unique to each patient, rather than ordering a battery of tests for all patients.

CBC with Differential (39:43)

The Complete Blood Count (CBC) looks at your white blood cells (immune cells) and red blood cells (information carriers). The Differential breaks this down into different types.
White blood cells (WBC): a healthy functional range is between 5 and 8. Higher then that indicates a possible infection. Lower than that indicates a depressed or suppressed immune system.
We have 5 different kinds of white blood cells. They perform unique functions and are meant to exist in our body in certain percentages. Neutrophils are the highest percentage and their functional range is between 40-60%. Higher than that can indicate acute infection or acute inflammation.  Lymphocytes' functional range is 25-40%. Higher than that can indicate either acute or chronic issues, such as viruses, autoimmunity or detoxification challenges. Monocytes' functional range is between 0-7%.  Higher than that can indicate liver dysfunction, prostate problems, or the process of recovering from an infection.  If they stay elevated for an extended period of time, that's a possible indication of Epstein Barr virus. Eosinophils' functional range is between 0-3%. Higher than that can indicate food sensitivities, environmental allergies, or parasites. Basophils' functional range is 0-1%. Higher than that can indicate histamine intolerance.
Unusual red blood cell results can sometimes indicate dehydration, and drinking more water might normalize those results.

Complete Metabolic Panel (49:29)

Fasting glucose functional range is between 76-88. Higher than that can indicate blood sugar issues.
BUN speaks to protein metabolism.
AST and ALT (or SGOT/SGPT) are your liver enzymes. Their functional range is between 15-26. Lower than that can indicate magnesium or B6 deficiency. Higher than that can indicate liver inflammation or detoxification challenges.

Outro (1:00:38)
Spreading the Word
If you like the podcast, please leave a positive review in iTunes or Stitcher. It would mean the world to me, and also helps others find the podcast and learn about their potential for healing. Instructions using your iPhone: (1) Click the purple podcast icon. (2) In the lower right corner, click the magnifying class. (3) Type Phoenix Helix in the search box. (4) Click the podcast cover in the lower left. (5) Click the center tab: Reviews. (6) Click on the phrase: Write a Review. (7) Fill out the stars, title, and text for the review itself. (8) Click Send. (9) Thank you! Positive reviews give the podcast a higher search ranking in iTunes, helping people find it and letting them know it's a quality podcast and worth their time to listen.
Listen to the Show
There are three ways to listen:
You can subscribe to my podcast through iTunes.
You can listen through Stitcher.
You can also listen to the episode right here through the play bar at the bottom of this post. If you subscribe to my blog by email, you'll got notified of future episodes.
Podcast: Play in new window | Download
Subscribe: Apple Podcasts | Android | RSS
Have you checked out my books?