This post may contain affiliate links. Click here to see what that means.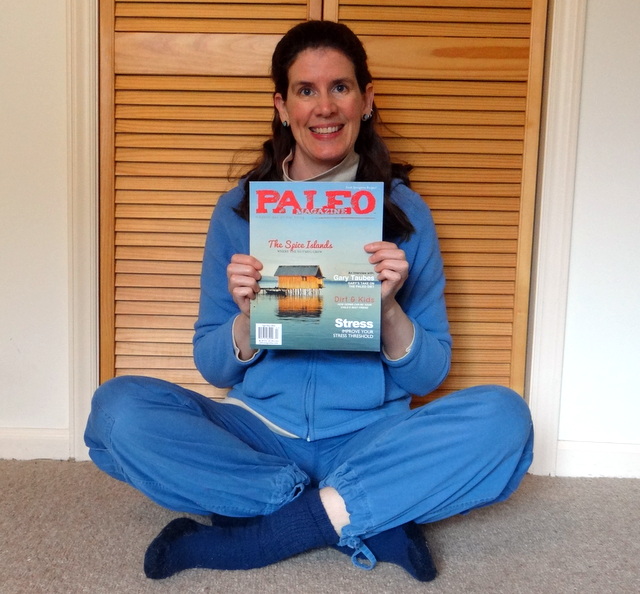 "In the long history of humankind (and animal kind too) those who learned to collaborate and improvise most effectively have prevailed."
~ Charles Darwin
---
Autoimmune Answers
Do you have a subscription to Paleo Magazine? If so, I want you to turn to page 68 right now. That's my first column of many. I'm so excited, both for myself and for the paleo community, because information and support for autoimmune healing is growing by leaps and bounds. Cain Credicott, the editor of the magazine, has celiac disease himself, so he knows personally the powerful effect the paleo lifestyle has on health. I'm honored to join a very talented group of people already writing regular columns for the magazine, including: Liz Wolfe, Amy Kubal, Melissa Joulwan, and Adam Farrah. This is a "pinch me" moment.
How Many Zzzzzzz's Does It Take To Reduce Inflammation?
In each issue, I'll be focusing on an important aspect of autoimmune healing. Here's a sneak peek of my first column:.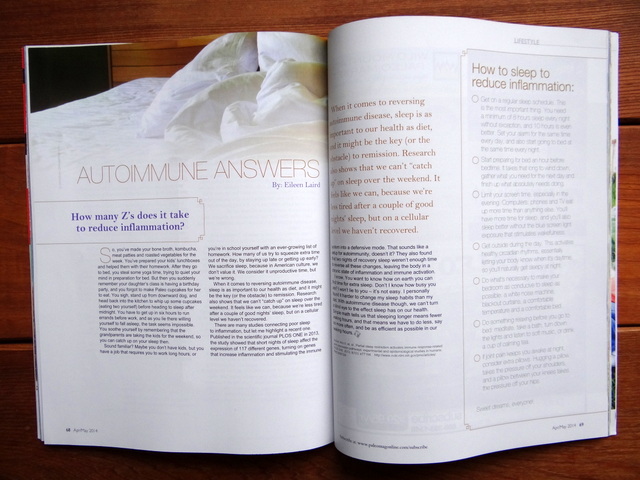 "When it comes to reversing autoimmune disease, sleep is as important to our health as diet, and it might be the key (or the obstacle) to remission. Research also shows that we can't "catch up" on sleep over the weekend. It feels like we can, because we're less tired after a couple of good nights' sleep, but on a cellular level we haven't recovered." ~ Eileen Laird
Why a Print Magazine?
It almost seems old-fashioned, doesn't it? But sometimes the body just craves holding a book or magazine in your hand and flipping the pages. Apparently, we even absorb information differently that way. Paleo Magazine is gorgeous: full of great content and beautiful photography. I also like the idea of the magazine appearing on coffee tables and waiting rooms nationwide, as a subtle education for friends, family, and neighbors about the healing possibilities of the paleo lifestyle. There are many digital paleo magazines, but this is the only one in print.
Healing Happens

You know the phrase, "A picture is worth a thousand words?" Look again at the photo of me at the top of this post. Sitting like that would have been impossible for me before starting my paleo journey. Two years ago, my rheumatoid inflammation was so high, that sitting cross-legged would have been excruciatingly painful for my hips, knees, ankles and feet. One year ago, I was in less pain, but still hadn't regained my flexibility. Every month, I feel the inflammation in my body recede further and further, and now, sitting in that position is totally comfortable. How cool is that? Healing happens, people! And that's why I'm excited about this opportunity. Blogging is still my first love, and I will continue to write weekly articles here. The magazine is another beautiful way to spread the word about autoimmune healing.
~~~
Have you checked out my books?