This post may contain affiliate links.
Click here
to see what that means.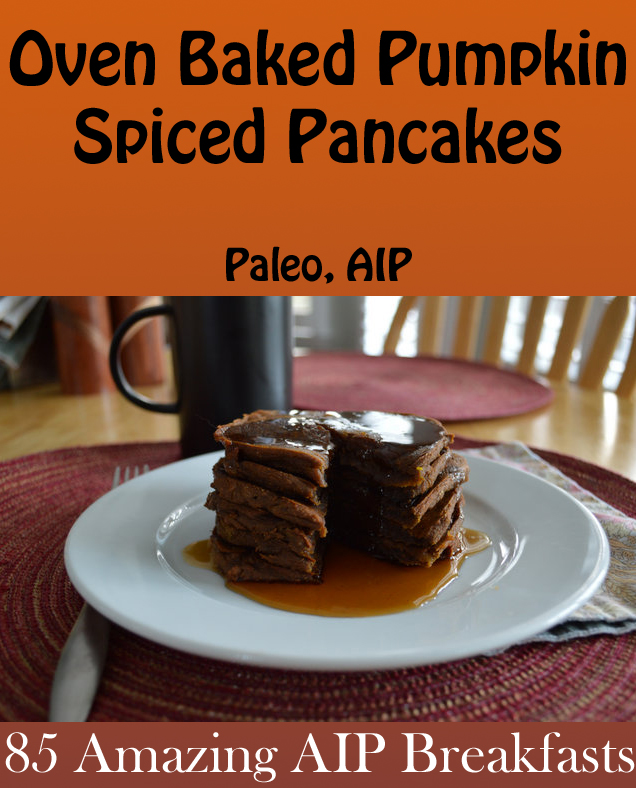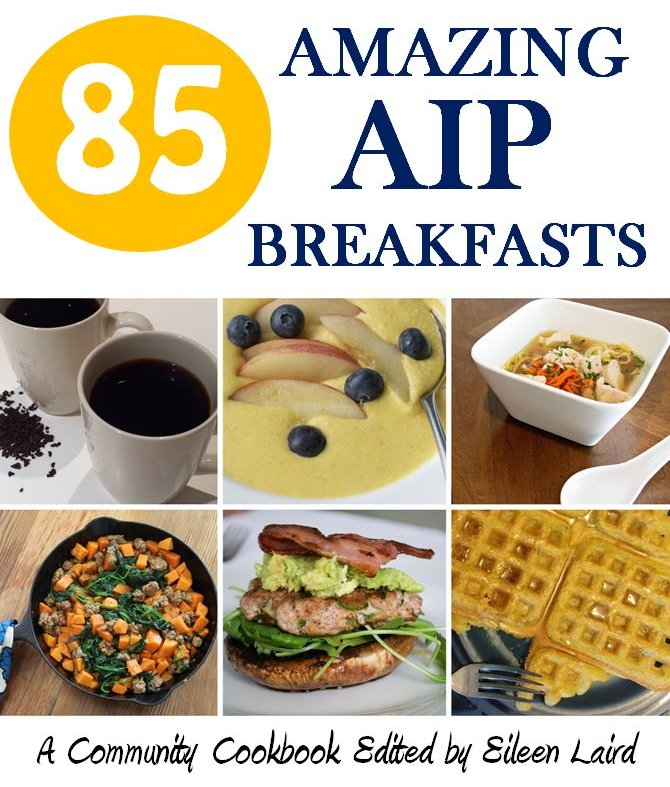 ---
"When you wake up in the morning, Pooh," said Piglet at last,
"what's the first thing you say to yourself?"
"What's for breakfast?" said Pooh. "What do you say, Piglet?"
"I say, I wonder what's going to happen exciting today?" said Piglet.
Pooh nodded thoughtfully. "It's the same thing," he said."
~ A.A. Milne
---
Happy New Year!
Are you starting the Paleo Autoimmune Protocol today? Otherwise known as the AIP? Two years ago on January 1, 2013, I started the AIP and it transformed my health. There's something about the "fresh start" feeling of a new year that helps a lot of us jumpstart a big change. I have good news for all of you who are doing that today: a cookbook to make that change much easier. For those of you who are AIP veterans, this cookbook is here to spruce up your mornings and bust through breakfast boredom.
What On Earth Can I Eat For Breakfast?
With grains, dairy and eggs removed from your diet, it's natural to feel overwhelmed with one question flashing through your mind: "What will I eat for breakfast?" This e-cookbook answers that question 85 delicious ways. Two years ago, I scoured the web to locate AIP breakfast ideas for myself, and the pickings were slim. Times have changed, my friends! More and more people have embraced this protocol as a way to reverse their autoimmune disease, and they're creating some delicious recipes. This cookbook is my baby, but I asked 25 other AIP bloggers to contribute their best recipes, and here are the results:
The Cookbook Details
85 Recipes in the Following Categories: Beverages, Bowls, Soups, Skillets, Patties and Pancakes. To get your taste buds tantalized, here are a few examples: Herbal "Coffee", Ginger Peach Smoothie, Creamy Grain-Free "Porridge", Sweet Potato Beef Curry, Roasted Vegetable Chicken "Noodle" Soup, Thyme Blueberry Pork Patties, Plantain Waffles, and more.
Paleo Approach Approved: What does that mean? Sarah Ballantyne is the leading expert on the AIP, and she looks at AIP resources to make sure they follow the correct version of the protocol. Those that do receive the TPA badge, so you know you can trust the recipes.
Special Diet Modifications: Over half the recipes in the book can easily be modified for SCD/GAPS, Low-FODMAP, Low-Histamine and Coconut-Free diets. We've included charts to make these modifications easier.
It's an e-Cookbook: That means it's available to purchase worldwide. It's also formatted on 8-1/2×11 paper, so it's easy to print, if you prefer a hardcopy.
The Work of 26 AIP Bloggers: Every recipe in this book has been created for the AIP, by people who have followed the protocol to reverse their own autoimmune disease and reclaim their health.
Edited by Me (Phoenix Helix): If you like my blog, you will love this cookbook. I spent the past four months making it the best it could be.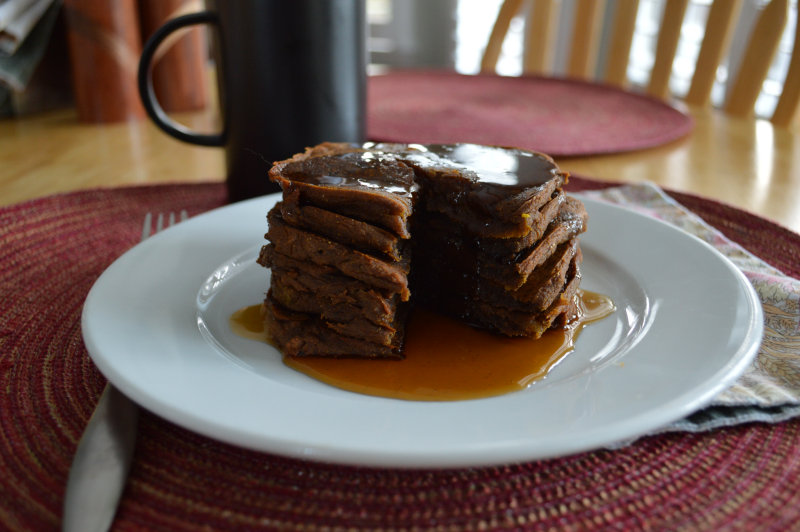 Sample Recipe
Recipe and photo by Jaime from Gutsy by Nature
Print
Oven Baked Pumpkin Spiced Pancakes (Paleo, AIP)
Author:
Prep Time:

10 minutes

Cook Time:

25 minutes

Total Time:

35 minutes

Yield:

6 pancakes

Category:

Treats

Method:

Oven
Instructions
Preheat oven to 350°F and line a cookie sheet with

parchment paper

or a

silicone mat

.

Dissolve the gelatin in the hot water and mix well.

In a

food processor

or

high speed blender

, puree dates, pumpkin, coconut oil, apple cider vinegar, and the gelatin and water mixture until smooth.

Add sweet potato flour, baking soda, salt and cinnamon. Puree again until all ingredients are well combined (the batter will be thick – more like a cake than a traditional pancake).

Make six roughly equal size pancakes on the cookie sheet – spreading them out so that each one is about 1/4 inch thick.

Bake for 25-30 minutes, or until they hold together when you gently slide a spatula under them and try to move them.

Serve with desired topping or eat plain.
Keywords: paleo, aip, oven baked pumpkin spiced pancakes
Other Books in the Paleo AIP Community E-Cookbook Series
Update ~ the Giveaway has Ended
Ten winners were chosen with Rafflecopter on 1/8/15. They've all been contacted to receive their prize. If you didn't win, don't despair. This e-cookbook is just $12.95 and worth every penny. You can purchase a copy here.