This post may contain affiliate links.
Click here
to see what that means.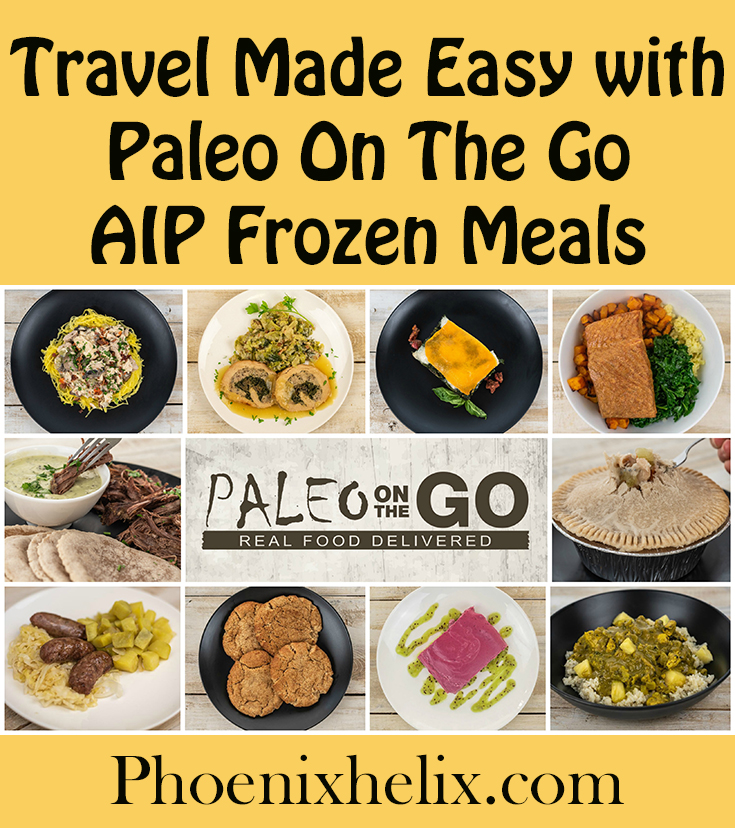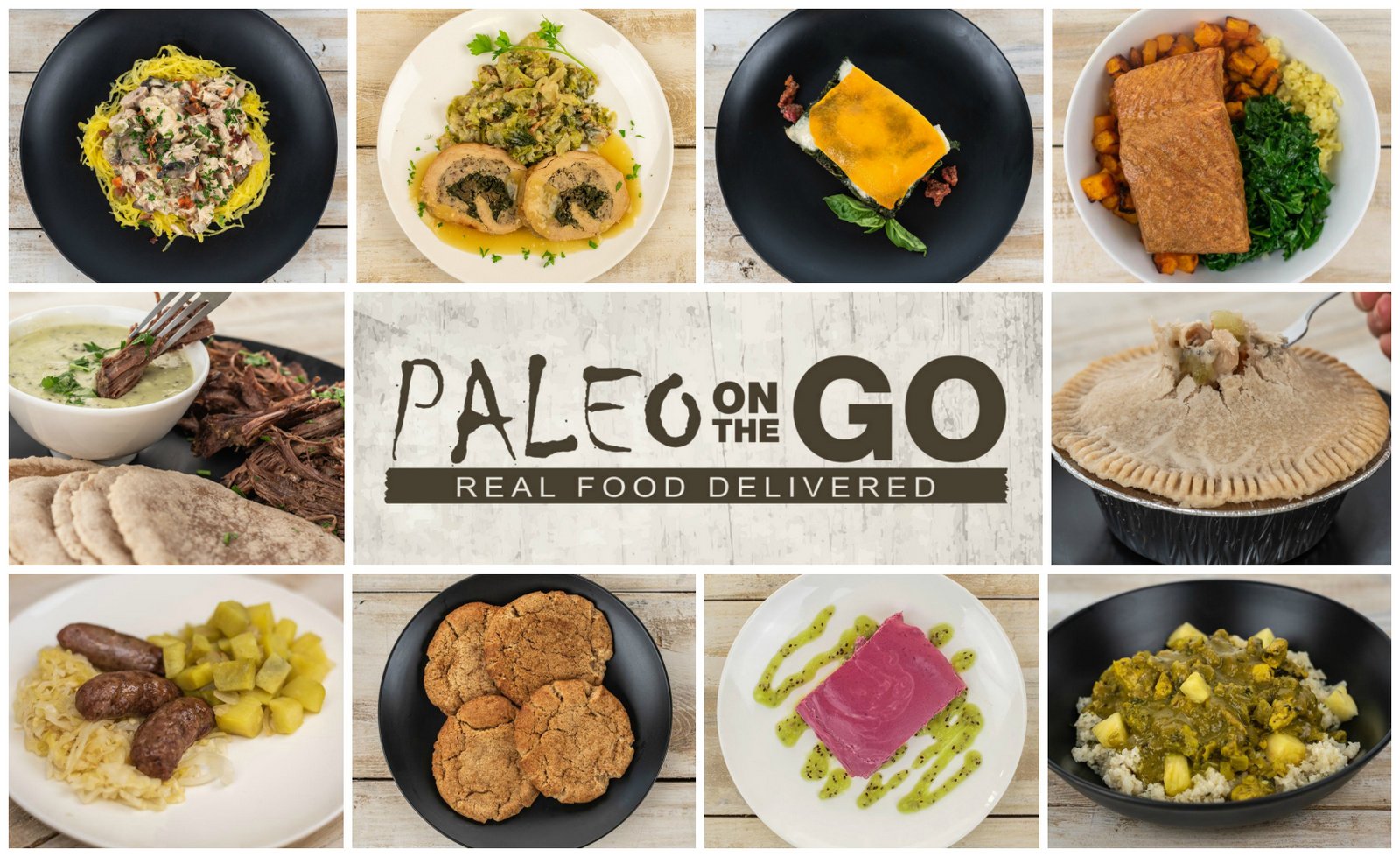 "A vacation is having nothing to do and all day to do it in."
~ Robert Orben
---
Travel Made Easy
I've been on a healing diet for 3 years, and I've done a lot of traveling. You can read my tips for Paleo AIP Road Trips (including restaurant advice) and Airplane Travel on the AIP. All of my past trips have included a LOT of cooking. Let's face it: part of the fun of vacation is the relaxation, and it's hard to relax when you're constantly trying to source and prepare healthy and safe food. I have often fantasized about going off-diet on vacations, and if my autoimmune reactions were milder, I might be tempted. But going off-diet is a quick recipe for pain, so I do what's necessary to feel good when I'm away from home.
But my last trip was different. On the advice of one of my blog readers, I brought along Paleo On The Go AIP Frozen Meals. Oh my – it made everything soooo much easier! I almost forgot vacations could feel like that. I still cooked a little, but not constantly.
My Choices
Paleo on the Go sells entrees, side dishes and even bone broth, so I could have purchased all of my food for my vacation. However, I'm on a budget, so I simply purchased the dinner entrees. That alone made a huge difference. I traveled by car, so I brought a cooler of Breakfast Soup in mason jars, ate salads with high-omega tuna for lunch, and picked up some frozen vegetables for my dinner side dish.
I chose 6 entrees from Paleo on the Go's Autoimmune-Friendly Menu, and they totally surpassed my expectations. I was expecting "frozen meals" – something to sustain me, but not anything truly delicious. These meals were far better than any frozen meal I've ever had. They compare much more closely to restaurant meals or home cooking. And the miracle to me is that they fit my healing diet. They are Paleo Approach Approved, which means they meet the restrictions of the Paleo Autoimmune Protocol. Here's what I bought:
Shepherd's Pie – A savory casserole of grass-fed ground beef and beef heart, bone broth and a variety of vegetables. It comes topped with mashed cauliflower and is a generous serving. Don't let the beef heart scare you away. This is seriously delicious with no "weird organ" flavor. It's a great way to up your nutrient-density without fear. It's also cooked perfectly – silky soft cauliflower on top, yet the carrots in the meat mixture still have a nice "bite". This was my favorite of the 6 entrees, and it's every bit as good as I could make at home.
Herb Roasted Chicken – Crispy skin, juicy interior, packed with flavor. What more could anyone ask? Confession – I don't roast chicken at home, because I hate cleaning my oven and the fat always seems to splatter everywhere. So, this was a real treat for me! Note: Once the chicken was reheated and ready to eat, I broiled it for just a few minutes to get the crispy skin.
Elk Burger with Wild Mushrooms – If you love mushrooms, you will love this dish. The meat, mushrooms, and sauce all blended into a wonderful, earthy flavor. The only thing to note is that whereas most Paleo on the Go meals just need to be reheated, this one needed to be cooked a little bit. I think the company is careful that their food isn't overcooked in the reheating process. I like my burgers medium. Without cooking, this one was rare.
Citrus Ginger Salmon – This was my least favorite of my meals, but let me clarify: it wasn't bad. It was just a little bland. It was still far better than a typical frozen meal. There was no fishy smell or flavor. The texture was flaky. The portion was moderate (smaller than the other meals, but still ample.) It was good for a frozen meal, but not as good as the rest.
Savory Apple and Cabbage Pork – This isn't the prettiest meal, but it's very hearty. Classic comfort food.
Thai Chicken Soup – Tom Kha Gai – A huge bowl of soup, made with ingredients I don't have in my home kitchen (lemongrass and kaffir lime leaves). I really enjoyed the new flavors. This was my second favorite meal, and I would call it restaurant-worthy.
Update 2019 – It's now been 4 years since I first wrote this review, and I continue to take Paleo on the Go meals with me whenever I travel. Chef Ann has been their executive chef that entire time, and she loves getting creative in the kitchen. For that reason, their menu is always changing to keep things fresh and feature seasonal ingredients. This means that none of the meals I first tried back in 2015 are on their current menu, but a whole host of new delicious items are. The photo at the top of this post includes some of my current AIP favorites. Clockwise from top left: Turkey Tetrazzini, Stuffed Pork Loin with Creamy Brussels Sprouts, Spinach and Mushroom Beef Lasagna, Smoked Salmon Breakfast Bowl, Chicken Pot Pie, Pineapple Chicken Curry Over Cilantro Lime Riced Cauliflower, Raspberry Cheesecake with Kiwi Sauce, Snickerdoodles, German Brats with Sauerkraut and Home Fried White Sweet Potatoes, and Grass Fed Beef Taco Kit with Salsa Verde.
What to Expect If You Order

Expect really delicious food. As you can see from my review above, only one meal was "just okay" by my standards. The rest were every bit as good as a restaurant or homemade meal (and I'm a good cook – that's a high compliment from me.)
The containers are food-grade and BPA-free. This is true for both the vacuum seal bags and plastic trays. They are also both classified to be heat-safe. You can simmer the bags in boiling water, or reheat the trays in the oven or microwave. Alternately, you can defrost and transfer to non-plastic containers to reheat (which is what I did).
They keep in the fridge for 3 days or in the freezer for 6 months. They are shipped with dry ice, so they arrive frozen.
The meals are prepared in a dedicated gluten-free kitchen. This is new, which is great news for celiacs! Paleo on the Go was always careful with their sanitation measures, to ensure no cross-contamination occurred when preparing their meals. But when companies share a commercial kitchen, they need to list what other types of foods are prepared in that facility. Wheat is no longer on the list. Woot woot!
The meals are designed with the AIP in mind. I've seen other frozen meal delivery services offer "AIP" meals, but when I looked at the ingredients, it appeared they had simply removed all seasoning from their regular recipes, leaving bland food behind. This is a HUGE pet peeve of mine. Just because we're on a restricted diet doesn't mean we don't deserve delicious food. Paleo on the Go created their AIP-friendly menu especially for this protocol. That's why in my review, I commented (with delight) that their meals are packed with flavor.
You can find all the ingredients on their website. I love this, because I won't eat something if I don't know what's in it. Click on the photograph for each meal, and it will take you to a page with the full list of ingredients.
The AIP menu is Paleo Approach Approved. Just because a recipe (or a company) claims something is AIP, doesn't mean it is. Not everyone is educated on the protocol. Sarah Ballantyne (aka The Paleo Mom) worked with Paleo on the Go to be sure their AIP menu really is AIP.
They have a wide variety of choices. When I first wrote this review back in 2015, they had 20 items on their AIP menu. They continued to expand their AIP offerings over the years, and in 2019 they decided to make everything they sell compliant with the elimination phase of the paleo autoimmune protocol. How cool is that?! Over 70 items including entrees, a variety of side dishes, bone broth, and dessert. They even sell sugar-free bacon!

Beyond Travel
I don't want you to think that these meals are only helpful on vacations. It would be great to have a stash of these in the freezer for emergencies. We all know what it feels like to come home hungry after a long day with nothing ready to eat. If you've having an autoimmune flare, cooking might seem beyond you in that moment. Having meals like these on-hand lets you easily stay on your healing diet, even on tough days. And if you can afford it, Paleo on the Go even offers monthly meal bundles.
How to Order

I'm an affiliate for Paleo on the Go, but this isn't a sponsored post. I purchased those meals myself, because I had heard good things about this company and wanted to try them out objectively, without any pressure to give a biased review. Only after experiencing the high quality of their food did I contact Paleo on the Go and ask them if they'd like to offer something special for my readers, and they said yes! Just enter the coupon code PHOENIX1, to receive 10% off your first order – no minimum, no maximum. Order here.
Update: The Phoenix Helix Variety Pack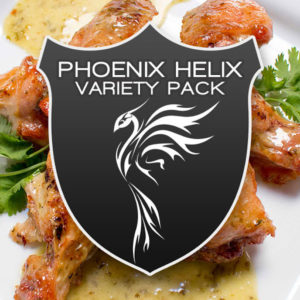 On the one-year anniversary of my podcast, Paleo on the Go came on board as my podcast sponsor. On my two-year anniversary, they asked me to choose some of my favorite menu items for a Phoenix Helix Variety Pack. I loved coming up with my selections. We now update the pack seasonally, and it's a wonderful way to sample their menu.
Other Travel Resources