This post may contain affiliate links. Click here to see what that means.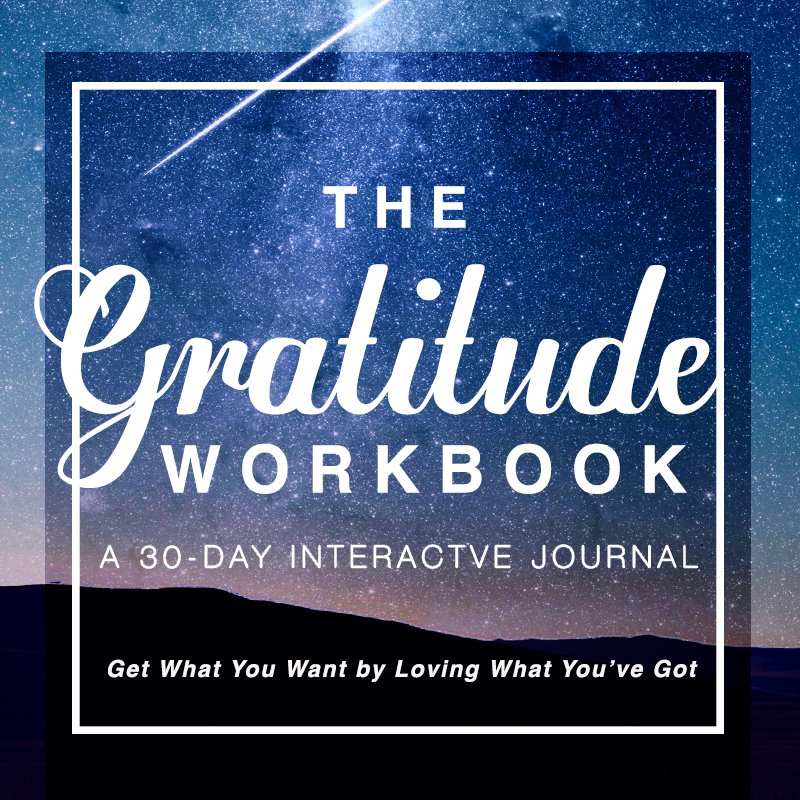 "Gratitude is a currency that we can mint for ourselves, and spend without fear of bankruptcy."
~ Fred De Witt Van Amburgh
Our Brains are Wired for Negativity
Too often, we take the blessings in our lives for granted, noticing only what's wrong instead of what's right. It's not our fault –  our brains are actually wired for this. It's called the negativity bias. We pay much closer attention to negative experiences than positive ones, and remember them more vividly as well. In fact, we can brood and obsess upon them, while positive thoughts and feelings are often fleeting. Why do we do this? It makes sense from an evolutionary perspective. Back in caveman times, we needed to be alert to danger. Giving more importance to anything that seemed "wrong" in our environment likely kept us alive. Now, however, we're stuck with this bias we no longer need, and it can dramatically impact our health and happiness.
Gratitude Isn't the Same as Denial
You may be thinking, "Well that's a nice theory, but I have autoimmune disease, and my life is a daily struggle. This isn't a bias. It's my reality." Actually, our darkest moments are when we need to practice gratitude the most. Because there is no reality that doesn't contain some beauty. When we are feeling our worst, focusing on small positives can shine a light into our darkness like a lifeline. This helps us not just mentally but physically as well. There's a field of science called psychoneuroimmunology, and it's the interaction between our thoughts, emotions, brain and immune system. Negative thoughts lead to chronic inflammation, whereas positive ones can send an anti-inflammatory cascade through our bodies. When I was at rock bottom with rheumatoid arthritis, that's when I started a daily gratitude practice. It still benefits me now, but it made the biggest difference for me back then. It's not about denying our struggles. It's about expanding our view so that's not all we see.
Gratitude as a Daily Practice
We want gratitude to be part of our daily life no matter what our circumstances. When we're feeling good, practicing gratitude is way to enjoy it and avoid taking life for granted. When we're feeling bad, practicing gratitude shows us where life is still good. We do have the power to change our brains and re-wire them for positivity. This is called neuroplasticity – it's a fascinating field of science that shows that our thoughts, emotions and behavior actually change the physical structure of our brains. How wild is that? Through the daily practice of gratitude, we can start to focus on what's right, until that becomes our default pattern.
Gratitude is a simple practice, but that doesn't mean it's easy. That's where this workbook comes in. While you can just grab a notebook and start a habit of writing down three gratitudes daily, the problem is that most of us will stop after a day or a week. And we end up with an empty notebook, stuck in our default of negative thinking. When developing new habits, it helps to have a structure and instruction for doing so. The Gratitude Workbook provides that beautifully.
5 Things I Love About This Workbook & A Small Caution

The author, Nicole Pittman, transformed her own life with the practice of gratitude, overcoming a history of anxiety and depression.

The e-book provides a structure for beginning the practice of gratitude and forms for keeping notes. Gretchen Rubin, author of Better Than Before, is an expert on developing healthy habits. She says, "Monitoring has an almost uncanny power. It doesn't require change, but it often leads to change, because people who keep close track of just about anything tend to do a better job of managing it." This e-book provides you with a monitoring platform, meaning you're much more likely to succeed at making this new habit a part of your daily life.

There's a section called "Gratitude Games" where she teaches creative ways to change our perspective. If you're not used to feeling grateful, you might not know where to begin. She provides the signposts, making gratitude practice easy.

It's beautifully designed and full of inspirational quotes, as well as Nicole's own poetry on the gratitude process.

It's a PDF e-book, formatted in 8.5×11, making it easy to print a hardcopy if you like. However, it's also formatted to have "fillable fields". This means you can use the e-book itself as your notebook, with no need to print the forms.

One small caution: the e-book does contain some profanity. Not a lot – but if you're sensitive to swearing, I wanted to give you a heads-up.
You May Also Be Interested In
Update ~ the Giveaway has Ended
The winner was chosen with a random number generator on 9/25/2015. Congratulations to Candace Hoffman-Hussain! If you didn't win, don't despair. The book is reasonably priced and worth every penny. You can purchase a copy here.
It's become a tradition on my blog to host giveaways of my favorite books and e-books. Entering to win is easy. Just comment on this post that you want to win. That's it! If you want to follow me on Pinterest, Facebook, iTunes, and/or Email, you'll get all of my tips for autoimmune healing. But it's not required at all. Since I love all my readers around the globe, this giveaway is open to anyone in the world. Good luck! The winner will be randomly chosen on September 24, 2015. And if you don't want to wait, you can buy a copy now.
Disclaimer: I was given a review copy of the e-book as well as a copy to give away, with no obligation. I'm 100% honest in my opinions. If I didn't love this book, I wouldn't have written the review, nor hosted the giveaway.
Have you checked out my books?