This post may contain affiliate links.
Click here
to see what that means.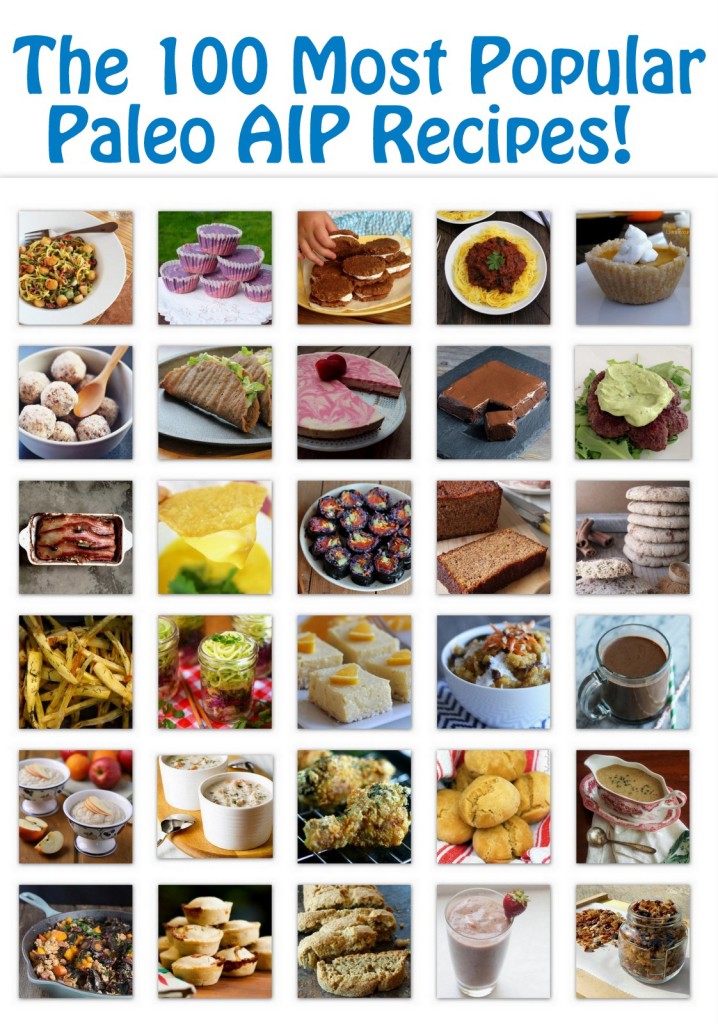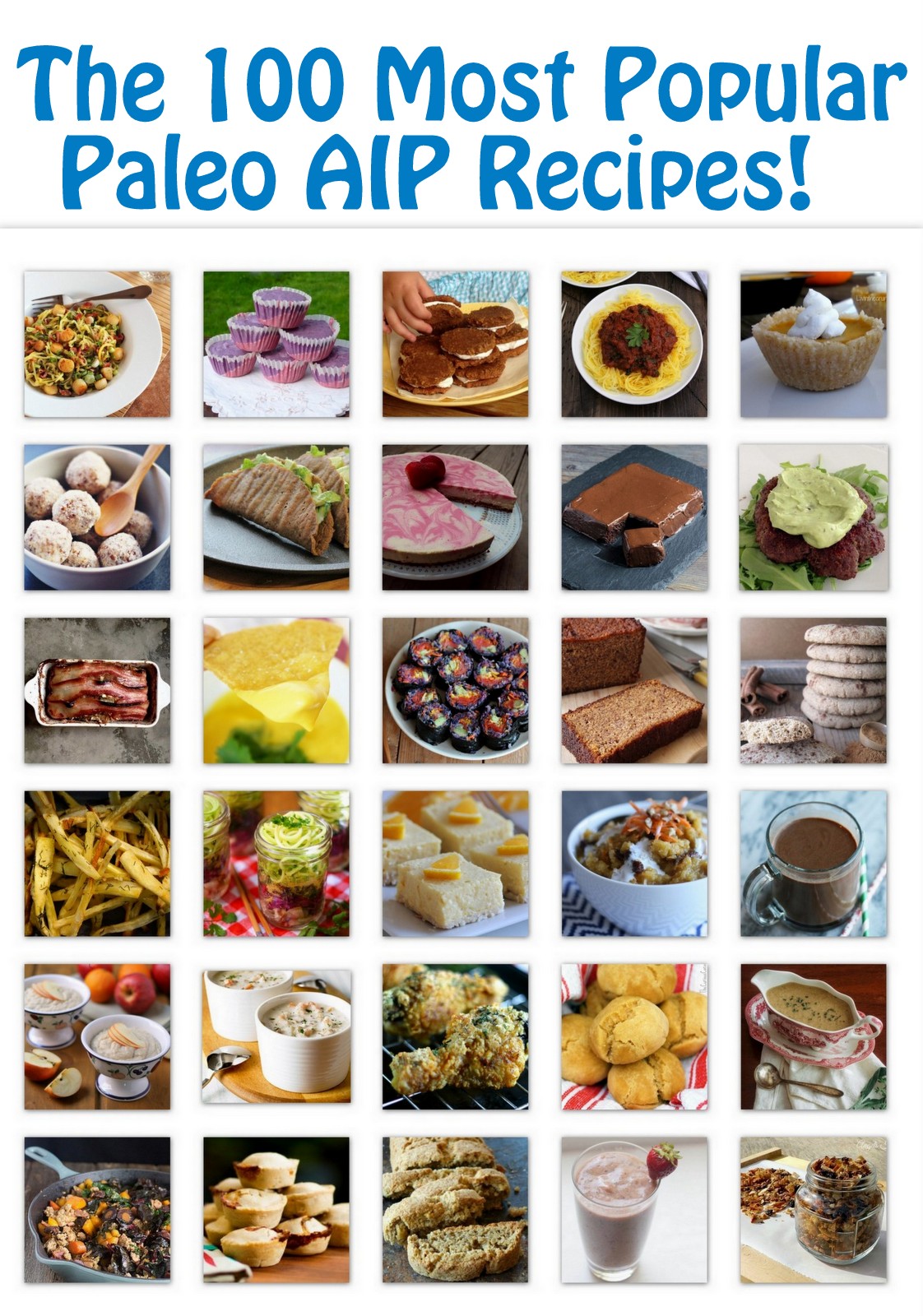 "Pull up a chair. Take a taste. Come join us. Life is so endlessly delicious."
~ Ruth Reichl
---
Making History!
When I went AIP almost 3 years ago now, there were hardly any recipes available. Now, thousands of people are using the paleo autoimmune protocol as a tool for healing, and the AIP blogosphere has exploded! Through this roundtable series, those talented bloggers come together to share what they're cooking in their own kitchens. This is the 100th roundtable – woot woot! What does that mean? Over the past 2 years, almost 2,000 recipes have been shared. You can see the entire archive here (and there are no repeats – every linkup is unique). Food ruts be gone! I went back through all the roundtables, checked the stats and made a list of the most popular recipes – one from each roundtable. Who wants to tackle the challenge of cooking ALL of these next year? That would be a fun New Year's Resolution.
The Top 100 Paleo AIP Recipes
*One from Every Roundtable
Roundtable #1: Spaghetti with Nomato Sauce from A Clean Plate
Roundtable #2: Cottage Pie from Comfort Bites
Roundtable #3: Meatloaf from Comfort Bites
Roundtable #4: Mini No-Bake Pumpkin Pies from Livin' the Crunchy Life
Roundtable #5: Simple Tender Pot Roast from Phoenix Helix
Roundtable #6: Plantain Crackers from The Paleo Mom
Roundtable #7: Mini Lemon "Cheesecake" with Gingered Date Crust from My Big Fat Grain-Free Life
Roundtable #8: Zucchini Noodles with Scallops and Bacon from Meatified
Roundtable #9: Winter Veggies in Spiced Coconut Milk from Phoenix Helix
Roundtable #10: Stir Fry with Magic Sauce from Phoenix Helix
Roundtable #11: Cream of Broccoli Soup from Autoimmune Wellness
Roundtable #12: Naturally Fermented Pineapple Ginger Soda from Nourishing Time
Roundtable #13: Coconut Date Balls from Oh The Things We'll Make
Roundtable #14: Plantain Chips & Guacamole from Gutsy By Nature
Roundtable #15: One Ingredient Sweet Potato Latkes from She Swings on a Star
Roundtable #16: Plantain Taco Shells from The Primitive Homemaker
Roundtable #17: Strawberries and Cream Tart from Delicious Obsessions
Roundtable #18: Herb and Coconut Crusted Chicken Breasts from The Primitive Homemaker
Roundtable #19: Dairy-Free Butter from Predominantly Paleo
Roundtable #20: Meatloaf from Nutrisclerosis and Autoimmune Wellness
Roundtable #21: Sweet Potato Hash Browns from My Clean Kitchen
Roundtable #22: Baked Tortillas from Predominantly Paleo
Roundtable #23: 'Chocolate' Cake from A Clean Plate
Roundtable #24: Barbecue Sauce from Kaiku Lifestyle
Roundtable #25: Zucchini Burgers from Real Food and Love
Roundtable #26: Arepas Rellenas from The Primordial Table
Roundtable #27: Blueberry Cream Cups from Comfort Bites
Roundtable #28: Lebanese Pork Hand Pie from Grazed and Enthused
Roundtable #29: N'Oatmeal Cream Pies from He Won't Know It's Paleo
Roundtable #30: Crispy Coconut Shrimp with Spicy Mango Dipping Sauce from The Primordial Table
Roundtable #31: Carob Truffles from Unconventional Baker
Roundtable #32: BBQ Chicken Nachos from Grazed and Enthused
Roundtable #33: 3 Ingredient Amazeballs from Almost Bananas
Roundtable #34: Chicken 'N Gravy from Grazed and Enthused
Roundtable #35: "Egg" Rolls from Forest and Fauna
Roundtable #36: Zucchini 'Cheese' from I Eat Real Food and Gutsy by Nature
Roundtable #37: Pita Pockets from He Won't Know It's Paleo
Roundtable #38: Fig Newtons from AIPaleo & SLE
Roundtable #39: BBQ Pizza with Chicken, Bacon and Cilantro from My Big Fat Grain Free Life
Roundtable #40: AIP Queso from He Won't Know It's Paleo
Roundtable #41: Colorful Kale Salad from A Squirrel in the Kitchen
Roundtable #42: Rustic Apple Cinnamon Rolls from Grazed and Enthused
Roundtable #43: Roasted Cinnamon Pear 'Oatmeal' from Healing Family Eats
Roundtable #44: Roasted Chicken with Pears and Rosemary from A Squirrel in the Kitchen
Roundtable #45: Golden Squash Drop Biscuits from Field Notes on Healing
Roundtable #46: Pumpkin Spice Breakfast Cookies from AIP Sisterhood
Roundtable #47: Fresh Ginger Spice Cookies from Adventures in Partaking
Roundtable #48: AIP Hummus from Grazed and Enthused
Roundtable #49: Coconut and Carob Truffles from A Squirrel in the Kitchen
Roundtable #50: Rustic Pear Galette from Beyond the Bite
Roundtable #51: Breakfast Stuffed Sweet Potatoes from Adventures in Partaking
Roundtable #52: Dinner Rolls from The Curious Coconut
Roundtable #53: Pork Stuffing Meatballs from Eat Heal Thrive
Roundtable #54: Holiday Coconut Mashed Sweet Potatoes from This West Coast Mommy
Roundtable #55: Banana Cinnamon Teacake by Healing Family Eats
Roundtable #56: Butternut Squash Risotto from Autoimmune Wellness
Roundtable #57: White Chicken 'Chili' from AIP Sisterhood
Roundtable #58: AIP Brownies from Real Food and Love
Roundtable #59: Sticky Ginger Pudding from Healing Family Eats
Roundtable #60: Slow Cooker Chicken and Dumplings from AIP Sisterhood
Roundtable #61: Creamy Seafood Chowder from Where the Wild Rose Grows
Roundtable #62: Egg-Free Mayo 3 Ways from Real Food with Dana
Roundtable #63: Chicken Piccata from Gutsy by Nature
Roundtable #64: Shepherd's Pie from Don't Eat the Spatula
Roundtable #65: Anything Goes Meatballs from Joanna Frankham
Roundtable #66: The Easiest Stew in the World from Joanna Frankham
Roundtable #67: Crispy Dill Fried Fish from Autoimmune Wellness
Roundtable #68: Crispy Cinnamon Thin Cookies from A Squirrel in the Kitchen
Roundtable #69: Carrot Cake with Whipped Coconut Frosting from Heartbeet Kitchen
Roundtable #70: Garlic-Dill Parsnip Fries from Grazed and Enthused
Roundtable #71: Pulled Pork and Zoodles from Comfort Bites Blog
Roundtable #72: Banana Blueberry Water Kefir Smoothie from Where the Wild Rose Grows
Roundtable #73: Italian Sausage Flatbread from Grazed and Enthused
Roundtable #74: BBQ Pork Buns from AIP Sisterhood
Roundtable #75: Homemade Italian Dressing from Don't Eat the Spatula
Roundtable #76: Rainbow Rolls from I Eat Real Food and Eat Heal Thrive
Roundtable #77: Honey Graham Crackers from Beyond the Bite
Roundtable #78: Breakfast Smoothie from AIP Sisterhood
Roundtable #79: Thai Green Curry with Seafood from Adventures in Partaking
Roundtable #80: Beet Kvass from How We Flourish
Roundtable #81: Ginger-Lime Sticky Chicky from Eat Heal Thrive
Roundtable #82: Orange Creamsicle Squares from Eat Heal Thrive
Roundtable #83: Strawberry Basil Chicken Flatbread from AIP Sisterhood
Roundtable #84: Crusty Bread from Create Delicious
Roundtable #85: Cassava Pancakes from Adventures in Partaking
Roundtable #86: Green Onion Cakes from Eat Heal Thrive
Roundtable #87: Chicken, Leek and Bacon Mini Pies from Joanna Frankham Coaching
Roundtable #88: Cappuccino Detox 'Coffee' from Forest and Fauna
Roundtable #89: Nightshade-Free Buffalo Chicken Skillet from Grazed and Enthused
Roundtable #90: Carrot Cake Breakfast Cereal from Eat Heal Thrive
Roundtable #91: Pumpkin Pie Cupcakes from Angel Slice
Roundtable #92: Smoky AIP 'Chili' from Adventures in Partaking
Roundtable #93: Veggelicious Shepherd's Pie from Adventures in Partaking
Roundtable #94: Beef Brisket & Gravy from Real Food and Love
Roundtable #95: Chicken Pot Pie from Gutsy By Nature
Roundtable #96: Pumpkin Spice Pancakes from AIP Sisterhood
Roundtable #97: Sweet Potato Raisin Scones from Create Delicious
Roundtable #98: Starch-Free Gravy from Sweet Treats
Roundtable #99: Hot 'Chocolate' from Unbound Wellness
The Recipe I Make Most Frequently: Breakfast Soup by Phoenix Helix
You May Also Be Interested In