This post may contain affiliate links.
Click here
to see what that means.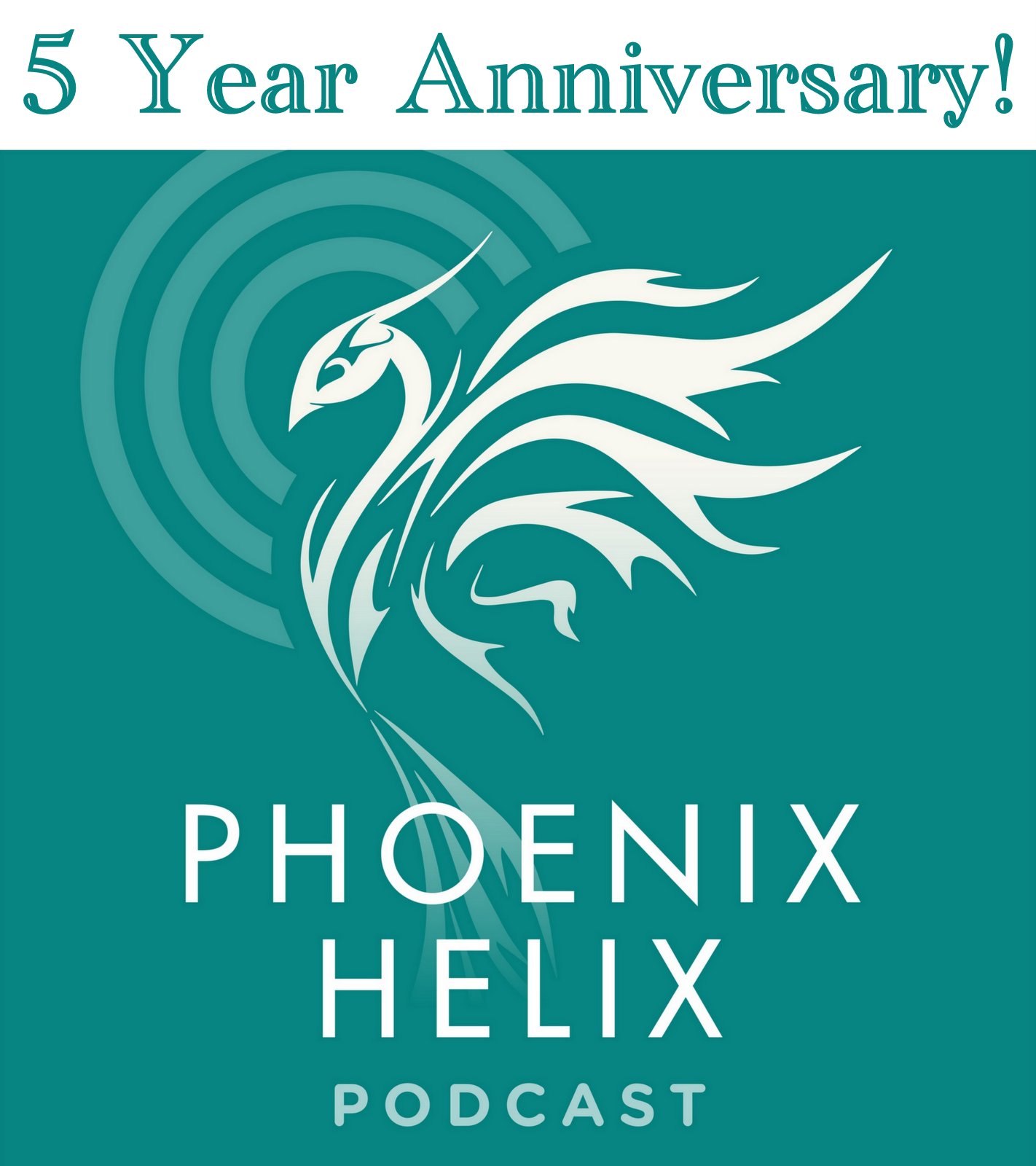 "The more you praise and celebrate your life, the more there is in life to celebrate."
~ Oprah Winfrey
---
5 Fun Podcast Statistics
130 episodes.
1.5 million downloads.
1st place winner in the Paleo Magazine Awards for Best Podcast.
213 guests – from bestselling authors – to medical experts – to autoimmune warriors like yourselves.
Celebrating My Anniversary With You
Time is so mysterious. Sometimes it races by quickly, and other times it drags at a snail's pace. I was stunned when I realized it was my podcast's 5-year anniversary. I still remember recording that first episode, and had to triple-check the date to believe it was indeed 5 years ago. I still remember asking my husband one night, "What do you think about me doing my own podcast?" He thought it was a great idea, and away I went! I didn't know what I was doing, but I learned as I went along. I wasn't sure I'd have any listeners, and ended up being blessed with the best audience ever. This podcast wouldn't exist without you, which is why I'm celebrating with prizes from some of my favorite companies. Many of these you'll recognize as my podcast sponsors over the years. I hand-pick these partners because their mission aligns with my own: to empower people to live their healthiest and happiest life!
Over $600 in Prizes with 6 Winners Worldwide!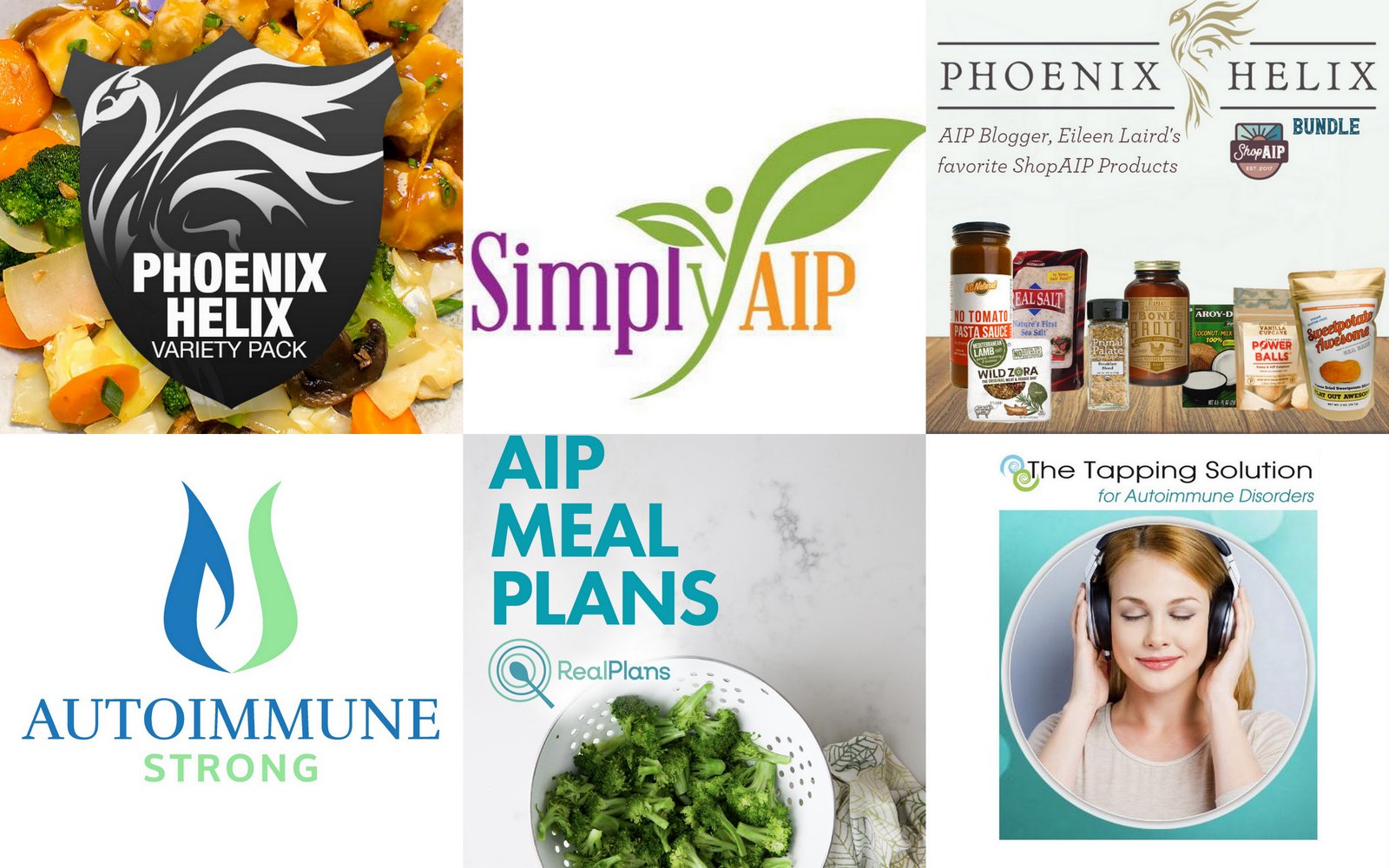 3 Winners in the United States
Paleo on the Go Phoenix Helix Variety Pack: POTG was my very first podcast sponsor and is one of my favorite companies. This pack is a great way to sample their menu. I update it seasonally, and my focus is nutrient-density, variety, and delicious flavor. I always include bone broth, because it's medicinal food at its finest. The current pack also includes 4 full meals, each with a different protein/vegetable combination: Savory Hash Breakfast Bowl, Shrimp Pad Thai, Orange Chicken with Asian Stir-fry, and Bison Salisbury Steak with Mushroom Gravy and Onion Confit Cauliflower Mash. Yum!
ShopAIP Phoenix Helix Bundle: ShopAIP has been my sponsor for almost 2 years now. They are such a great resource in the AIP community. They are an online store, and everything they sell is allowed on the elimination phase of the paleo autoimmune protocol. This bundle is a selection of my favorite pantry items and includes: KC Natural No Tomato Pasta Sauce, Wild Zora Mediterranean Lamb Bar, Real Salt, Primal Palate Breakfast Spice Blend, Epic Bone Broth, Aroy-D Coconut Milk, Paleo Angel Vanilla Power Balls, and Sweetpotato Awesome.
Simply AIP 3 Month Subscription: This is my newest podcast sponsor and such a fun service. Once a month, you'll receive a box of AIP-friendly items in the mail. The contents are always a surprise with different themes every month. Past themes have been Back to School, Summertime Fun, AIP Fiesta, Festive Holiday, AIP Italian Dinner, Time for a Tea Party, and many more!
3 International Winners
Real Plans 1 Year Subscription: With over 200 Paleo AIP recipes to choose from, this online program makes meal planning easy. It generates shopping lists, defrost reminders, and tells you how much time is needed to prepare and cook each recipe. Do you have extra food restrictions? No problem! You can filter for those. Have you successfully reintroduced some non-AIP foods back into your diet? No problem! You can choose AIP + those foods. Do you live outside of the US? You can choose metric measurements. They even have options to sort recipes by budget and by season. How cool is that?
Autoimmune Strong 1 Year Subscription: An online exercise program designed specifically for people with autoimmune disease. Have you found that exercise causes autoimmune flares? This program harnesses the anti-inflammatory power of gentle exercise instead. It helps you slowly increase strength and flexibility, while supporting autoimmune health. Membership gives you access to video tutorials, a private online support group, monthly Q&A calls with the owner who is a personal trainer, and educational resources as well.
The Tapping Solution for Autoimmune Disorders: Are you familiar with Emotional Freedom Technique – also called Tapping? It's a simple mind-body technique designed to release emotional blocks to healing. What does that mean? The idea is that no matter what challenges we are experiencing, including autoimmune disease, there is always an emotional component. This doesn't mean our symptoms are "all in our head." But it does mean that repressed emotions can increase autoimmune flares and interfere with our ability to reduce and reverse our symptoms. This program is designed to help you harness the mind-body connection for autoimmune health.
Update ~ the Giveaway Has Ended
There were 6 winners: Mary Beth Wooldridge, Emily Nelson, Betty Tipton, Penny Wartnaby, Olwen Wilson, and Bettine Huelsmann. I've contacted you all via email to claim your prizes. If you didn't win, all of the prizes are available to purchase, and they are wonderful companies to support. Thanks for celebrating my anniversary with me, everyone!
a Rafflecopter giveaway

You May Also Be Interested In