Winter Veggies in Spiced Coconut Milk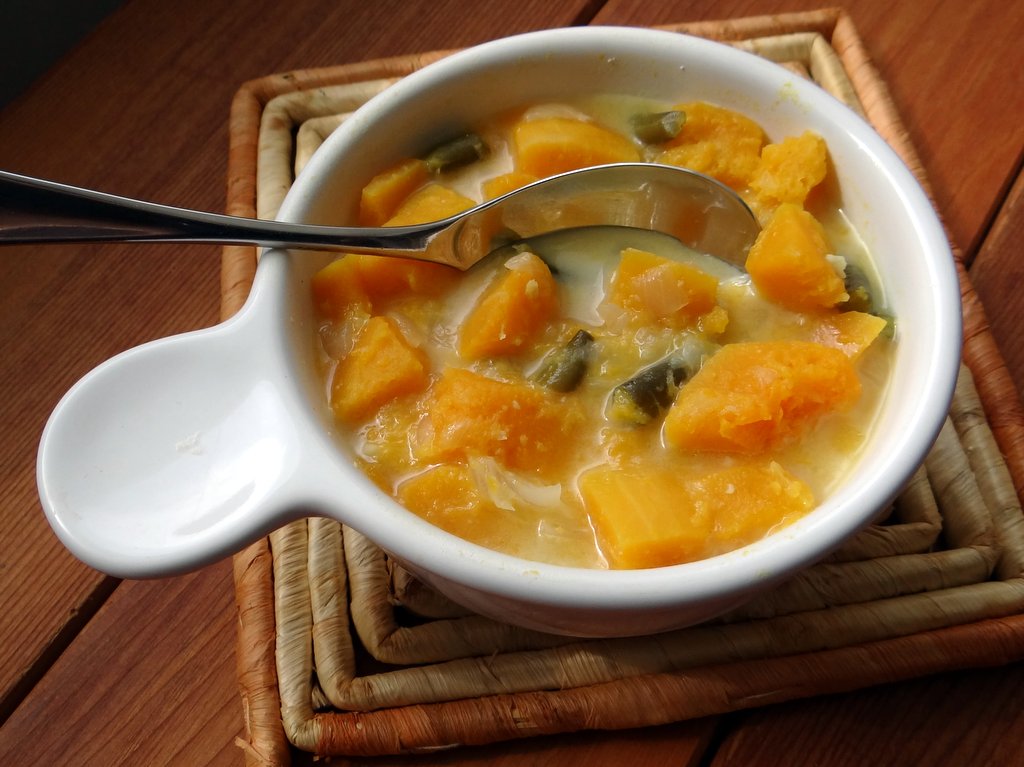 "The two basic items necessary to sustain life are sunshine and coconut milk." ~ Dustin Hoffman
When I was a little girl, shivering in the winter cold as I waited for the schoolbus to arrive, I would tilt my face toward the sun, close my eyes, and imagine it was summer on the beach. I would hear the seagulls' cry and the roar of the waves, feel the coarse sand beneath my bare feet and the tight feeling of my skin where the saltwater had dried, leaving a fine white dust behind. Most of all, I would feel the sun's rays beating down on my body, warming me from the inside out. This recipe reminds me of those mornings. It's a bowl of warmth in the winter time, with veggies the color of the rising sun.
I realize some of you might live in warmer climates where it's spring already, but where I live, winter is holding, and I can't get enough bowls of warm comfort. This recipe is so yummy, though, it's enjoyable in any weather.
Recipe
Adapted from Global Table Adventure. If you haven't seen this blog, it's wonderful: every week, she features the food of a different country. This recipe is from Papua New Guinea.
Ingredients
2 cups coconut milk (either homemade or additive-free)
4 cups cubed butternut squash
4 cups cubed golden beets
1 onion, chopped
1 Tbsp. coconut oil
3 cloves garlic, pressed
½ Tbsp. fresh grated ginger
8 oz. green beans (fresh or frozen)
sea salt & black pepper, to taste
Directions
If you're making homemade coconut milk, make it first and set aside.
Peel & cube the butternut squash and beets, making the beet cubes a little smaller than the squash. Steam both until almost tender.
In a medium saucepan, sauté the onions in coconut oil until soft. Add garlic and ginger and cook another minute.
Add the coconut milk and green beans. Bring to a gentle simmer.
Finally, add the steamed squash and beets. Cover and simmer until the vegetables are soft and have absorbed most of the spiced coconut milk. This takes about 15 minutes, but you can also turn down the heat and allow it to soak in longer for added flavor.
Salt & pepper to taste. (It doesn't need much; it's very flavorful on its own).
AIP Note: Although fresh peas and green beans are technically legumes, they don't cause the digestive problems of the dried varieties, and allowed on the paleo diet. They are also well tolerated by most people with autoimmune disease. However, the Paleo Approach (an expanded version of the AIP) recommends avoiding them for the first 30 days as a precaution and then reintroducing. If this applies to you, simply substitute another vegetable.


~~~
This post is linked to the following blog carnivals:
Paleo AIP Recipe Roundtable, What Am I Eating?, Whole Food Friday, Fight Back Friday, Fresh Bites Friday, Weekend Whatever Link-Up, Sunday School, Natural Living Monday, Make Your Own Monday, Fat Tuesday, Family Table Tuesday, Scratch Cookin' Tuesday, Traditional Tuesday, Healthy Tuesday, Tuned In Tuesday, Well Fed Wednesday, Waste Not Want Not Wednesday, Wheat-Free Wednesday, Allergy-Free Wednesday, Real Food Wednesday, Wildcrafting Wednesday, Party Wave Wednesday, Whole Foods Wednesday, Tasty Traditions, Thank Your Body Thursday, Simple Lives Thursday,