This post may contain affiliate links.
Click here
to see what that means.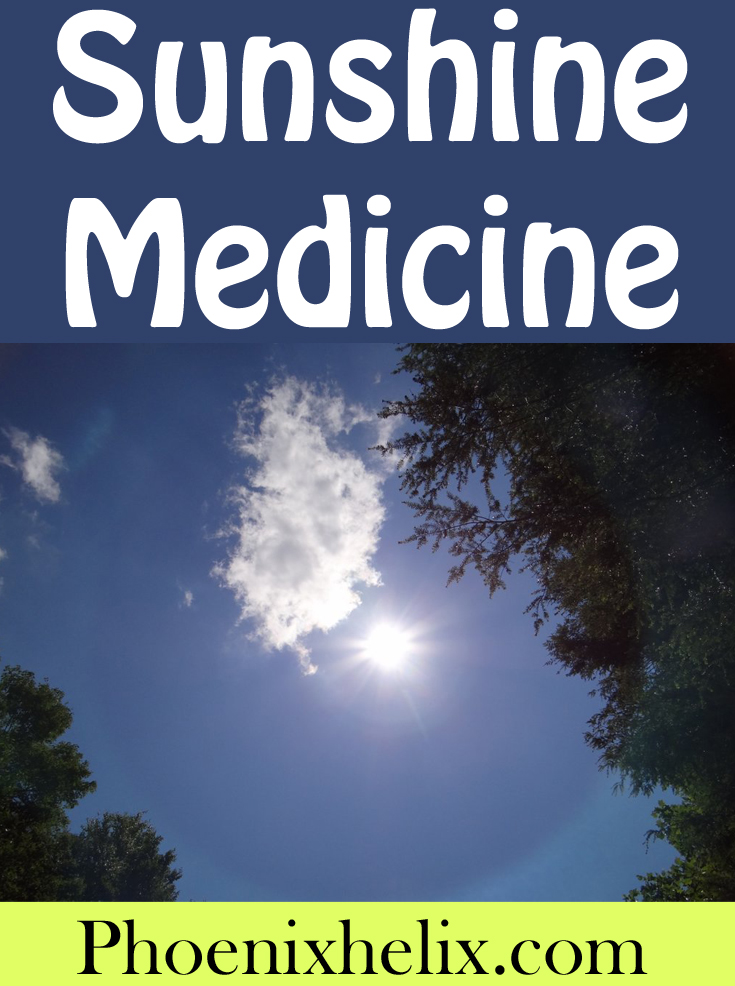 "Even after all this time
The sun never says to the earth,
'You owe me.'
Look what happens with a love like that.
It lights the whole sky."
~ Hafiz (14th-century Sufi poet)

---
The Sun is Amazing
It's 4-1/2 billion years old, sits 93 million miles away from Earth, yet still controls the climate and the seasons. It's so big that its interior could hold over 1 million Earths, and life on our planet wouldn't exist without it. In fact, human beings have a special relationship with the sun. Basking in its rays is our body's natural pathway for creating Vitamin D. Very few foods contain this vitamin, and none in quantities high enough to support our needs. Plus, if you cut us off from sunlight for too long, it affects our brain function, our moods, and both our physical and mental wellbeing. We are intimately connected to this star, which we forget in our modern life of indoor living and allegiance to sunscreen. Today, I'm going to tell you why you should get out into the sunshine, every day if possible. Your body and soul with thank you.
Vitamin D
Why do we need it? Vitamin D is essential to functions throughout our bodies: bones need it to maintain their strength, muscles need it to move, nerves need it to carry messages between the brain and every body part, the immune system needs it to fight off invading bacteria and viruses. There is also a growing body of research connecting vitamin D deficiency with all sorts of diseases, from cancer, to cardiovascular problems, to autoimmune disease.
How does the sunshine effect work? We have a chemical in our skin that converts to vitamin D when exposed to sunlight. No other vitamin is created this way. Historically, human beings spent our days in the sun, naturally getting all the vitamin D we needed. Now, we have to make an effort to get enough.
How much do you need? Honestly, recommendations vary quite a bit. The NIH says that blood levels below 30 are too low, and above 125 are too high. Dr. Terry Wahls says that anything below 40 is too low and she likes to see people in the upper half of the reference range. Chris Kresser says that the research is mixed and doesn't support the high ranges that have been recommended in recent years. He believes levels between 35-50 are optimal. So, what do you do with all this conflicting information? There is consensus that anything below 20 is deficient, and home test kits are available, to determine your levels. But how do you know if you're getting too much? Let nature be your guide. With sunlight, your body naturally regulates vitamin D production, based on your body's needs.
What about food sources? Very few foods contain vitamin D. Fatty seafood such as salmon, tuna, sardines, and oysters are among the best sources. Beef liver, mushrooms, and egg yolks provide small amounts. However, it's almost impossible to eat enough of these foods to meet your body's requirements. We were designed to get our vitamin D from the sun. To give you a comparison: a 6 ounce portion of salmon will give you about 900 iu of vitamin D, whereas 15-30 minutes of summer sun exposure (depending on skin tone) can create 10,000 iu of vitamin D. That's quite a difference.
What about supplements? Vitamin D3 supplements have become very popular, and if you can't get out in the sunshine, they are the next best choice. However, they're not equal to sunshine. It's similar to taking an isolated supplement to replace the benefit of a whole food; you lose all of the synergistic components of the food. For that reason, some people in the real food community recommend fermented cod liver oil as a whole food vitamin D supplement. While FCLO might be a superfood, people have found that it doesn't increase their vitamin D levels. So that leaves vitamin D3 supplements. If you take those, be sure to monitor your levels with routine bloodwork, because you can overdose on vitamin D.
What is the best technique for optimizing my vitamin D levels through sunlight? (1) The more skin exposed to the sun, the more vitamin D your body can produce. (2) Mid-day sun produces more vitamin D than early morning or late afternoons. Similarly, summer sun produces more vitamin D than winter sun. If your shadow is taller than you, the angle doesn't support vitamin D production. (3) Don't wear sunscreen when you're trying to create vitamin D, because it blocks the ultraviolet light necessary for vitamin D synthesis. (4) If you have fair skin, start with just a few minutes and work your way up to a maximum of 20 minutes daily. You don't want to burn. There is a maximum amount of vitamin D that can be created daily, and once it's been made, you can stay outside all day and your body won't make any more. (5) If you have dark skin, it takes longer to produce your daily maximum of vitamin D, anywhere between 30 minutes and 3 hours. (6) It takes times for for the vitamin D to absorb through your skin into your bloodstream. Postpone showering for at least one hour, and when you do shower, be aware that soap can wash away some of the vitamin D that hasn't yet been absorbed. Some people choose to simply rinse off, instead. (7) Lastly, here's an online vitamin D calculator for all the geeks out there. It takes into account all possible variables. Just be sure you fill in all the boxes correctly. And here's a vitamin D app for your smartphone.
What about cancer risk? Skin cancer is connected to longterm exposure to the sun, and to severe sunburns. If you follow the advice above, you should avoid both of those situations. Luminance Skincare sells a natural sunscreen made from just three ingredients (to use after you've absorbed your vitamin D for the day.)
Autoimmune exceptions: While sunshine has many benefits, some autoimmune diagnoses involve symptoms or medications that can make sunshine harmful. In those circumstances, a vitamin D supplement is the better choice. For example, photosensitivity is a common symptom with lupus and sunshine can cause an autoimmune flare. Certain medications can cause photosensitivity as well, including methotrexate, a common prescription for rheumatoid arthritis. Finally, heat intolerance is a common symptom with multiple sclerosis. Some creative autoimmune warriors have found a way around that one, wearing things to help them stay cool when they're collecting their vitamin D from the sun: a wet cooling vest (good for hot dry climates), an ice vest (good for humid climates), or an ice bandana (good for either climate).
Vitamin D Q&A: For more information on vitamin D and autoimmune disease, and making the best choice for you, listen to my podcast – Episode 179 with Dr. William Mitchell.
Mind & Body
In addition to all of the physical benefits associated with vitamin D, sunshine is also essential to our mental health. How many of us have trouble getting out of bed on cloudy or rainy days, moving a little slower, feeling less alert, and even a little sad when cut off from sunlight? There's a biological reason. When sunlight hits our eyes, our brain decreases production of melatonin (a hormone that helps us sleep) and increases production of seratonin (a hormone connected with feelings of happiness and wakefulness). Sunlight is a direct part of our sleep/wake cycle, and when cut off from sunlight, those rhythms can get out of wack. For a day or two, we end up feeling groggy. For longer periods of time, we can become depressed. Spending time in the sun helps prevent this from happening.
When you spend time outside, you also have the opportunity to do it somewhere beautiful, whether it's your yard, or a park, or the beach. If you combine sunshine with nature, you're doubling the benefits. Researchers at the University of Michigan found that both memory and attention span increased after people spent time in a natural setting.
Modern life has herded the human race indoors. One of the best things you can do for your health, is to spend some time outdoors again.
Fun Extras
Here is a gorgeous slideshow of the sun, as you've never seen it before.
Here are links to folktales featuring the sun, from cultures around the world.
Sun, here we come!
You May Also Be Interested In