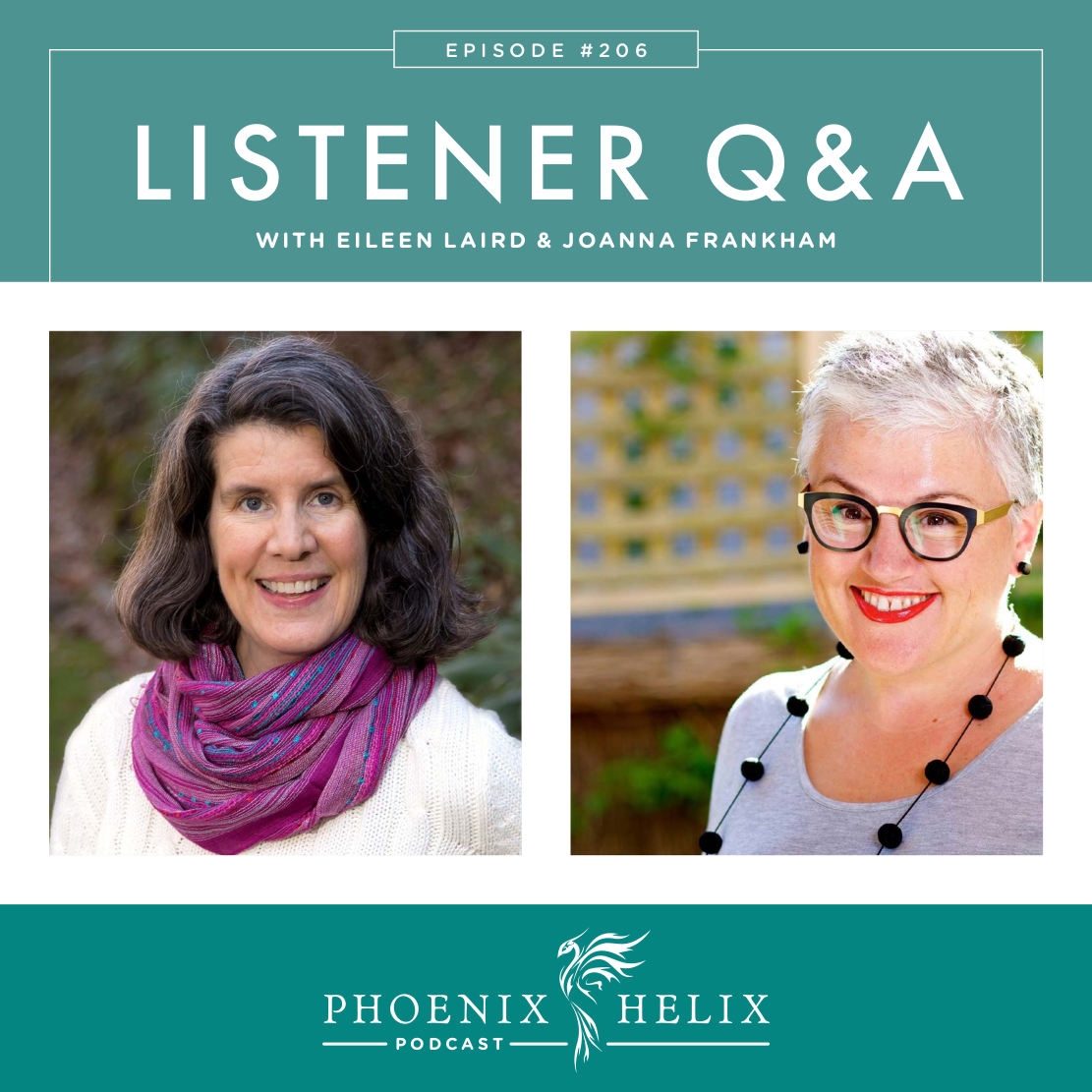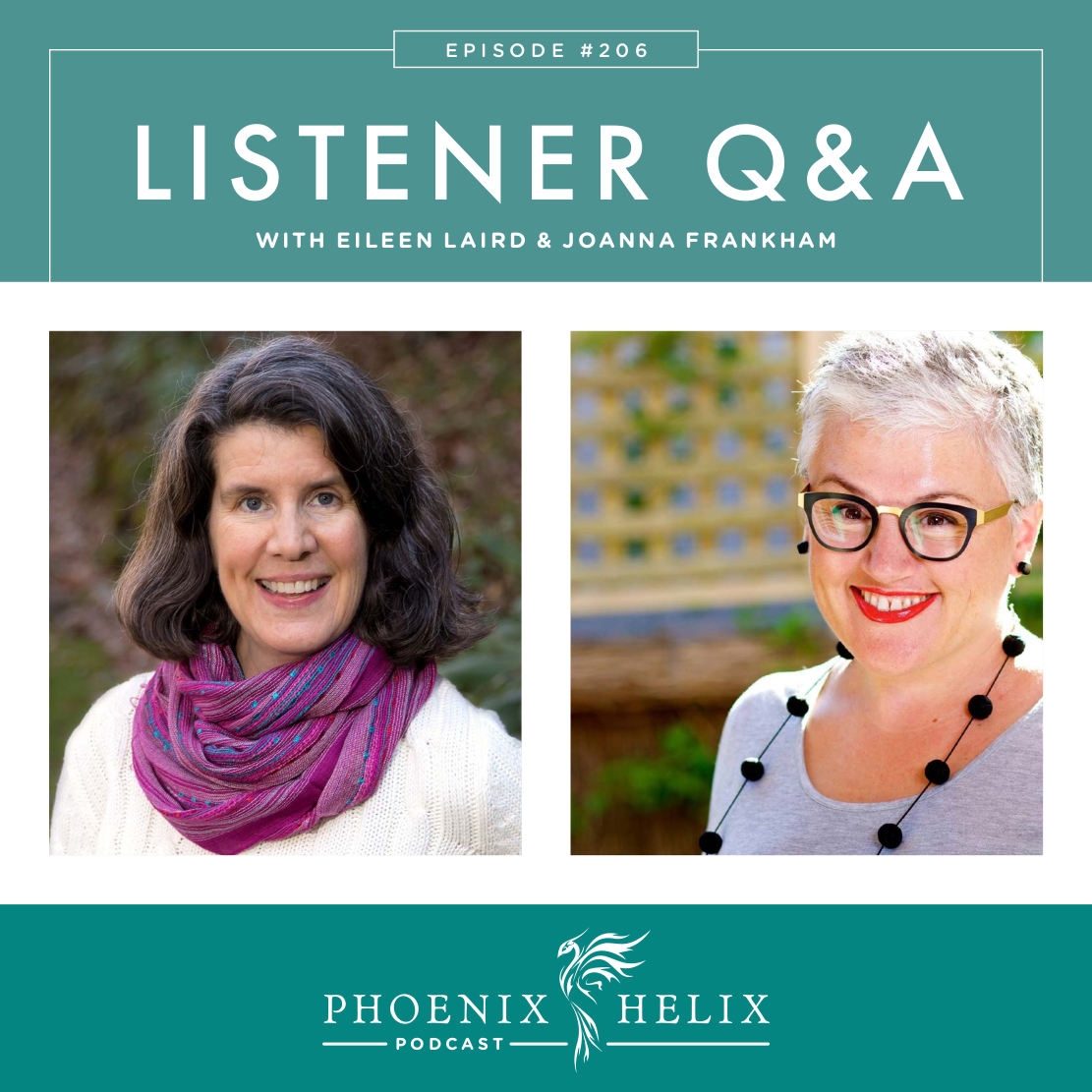 Answering Your Questions!
I listen to a lot of podcasts myself and some of my favorite episodes are Listener Q&A's. It allows a lot of topics to be covered in a short period of time, and everyone learns something new. So, I asked you to send in your questions, and you delivered! I also invited my friend and fellow autoimmune warrior, Joanna Frankham, to join me. We talk about a wide variety of topics today: personal, professional, autoimmune and otherwise. It's a wide-ranging, fun conversation.
Listen to the Show
Podcast: Play in new window | Download
Show Notes
Intro (0:00)
Meet Joanna

Joanna Frankham is a fellow autoimmune warrior, health coach, and a trusted voice in the AIP community. She's also my good friend and co-host for this episode.
To hear Joanna's healing story, listen to Ep. 18: Autoimmune Skin Conditions.
For those of you meeting Joanna for the first time, here are a few things to know. I mentioned that she's an autoimmune warrior. She has hidradenitis suppurativa which is an autoimmune skin condition. She's had it for over 20 years, so her empathy and experience run deep! She lives in New Zealand on the other side of the world from me, which means she has a fabulous voice! She's also wise, funny, compassionate, and she's simply one of my favorite people.

Disclaimer (2:49)

Neither Joanna nor I are doctors, so we'll be giving peer-to-peer advice today.

Thank You to Our Podcast Sponsor – Functional Nutrition Alliance (3:20)

Full Body Systems is their internationally acclaimed, 10-month online functional nutrition immersion training program.
It's designed by world-renowned educator, Andrea Nakayama. Many of you know her as one of my most popular podcast guests. Her unique way of working with patients often leads to results where other practitioners hit dead ends. This program teaches you to do the same.
If you're already trained as a health coach, nutritionist, or medical practitioner and want to more effectively help your clients break through healing plateaus, this class is for you!
And if you're an aspiring practitioner just getting started, this might be the only training you need.
You'll gain detailed knowledge of all the systems in the body, how they interact, how problems develop, and how to personalize diet and lifestyle recommendations for each unique client.
Enrollment is currently open. To learn more, visit FxNutrition.com/Eileen.

When People Don't Believe Your Autoimmune Disease Is Real (4:45)

Our first listener question comes from Deb: How do you react to people who don't believe your autoimmune disease is real? The symptoms and reactions vary so much from person to person, and just because the reaction might not be severe, some just don't believe there is a problem.

Eileen: First, I'm sorry you're having this experience, and I wish it wasn't so common. If it's a doctor, I recommend finding a new doctor. Medical gaslighting is real, and it's damaging. Too many people with autoimmune disease are referred to psychiatrists rather than being believed about their physical symptoms. If it's an acquaintance in your personal life, try to limit your time with them. Instead, try to surround yourself with people who truly care about you and believe your life experiences. If it's a close friend or family member, have a open, heart-to-heart talk with them – not in an aggressive way, but in a vulnerable and honest way. Share how their disbelief makes you feel. If this is difficult to do independently, family counselors are wonderful guides for difficult conversations like these. In my own life, my husband is very supportive, but even so….there have been times we needed to have heart-to-heart talks like this because he didn't understand my experience. It's very hard for people to understand what we are going through if they haven't gone through something similar themselves.
Joanna: She went years not talking about her symptoms due to shame. The skin symptoms for HS arise in private places on the body. When she did go to a doctor, she was often made to feel that her symptoms were her fault, so she's experienced medical gaslighting personally. Now, she chooses not to dwell on the reactions of people who don't understand, because it's her life and she knows what's real. When she was in the elimination phase of the AIP, she instituted a weekly Transparency Night with her partner. They would both share whatever they were feeling and experiencing that week, and they were there to support each other. We don't need everyone to be on our side. We only need one or two people who are supportive. So, Joanna focuses on the people who do get it and do trust you.

Advice for Someone New to the Paleo Autoimmune Protocol (9:19)

Kelly is brand new to the Paleo Autoimmune Protocol (AIP) and asked a series of questions.
What foods have you successfully reintroduced?

Eileen: I did the elimination phase 9 years ago, and I began a slow and careful reintroduction process 6 weeks after that. I was able to reintroduce eggs and homemade chocolate daily, nuts and seeds in moderation, and white rice occasionally. In the intervening years, I've been able to reintroduce many more things in moderation, which gives me more food freedom at restaurants and when I'm on vacation. I continue to eat a nutrient-dense mostly paleo diet at home. When outside my house, I stay strictly gluten-free and usually avoid dairy as well.
Joanna: It's been 8 years since she did the elimination phase, and she's done a lot of healing. So, she has successfully reintroduced everything except gluten, but that doesn't mean she eats everything every day. It just gives her more freedom when she's out and about. At home, she eats a whole foods diet – very few things from packages.

Do you know ANY AIPers that have had luck reintroducing nightshades?
What food do you miss the most?

Eileen: I don't miss a specific food. I miss the ability to eat all foods and the convenience that offers. Even though I've reintroduced a lot of foods, I still need to be careful about my food choices to maintain my health, so that means choosing restaurants carefully, asking the waiter a lot of questions, and sometimes bringing my own food to events. I miss being someone who could and would eat anything.
Joanna: She misses gluten-filled, toasted sourdough bread with melted butter and vegemite.

How many different grocery stores do you go to each week getting various ingredients?

Eileen: Honestly, lots! The local farmers' market is my first stop. The local health food store is my second stop. And the regular grocery store I go to occasionally. I also love ShopAIP for AIP-friendly foods that can be hard to find locally.
Joanna: She goes to the weekly farmers market, but also gets a fortnightly vegetable delivery and has access to local meat and seafood as well. She also goes to Farro Fresh about twice a month, which is an upmarket grocery store with lots of healthy options.
Depending on where you live and your income, your food options might differ. Please know that it doesn't have to be "local, organic, grass-fed" to be healthy. The AIP can be done on a budget in a wide variety of circumstances. (Resource: 12 Tips for Eating Paleo AIP on a Budget.)

What's your best advice for people just starting the AIP?

Eileen: Make mindset part of your protocol. Understand that it's not just about the food. How you feel mentally impacts inflammation levels in your body (and vice versa). And the AIP can be hard to do! It's natural for challenging emotions to arise alongside, and having tools to navigate those will help you just as much as choosing the right foods.
Joanna: Keep a Food & Mood Journal. Joanna does this herself, even today. She tracks her food choices, stress levels, sleep, movement, etc. And she also tracks how she feels – mentally and physically. It helps her listen to her body, draw connections, and stay on track with healthier choices. It also helps her personalize her diet and lifestyle to her body's needs.

Thank You To Our Podcast Sponsor – Luminance Skincare (24:13)

Today I want to highlight their bestselling facecare trio, which includes their Delicate Cleanser, Rosewater Toner, and Deep Hydration Moisturizer. Each one of these products has over 500 five-star reviews on their website. And they have a sample kit, so you can try it yourself! The Delicate Cleanser gently and deeply cleanses your skin without drying it out. The Rosewater Toner perfectly adjusts and balances the pH of your skin. The Deep Hydration Moisturizer mimics skin's natural oils to soothe dry skin while maintaining a clear complexion.
Whereas conventional skincare products are full of chemicals that can hurt our bodies, Luminance is made from ingredients that nourish

.

Their products are natural, organic, wildcrafted, non-GMO, and gluten-free (and they're even made in a dedicated gluten-free facility).

It's the cleanest skincare anywhere! And everything is

handmade in small batches within the United States.
They have a complete face and body care line, including cleansers, toners, moisturizers, masks, acne serum, lip balms, haircare, sunscreen, handcrafted soaps, and more.
Order their sample kit today, and once you fall in love and want to order full-size bottles, use the code HELIX for 10% off your order. (You can also use the HELIX coupon on any Luminance product, not just the facecare trio.)

Social Gatherings on the AIP (25:48)

Sylvia asks: My biggest struggle being on AIP is social gatherings. What is a good way to briefly explain why I cannot have "cheat" days to someone who tries to pressure me into eating things I shouldn't while I'm in the elimination stage? It's family and close friends who have the hardest time with me not being able to enjoy what they are eating and drinking.

Eileen: I think often, people are confused by the word "diet" because most people diet for weight loss, and in those cases, "cheat days" don't necessarily interfere with that goal. Choosing a healing diet for autoimmune health is very different. So, I explain that difference and tell people that rheumatoid arthritis has made my body more sensitive. I'll say, "Cheating can cause an autoimmune flare that puts me in pain for days, so that "bite of cake" has consequences that aren't worth it for me. And I know you love me, and you don't want me to be in pain." There are lot of emotions surrounding food, and our food choices may trigger emotions in others – but try to remember that's usually about them, not you. I also find that emotions can be contagious. So, if I'm defensive or anxious about my food choices, others pick up on that. When I'm peaceful about my choices, others are too – not always, but often. And for the people in my life for whom cooking is their love language, I offer to cook together, so we can enjoy each other's company and make recipes we can both enjoy.
Joanna: When she was in the elimination phase, she told people that she was on a medically prescribed diet from her doctor. People were more likely to accept that instead of questioning it. It's a short answer that works very well. For close friends and family where she wanted to share more, she would have a heart-to-heart talk, similar to the Transparency Night she described earlier in our conversation.

Resources:

When Someone You Love has Autoimmune Disease and Refuses to Change Their Diet (33:05)

Sylvia asks: My mom has rheumatoid arthritis and other chronic unexplained illnesses. She knows I'm having great success from eating and living an AIP life, yet she still continues to give excuses why it wouldn't work for her. What would you say to someone who's resistant to trying AIP but you know they would benefit greatly from it?

Eileen: Most people don't like to feel pressured, and often, the more we try to get them to do something, the less likely they are to do it. So, our good intentions backfire. I've found that being a silent role model is more effective. I don't pressure anyone. I'm open about my own practices, and people can see the difference they've made in my life. If someone is interested in making changes themselves, they will reach out to me when they're ready. Not everyone becomes ready. But some people do!
Joanna: Sit down with your mother for a heart-to-heart conversation and tell her you love her and want to support her, and maybe offer the AIP as something you could do together. But ultimately, it's her decision and you can't force it. Until someone is ready, it's not going to happen. But like Eileen, she has had a surprising number of people reach out to her over the years to learn more about AIP when they finally felt ready to make changes.

Is Eileen a Good Friend? (38:28)

Gloria asks: You seem like you'd be an outstanding and fascinating friend. Have you ever befriended a listener/follower and ended up enjoying a long-term friendship? (I'm available in Tennessee if you should ever need a friend from the South. 😉)

Eileen: Gloria, you are so sweet! If I am ever in Tennessee, I will look you up. The answer is yes. Joanna is my friend even though we've never met in person, and it's a very real friendship that I value.
Joanna: Gloria, Eileen is a wonderful friend. She is loyal, thoughtful, and inspiring. What I appreciate most about her is that she stays true to herself. In a world that is crazier by the day, Eileen remains on course – she has this very true internal compass – and that's what inspires me most.

Simple Meal Suggestions for Tough Times (40:11)

Monty asks: How do you navigate days when you are completely exhausted, but have to take care of healthy food…paying bills…caring for a sick family member? Some simple meal suggestions would be helpful.

Eileen: First, this is a really challenging time in your life, and I want you to know you are awesome. Take perfection off the table, and give yourself credit for everything you do to care for yourself and your loved one during this time. In terms of simple meals, frozen vegetables are your friend. They're pre-chopped and just as nutritious. If you have a slow cooker or an Instant Pot, use them to cook a whole chicken or roast, and you'll have an easy protein in the fridge for quick meals. I also like one-pan meals, because fewer dishes equals less time in the kitchen. One of my personal favorites is One-Pot Herbed Balsamic Beef and Kale.
Joanna: Start an AIP recipe folder of meals you and your family love. Then, you have recipes ready-to-go, and if anyone is willing to cook for you one night, they can use one of those recipes. Joanna also likes to cook once and eat twice or thrice, so she often doubles recipes and freezes the leftovers in portions for easy meals later. She has a green sauce that tastes delicious on almost anything: chicken, fish, steak, chops, etc. And if she roasts a big batch of vegetables, they can serve as an easy side dish throughout the week.

Eileen's Books (45:16)

Not everyone listening to the podcast knows that I've also written some books you may love!
Healing Mindset is my newest book, and it's a guide to the mind-body connection for people with autoimmune disease. It's available in paperback, kindle, or PDF versions.
A Simple Guide to the Paleo Autoimmune Protocol is perfect for beginners and also a great gift for family and friends who want to understand you better. It's available in paperback, kindle, PDF, and audiobook (for those of you who love my voice!) It's also available in Spanish.
The Paleo AIP Instant Pot Cookbook is a an e-cookbook that's hugely popular. If you have an Instant Pot, you'll love this cookbook. If you've never heard of an Instant Pot, it's an easy-to-use pressure cooker that cooks meals quickly, and this e-cookbook has 141 recipes for the AIP.
Lastly, The Paleo AIP Reintroduction Guide is an e-book that takes the intimidation out of reintroductions and gives you step-by-step guidance including recipes.

Medication Decisions and Comparing Ourselves to Others (47:09)

Adele asks: When you made the decision to start immunosuppressants, how did you know that there wasn't some root cause that you hadn't uncovered? For example, let's pretend you had unlimited resources, you treated every infection, but your RA still kept getting worse? Why can some people seem to put their AI into remission and others who have diet and lifestyle dialed in, still need immunotherapy?

Eileen: For people who don't know my history, I tried to avoid immunosuppressant medication myself for the first few years of my healing journey. Diet/lifestyle/functional medicine improved my health dramatically, but I never achieved remission. When damage started happening to my body, I made the choice to add medication. It was a difficult choice to make, but ended up being one of the best choices I ever made. My health is much better with an integrative medicine approach. I still make healthy choices (diet/lifestyle/mindset) but I'm also grateful for modern medicine. My advice for Adele is to be compassionate with yourself if you are in the same situation. You are not a failure if you need medication. Comparing ourselves to others isn't helpful. Everybody is so unique. We have different genetics, different backgrounds in terms of trauma and stress, different levels of environmental exposure, and different levels of severity when it comes to autoimmune disease. Focus on yourself and your health. What is the best choice for you to restore vitality to your life, and protect your body from autoimmune damage? Sometimes people measure success by being medication-free rather than being truly healthy. If you are medication-free and symptom-free, that's wonderful. However, if you are medication-free and you are suffering and damage is happening to your body, that's not wonderful. Medication is often demonized in alternative health communities, but sometimes it's the missing piece that can actually restore health. It doesn't mean everyone needs medication, but if you need it, know that it says nothing negative about you. We are lucky to live in world where medication is available.

Resources:

Growing and Learning (54:50)

Angela asks: What has been the most powerful growth and learning for you through doing this podcast?

Eileen: For me, the most powerful growth has been personal. Developing RA was a before and after moment. It's not that the old me doesn't exist, but I think of it like a Russian nesting doll – the old Eileen is still part of me, but I have new layers. I think I have more strength and bravery because they've been tested more. I think I have more resilience because I've had to go through really hard things. I think I have greater self-compassion, and a more unconditional love for myself. I also have less perfectionism, and a truer sense of empowerment.
Joanna: (Eileen asked Joanna – What has been the most powerful growth and learning for you during your past decade in the AIP community?) Prior to going AIP, Joanna was a people pleaser. She was a "stress-head" with a very high-pressure job. She experienced a home invasion and that led to years of difficulty sleeping. She was worried about her level of worrying. Doing the autoimmune protocol changed her approach to life. It gave her the confidence to back herself and her choices and to live life on her own terms. Now, she prioritizes her health and lifestyle choices in a way that serves her needs, and is unapologetic about those choices. Prior to the AIP, she felt like a spectator in her own life. Now, she's in the driver's seat. The AIP had a profound impact which continues to this day.

Rapidfire Personal Q&A (1:01:33)

Lora Marie sent in 11 questions, and I chose 5 fun ones to finish our conversation.
What did you do prior to being the most amazing podcaster?

Eileen: I was a massage therapist for 15 years, specializing in lymph drainage therapy.
Joanna: (Eileen asked Joanna – What did you do prior to your work as an AIP mentor and coach?) She was a strategic human resources manager for 20 years. She loved the work – it took her around the world. But in the end, she didn't love the politics.

Did your life dramatically change once you were diagnosed?

Eileen: Yes! It changed my career, my diet, and my attitude toward myself – and all of those changes were positive. Some things stayed the same. I still love to hike and spend time in nature. I'm married to the same man, and we became even closer. And then some changes haven't been positive – I have experienced some joint damage, so my body isn't the same as it was before.
Joanna: She self-diagnosed, and the change was profound. She had spent 20 years suffering with an undiagnosed, chronic skin condition, which she never talked about because it made her feel ashamed. It also prevented her from being an active participant in her life. All of that changed dramatically once she self-diagnosed and focused on healing.

How long after you were diagnosed did you start your podcast?

Eileen: I started my blog 6 months later and my podcast 2-1/2 years later.
Joanna: (Eileen asked Joanna – How long after you self-diagnosed did you start your blog?) She was already blogging, but it was a very different type of blog. It evolved as the AIP started impacting her life in such a positive way.

Besides books and podcasts, do you have any other things in mind to create that your autoimmune disease is leading you to?

Eileen: I'd love to do something non-autoimmune related, and my goal is to write fiction!
Joanna: She has no idea what the future holds, and she feels strangely excited about that.

What's your favorite fiction and nonfiction book?

Outro (1:10:36)
You May Also Be Interested In
Spreading the Word
If you like the podcast, please leave a positive review in iTunes. It would mean the world to me, and also helps others find the podcast. Here are some quick instructions using your iPhone:
If you are already subscribed to my podcast: (1) Click the purple podcast icon. (2) At the bottom of the screen, click Library. (3) At the top of the screen, click Shows. (4) Click the Phoenix Helix podcast image. (5) Scroll down the page, and you'll see Ratings and Reviews. Scroll down a little bit more and click on Write a Review. This will bring up the review screen. Tap 5 stars (if you love the podcast), and then click in the title box, and it will bring up the keyboard. Enter a title and short review. (6) Click Send in the upper right corner. (7) Thank you! Positive reviews give the podcast a higher search ranking in iTunes, helping people find it and letting them know it's a quality podcast and worth their time to listen.
If you haven't subscribed to my podcast: (1) Click the purple podcast icon. (2) In the lower right corner, click the magnifying class. (3) Type Phoenix Helix in the search box. (4) Click the podcast cover in the Show list. (5) If you'd like to subscribe, click the + sign at the top of the screen. (6) To write a review, scroll down the page, and you'll see Ratings and Reviews. Scroll down a little bit more and click on Write a Review. This will bring up the review screen. Tap 5 stars (if you love the podcast), and then click in the title box, and it will bring up the keyboard. Enter a title and short review. (7) Click Send in the upper right corner. (8) Thank you! Positive reviews give the podcast a higher search ranking in iTunes, helping people find it and letting them know it's a quality podcast and worth their time to listen.