This post may contain affiliate links. Click here to see what that means.
(Paleo, AIP, GAPS)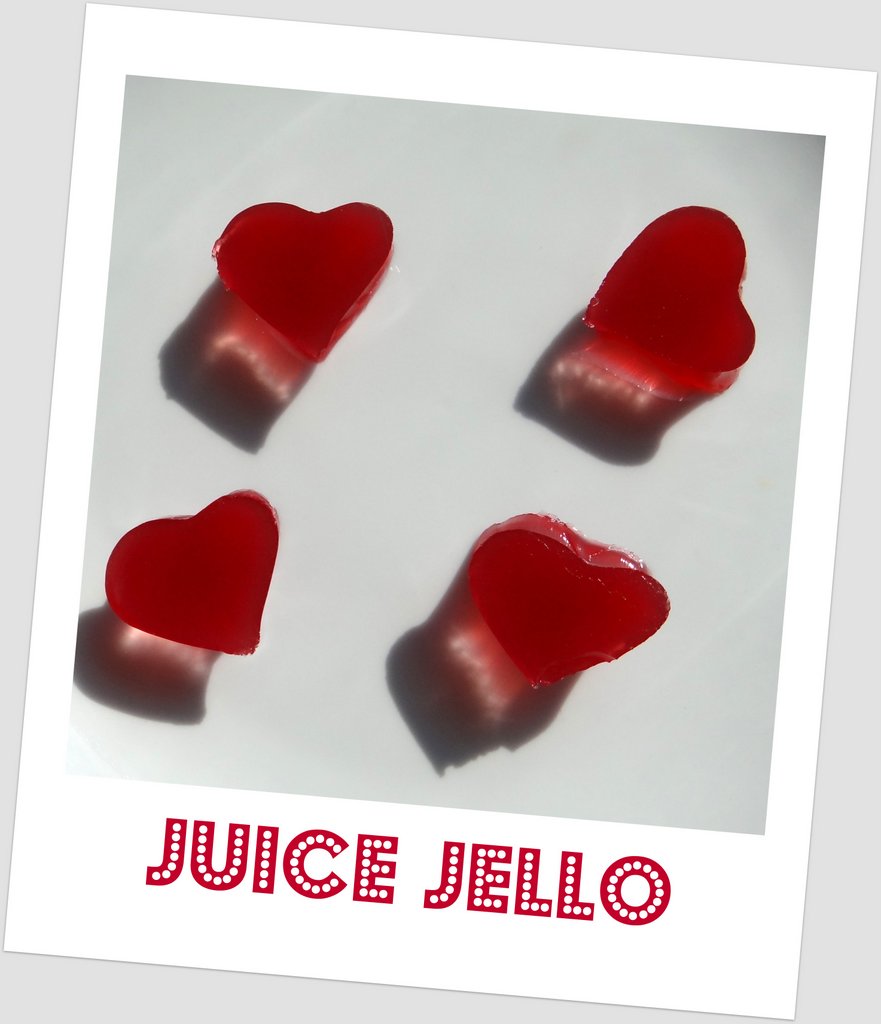 "My childhood may be over, but that doesn't mean playtime is."
~ Ron Olson
Food for Your Inner Child (and your Health)
What other food brings you back to childhood as quickly as Jello? It's wacky, wild and wiggly! And if you make it yourself, it's also good for you – a far cry from the store-bought version. Check out the difference:
Store-bought Jello Ingredients

: Sugar, Gelatin, Adipic Acid, Disodium Phosphate, Sodium Citrate, Fumaric Acid, Tannic Acid, Red 40, Blue 2.

Homemade Jello Ingredients

: Organic Juice, Grass-fed Gelatin

Benefits of Gelatin
Recipe: Juice Jello
Ingredients:
4 cups organic juice (divided)
1/4 cup grass-fed gelatin
*Note: Conventional juice contains pesticide residue, which is why I recommend organic. As for the gelatin, you can buy conventional Knox gelatin from the grocery store, but if you make jello regularly, that's actually an expensive choice for a low quality product. Grass-fed gelatin is available in bulk online. I use the brand Great Lakes (red can).
Directions:
Pour 3 cups of juice into a medium saucepan & heat over medium heat until warm.
Pour another cup of juice into a large measuring cup or bowl, and add 1/4 cup gelatin powder. Let sit for 1 minute.
Transfer the cold juice-gelatin mixture to the saucepan and stir until evenly blended.
Pour the jello into whatever container you like: a large bowl, individual size bowls, or candy molds for fun shapes. Cover and refrigerate until set (usually about 4 hours).
*Note: If you're lucky enough to have a fruit tree in your back yard, and want to make jello with fresh-pressed juice, only heat 1 cup of your juice and keep the rest cold, to preserve raw juice enzymes. Storebought juice has already been pasteurized, so this isn't a concern, and heating more of the juice makes a smoother texture of jello.


More Delicious Recipes
This post is linked to the following blog carnivals:
Paleo AIP Recipe Roundtable, Whole Food Friday, Allergy Friendly Lunchbox, Fresh Bites Friday, Sunday School, Make Your Own Monday, Natural Living Monday, Healthy Tuesday, Family Table Tuesday, Scratch Cookin' Tuesday, Fat Tuesday, Traditional Tuesdays, Tuned In Tuesday, Eco Kids Tuesday, Waste Not Want Not Wednesday, Well Fed Wednesday, Wildcrafting Wednesday, Whole Foods Wednesday, Allergy Free Wednesday, Real Food Wednesday, Party Wave Wednesday, Tasty Traditions, Thank Your Body Thursday, Simple Lives Thursday, What I Am Eating, Paleo Rodeo, Pennywise Platter Thursday,
Have you checked out my books?