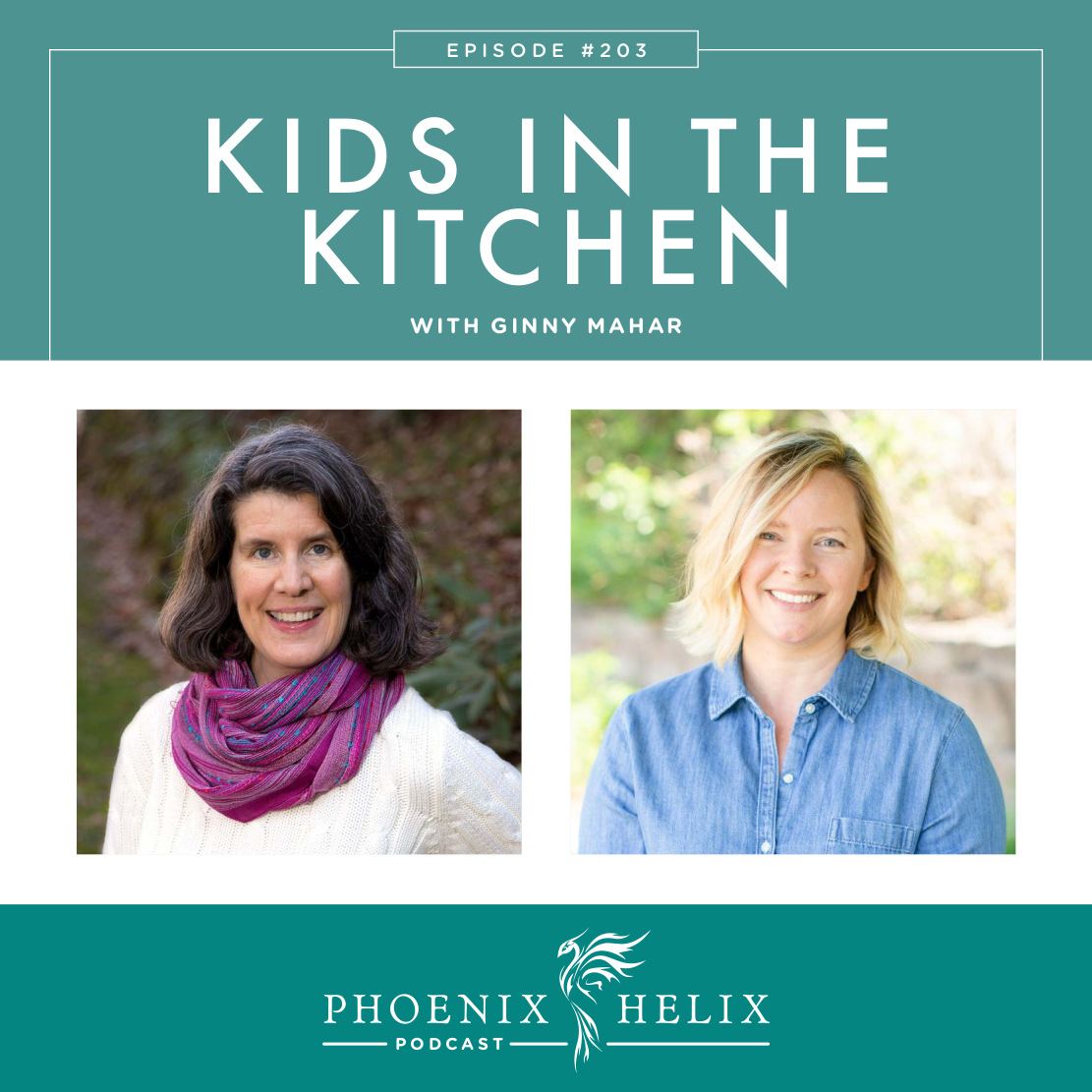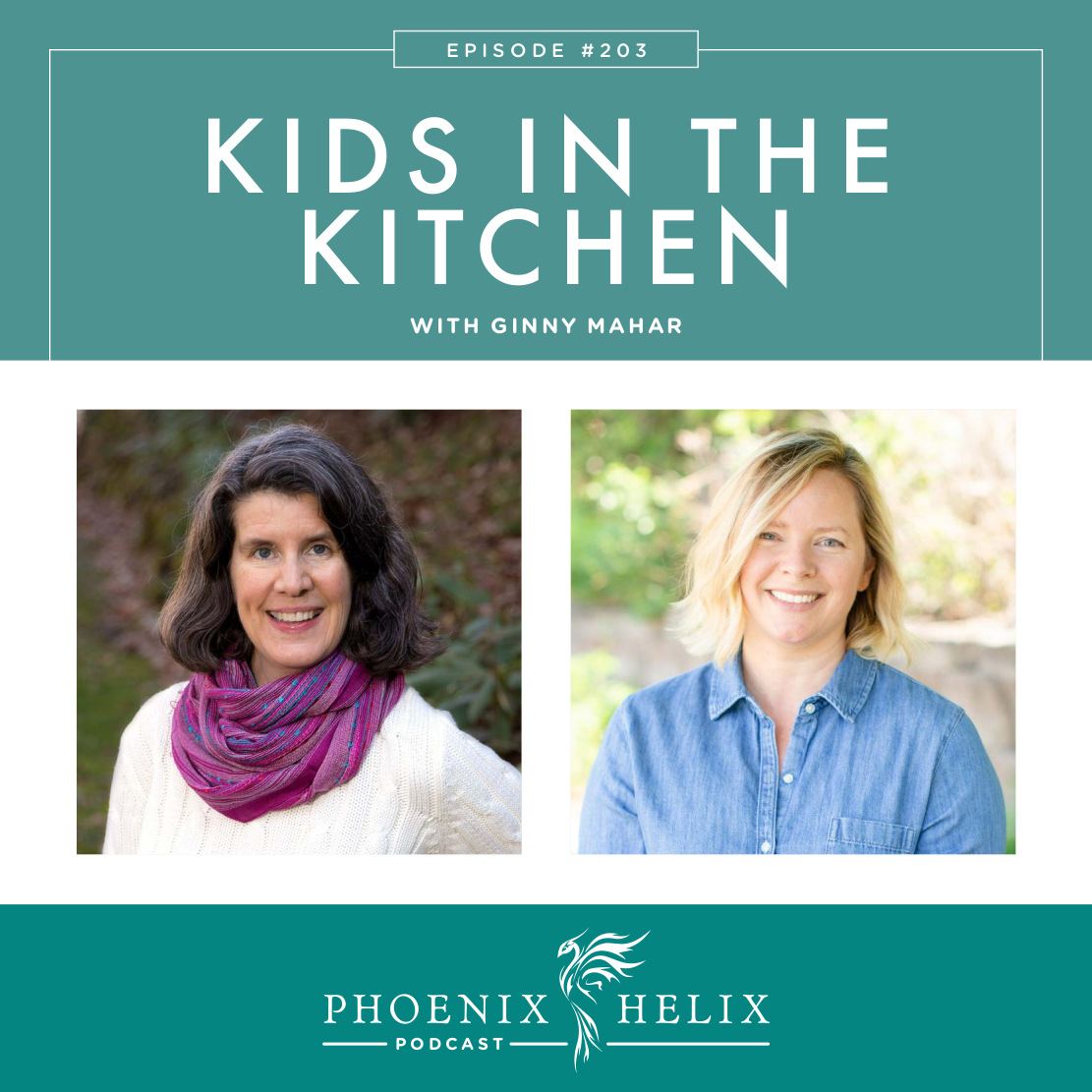 Teaching Your Kids to Cook and Love Real Food
When you see the power of food as medicine for yourself, it's natural to want your children to benefit as well. It doesn't mean they need to eat just like you, but fostering a love of real food is an understandable goal. However, children often go through picky eating phases and have a deep love for packaged foods, fast food, and as many sweets as you're willing to provide. One way to get kids interested in healthier eating is to welcome them into the kitchen, teach them how to cook, and allow them to select recipes to try. So, today we're sharing tips for all ages: babies, toddlers, grade school, and teens. My guest is Ginny Mahar, a fellow parent and autoimmune warrior who is also a professional chef and cooking instructor. After being diagnosed with Hashimoto's herself, she went through a diet, lifestyle, and health transformation. She is now a passionate advocate for autoimmune health and shares recipes and lifestyle tips through her website: Hypothyroid Chef.
Listen to the Show
Podcast: Play in new window | Download
Show Notes
Intro (0:00)
Thank You to Our Podcast Sponsor – ShopAIP (4:07)

Today, I'm highlighting their AIP baking mixes. They're a great way to bridge the gap between your child's sweet tooth and your healing diet. They're also great for beginner cooks. EAT G.A.N.G.S.T.E.R. has 5 delicious flavors of cookie and cupcake mixes. AIPeazy sells an AIP waffle and pancake mix, a muffin mix, and a pizza crust mix. The Legit Bread Company has mixes for bagels, sweetbread, pretzels, brownies, cookies, and more. And Beth Blends sells an AIP flour mix that can be used in a variety of recipes. You can find all of these through ShopAIP!
ShopAIP is an online store dedicated to the Paleo Autoimmune Protocol. With hundreds of items for the elimination phase of the AIP, and products labeled by reintroduction category as well. You can find protein bars, sauces and condiments, AIP-friendly spices, cooking and baking ingredients, waffle and pancake mix, delicious snacks, and more.
If you're a first-time customer, use the code PHOENIX for 10% off your order. Purchase here.

Ginny's Healing Story (5:35)

She has Hashimoto's thyroiditis and is the woman behind the website: Hypothyroid Chef. She also has a 20+ year background as a professional chef and cooking instructor.
She started developing health problems after she gave birth to her son, and they continued for the first 4 years of his life. She was diagnosed with hypothyroidism, but wasn't told it was autoimmune. She was prescribed thyroid medication but told that diet didn't matter. Unfortunately medication wasn't enough to alleviate her symptoms.
When her health was at its worst, she got sick all the time – multiple infections one right after the other. She took antibiotics 3-4 times a year. Needless to say, she was exhausted all the time and had terrible brain fog as well.
When she went to her doctor for help, he told her that her labs were normal, so there was nothing he could do. He blamed it on age (she was only in her 30's at the time). He told her to "eat less and exercise more". He also recommended anti-depressants. She was made to feel like she was the problem and that it was all in her head.
She was working as a cooking instructor at the time, and she mentioned to her students that she had hypothyroidism and was starting to see a connection between the foods she ate and how she felt. After class, three women came up to her and shared their Hashimoto's stories. They told her about the thyroid tests that she should request from her doctor to give her a more specific picture of her thyroid function. She requested the tests and learned she has Hashimoto's.
At that point she switched doctors and chose one with a more holistic approach. Her doctor did some root cause testing and optimized her medication, but her primary recommendations were around food. Ginny experienced rapid improvements in her health within just a few months. It felt like a metamorphosis, and she loves the butterfly symbol that's often associated with the thyroid. After 4 years of being sick, she had forgotten what it felt like to be well. Now, she rarely gets sick. She hasn't needed antibiotics once in the past 7 years. She has energy and zest for life again. It doesn't mean her health is perfect. She has occasional setbacks, but she knows how to navigate them, and it's a day and night difference from what her health was like at rock bottom.

Eileen & Ginny's Experiences as Kids in the Kitchen (17:43)

When Ginny was 9 years old and her friends were watching The Smurfs, she was watching The Cajun Chef on PBS and scribbling down recipes. Her mother encouraged her to cook one of the meals, and Ginny chose Pasta Salad. Her mother bought the ingredients, Ginny made the recipe, and it turned out awful! But her parents were 100% supportive, ate the recipe, and told her it was delicious. They helped her become comfortable with failing so that she would keep cooking until eventually she had more successes than failures.
Eileen was 10 years old when her mother went back to work as a nurse working the 3pm-11pm shift. Although she had older siblings, none of them wanted to take over the family cooking, so Eileen did. Her mother made it very easy, doing a lot of the prep in the beginning and leaving detailed notes, until eventually Eileen gained enough experience to do the prep herself and no longer needed the notes. Just like Ginny, her family was very supportive whether a recipe succeeded or failed. Her father would eat anything she cooked. She was never criticized if a meal didn't turn out – she was encouraged instead. It made a big difference in building her confidence in the kitchen. Later in life, one of her first jobs out of college was teaching independent living skills to adults with developmental disabilities. She not only taught them how to cook, she taught her fellow staff members as well, because many of them had never cooked homemade meals.

Tip #1: It's OK to Try and Fail

This is part of learning how to cook. Every recipe is an experiment, and cooking isn't about perfection. It's about trial and error and learning as we go. Over time, we have more successes than failures. This builds confidence to try new things, and it's a skill that applies in both cooking and life. So, if you're a new cook, give yourself grace. And if you're teaching your children to cook, encourage ALL of their efforts, including their failures.

Thank You to Our Podcast Sponsor – Autoimmune Strong (25:38)

Have you heard of Autoimmune Strong yet? It's the ONLY exercise program designed FOR people living with chronic pain, BY someone living with chronic pain.
Andrea Wool, the personal trainer behind Autoimmune Strong, is an autoimmune warrior herself. She struggled for years trying to figure out how to exercise in a way that made her feel good, but all the fitness programs she tried ended up causing flare-ups and exhaustion instead. She knew there had to be a better way. So she studied, experimented, and created a program that works FOR people with autoimmune disease.
The goal of Autoimmune Strong is to help you gain strength, flexibility, and mobility, without causing exercise induced flare-ups or post-exercise exhaustion.
All the exercises can be done at home – no gym necessary. And there is a ton of support built in all along the way, with access to expert coaches, monthly zoom calls with Andrea, and an amazing membership community filled with other people just like you.
You can try Autoimmune Strong for free! Everyone gets a 7-day free trial. Andrea is also giving my listeners an extra discount of 10% off your first month with the code PHOENIX.
We all deserve to feel healthy and strong in our bodies. You deserve a life with fewer flares and more joy. Learn more at GetAutoimmuneStrong.com.

How Ginny Taught Her Son to Cook (27:30)

Her son is now 10 years old.
His first experience in the kitchen was when he was still in a high chair. She was making a simple guacamole (avocado, lime, and salt) and realized he could help mash it up with a potato masher. He loved it so much, he ate the whole bowl!
Now that he's older, he's more interested in learning to cook by himself and trying new things (experimenting in the kitchen). He also likes to participate in meal planning, choosing some of the recipes for dinners.
One thing that Ginny and her husband tried to do was invite him to help cook throughout his childhood without making it a requirement. Everyone in the family contributes to the meal, but if her son isn't in the mood to cook, he can set the table or help with dishes.

Babies in the Kitchen (30:53)

Ginny recommends bringing your baby into the kitchen from day one to let them know it's a gathering place, and they are welcome there.
Safety is obviously important, so they babyproofed their cabinets and would have their son in a high chair or a bouncy seat, so he was safe. But they would also talk to him and show him what they were doing as they cooked. They started teaching safety right away, pointing out what was hot and sharp and shouldn't be touched. They also gave him a bottom drawer full of kitchen things he could safely play with (Tupperware and wooden spoons).

Toddlers in the Kitchen (33:51)

Between the ages of 1-3, kids can start learning some kitchen skills. Just understand they will make a mess, and that's okay. Not every meal needs to be a teaching/helping meal. Sometimes, you'll want a fast meal and a clean kitchen. But children love to help, when invited.
Potato mashers are pretty safe tools, and you can use them for lots of things: mashing avocados for guacamole, mashing cooked sweet potatoes, mashing bananas, etc.
This is a great age to expose them to different flavors too, so you can add salt or oils or herbs to what they're mashing and have them taste it and see what they think. Taste testing is a foundational cooking skill.
Some experts say you can start teaching children knife skills at age 2. They sell special kid-safe knives for this purpose. You'll obviously need to supervise, and guide their hands until they get the hang of it. Start with soft foods first, like bananas or strawberries. If they do well with that, cucumbers and zucchini are medium-soft.
One of the best investments Ginny made at this age was a toddler kitchen stool. It's a special design with guardrails that help keep them safe, but they can climb it independently to get up to counter level.
Every child is different, but you may be surprised at what they can learn to do at young ages.

Ages 4-6 (39:28)

Note: These ages aren't hard and fast rules. They're just general guides. Every child is different in development, personality, and interests. Your child might be older or younger when you start introducing these skills. And with all skills in the kitchen, they do require guidance when they're young.
Cracking eggs is a fun skill to teach at this age.
Children love baking. Teaching them how to use measuring cups and spoons is a foundational skill they really enjoy. The same goes for stirring everything together and beginning to use mixers.
Kids also love kitchen tools – they seem like toys. Spiralizers are really fun for children and they may eat more vegetables if they are spiralized. Because it's a sharp blade, you'll need to teach them safety skills and help with inserting and removing the blades, but they can crank the spiralizer by themselves. (Resource: Spiralizer Recipe Roundup.)
Blenders are fun, and smoothies are a great way to sneak some extra nutrition in your child's diet. Children can help pick ingredients to try in a smoothie, and this teaches them how to experiment in the kitchen.
Salad spinners are great toys and encourage children to enjoy eating greens.

Ages 7-9 (42:15)

If they've mastered knife skills with the kid-safe knives, you can start teaching them safety and responsibility with real knives. Obviously you'll want to be present, and you'll know when your child is ready for this, but children feel very proud when they gain this ability.
This is also an age where they can start to use other sharp tools, like vegetable peelers and cheese graters.

Ages 10 and Up (43:02)

At this point, you can start teaching full recipes, starting with easy ones, and working your way up to more challenging ones. They can learn to brown meat, make sauces, cook vegetables, prep ingredients, etc., and overall develop more independence in the kitchen.
Both Ginny and Eileen started learning to cook independently at this age, and the same is now true for Ginny's son. Again, every child is different, and these ages are general guides.

Kid-Friendly Paleo & AIP Recipes (46:15)

Children don't need to follow our therapeutic diets exactly, but it's nice when one meal can be cooked for the whole family. Start by asking them to help with meal planning, choosing recipes that appeal to them and include their favorite foods.
Below are some recipes that kids often love:

Kid-Friendly Books & Cookbooks (51:53)
Advice for Picky Eaters (53:09)

When children are very young, they're often more open to trying new things. Take advantage of that and introduce them to lots of foods and flavors. If they become pickier as they get older, keep offering options. Sometimes, they might say yes.
Children love bright colors, so teaching them to Eat the Rainbow helps encourage them to try fruits and veggies they wouldn't otherwise try.
When children grow herbs or vegetables, they're usually more interested in eating them. You can start with one pot in the kitchen or outside.
Pickles can be a gateway vegetable for kids. Start with dill pickles and then branch out to pickled beets and carrots or beets and cauliflower.
Hidden veggie recipes are wonderful – you can grate vegetables and add them to favorite meatloaf and meatball and burger recipes. Hidden organ meat recipes pack a lot of nutrition in the same way.
For kids who like smooth foods – you can puree a wide variety of veggies (and even proteins) into smoothies and soups, giving them the texture they love but increasing the nutrition.
Most kids like bacon, and if you wrap veggies in bacon (or even chicken livers), they may be more likely to try it.
For kids who like white foods (bread, pasta, rice, etc.) – you can see if they'll try things like cauliflower rice or mashed white sweet potato, which is still their favorite color but widens their nutrition.
Children also like to participate in meal planning, and are more likely to try new recipes (and new foods) when they've cooked (or helped cook the recipe) themselves.
Also recruit them as taste testers. They feel proud to be asked their opinion. They'll also be more excited when the food is served, because they helped make it good!

Outro (58:33)
You May Also Be Interested In
Spreading the Word
If you like the podcast, please leave a positive review in iTunes. It would mean the world to me, and also helps others find the podcast. Here are some quick instructions using your iPhone:
If you are already subscribed to my podcast: (1) Click the purple podcast icon. (2) At the bottom of the screen, click Library. (3) At the top of the screen, click Shows. (4) Click the Phoenix Helix podcast image. (5) Scroll down the page, and you'll see Ratings and Reviews. Scroll down a little bit more and click on Write a Review. This will bring up the review screen. Tap 5 stars (if you love the podcast), and then click in the title box, and it will bring up the keyboard. Enter a title and short review. (6) Click Send in the upper right corner. (7) Thank you! Positive reviews give the podcast a higher search ranking in iTunes, helping people find it and letting them know it's a quality podcast and worth their time to listen.
If you haven't subscribed to my podcast: (1) Click the purple podcast icon. (2) In the lower right corner, click the magnifying class. (3) Type Phoenix Helix in the search box. (4) Click the podcast cover in the Show list. (5) If you'd like to subscribe, click the + sign at the top of the screen. (6) To write a review, scroll down the page, and you'll see Ratings and Reviews. Scroll down a little bit more and click on Write a Review. This will bring up the review screen. Tap 5 stars (if you love the podcast), and then click in the title box, and it will bring up the keyboard. Enter a title and short review. (7) Click Send in the upper right corner. (8) Thank you! Positive reviews give the podcast a higher search ranking in iTunes, helping people find it and letting them know it's a quality podcast and worth their time to listen.