(Paleo, AIP, GAPS, Wahls)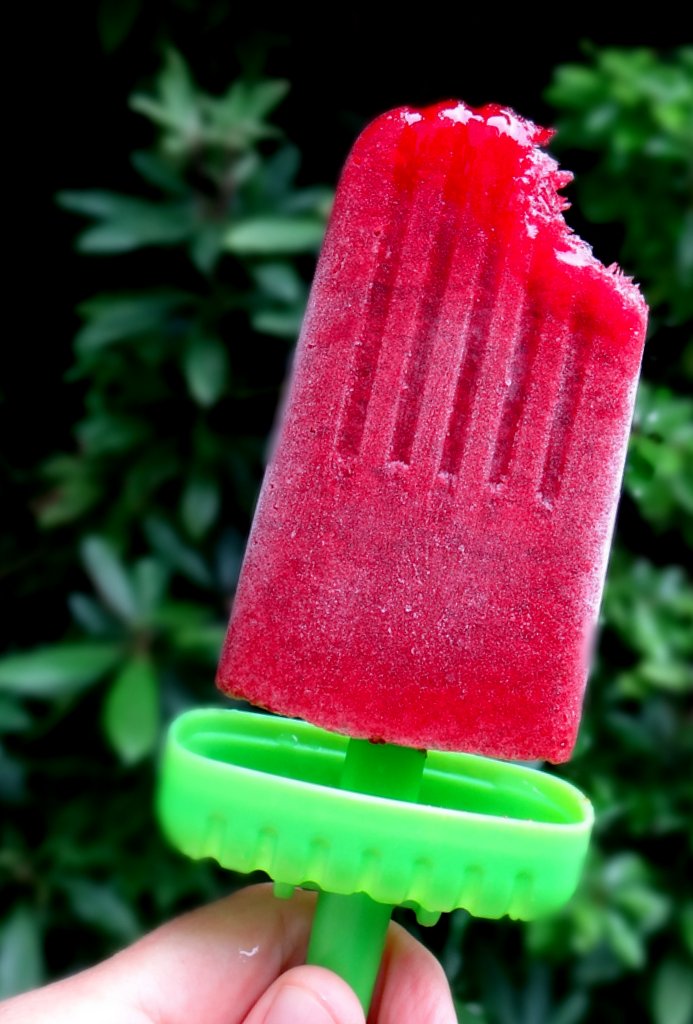 "Summer is delicious, rain is refreshing, wind braces up,
snow is exhilarating; there is no such thing as bad weather,
only different kinds of good weather."
~ John Ruskin
Refresh
Bring a burst of winter to a hot summer day, with a nutritious and delicious homemade popsicle. Kombucha provides healing probiotics and beneficial acids. The berries are packed with antioxidants. Added bonus? They're easy to make and taste sooooo good. Plus, to keep you from getting bored, I put together a Paleo Popsicle Roundup, linking to 10 other healthy recipes from around the web. You can make a new kind every week, and even create your own variations. Happy summer, everyone!
Recipe
Ingredients
1 cup blackberries
1 cup strawberries
1 cup kombucha
raw honey, to taste.
Directions
Blend the berries and kombucha together in a blender, and then taste. Kombucha can taste anywhere from sweet-sour to very sour. Depending on your brew, you might find that no honey is needed. Otherwise, add a tablespoon at a time, until you hit your sweet spot.
If you don't want berry seeds in your popsicles, strain the mixture before pouring into the molds. If you like the seeds, just pour straight from the blender. Either way, leave a little space at the top for them to expand in the freezer.
Freeze a minimum of 6 hours.
Run the mold under water to release the popsicle. Enjoy!
Note: I bought these bpa-free popsicle molds, but if you don't have any, you can pour the mixture into an ice cube tray, cover with plastic wrap, and then insert toothpicks for the popsicle stick. (The plastic wrap keeps the toothpicks pointing straight up while the cubes freeze.)


Other Articles in the Kombucha Series
Paleo Popsicle Roundup

There's no limit to creativity, when it comes to popsicles. Here are 10 more recipes to keep you inspired all summer long:
~~~
This post is linked to the following blog carnivals:
Simple Meals Friday, What Am I Eating, Whole Food Friday, Sunday School, Make Your Own Monday, Natural Living Monday, Fat Tuesday, Healthy Tuesday, Hearth & Soul Hop, Traditional Tuesday, Tuesdays with a Twist, Well Fed Wednesday, Waste Not Want Not Wednesday, Allergy Free Wednesday, Gluten Free Wednesday, Real Food Wednesday, Wildcrafting Wednesday, Whole Foods Wednesday, Simple Lives Thursday, Tasty Traditions, Thank Your Body Thursday, Pennywise Platter Thursday, Paleo Rodeo, Wellness Wednesday, Eating Inside the Box,