This post may contain affiliate links. Click here to see what that means.
(Paleo, AIP, GAPS, Wahls)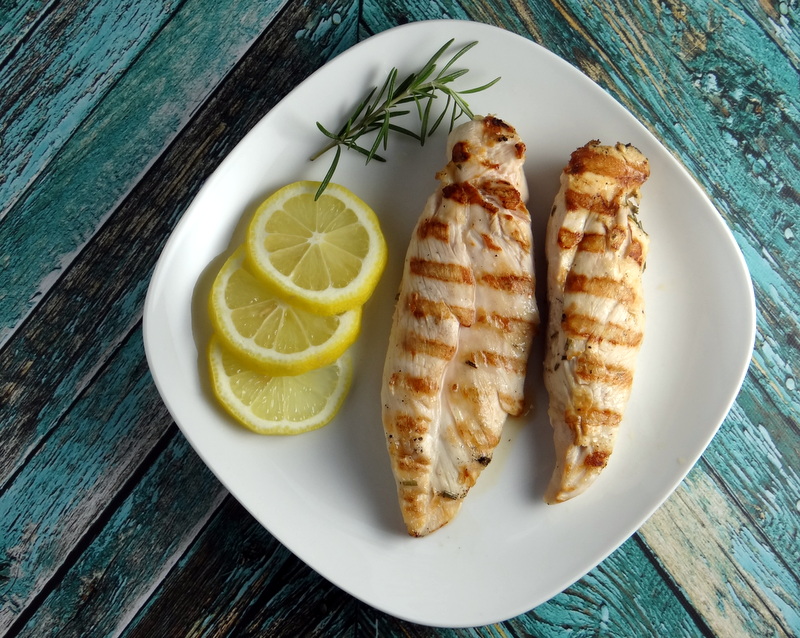 "Grilling means good times, good friends, and hopefully, great food."
~ Bobby Flay
My summer recipe series continues with one of my favorites. It's easy and delicious, creating chicken on the grill that's both juicy and full of flavor. If you've disliked chicken breasts in the past, this recipe is about to change your mind.
Recipe
Ingredients
2 lbs. boneless chicken breasts
½ cup fresh-squeezed lemon juice (takes 2-4 lemons, depending on size)
1 Tbsp. extra virgin olive oil
1 Tbsp. fresh rosemary (minced)
1 clove garlic (pressed)
¼ teaspoon sea salt
¼ teaspoon black pepper (optional – omit for AIP)
Directions
In a large glass measuring cup, stir together the lemon juice, olive oil, rosemary, garlic, salt and pepper. Set aside.
Pound the chicken breasts to an even thickness and cut into strips.
Place the chicken in a large bowl or casserole dish and pour marinade on top. Toss to coat well, cover & refrigerate 2-3 hours. (Don't marinate longer than this. Lemon juice is a strong, fast-acting marinade).
Preheat a gas grill for 10 minutes on high. Then turn heat down to medium and grill the chicken, covered, for 4 minutes per side.

More Delicious Recipes
This post is linked to the following blog carnivals:
Whole Food Friday, What Am I Eating?, Simple Meals Friday, Allergy Friendly Lunchbox, Sunday School, Make Your Own Monday, Tuesdays with a Twist, Healthy Tuesday, Hearth & Soul Hop, Fat Tuesday, Traditional Tuesday, Allergy Free Wednesday, Waste Not Want Not Wednesday, Gluten Free Wednesday, Real Food Wednesday, Wildcrafting Wednesday, Whole Foods Wednesday, Simple Lives Thursday, Tasty Traditions, Thank Your Body Thursday, Pennywise Platter Thursday, Paleo Rodeo,
Have you checked out my books?