This post may contain affiliate links. Click here to see what that means.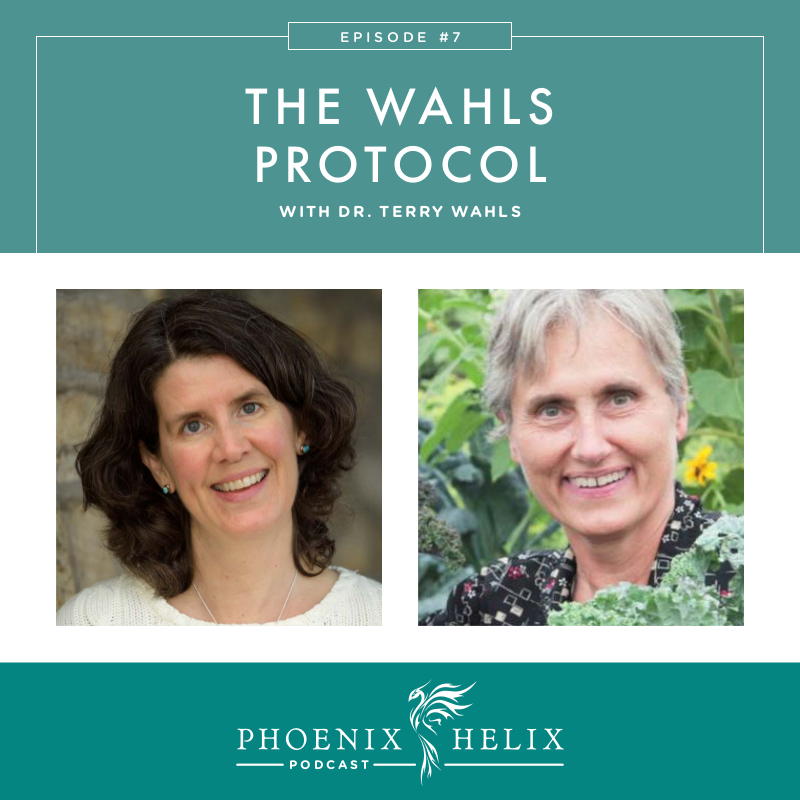 Meet One of My Sheroes

If you're new to paleo and you haven't heard of Terry Wahls, prepare to be inspired. If you've heard Terry speak before, and she's one of your sheroes as well, you're going to love this interview.
Terry is a physician with multiple sclerosis, for whom standard medication failed. In spite of receiving the best treatment available, she quickly declined to a wheelchair and was on her way to being bedridden, with no hope of improvement. She put her scientific background to work and began researching the nutrients our bodies need to heal and regenerate. She dramatically changed her diet from vegetarian to the nutrient-dense Wahls Protocol, adding 9 cups of vegetables daily to a high-quality paleo diet. Within a year, she was out of the wheelchair and on a bicycle.
Today, we talk about her protocol in detail, advice for beginners, common mistakes people make, transitioning from vegetarianism, do a guided meditation, and get an update on her clinical trials. Her first research is proving the effectiveness of her protocol on others with MS. In 2015, her trials will expand to patients with fibromyalgia, and rheumatoid arthritis.
Listen to the Show
There are three ways to listen:
You can subscribe to my podcast through iTunes.
You can listen through Stitcher.
You can also listen to the episode right here through the play bar at the bottom of this post. If you subscribe to my blog by email, you'll got notified of future episodes.
Show Notes
Intro (0:00)
Meet Terry (0:51)
Her Healing Story (1:37)

She was diagnosed with relapsing remitting MS. In spite of receiving the best medical treatment available, she developed secondary progressive MS 3 years later.
Upon her doctor's advice, she gave up 20 years of vegetarianism and began the paleo diet. However, it didn't reverse her symptoms, and soon she was in a wheelchair.
Seeking solutions, she delved into nutritional science and found supplements that improved brain health. Taking those slowed her decline. But it wasn't until she switched from supplements to whole foods that contain those nutrients, that the magic happened. Within 1 month, her brain fog was gone. Within 3 months, her fatigue was gone. Within 6 months, she was walking without a cane. Within 12 months, she was able to do a 20 mile bike ride with her family.
Her health and abilities continue to improve every year. She shares her improvements, as well as her remaining challenges.

The Wahls Protocol (9:03)

Targeted nutrition focuses on neurotransmitter, antioxidant and detox pathway support.
Level 1: Wahls Diet – Transition level from a standard American diet, with vegan, vegetarian and omnivore options.
Level 2: Wahls Paleo – Paleo diet with focus on the nutrient-density of organ meats.
Level 3: Wahls Paleo Plus – Ketogenic paleo diet with focus on coconut oil and plenty of vegetables.
Level 4: Elimination diet.
All levels incorporate 9 cups vegetables daily (on average) and are gluten-free, dairy-free and egg-free.
Terry herself started with level 1 and progressed to the top levels over her 7 years of healing and self-experimentation. She now follows the ketogenic Wahls diet, personalized to her food sensitivities.

Advice for Transitioning from Vegetarianism to Paleo (14:18)

Start with bone broth.
When you become accustomed to that, add finely chopped meat to the broth, simmer until cooked, and blend into a smooth puree.
Next stop blending it, and grow accustomed to the texture of the meat in the soup.
Then expand to eating meat in other wyas. Stews and slow braises are easier to digest then grilled or roasted meat, and rare meat is easier to digest than well-done.
Terry shares her personal experience transitioning from vegetarianism. It took her several months to become fully comfortable with the smell, texture and taste of meat after 20 years without it.

Advice for Eating 9 Cups of Vegetables Daily (19:03)

9 cups of vegetables is an average. Terry is 6 feet tall, so she eats 12-15 cups. Petite women do fine with 6 cups. Her advice is to remove all of the nutrient-poor foods from your diet (grains, legumes, paleo desserts, etc.), eat 6-12 ounces of meat daily (according to size and gender), and then eat as many vegetables to be satiating. If you aren't filling up on other forms of carbohydrate, you'll be hungry and have room for more vegetables. But don't feel like you have to force-feed yourself to reach 9 cups.
Be sure you eat some from each food category every day: greens, sulfur-rich, and brightly colored.
Terry personally tries to eat 200 different varieties of plants over the course of a year. The more diverse our diets, the deeper our nutrition.

Advice for Eating Organ Meats (27:55)
Common Mistakes People Make on a Healing Diet (32:33)

In the gluten-free community: giving up gluten, and then stocking up on gluten-free replacements of the same packaged foods, instead of switching to a whole foods diet.
In the paleo community: focusing only on the foods to avoid, rather than the foods that nourish.
In both communities: not realizing that nutrient-density is the key to healing.

Lifestyle Recommendations of The Wahls Protocol (35:41)
Terry Guides Us Through A Simple Meditation (40:12)

Start with just 1 minute in the morning, and 1 minute at night.
You can increase that over time.

How Soon Can People Expect to See Results? (42:47)

The first symptoms to improve are energy, mood and mental clarity, which usually happens within 3 months.
Pain relief usually occurs within 3-6 months.
Motor function (strength, balance, walking speed) usually improve between 6-12 months, because those abilities depend on exercise. Fatigue and pain need to improve first, before increased exercise is possible.

Terry's Clinical Practice (45:15)

She's the director of both a traumatic brain injury clinic, and a functional medicine clinic, at the Iowa City VA Medical Center. She can only accept patients who are veterans living in Iowa City.
If you subscribe to her newsletter, you will hear about online seminars and in-person events where Terry teaches about her protocol.

How Soon Can I Get Off My Medications? (50:45)

If you're newly diagnosed and haven't yet started medication, you might be able to avoid them altogether by starting the Wahls Protocol right away.
If you're on medication, it's important to keep taking them when you start the diet, because it takes time for the diet to lead to improvements. Work with your doctor to monitor your symptoms and only reduce and eliminate medication as you no longer need them.
Blood sugar medication can often be reduced within the first few weeks. Blood pressure medication can sometimes be reduced rapidly as well. Immunosuppressants take longer.
If you go off medication too soon, you will often cause a flare of your disease, not because the diet isn't working, but rather because it hasn't had time to work.
Ideally, work with a functional medicine practitioner to help you make these choices.
Also be aware that tests will often still show the presence of your autoimmune disease, even when you are feeling fabulous. This is the difference between reversing autoimmune disease and a cure. Don't be discouraged – how we feel is far more important than what an MRI or a blood test shows.

Terry's Clinical Trials (57:38)

Prior and current studies have focused on the effect of the Wahls Protocol on MS at different stages of the disease, and different levels of the protocol.
Two new studies are going to be focusing on fibromyalgia and rheumatoid arthritis (RA). The RA trial is going to compare results form conventional medical treatment, and nutrition/lifestyle intervention. How cool is that?

Outro (1:01:25)
Spreading the Word
If you like the podcast, please leave a positive review in iTunes or Stitcher. It would mean the world to me, and also helps others find the podcast and learn about their potential for healing. Instructions using your iPhone: (1) Click the purple podcast icon. (2) In the lower right corner, click the magnifying class. (3) Type Phoenix Helix in the search box. (4) Click the podcast cover in the lower left. (5) Click the center tab: Reviews. (6) Click on the phrase: Write a Review. (7) Fill out the stars, title, and text for the review itself. (8) Click Send. (9) Thank you! Positive reviews give the podcast a higher search ranking in iTunes, helping people find it and letting them know it's a quality podcast and worth their time to listen.
Listen to the Show
There are three ways to listen:
You can subscribe to my podcast through iTunes.
You can listen through Stitcher.
You can also listen to the episode right here through the play bar at the bottom of this post. If you subscribe to my blog by email, you'll got notified of future episodes.
Podcast: Play in new window | Download
Subscribe: Apple Podcasts | Android | RSS
Have you checked out my books?