This post may contain affiliate links. Click here to see what that means.
(Paleo, AIP, GAPS)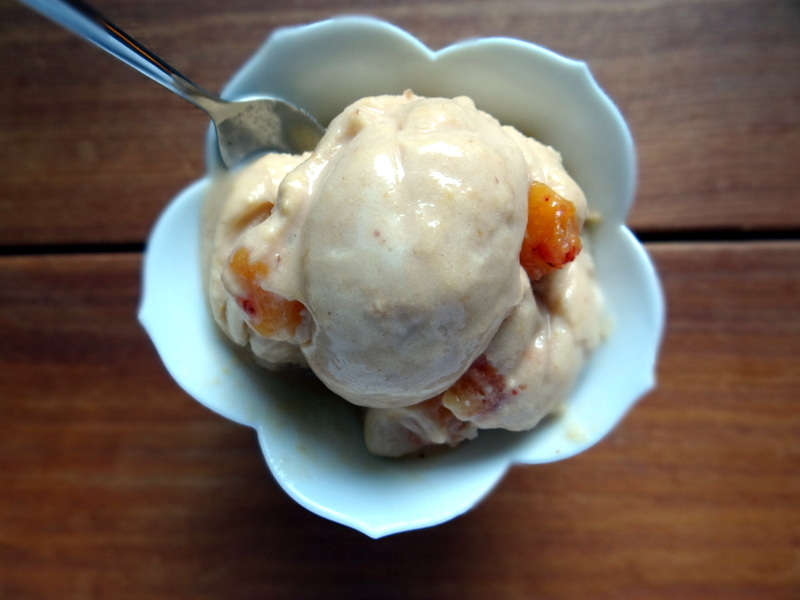 "I doubt whether the world holds for anyone a more soul-stirring surprise than the first adventure with ice cream."
~ Heywood Campbell Brown
Celebration
I started my healing diet in June 2012. June 2013, I bought myself an ice cream maker as a reward. I could live without ice cream for one year (and I did), but I had no desire to abstain for a lifetime. I spent this summer happily experimenting with recipes. The result? A creamy, peach-ginger concoction that is autoimmune-protocol friendly, and absolutely delicious. Enjoy it on your next special occasion!
This recipe was chosen as one of
Fast Paleo's Top 10 Ice Cream Recipes for 2013!
Woot Woot!
Ingredients
2 cups additive-free coconut milk (divided)
2 Tbsp. coconut oil
½ Tbsp. finely grated fresh ginger (I like this ginger grater)
4 whole cloves
1 lb. peeled, chopped peaches (weight after chopping; approximately 5-6 cups)
¼ cup raw honey
1 tsp. alcohol-free vanilla
1 tsp. gelatin
¾ cup peeled, diced peaches (to add to ice cream once frozen)
Directions
Freeze ice cream bowl for 24 hours before starting recipe.
Pour 1¾ cup coconut milk into small saucepan. Put the remaining ¼ cup in the fridge.
Add coconut oil, ginger and cloves to the coconut milk in the saucepan. Heat over medium heat until it begins to steam. Remove from heat, stir to blend, cover and let steep 30 minutes.
Meanwhile, peel and chop peaches and place them in a blender. (Don't blend yet.)
Add honey and vanilla to peaches.
When coconut milk is done steeping, remove the cloves.
Add 1 tsp. gelatin to the cold coconut milk from fridge. Let sit for a minute, so the gelatin blooms, then add to warm coconut milk. Stir until the gelatin dissolves, and then pour on top of peaches in blender.
Blend on low speed until smooth.
Refrigerate mixture a minimum of 6 hours.
When ready to make ice cream, process according to your ice cream maker's instructions. While it's churning, peel and dice the final ¾ cup peaches, and add them to the ice cream mixture during the last few minutes of churning.
I like it best right out of the ice cream machine, when it has a soft-serve consistency. Some people like to freeze it one hour, just to give it more solidity before scooping. If you freeze it longer than that, it will get rock-hard. (It's the nature of all homemade ice cream.) To soften it to scoop, defrost it in the fridge for an hour or on the counter for 20-30 minutes.
Note: Don't have an ice cream maker? Here's a technique to try and make it by hand.

You May Also Be Interested In
Have you checked out my books?