This post may contain affiliate links. Click here to see what that means.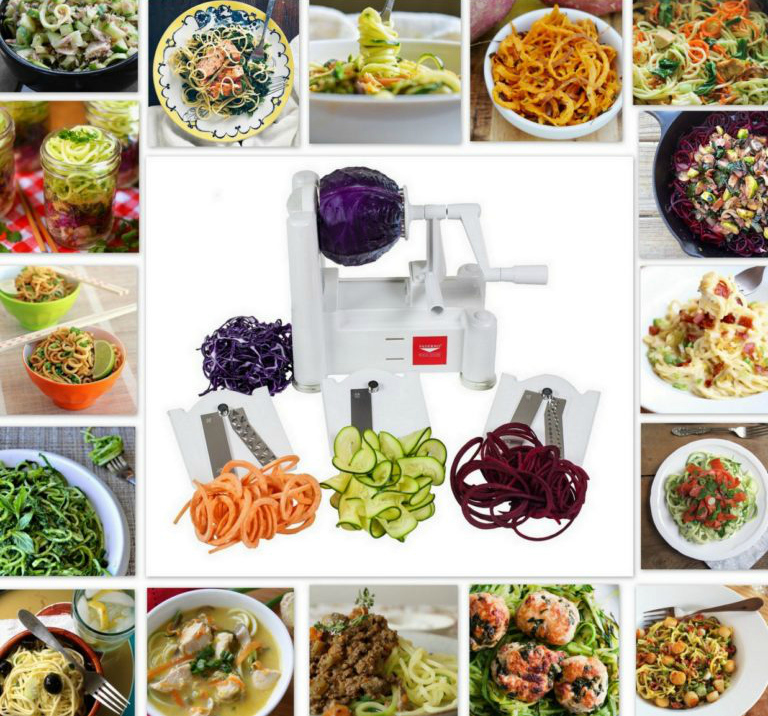 "For me, it's the unexpected and surprising combinations of produce that are the most exciting and lure me into the kitchen for a little bit of experimenting."
~ Marlo Thomas
---
Zoodle Love
I was paleo for a couple of years before finally buying myself a spiralizer, and I don't know why I waited so long! It simply makes meals fun. It's a great way to get kids to eat their veggies, and adults are always impressed with a spiralized presentation – like the meal just went "gourmet." Above all, vegetable noodles are more nutritious and delicious than their bland store-bought counterparts. I don't miss traditional pasta at all!
Spiralizer Basics

My favorite spiralizer is made by Paderno. I have their 3-Blade Basic, which is their most popular model. You can see it in the center of the collage photo at the top of this post. It's very easy to use and reasonably priced. The blade I use most often is the one with the smallest triangles. It makes spaghetti-size noodles. The blade with the larger triangles makes thicker noodles and curly fries. And the flat blade makes fettuccine-style ribbon noodles.
Kitchenaid also sells a spiralizer attachment, and some of my readers have told me they love it! However, I bought it and didn't like it as much as the Paderno. It's too short to fit an entire zucchini, so you have to cut your zucchini in half and spiralize the halves. This is more time consuming and also doubles the amount of zucchini that doesn't get spiralized (the end piece). Also, the Kitchenaid motor is strong and when I tried to spiralize harder vegetables like beets and sweet potatoes, it simply stripped a core inside the vegetable instead of spiralizing it. Lastly, it doesn't do well with any vegetable that isn't perfectly uniform in shape. I ended up giving mine away. Maybe there's a learning curve with this attachment, but I found the Paderno to be user-friendly from the first day of use.
Julienne Peelers & Vegetable Peelers. If you don't have a spiralizer yet, you can use your vegetable peelers to make your noodles. It's a little more time consuming and not quite as fancy, but equally tasty. I did this myself when I first went paleo. Julienne peelers make spaghetti-style noodles, whereas regular vegetable peelers make fettuccine-style ribbons.
Spiralized Side Dishes
Bacon Pesto Pasta from Autoimmune Wellness
Wild Nettle Pesto Pasta from Forest and Fauna
Garlic Rosemary Zoodles from Real Food and Love
Sweet Potato "Noodles" from Thriving on Paleo
Roasted Veggie Pasta Sauce Over Zucchini Noodles from The Tasty Alternative
Paleo Alfredo with Caramelized Leeks & Bacon from Meatified
Asian Veggie Noodle Bowl from Unbound Wellness
Summertime Pastaless Salad from He Won't Know It's Paleo
Spiralized Daikon and Apple Slaw from Adventures in Partaking
Sweet Potato Garlic Shoestring Fries from Comfort Bites
Zucchini Noodles with Nut and Seed Free Pesto from Kaiku Lifestyle (omit pepper)
Ginger Garlic Parsnip Noodles from Meatified
Hot Beet Noodle Salad from Paleo in Comparison (omit pepper)
Seafood Recipes with Spiralized Veggies
Salmon Primavera from Phoenix Helix
Salmon with Rutabaga Noodles and Shallot Herb Sauce from Heartbeet Kitchen
Smoked Salmon Salad with Zucchini Noodles from A Squirrel in the Kitchen
Thai Basil Pesto Zoodles with Shrimp from Real Food and Love (omit pepper)
Citrus Tuna Pasta Salad from EarthyMamacado
Creamy Cucumber Noodles with Shrimp from Empowered Autoimmune
Tuna with Lemon Spinach Pesto Salad from Real Food and Love
Tuna "Noodle" Casserole from It's All About AIP
Smoked Clam Linguini from Autoimmune Wellness
Crab and Meyer Lemon Pasta from Adventures in Partaking
Seared Scallops with Saffron Sauce and Zucchini Noodles from Gutsy By Nature
Zucchini Noodles with Scallops and Bacon from Meatified (omit pepper)
Garlic Shrimp Zucchini Pasta from AIP Sisterhood
Shrimp Pad Thai Noodle Bowl from Beyond the Bite
Poultry Recipes with Spiralized Veggies
Pot Noodle from Healing Family Eats
Chicken Zoodle Faux Pho from Eat Heal Thrive
Chicken Alfredo from A Squirrel in the Kitchen
Green Chicken Zoodle Bowl from Autoimmune Wellness
Ginger Scallion Chicken with Cold Zucchini Noodles from Fresh Tart
"Cheesy" Chicken Pasta with Butternut Sauce from AIP Sisterhood
"Cheesy" Chicken and Green Zoodles from The Castaway Kitchen (omit ghee)
Bolognese Sauce with Chicken Livers and Zoodles from Healing Family Eats
Turkey and Cavolo Nero Cabbage Meatballs over Zucchini Noodles from Comfort Bites
Spaghetti with Basil Avocado Sauce & Grilled Chicken from Livin' the Crunchy Life
Fragrant Herb and Coconut Chicken Soup from Comfort Bites
Meat Recipes with Spiralized Veggies
Thai Beef and Veggie Noodle Bowl from Grazed and Enthused
Grilled Steak and Fresh Cucumber Noodle Bowl from Grazed and Enthused
Spaghetti and Meatballs from The Paleo Mom
Hamburger Stroganoff from Wendi's AIP Kitchen
Citrus Bison Meatballs with Crispy Sweet Potato Noodles from Autoimmune Wellness
Butternut Spaghetti from It's All About AIP
Slow Cooker Korean Beef Zoodles from Wendi's AIP Kitchen
Pulled Pork and Zoodles from Comfort Bites
Pork Belly Ramen from Salixisme
Ginger Lime Parsnip Noodle Bowl from Adventures in Partaking
Roasted Spiralized Veggies, Bacon, and Pan-Fried Figs from Real Food and Love
You May Also Be Interested In

Have you checked out my books?