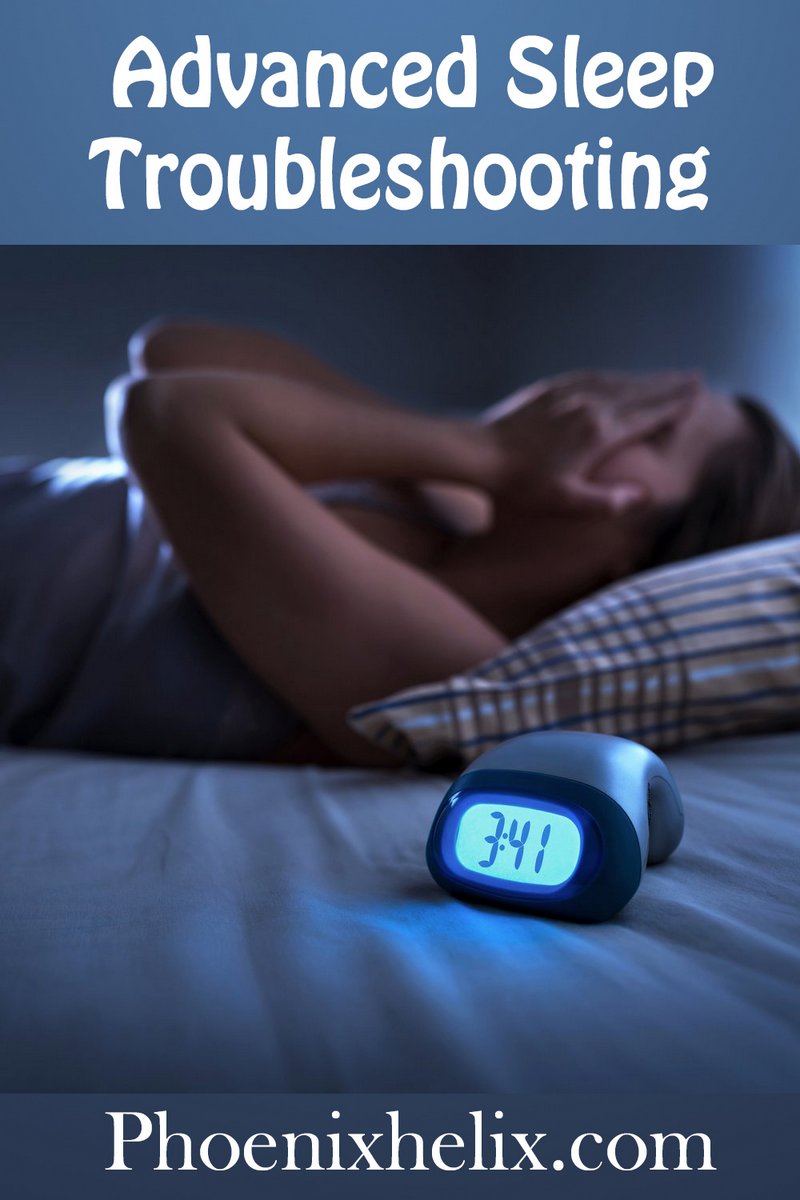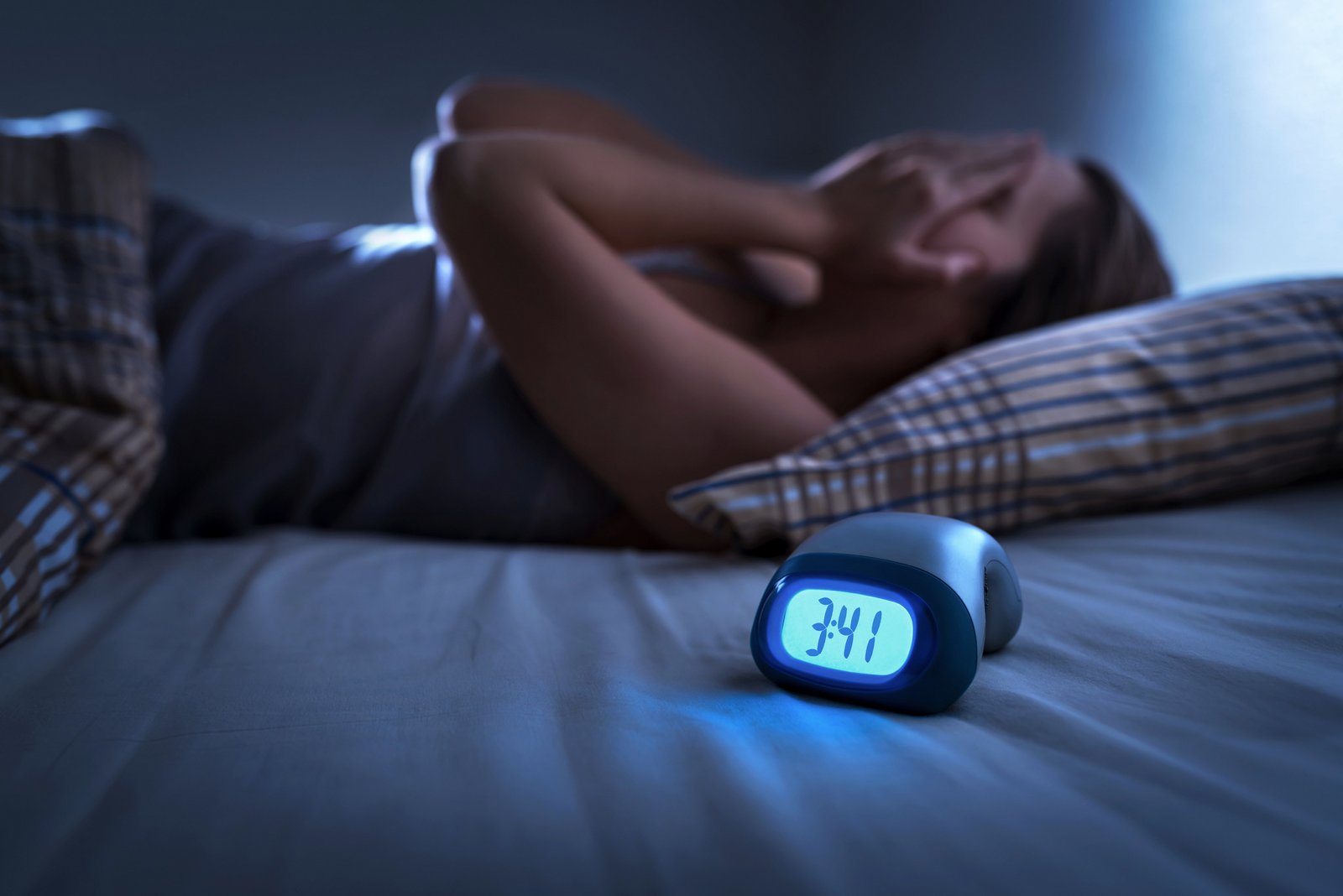 "The best bridge between despair and hope is a good night's sleep."
~ Matthew Walker
---
Insomnia Is Painful
Sleep is meant to be a time of rest and rejuvenation, but for too many people it's a stressful struggle. In fact, one third of people in the United States suffer from insomnia. It's a modern epidemic. How is it defined? When sleep challenges at night result in impairment during the day, that's insomnia. You may be tired, grouchy, and have trouble concentrating. These are obvious symptoms of a poor night's sleep, but insomnia also triggers inflammation and worsens many health conditions. For people with autoimmune disease, it's a common trigger of autoimmune flares. The flares then interfere with sleep, creating a vicious cycle. If this sounds familiar, don't despair. This article is about solutions.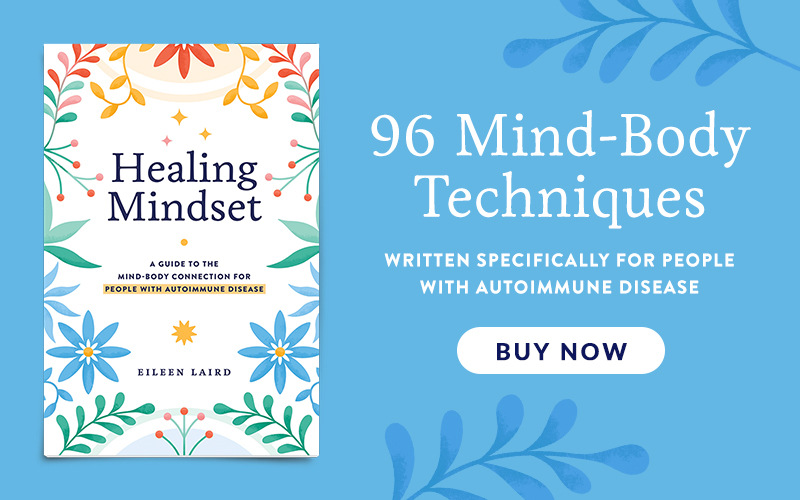 Step One
The first step to overcoming insomnia is laying the foundation for a good night's sleep. Read my article: 10 Ways to Improve Your Sleep Right Now. These tips make it easier to fall asleep and stay asleep. For many people, it resolves the insomnia and there's no need for further troubleshooting. However, if you've mastered those 10 steps and are still struggling, this post is for you. Below, I share the most common obstacles to healthy sleep and what we can do about it.
Anxiety
Anxiety is another modern health epidemic. 31% of people in the United States suffer from a diagnosable anxiety disorder at some point in their life, and that doesn't even take into account the milder anxiety that comes from normal life stressors. For people with autoimmune disease, the rates are even higher. Chronic illness is anxiety-producing in itself, but inflammation can also impact the brain. Insomnia is such a common side effect of anxiety that it's actually part of the criteria for diagnosis. So, if anxiety is keeping you awake at night, you're not alone. Here are 5 things that can help:
Deep Breathing: This is one of the fastest ways to tap the relaxation response. There are many techniques you can try, and I share my favorites in this article: Breathing Techniques for Anxiety, Insomnia, and Fatigue.
Guided Sleep Meditations: Because insomnia and anxiety are so widespread, just about any meditation app has a sleep section. One that I like is Insight Timer.
Emotional Freedom Technique (also called Tapping): This is a simple method for reducing overwhelming sensations, and research shows it can be very effective for anxiety. Here's a video tutorial: Relax My Mind Before Sleep.
Weighted Blanket: This tip comes from my readers, many of whom swear by weighted blankets as their favorite tool for improving sleep. The weight soothes the nervous system and shifts the body into a more relaxed state. The recommendation is to choose one that's 10% of your body weight. Here's a well-reviewed brand: Quility Weighted Blanket.
Professional Help: Just like autoimmune disease, anxiety has root causes. While the above tips can help you in the moment, a therapist can help you reduce your anxiety long-term.
For more anxiety solutions, listen to Podcast Episode 146: Anxiety and Autoimmune Disease.
Pain
Pain is a common symptom of autoimmune disease and also a common obstacle to sleep. Here are some things we can do to make ourselves more comfortable overnight:
Restless Legs Syndrome
This is the frustrating, uncontrollable urge to move your legs when you're trying to fall asleep. It's another symptom that co-exists with many autoimmune conditions, and higher levels of inflammation are linked to higher severity of RLS symptoms. An anti-inflammatory diet and lifestyle is the first step. But there are also specific interventions you can try:
Hormones
Just as hormone imbalances can increase autoimmune symptoms, they can also interfere with sleep. Restoring balance is key.
Sex Hormones: A common symptom of perimenopause and menopause is insomnia, caused by lower levels of progesterone (the relaxation hormone). Sometimes taking magnesium glycinate before bed is enough to resolve the issue, while other times natural progesterone might be beneficial. Consult with your healthcare team to see if one of these may be beneficial for you. To learn more, listen to Podcast Episode 105: Perimenopause & Menopause.
Thyroid Hormones: Two of the most common autoimmune diseases affect the thyroid: Hashimoto's and Graves' disease. Both are connected to sleep difficulties. Hashimoto's causes hypothyroidism and often leaves people feeling exhausted no matter how much they sleep. Graves' causes hyperthyroidism which causes both anxiety and insomnia. An anti-inflammatory diet and lifestyle, like the paleo autoimmune protocol, can be very beneficial. But it's also essential to work with a healthcare practitioner to balance thyroid hormone production. Medication is sometimes necessary.
Stress Hormones: Our circadian rhythms rely on a delicate interplay between cortisol (the awake hormone) and melatonin (the sleep hormone). When we're feeling healthy and sleeping well, cortisol levels are highest in the morning, waking us up and sustaining energy throughout the day. They slowly dip in the evening as melatonin levels rise, helping us wind down and sleep through the night. There are many things that can interrupt this cycle, but stress is a big one. When under stress, cortisol levels spike, and when stress is chronic, those levels stay high. That makes sleep very difficult. Practicing stress management throughout the day is essential. If the first time you're relaxing all day is five minutes before you try to go to sleep, that's unlikely to work. Here's a book with over 90 helpful techniques: Healing Mindset: A Guide to the Mind-Body Connection for People with Autoimmune Disease.
Blood Sugar
Blood sugar (glucose) is one of the main sources of energy for our bodies. When it's stable and balanced, we have solid energy throughout the day and sleep more deeply at night. When it's unstable with blood sugar spikes and plummets, it negatively impacts many things, including mood, energy, autoimmune symptoms, and sleep. There are natural fluctuations in blood sugar overnight, but if it spikes too high, your body will try to get rid of it through urination, waking you up. If your blood sugar dips too low, your body releases cortisol and adrenaline in response, which again wakes you up and makes it difficult to fall back asleep. These fluctuations can also affect temperature regulation overnight, making you too hot, too cold, of alternating between the two. Like many things, this creates a vicious cycle because poor sleep negatively impacts blood sugar. Here are 5 ways to keep your blood sugar balanced:
Breakfast: Don't skip it. I know intermittent fasting is popular but if you're having trouble with blood sugar balance, you need to eat in the morning. Choose a healthy breakfast which includes fat and protein alongside the carbohydrates. (Don't start your day with a smoothie.)
Balanced Snacks: When blood sugar is stable, you can enjoy three main meals daily with no need for in-between meal snacks. But if your blood sugar is unstable, snacks can help stabilize it, provided it's a balanced snack. If it's pure carbohydrate, it can cause a blood sugar spike and plummet. It's fine to have a piece of fruit, but eat it with some healthy fats and/or protein.
Save Starch for Dinner: When you start your day with starch, that often triggers sugar cravings. Having it in the evening as part of your meal promotes sleepiness instead. It's a wonderful way to use food as a sleep aid.
Exercise: It's not just food that impacts blood sugar. Regular movement keeps blood sugar more stable, with narrower fluctuations. Being sedentary does the opposite, increasing insulin resistance which results in higher blood sugar levels. With autoimmune disease, exercise can sometimes be challenging, but you don't need strenuous exercise to have this effect. This podcast shares simple ways to incorporate more movement into your day: Podcast Episode 155: Nutritious Movement.
Manage Stress: This advice shows up in almost every section on this page for a reason. Stress causes insomnia in multiple ways, including blood sugar dysregulation. We can't eliminate stress from our lives, but we can incorporate relaxation breaks into our day and also learn techniques that lessen our stress reactivity. Resource: 5 Quick Stress Relievers.
For more tips, listen to Podcast Episode 131: Blood Sugar & Autoimmunity.
Snoring
People who snore often aren't aware they're doing it, because it happens while they're sleeping. If they share a bed or a bedroom with someone, it interrupts the other person's sleep. If they sleep alone, they may not even know they snore. However, there are health risks associated with snoring. People who snore sleep less, have more daytime fatigue, and have increased odds of developing coronary artery disease and depression. Not only that, snoring is often a symptom of a serious sleep disorder called sleep apnea which can be life threatening. So, the first step is discovering whether or not you snore. Then there are things you can do treat it.
Snoring App: You can download an app to your phone that records your sleep overnight. It will catch if you're snoring and rate the severity. It also makes suggestions for solutions, and you can record your sleep again to see if those solutions work. The most popular app right now is Snore Lab, which has thousands of positive reviews.
Anti-Snoring Exercises: Snoring happens when the tissue in your airway vibrates because it is too loose. Sometimes this is a product of age, which is why people who never snored as children may start snoring at middle age. Just as the exterior of the body loses elasticity with age, so does the interior. There are exercises you can do to strengthen and tone airway muscles, which may lessen or eliminate the snoring. Resource: Mouth Exercises for Snoring.
Mouth Devices: There are a number of products designed to be worn overnight to alleviate snoring. Mandibular advancement devices work by bringing the jaw forward slightly, widening the back of the airway, and creating space between the tissues that cause the snoring sound. Tongue stabilizing devices bring the tongue forward slightly, striving for the same effect. Chin straps and gentle mouth tape keep the mouth closed and redirect air through the nose. You can also seek out a dentist who is trained in dental sleep medicine. They create custom-fitted devices that may be more comfortable than over-the-counter solutions.
Sleep Position: Snoring tends to be loudest when you lie on your back. Training yourself to sleep on your side, or using a wedge bolster to elevate your torso may help.
Dietary Triggers: Sinus congestion is another cause of snoring, and certain foods like dairy and sugar are known to cause sinus congestion. The same is true for alcohol. If any of these are part of your diet, try eliminating them and see if that makes a difference.
Sleep Apnea: I mentioned above that snoring is often a symptom of a more serious health condition called sleep apnea. This is a pattern of stopping and re-starting breathing overnight, and again, people aren't aware they're doing this. The reduced oxygen puts a burden on your body in multiple ways, increasing your risk of heart disease, liver disease, diabetes, metabolic syndrome, and high blood pressure. Sometimes snoring apps can catch signs of sleep apnea – a multi-second break in breathing sounds followed by a sharp inhale of breath, often combined with snoring. However, apps can't catch everything. If you snore loudly and frequently, sleep apnea may be involved and it's a good idea to get a sleep study. To find one near you, Google your town name and the words: "sleep center".
Parenthood
Babies are a gift and a challenge! Newborns need attention around-the-clock, and that means interrupted sleep. It's helpful to remember it's a temporary phase, but there are also things you can do to optimize sleep during this period:
Family Circadian Rhythms: Babies have these rhythms too, and there are things that disrupt it and things that help establish it. Get outside in the morning and expose you and your baby to sunlight. This lets your bodies know it's daytime. In the evening, start turning down the lights in the house to mimic sunset. If you have orange light bulbs in some lamps, that's even better. A white noise machine in the bedroom can be soothing for both of you and encourage deeper sleep.
Naps: Since babies require so much attention, it's natural to want to use naptime to get other things done, but try to take at least one nap per day.
Take Turns: If you have a co-parent, consider taking shifts (early vs. late), so you're not both being woken up at the same time. If you're breastfeeding, pump some milk that your partner can use for nighttime feedings, or at a minimum, ask your partner to be the one to get up and bring the baby to you.
Longer Sleep Window: Since you know you'll be woken up a few times per night, try to go to bed earlier so you get more sleep between those wakings.
Night Shift
If you work overnight and sleep during the day, you are going against your body's natural clock, and insomnia is a common result. This is especially true since the world around you is awake when you're trying to sleep, creating noise and activity that make deep sleep difficult. There's a condition called Shift Work Sleep Disorder which increases the risk for a host of medical conditions: breast cancer, diabetes, hypertension, heart disease, irritable bowel syndrome, menstrual problems, back pain, headaches, anxiety, and depression. If you can switch to day shift, that's a healthier choice, but if that's not an option, there are things you can do improve your sleep and mitigate this effect. I highly recommend this article from Nom Nom Paleo: Surviving the Night Shift.
Sleep Supplements
I'm not a medical practitioner, but there are some supplements well-researched to promote healthy sleep. Remember, what works for one doesn't work for everyone. Consider supplements an experiment, and work with your healthcare team for recommendations personalized to you.
CBT-I: Cognitive Behavioral Therapy for Insomnia
Research shows this therapy is more effective than sleeping pills, with the added benefit of promoting higher-quality sleep without the negative side effects. Insomnia can be crippling, so it makes sense that medication is appealing. The problem is that sleeping pills cause a host of new problems. They sedate rather than promoting healthy sleep (making them more similar to anesthetics). This means you don't go through the natural sleep phases necessary to maintain health. It's not surprising that common side effects match those caused by insomnia (daytime sleepiness, dizziness, memory issues, and trouble concentrating). In addition, sleeping pills are addictive and can also cause a disturbing behavior at night – people have blackout periods where they eat or drive with no awareness or memory of doing so.
That's where CBT-I is such a great solution. It's not a quick fix. It's a therapy that takes time to work, but it results in true sleep and the benefits are long-lasting. To learn more, listen to Podcast Episode 160: Insomnia & CBT-I.
Sleep Tracking at Home
Sleep tracking devices have become very trendy, with the Oura Ring being one of the most popular. Unfortunately, they're not very accurate. For example, the data will often show you're sleeping when you're awake but sitting still. This is because these devices track movement, not sleep. They can't see inside your brain. It's not just this brand; other devices are also inaccurate. They can also cause a negative side effect: increased obsession and worry about sleep. It makes sense when you have insomnia that you want to solve the problem. However, anxiety is a root cause of insomnia, so you need to be careful about the treatment methods you choose. Sleep trackers generate inaccurate data – so it may tell you you're sleeping better than you are, or that you're sleeping worse. For home experimentation, use the tips shared in this article, and pay attention to how you feel during the day to determine whether your sleep quality is improving. Do you have more energy? More concentration? A more stable mood? And if everything you've tried has failed – or if you want to get accurate help more quickly – consider a professional sleep study instead.
Professional Sleep Centers
Most cities and many towns have sleep centers, which specialize in helping people discover the root causes of their insomnia and get personalized recommendations. They're staffed by people who observe your sleep as unobtrusively as possible. They also use medical equipment to track brain waves, heart rate, breathing, eye movement, and blood oxygen levels, in addition to physical movements. You can see why this is much more effective that a ring or a watch that you wear at home. To find a facility near you, simply Google your town name and the words: "sleep center". And here's a directory of accredited sleep centers in the United States.
Disclaimer
There's always a disclaimer in place on this website, but when an article mentions health troubleshooting and supplements, I feel it needs repeating. I am neither a doctor nor a nutritionist, so this article isn't a substitute for medical advice. I'm simply a woman trying to maximize her own health and sharing what I learn along the way. Always consult with your healthcare team when considering new supplements or treatments. Wishing everyone a good night's sleep!
You May Also Be Interested In
Credit: image at top of page purchased from iStock.