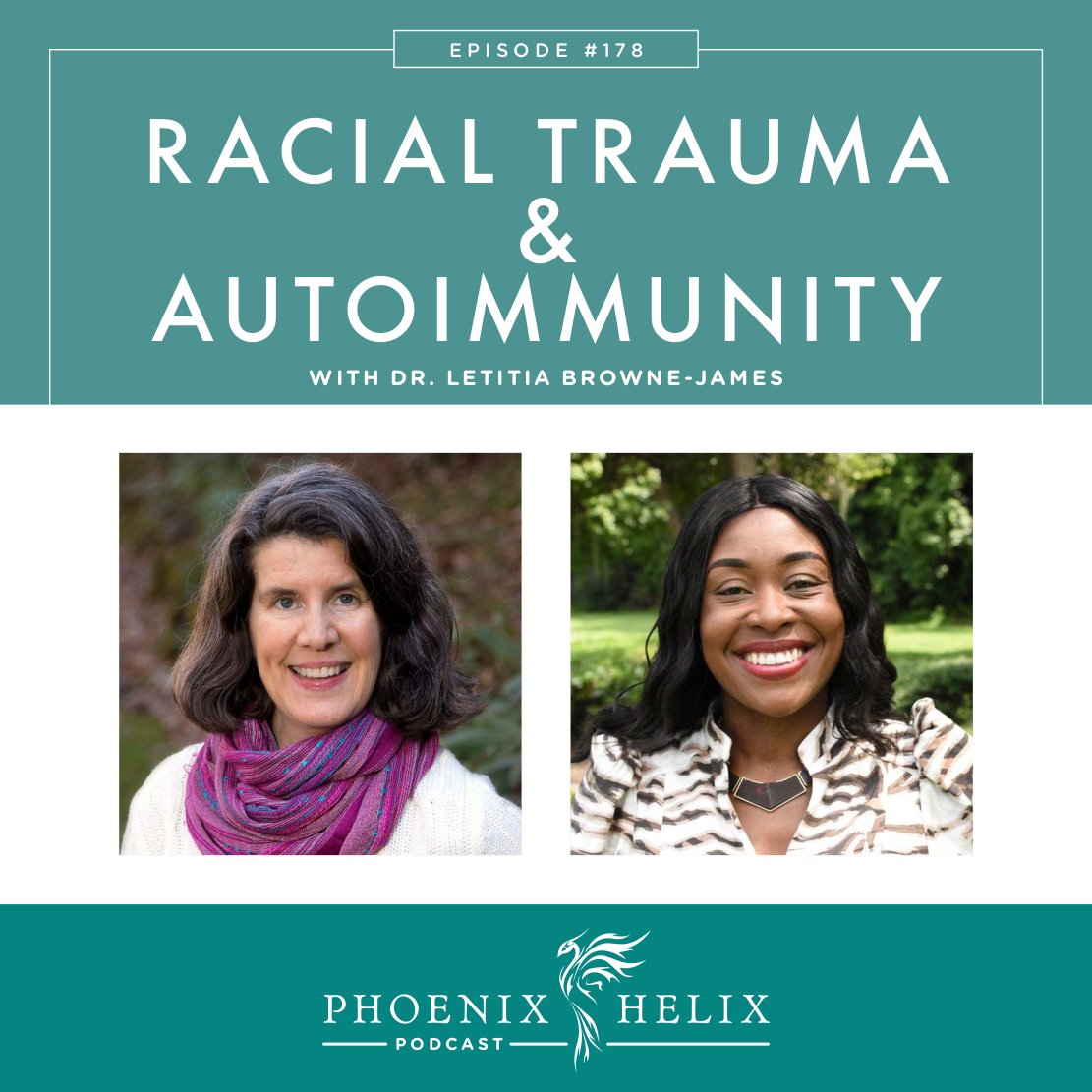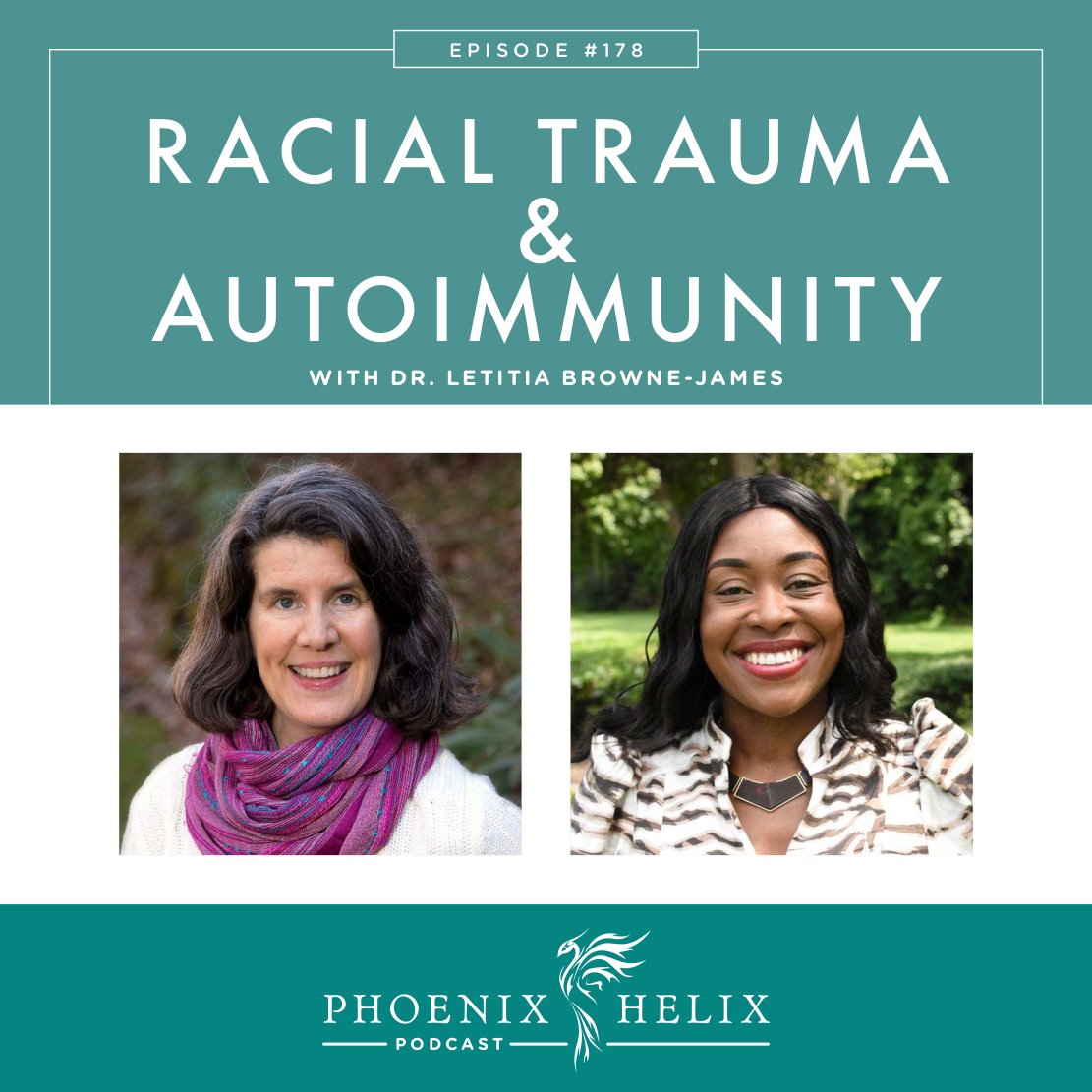 Racial Trauma & Autoimmune Health
People with a history of trauma are more likely to develop autoimmune disease and to experience more severe symptoms as well. Episode 108 of this podcast explored this connection in detail. Today, we're focusing on racial trauma. One of the ways it's unique is that it's ongoing. It's not an event from the past that is now over. It's something experienced repeatedly in unpredictable ways. Over the past year, a number of listeners have reached out to me to share their experiences. Racial trauma isn't new, but it has been amplified during the pandemic. Our goal with this episode is to help anyone navigating the double challenge of autoimmune disease and race-based trauma. My guest is Dr. Letitia Browne-James. She's a mental health counselor and educator with expertise in trauma, multi-cultural counseling, and the intersection of mental and physical health.
Listen to the Show
Podcast: Play in new window | Download
Show Notes
Intro (0:00)
Thank You To Our Podcast Sponsor – Functional Nutrition Alliance (3:16)

Full Body Systems is their internationally acclaimed, 10-month online functional nutrition immersion training program.
It's designed by world-renowned educator, Andrea Nakayama. Many of you know her as one of my most popular podcast guests. Her unique way of working with patients often leads to results where other practitioners hit dead ends. This program teaches you to do the same.
If you're already trained as a health coach, nutritionist, or medical practitioner and want to more effectively help your clients break through healing plateaus, this class is for you!
And if you're an aspiring practitioner just getting started, this might be the only training you need.
You'll gain detailed knowledge of all the systems in the body, how they interact, how problems develop, and how to personalize diet and lifestyle recommendations for each unique client.
Enrollment is currently open. To learn more, visit FxNutrition.com/Eileen.

Meet Dr. Letitia Browne-James (4:43)

Dr. Letitia Browne-James is a mental health counselor and educator with expertise in trauma, multi-cultural counseling, and the intersection of mental and physical health.
She knew she wanted to work in the field of psychology since she was 12 years old. Her parents had a tumultuous relationship, and she wanted to help children in that situation. Her goal was to teach parents and families how to communicate in a healthier way. She got her bachelor's degree in psychology and her master's degree in mental health counseling, with a focus on marriage and family therapy.
Once in the field, it was rewarding to help her clients, but she noticed a missing piece in the education of many of her colleagues. They didn't take race or culture into account in their therapy sessions. She tried to mentor colleagues, but soon realized that teaching counseling students would be the most effective solution. So, she got her doctorate in counseling education and now teaches multi-cultural counseling in addition to her private practice. Her goal is to help counseling students address their fears and biases, so they become both comfortable and competent to work with people from a wide variety of cultural backgrounds and experiences.

Defining Racial Trauma (8:39)

Any type of traumatic experience a person faces either directly or indirectly as a result of their race.
One example is the increase in race-based aggression and violence against people of Asian descent during the COVID-19 pandemic, because the virus was first discovered in China.
Another example is racial profiling that increases the likelihood of someone becoming a target of discrimination, aggression, and/or violence based on their race.

Common Symptoms of Racial Trauma (10:48)

Sadness
Anxiety
Hypervigilance
Withdrawal
Irritability
Numbness
Insomnia
Symptoms are also unique to each person.
Many people don't consciously realize that racial trauma is at the root of their feelings.
These symptoms can also overlap with other mental health challenges like depression. They may or may not be caused race-based trauma.

Being Too Hard on Yourself (13:13)

Many people feel like they should be able to "handle it better" when a traumatic event happens, and to be able to overcome it without help. Dr. LBJ assures her patients and friends that having a reaction to a traumatic event is normal. It isn't a flaw in your character to seek help processing those feelings and learn new ways to cope.

Symptoms of Racial Trauma in Kids (14:15)

Temper tantrums
Withdrawal
Children tend to act on their feelings, rather than put them in words.

Healing Racial Trauma (15:02)

When Dr. LBJ meets a new client, her first step is to find out if race-based trauma is playing a role. She asks new clients about their lived cultural experience. For example, "What's it like to be a Black woman in America for you?" Or "What's the experience of being biracial like for you?" She personalizes the question according to the client's cultural background. Usually, if race-based trauma is playing a role in their symptoms, it will come up in this conversation, and if their symptoms started after a recent incident, she can connect those dots. Alternatively, she may be able to tell that race has nothing to do with their symptoms, and they'll approach therapy from a different direction.

Self-Care Suggestions (16:59)

These should be personalized based on what resonates with each individual and also what's available.
For some people, religion or spirituality are a big part of their life, and that can be a coping skill.
For others, connecting with family or other people they love can be very affirming.
Therapy can be a form of self-care, a place you can process your feelings and receive validation.
Giving yourself permission to feel, without judgment, can be very healing.
Journaling is a wonderful tool.
Sharing your story on a larger scale can be empowering: through a blog, FB live, etc.
Meditation can be centering (and trauma often makes people feel off-center).
Exercise can help mental health as well as physical health.
And it's also important to attend to your body's basic needs. Have you had water today? Have you had a nutritious meal today?

Professional Therapeutic Techniques (19:18)

These are also personalized to each client, based on their needs and what works best for them.
Cognitive behavioral therapy teaches how thoughts affect behavior. The goal is to identify irrational thought patterns and develop more rational thoughts instead.
A multi-cultural approach: Helping each client tap into their own lived experience to support healing. And this is very individual to each client as well. Race is one part of culture, but so is religion, ethnic background, family values, community norms, etc.
EMDR is a specialized technique that helps process the traumatic event to make it less triggering.
Trying to find meaning and purpose in the experience can be helpful. Many people become inspired to help others with similar experiences, or to prevent future traumas from happening. There's a saying: "Action is the antidote for anxiety." To be clear, we're not saying everyone who experiences trauma needs to become an activist. And activism is also individualized; people do it in different ways.

Thank You To Our Podcast Sponsor – Luminance Skincare (27:56)

This week, I'm highlighting their sunscreen and after-sun serum. Their sunscreen is made with only 3 ingredients: red raspberry seed oil, sunflower seed oil, and apricot kernel oil. The red raspberry seed oil absorbs the sun's harmful energy before it penetrates the surface of your skin. This product has 120 positive reviews from customers, amazed that it works so well! Their after-sun serum is designed to soothe burns. Our goal with sunshine is to get some vitamin D without burning our skin. But sometimes those plans go awry, especially if we're at the beach or the pool all day and forget to reapply sunscreen. Luminance's after-sun serum is designed to help heal sunburns. Tamanu oils accelerate healing. St. John's Wort takes the sting away, and chamomile soothes the burn.
Whereas conventional skincare products are full of chemicals that can hurt our bodies, Luminance is made from ingredients that nourish. Their products are natural, organic, wildcrafted, non-GMO, and gluten-free (and they're even made in a dedicated gluten-free facility). They're also handmade in small batches within the United States.
They have a complete face and body care line, including cleansers, toners, moisturizers, masks, acne serum, sunscreen, haircare, and more.
Place an order here, and use the code HELIX for 10% off your first order.

Family and Healing (29:51)

Sometimes a client comes from a collectivist culture, which means the needs of the family come before the needs of the individual. In those cases, even for individual therapy, it can be helpful to have the family come to a therapy session.
Counselors can also help mediate intergenerational differences and expectations between family members (children, parents, grandparents).
Intergenerational trauma can also be part of an individual's racial trauma experience. This is when a trauma that happened to prior generations impacts future generations, or when trauma is repeated over multiple generations.

The Importance of Community (35:37)

For some people, their friends are their "chosen family" and where they get the most support.
Therapy can provide validation and affirmation as well.
But it can also be helpful to find a larger community of people who understand your experience because they have gone through the same thing. Someplace you can share your experience uncensored and know you are not alone. The local NAACP is one resource. There are also online groups. Do some research to try to find a group that is a good fit for you. Here are a few possibilities: Social Distance Powwow, AAPI Women's Group, Black Minds in Meditation, and LGBTQ People of Color. There are many more.

Trauma & the Body (38:27)

The body processes our experiences, so trauma therapy often incorporates somatic (body-based) techniques. EMDR is one. Dance therapy is another.
For self-care, moving your body can also help you move forward mentally and emotionally. One of Dr. LBJ's favorite forms of body-centered self-care is yoga.
Books:

Internalized Racism (40:31)

This is the subconscious or conscious acceptance of the dominant culture's way of being, that may impact how a person sees themselves and conducts themselves in daily life.
An example is thinking you have to speak a certain way, dress a certain way, do your hair a certain way, to ascribe to white America's values.
Dr. LBJ helps her clients create a narrative for their lives, and a roadmap of what they want for their future. In an ideal world, if you could just be who you are with no fear of judgment, what would that look like? What are society's "shoulds" that you have internalized? Where would you like to replace those "shoulds" with what you want for your future instead, and what are the steps to getting there?

Racial Trauma & Autoimmune Disease (42:41)

They're both unpredictable. You never know when an autoimmune flare might happen, and you never know when you might encounter racism.
Racial trauma also impacts autoimmune symptoms. It's a very hard double-challenge for people to navigate.
First, acknowledge what you're going through, and that it is hard. Don't try to go it alone. Get support, both mentally and physically.
Making self-care and stress management practices part of your daily life when things are going well, gives you tools you can lean on in times of crisis.

Vicarious Trauma (45:18)

This is trauma that happens when you witness a trauma happening to someone else.
It's become more common in the internet age. Videos of race-based violence are shared to promote social justice, and that's important. However, it can sometimes harm the viewer.
The symptoms of vicarious trauma can mimic the symptoms of a direct trauma experience. This can include PTSD, flashbacks, nightmares, and paranoia.
For people with autoimmune disease, it can affect physical health as well. One of my readers reached out to me to share her experience. She's a Black woman who ended up in the hospital with a severe autoimmune flare, which was triggered after seeing multiple videos of black people being killed.
Dr. LBJ's recommendation is that people avoid watching the videos. You can stay informed in other ways, through written news sources.
It's also important to protect your children from the videos as much as possible. Instead, talk to your children in an age-appropriate manner about what's happening. (Resource: Talking about Race, Racism, and Racialized Violence with Kids.)
Vicarious trauma can also happen to people in helping professions who provide care to trauma victims. You cannot provide good care for others if you don't also care for yourself. (Resource: Guide for Coping with Secondhand Trauma.)

Resources (52:38)
Overcoming Bias (54:00)

In today's episode, we focused on care for everyone who is a survivor of racial trauma. The flipside of this conversation is reducing racial trauma. I have an episode scheduled later this summer on Overcoming Unconscious Bias. While much of the injustice of the world feels out of our control, it is possible to overcome our own biases and stop our contributions to racial trauma. Sometimes we hurt people without meaning to.
Update: This episode is now available. Ep. 181: Overcoming Bias with Anu Gupta.

Outro (54:39)
You May Also Be Interested In
Spreading the Word
If you like the podcast, please leave a positive review in iTunes. It would mean the world to me, and also helps others find the podcast. Here are some quick instructions using your iPhone:
If you are already subscribed to my podcast: (1) Click the purple podcast icon. (2) At the bottom of the screen, click Library. (3) At the top of the screen, click Shows. (4) Click the Phoenix Helix podcast image. (5) Scroll down the page, and you'll see Ratings and Reviews. Scroll down a little bit more and click on Write a Review. This will bring up the review screen. Tap 5 stars (if you love the podcast), and then click in the title box, and it will bring up the keyboard. Enter a title and short review. (6) Click Send in the upper right corner. (7) Thank you! Positive reviews give the podcast a higher search ranking in iTunes, helping people find it and letting them know it's a quality podcast and worth their time to listen.
If you haven't subscribed to my podcast: (1) Click the purple podcast icon. (2) In the lower right corner, click the magnifying class. (3) Type Phoenix Helix in the search box. (4) Click the podcast cover in the Show list. (5) If you'd like to subscribe, click the + sign at the top of the screen. (6) To write a review, scroll down the page, and you'll see Ratings and Reviews. Scroll down a little bit more and click on Write a Review. This will bring up the review screen. Tap 5 stars (if you love the podcast), and then click in the title box, and it will bring up the keyboard. Enter a title and short review. (7) Click Send in the upper right corner. (8) Thank you! Positive reviews give the podcast a higher search ranking in iTunes, helping people find it and letting them know it's a quality podcast and worth their time to listen.