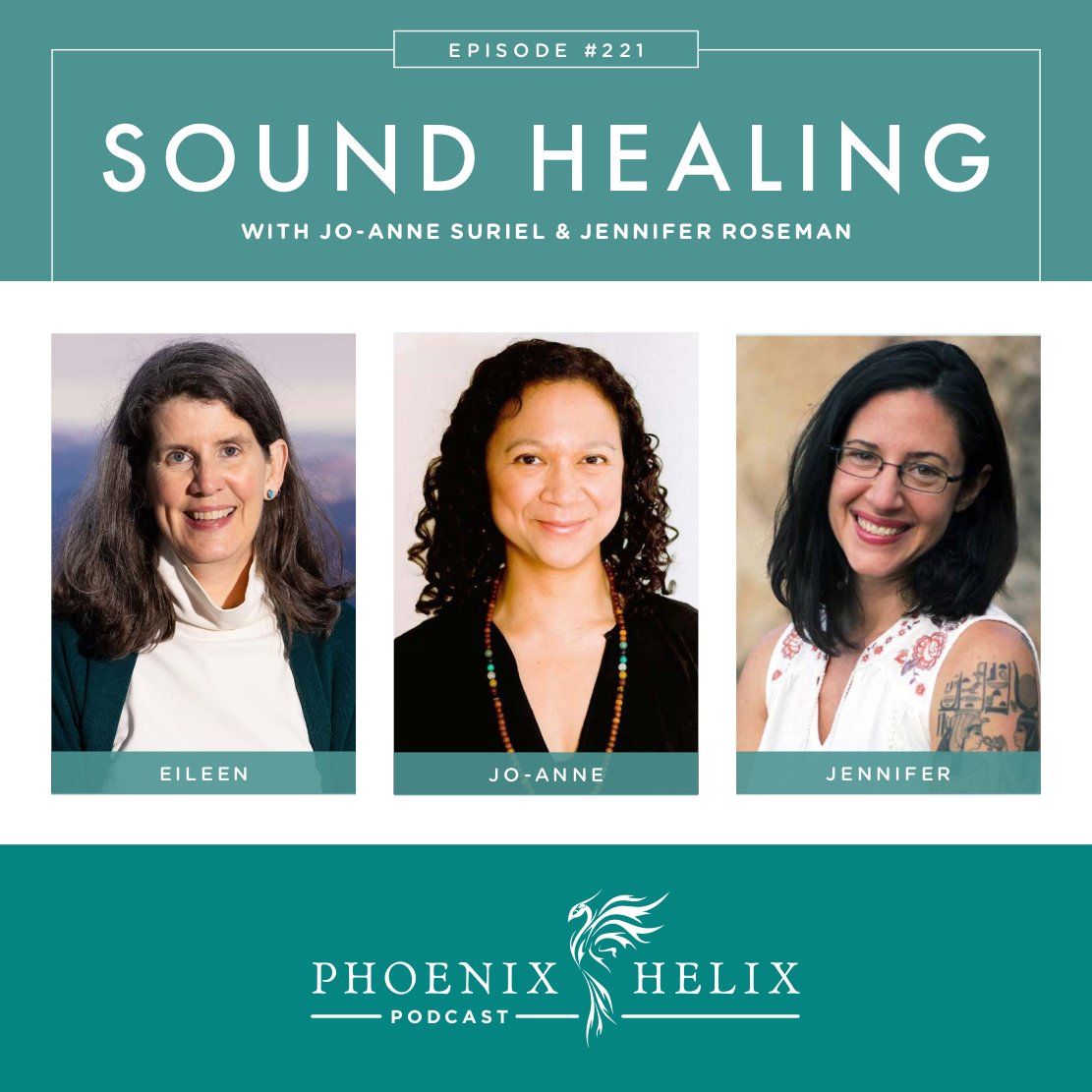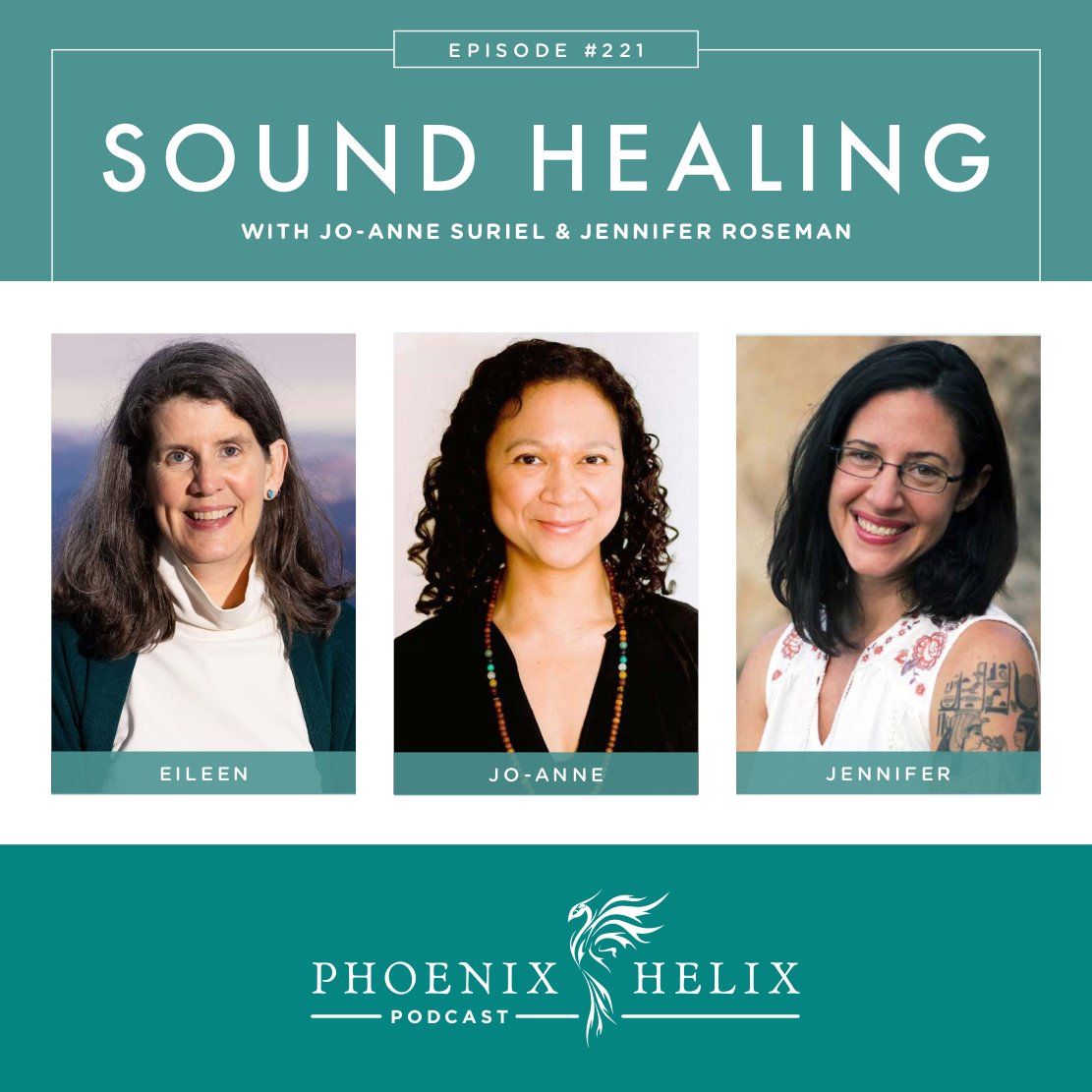 What Is Sound Healing?
Sound Healing is a therapy that uses sound and vibration to balance the mind, body, and spirit. I know that might sound woo-woo to some listeners, but as long as there have been people, music has been used for both expression and healing. Episode 211 of this podcast focused on Indigenous Medicine and Autoimmune Health, and sound healing is a common practice in most cultures. There's also some modern scientific research into the benefits of sound healing, which include reduced stress and anxiety, reduced pain, improved mood, and an overall sense of wellbeing. I personally fell in love with sound therapy after developing rheumatoid arthritis. The first time I received a 1:1 sound healing session was transformational. I don't think I've ever felt a relaxation so deep, or my body so perfectly balanced. So, today, we're doing a deep dive into sound healing, including different types, different instruments, and we'll be demonstrating some sounds for you as well. It's going to be a fun episode! Joining me are two autoimmune warriors who are also sound healing practitioners. Jennifer Roseman is the woman who introduced me to sound healing in the story I just shared. Jo-Anne Suriel is a longtime podcast listener and now a podcast guest!
Listen to the Show
Podcast: Play in new window | Download
Show Notes
Intro (0:00)
Thank You to Our Podcast Sponsor – Captain Soup (3:15)

Captain Soup sells nutrient-dense freezer meals, designed specifically to enable the body's healing. They only use the highest quality ingredients including locally sourced, 100% grass-fed and finished meats, wild-caught seafood, 100% organic vegetables, and bone broth made in-house from the bones and organ meat from the best grass-fed lamb in the world.
They sell 7 flavors of soup which are paleo, keto, and Wahls protocol-compliant. 5 of those flavors also fit the elimination phase of the Paleo Autoimmune Protocol. 4 of the flavors are Low-FODMAP. And 2 flavors are GAPS-compliant.
Here are the flavors: Classic Lamb, Dijon Lamb, Italian Beef, Classic Beef, Dijon Beef, Green Machine & Tom Kha. (Tom Kha is a seafood soup that's available in-season.) They also have the full ingredient list for every flavor on their website.
You can buy pre-selected variety packs or build your own custom box. They also have a nutrient-dense liver pâté that can be substituted for any soup upon request.
Order today and get nutrient density delivered to your doorstep! Use the code PHOENIX to save $25 off your first order.

Meet Our Guests (4:59)

Jo-Anne Suriel has rheumatoid arthritis and is also a sound healing practitioner. Informally, sound healing has been part of her life since the womb: through her mother's heartbeat, lullabies, and church devotional songs. In college, she studied African and Afro-Caribbean music and dance, and she found the drums and songs to be profoundly healing. She learned of professional sound healing when she began studying Reiki and other alternative healing practices. Sound healing seemed to meld so naturally with all of them. When she started her own professional practice in 2018, she knew sound healing would be an essential part of it. She did some formal training, but sound healing has always been part of her whole being. As someone with personal experience with anxiety and panic, Jo-Anne uses sound healing as part of her daily medicine. It fills her with a deep, deep calm – soothing her nervous system in a very unique way.
Jennifer Roseman has multiple autoimmune diagnoses and is also a sound healing practitioner. She was first introduced to sound therapy 20 years ago. Her acupuncturist incorporated Acutonics tuning forks into one of her treatments. She placed two tuning forks on the Kidney 1 acupuncture point on the sole of her foot, and it sent a visceral, somatic, beautiful, healing sensation like a wave through her entire body. She knew in that moment that she wanted to become a practitioner herself, and signed up for a class two weeks later. It was the gateway to her career in the healing arts, and has been part of her personal and professional life every since.

Benefits of Sound Healing (13:47)

When Eileen, Jo-Anne, and Jennifer shared their personal experiences with sound healing, all noted the profound relaxation benefit. It's a level of calm so deep that it's difficult to describe with words. Because the stress-autoimmune connection is so strong, a treatment that regulates the nervous system can be very beneficial to people with autoimmune disease.
Jennifer also shared that her clients often feel sensations of energy blocks releasing. Sometimes it's a tingling sensation in the body, other times it's warmth, other times it's an emotional release. And when combined with other therapies, Jennifer has found that sound healing deepens the healing experience of that therapy.
Jo-Anne combines sound healing with Reiki and has seen a wide variety of benefits in her clients: relief from physical pain, improved sleep, decreased anxiety, and an increased sense of hope and optimism. Many of Jo-Anne's clients also feel an increase in confidence after a sound healing session. Jo-Anne thinks this is because sound healing balances emotions, fills people with a feeling of ease, and connects them to their authentic self. This combination provides a foundation to feel confident in the goals they want to pursue, and how they want to show up in the world.
When it comes to sound healing, there's an art and poetry to the descriptions. For people who also like scientific research, it confirms the following benefits: reduced stress and anxiety, reduced pain, improved mood, and an overall sense of wellbeing.

Thank You to Our Podcast Sponsor – Fully Healthy aka ShopAIP (19:36)

FullyHealthy.com is the new home of ShopAIP. You'll find all the AIP products you know and love, plus other healthy products for other healing diets. Don't worry – the website is organized to find AIP products easily. They have hundreds of items for the elimination phase of the Paleo Autoimmune Protocol (AIP) and products labeled by reintroduction category as well. You can find protein bars, sauces and condiments, AIP-friendly spices, cooking and baking ingredients, waffle and pancake mix, delicious snacks, and more.
Today I want to highlight the Phoenix Helix Bundle. It contains some of my favorite AIP pantry items, and is a great way to sample their offerings. You get three of my favorite quick and delicious proteins: Wild Planet's Wild Sockeye Salmon, Wild Zora's Mediterranean Lamb Bar, and Chomps Sea Salt Beef Stick. Two of my favorite AIP sauces from KC Naturals: their Marinara Pasta Sauce and Primal Cherry BBQ Sauce. Two of my favorite AIP spices: Redmond's Real Salt & Primal Palate's Breakfast Blend. And two crunchy snacks for when you have that craving: Sweetpotato Awesome dehydrated sweetpotato slices and Bare Fruit's Crunchy Organic Fuji & Red Apple Chips.
Use the code PHOENIX for 10% off your first order! Purchase here.

Types of Sound Healing (21:29)

Sound heailng can be done as a 1:1 session tailored to your body, or it can be a group experience like a drum circle or a sound bath. Instruments vary based on the practitioner, culture, and setting. Sometimes it's voice: singing and chanting. Other times it may be drums, singing bowls, gongs, chimes, bells, tuning forks, didgeridoos, rattles, or other instruments. There really is no limit. And every instrument works on the body in a slightly different way.
Jo-Anne uses a wide variety of instruments in her sound healing sessions, but her favorite is her voice. Most cultures and religions around the world have some sort of humming, chanting, or devotional songs, and in modern life, music is all around us. Even this podcast opens and closes with music as a way to begin and end something special. Our voice is a core part of who we are and can have a profound healing influence. Even people with speech impairments can often hum. Jo-Anne has a global heritage. Her mother is from the Philippines, and her father is from the Dominican Republic. So, she embraces healing songs from traditions around the world, and sings in multiple languages.
Jennifer also uses a wide variety of instruments in her sound healing sessions. The Acutonics tuning forks were her first experience with sound healing and remain a favorite technique to this day. Her second favorite tool is a large gong attuned to the frequency of the asteroid Chiron, which represents the wounded healer. Its sound is so deep and resonant that you can feel the vibrations throughout your body. And her third favorite is a deep drumbeat. She finds it to be deeply grounding. It helps her unwind, let go, and simply be in the present moment.

Sound Demo #1: Metal Instruments (28:55)

Note: these demos aren't the same as a live sound healing session, because the vibration is a big part of the therapy which doesn't come through on a recording. Still, we thought it would be fun to share some of the instruments with you.
Jennifer compiled this sound clip which includes: 3 Tibetan Singing Bowls, Tingshas, Chiron Attuned Gong, Tibetan Bell, and Fire Element Koshi Chime.
Most of these instruments are used in a sound bath experience (off the body). However, Tibetan singing bowls can be used on or off the body. Eileen loves feeling the vibration of the bowls directly on her body, and common placements for the bowls are on the sacrum and/or between the shoulder blades.
During a sound healing session, volume might vary greatly. Some of Jennifer's clients prefer a louder volume, whereas others respond better to a lighter sound. She tailors sessions to each person's needs. It's also common to continue to feel the vibration in your body even after the audio sound has gotten too soft to hear.
One last note about the sound clip: Jennifer is playing a lot of instruments in quick succession, so you can hear the difference between them. During an actual sound bath, notes are usually held longer.

Thank You to Our Podcast Sponsor – Luminance Skincare (37:12)

Today I want to highlight their bestselling facecare trio, which includes their Delicate Cleanser, Rosewater Toner, and Deep Hydration Moisturizer. Each one of these products has over 500 five-star reviews on their website. And they have a sample kit, so you can try it yourself! The Delicate Cleanser gently and deeply cleanses your skin without drying it out. The Rosewater Toner perfectly adjusts and balances the pH of your skin. The Deep Hydration Moisturizer mimics skin's natural oils to soothe dry skin while maintaining a clear complexion.
Whereas conventional skincare products are full of chemicals that can hurt our bodies, Luminance is made from ingredients that nourish. Their products are natural, organic, wildcrafted, non-GMO, and gluten-free (and they're even made in a dedicated gluten-free facility). It's the cleanest skincare anywhere! And everything is handmade in small batches within the United States.
They have a complete face and body care line, including cleansers, toners, moisturizers, masks, acne serum, lip balms, haircare, sunscreen, handcrafted soaps, and more.
Order their sample kit today, and once you fall in love and want to order full-size bottles, use the code HELIX for 10% off your order. (You can also use the HELIX coupon on any Luminance product, not just the facecare trio.)

Sound Demo #2: Crystal Singing Bowls (38:48)

Jo-Anne compiled this sound clip. Crystal singing bowls can be precisely tuned to certain notes, and Jo-Anne's approach is based on the tuning fork research of Dr. John Beaulieu. She began with a perfect fifth (using crystal bowls tuned to the notes C and G). This balances the autonomic nervous system and helps the body enter a more restful state. It also balances the heart, giving an uplifting feeling. And it can also help with joint pain. Next, she played a perfect third (using bowls tuned to the notes C and E). This supports digestion, the liver, the respiratory system, and also sparks a fire of motivation. Next, she played a simple C. It's connected with the root chakra and is very centering, supportive, and grounding. It also helps settle emotions. She finished the recording with another perfect fifth, to reinforce balance for the nervous system.
Resource: Crystal Bowl Purchasing Guide.

Sound Demo #3: Meditative Drumming Rhythm (44:59)

Jo-Anne recorded this sound clip as well. There's something about the drumbeat that helps us connect with our bodies at our core. Jo-Anne also loves how the drum makes her want to dance, so the drumbeat can be an invitation to movement. Drums are also instruments that are easy to play, even for beginners (although there are also virtuosos). Even tapping on your own body can feel healing.
The drumming rhythm Jo-Anne chose is one she learned 20 years ago that remains a favorite. She has used it many times to enter a deep meditative state herself, and also uses it with clients. It's a 4-count progression, using both the head and side of the drum in changing patterns.

Acutonics Tuning Forks (51:17)

These don't translate well to a recording because their sound is so soft (but their vibration is potent). So we tried to describe a tuning fork session instead.
Jennifer uses Acutonics tuning forks, which are tuned to the frequencies of the planetary bodies (mars, venus, earth, sun, moon, etc.) Their archetypal meaning guides their use, rather than the musical note. When a client arrives and shares their story and intention for the sound healing session, that will guide which forks are used during the session. For example, if a client arrives stressed from a recent argument with her mother, Jennifer may choose to start the session with a new moon tuning fork combined with an ohm unison tuning fork, on the Kidney 3 acupuncture point which is located near the ankle. Anything at the ankles is grounding, and the kidneys represent our deepest reservoir of energy. They are also connected to our ancestry. This combination creates a gentle invitation to the body to open up emotionally. She may then follow that with a chiron tuning fork (which represents the wounded healer) and a full moon tuning fork (which represents the mother). She may use those over the heart chakra. The rest of the session is guided by what Jennifer picks up energetically and what the client shares about what they're experiencing. She'll often bring in other sound healing instruments as well (bowls, gongs, chimes, etc.)
Eileen shared her experience from the client perspective. The tuning forks might be placed on one part of the body, but you'll often feel the vibration somewhere else on the body, following the meridian. It's fascinating to feel the vibrations move. You might also feel where a block exists and the vibration doesn't reach, and then as the session progresses, you may feel things shift both physically and energetically. While Eileen loves all forms of sound healing, she has a special love of tuning fork treatments.
Resource: Acutonics Institute of Integrative Medicine.

Sound Healing for Pain Relief (55:58)

Jennifer believes that a big component of pain is a dysregulated nervous system, and that can make it difficult for pain to shift and release. Sound healing helps regulate a dysregulated nervous system. She will tailor a sound healing session for someone's pain, choosing tools and techniques based on where that pain is located. But her primary goal is always to create the calm and peace that supports pain relief bodywide.
Jo-Anne agrees. She believes the more the nervous system is regulated, the more you're able to cope with pain and the less you actually feel it. She's experienced this benefit herself, and her clients have as well. Like Jen, she will tailor a session around a client's pain. A favorite tool is an Otto 128 weighted tuning fork which is too low to hear, but it penetrates deeply into the tissues of the body and gives a sense of relief. But her overall goal is always to balance the nervous system and give her clients the gift of deep calm.
Eileen: Prior to developing rheumatoid arthritis, I chose bodywork like deep tissue therapy to "iron out my tension and force it to let go". I thought that was necessary for pain relief. After RA, deep tissue therapy increased my pain rather than decreased it. When I found sound healing, I discovered that a simple vibration could release tension more easily, comfortably, and deeply than the forceful therapies of my past.

Outro (1:00:32)
You May Also Be Interested In
Spreading the Word
If you like the podcast, please leave a positive review in iTunes. It would mean the world to me, and also helps others find the podcast. Here are some quick instructions using your iPhone:
If you are already subscribed to my podcast: (1) Click the purple podcast icon. (2) At the bottom of the screen, click Library. (3) At the top of the screen, click Shows. (4) Click the Phoenix Helix podcast image. (5) Scroll down the page, and you'll see Ratings and Reviews. Scroll down a little bit more and click on Write a Review. This will bring up the review screen. Tap 5 stars (if you love the podcast), and then click in the title box, and it will bring up the keyboard. Enter a title and short review. (6) Click Send in the upper right corner. (7) Thank you! Positive reviews give the podcast a higher search ranking in iTunes, helping people find it and letting them know it's a quality podcast and worth their time to listen.
If you haven't subscribed to my podcast: (1) Click the purple podcast icon. (2) In the lower right corner, click the magnifying class. (3) Type Phoenix Helix in the search box. (4) Click the podcast cover in the Show list. (5) If you'd like to subscribe, click the + sign at the top of the screen. (6) To write a review, scroll down the page, and you'll see Ratings and Reviews. Scroll down a little bit more and click on Write a Review. This will bring up the review screen. Tap 5 stars (if you love the podcast), and then click in the title box, and it will bring up the keyboard. Enter a title and short review. (7) Click Send in the upper right corner. (8) Thank you! Positive reviews give the podcast a higher search ranking in iTunes, helping people find it and letting them know it's a quality podcast and worth their time to listen.