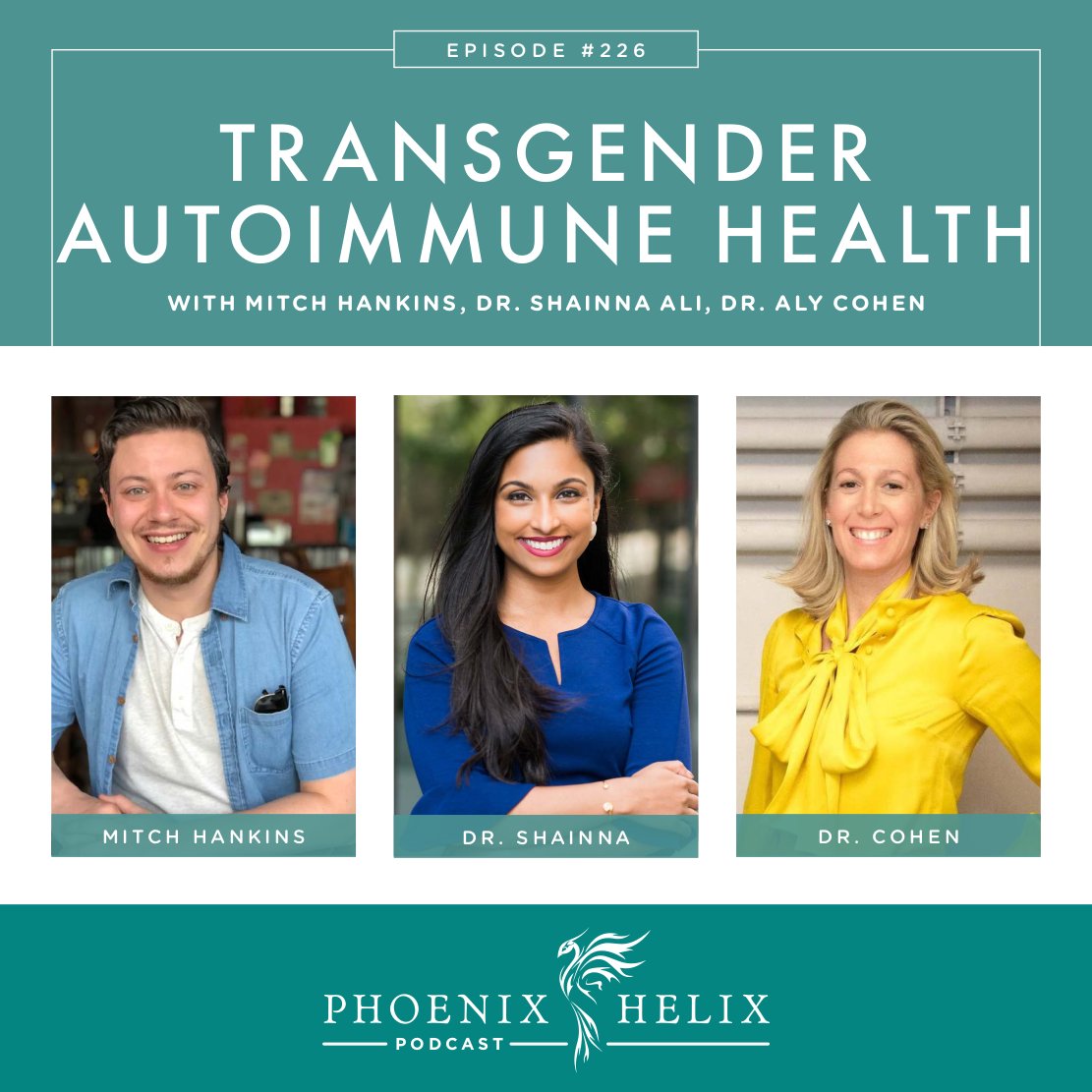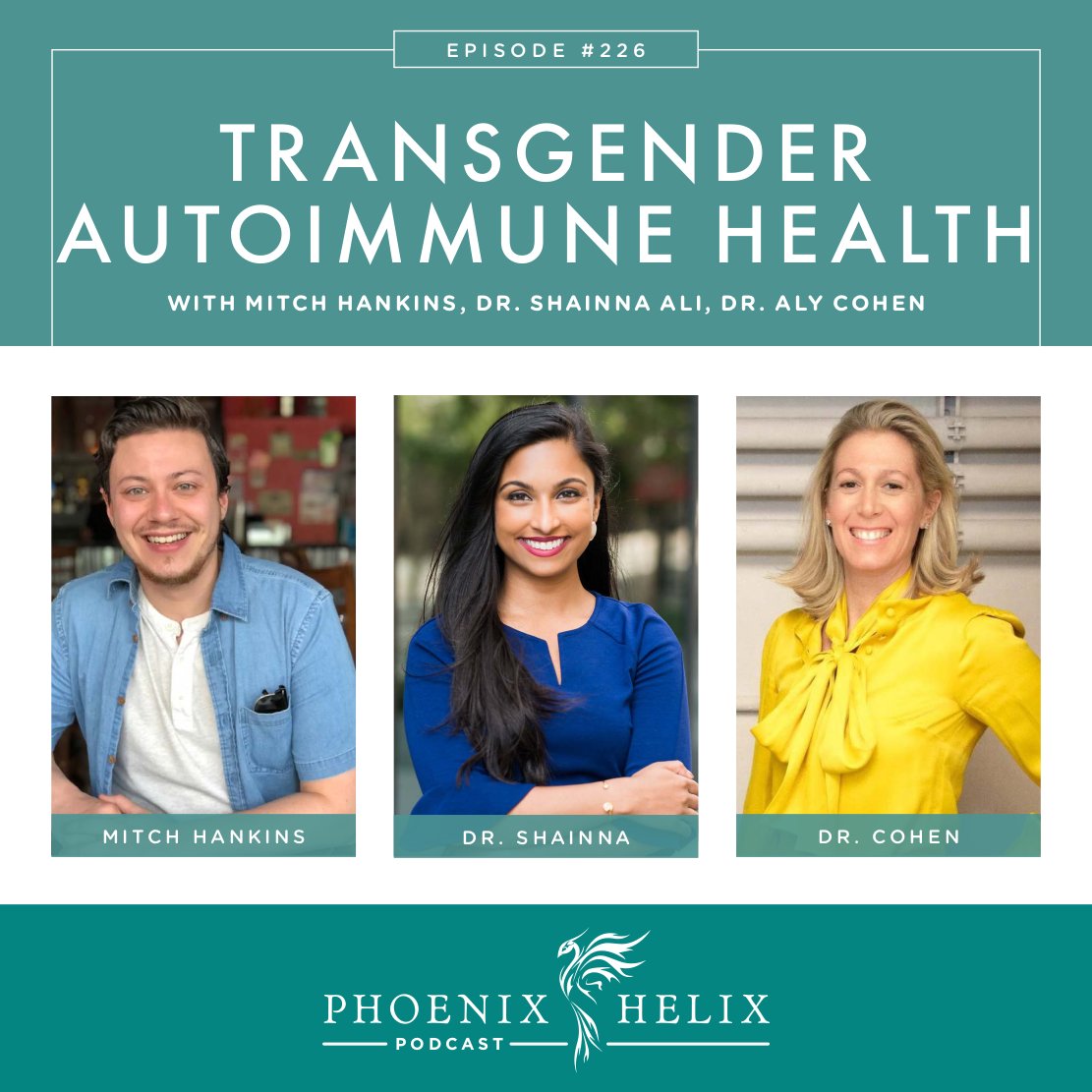 Supporting the Health of Transgender People with Autoimmune Disease
My goal with the Phoenix Helix Podcast is to help people with autoimmune disease thrive. Today's episode is dedicated to our transgender listeners and the healthcare practitioners who serve them. We'll be talking about the medical complexities that might arise from the intersection of gender-affirming treatment and autoimmune treatment. We'll discuss the challenges transgender patients face when seeking medical help and not knowing if you will face medical discrimination. We'll share tips for creating safe spaces within healthcare practices. We're also going to talk about the stress-autoimmune connection and the special challenges facing transgender people, with advice for self-care and self-advocacy.
Listen to the Show
Podcast: Play in new window | Download
Show Notes
Intro (0:00)
Meet Our Guests

Mitch Hankins is a transgender man living with autoimmune disease and will be sharing his experience and advice with us.
Dr. Aly Cohen is an integrative rheumatologist who will be sharing the medical perspective.
Dr. Shainna Ali is a mental health counselor, educator, and advocate. She'll be sharing the psychological perspective.

Thank You to Our Podcast Sponsor – Luminance Skincare (2:44)

Today I want to highlight their Acne Care Collection. It's formulated on the belief that the first line of defense when controlling acne is to treat skin gently. Very gently. Keep it cleansed. Keep the pH balance in the 6's. Control oil production and bacteria with an herbal non-toxic serum. And keep your skin moisturized. This collection includes everything you need, including gentle cleansers, toners, moisturizers and masks, and the cornerstone of the collection is their Acne Serum, which is one of the most popular products on their website. It includes Matcha Tea and Tea Tree essential oil to reduce sebum production and control bacteria, along with a blend of other organic oils that closely match the skin's natural oils to bring it into balance.
Whereas conventional skincare products are full of chemicals that can hurt our bodies, Luminance is made from ingredients that nourish. Their products are natural, organic, wildcrafted, non-GMO, and gluten-free (and they're even made in a dedicated gluten-free facility). It's the cleanest skincare anywhere! And everything is handmade in small batches within the United States.
They have a complete face and body care line, including cleansers, toners, moisturizers, masks, acne serum, lip balms, haircare, sunscreen, handcrafted soaps, and more.
Use the code HELIX for 10% off your order. (You can also use the HELIX coupon on any Luminance product, not just the Acne Care Collection.)

Definitions: Transgender, Cisgender, and Transition (4:21)

Cisgender refers to individuals whose gender identity aligns with the sex they were assigned at birth.
Transgender refers to individuals whose gender identity differs from the sex assigned at birth.
These are binary definitions, but gender identity exists on a spectrum, and as we move forward in this conversation, we want to honor and acknowledge those who identify in other ways such as nonbinary, gender fluid, demigender, etc.
Transition is the process of taking steps to live in a way that aligns with your true gender identity. There are three potential areas of transition: social, medical, and legal. Choices will vary for each individual based on many things, including personal preference but also the resources they have available. A social transition is the process of changing your daily life to align with expressing your true gender identity. This may include changing your name, pronouns, clothes, hairstyle, etc. A medical transition is using medical intervention to align physical characteristics with your true gender identity. This may include hormone therapy and gender-affirming surgeries. A legal transition is updating legal documents to match your true gender identity.

Common Misconceptions About Being Transgender (9:16)

That being transgender is a choice. Gender identity isn't a choice. It's intrinsic, just like the color of a person's hair and the color of their eyes.
That being transgender is all about surgery. The medical transition is a small part of what it means to be transgender. Some people who are transgender may never take those steps, whereas others may find medical intervention vital to their gender expression. In both cases, being transgender is about more than just the medical interventions.

Gender-Affirming Treatments and Autoimmune Health (12:32)

The endocrine and immune systems are intricately related, and they communicate all the time. Every immune cell in the body has hormone receptors. So, changes in hormone levels can impact immune function.
For that reason, estrogen and testosterone are considered immunogenic substances. Estrogen is almost considered an inflammatory hormone, whereas androgens (including testosterone) have immunosuppressive properties. This is one of the reasons autoimmune disease impacts more women than men, although there are some diagnoses that are gender-dominant (RA & MS for women and AS & Crohn's for men – although both men and women can be diagnosed with any autoimmune disease.)
When it comes to hormone therapies, estrogen therapy may increase the risk of autoimmune disease, breast cancer, and allergies (including environmental allergies and food allergies.) Testosterone therapy may decrease the risk of autoimmune disease and cancer, but conversely make someone more prone to infections and have a reduced response to vaccines.
This doesn't mean that every person who takes hormone therapies will develop serious health issues. It simply means it's important for healthcare practitioners to be aware of the hormone-immune system connection and monitor for any acute or chronic problems that may arise.
Dr. Cohen practices integrative medicine. For all of her patients – transgender, cisgender, and nonbinary – she teaches diet and lifestyle practices that support health. She points out that research rarely takes these into account. It's empowering to know there are things we can do to lower health risks, whatever therapies we choose.

Creating Safe Spaces within Healthcare Practices (18:59)

Dr. Shainna recommends shifting our perspective from "how" to "must". Medical providers take an oath to do no harm, and research shows there are significant health disparities impacting transgender people. It's not up to patients to educate providers. There are ample resources available now for providers to educate themselves.
Seek continuing education within your field on how best to serve transgender clients and patients.
Access the local LGBTQ+ center(s) in your community. They offer resources, connections, lived experiences, support groups, and referrals.
Also be aware of the stress your patient/client experiences outside of your office that is also impacting their health.
Resource: Putting Gender Inclusion Into Practice.

Patient Resources for Finding Safe & Affirming Healthcare Practitioners (23:25)

OutCare Health is an LGBTQ+ website with a directory of affirming healthcare providers, along with other resources.
Dr. Shainna also recommends accessing your local LGBTQ+ center because often someone there can assist you in this process, providing both support and personalized recommendations.
Not everyone has the luxury of choosing their healthcare providers, and this can be especially challenging if you are transgender with complex medical needs. Every single person is worthy of compassionate, quality care, and it's true that in the world today, not everyone receives that. Support from others is even more helpful in this situation, both from LGBTQ+ centers and mental health counselors as well.

Thank You to Our Podcast Sponsor – Fully Healthy aka ShopAIP (28:05)

FullyHealthy.com is the new home of ShopAIP, an online store dedicated to the Paleo Autoimmune Protocol. With hundreds of items for the elimination phase of the AIP, and products labeled by reintroduction category as well. You can find protein bars, sauces and condiments, AIP-friendly spices, cooking and baking ingredients, waffle and pancake mix, delicious snacks, and more. It can be hard to find AIP products. Fully Healthy makes it easy!
In addition to AIP foods, Fully Healthy is expanding their offerings to accommodate other specialty diets as well. That's the reason behind the name change. Their goal is to make healthy shopping easy for you and your whole family!
Everything on the website is clearly labeled with multiple ways to find the products you need. If you're not sure where to begin, check out the Phoenix Helix Bundle, which contains some of my favorite AIP pantry items.
Go to FullyHealthy.com and use the code PHOENIX for 10% off your first order!

Mitch Shares his Patient Experience & Self-Advocacy Advice (29:36)

Mitch has been fortunate enough to find healthcare providers to meet his needs over the years, including hormone therapy, surgery, and counseling.
That said, it's only recently – after moving to Orlando – that he finally found practitioners who are well versed in trans healthcare. They keep up with treatment guidelines and emerging research. They understand the risks, are monitoring the right things, and help him make smart decisions. He has learned over the years that a willingness and good intentions don't always equal competency. This is the first time he's felt truly safe with his medical team, not just from a discrimination perspective but from a medical perspective.
He agrees with Dr. Shainna that reaching out to the LGBTQ+ community is an excellent way to get referrals. In addition to in-person resource centers, he has also found local transgender groups on Facebook very helpful.
His best piece of advice for anyone who is currently receive poor care from a medical professional – you have the right to walk out and seek a different doctor/practitioner.
While Mitch has managed to get the healthcare he needs, that doesn't mean he's never experienced discrimination. He has felt uncomfortable in some healthcare settings, and he makes educated choices on which medical professionals do and don't need to know his transgender health history. For example, his dentist doesn't necessarily need to know, whereas his rheumatologist definitely does. If he goes to urgent care for a sore throat, he may not share his history. Whereas if he gets a medical referral due to a complication of his hormone therapy, he will disclose his history. He's not a doctor, and he's not recommending people without important information from medical professionals. But the choice to disclose is one he's relied on in many aspects of his life, to help him feel more safe and secure as he navigates life as a transgender man.

The Stress-Autoimmune Connection (39:32)

There is strong research showing the connection between stress and autoimmune disease. Adverse childhood experiences make it more likely someone will develop autoimmune disease as an adult. Stressful events as an adult increase risk as well. And stress also exacerbates disease activity for people who already have autoimmune disease.
Societal stressors on marginalized groups like transgender people are one of the root causes for increased health risks.
Dr. Cohen said that medical school still focuses on physical symptoms and pharmacology rather than the larger picture. She hopes that will change over time.
Research articles:

Stress Management Tips: Self-Care, Self-Love, Self-Advocacy (43:29)

In addition to stress exacerbating autoimmune symptoms, stress also exacerbates mental health challenges. Transgender people have higher rates of depression and anxiety than cisgender people, and that's often due to societal stressors.
Self-care: These are the tangible behaviors you take as you recognize your active needs within the current context. For example, if you are meeting a new medical provider and that's causing some anxiety, do you have someone to support you – before, during, or after the appointment? Can you nurture yourself, using practices that you know are calming and soothing for you? (i.e. deep breathing, journaling before your appointment, etc.)
Self-advocacy is essential for transgender people, but it's also natural to feel defeated sometimes when facing discrimination in the world today. A great example of self-advocacy is Mitch's advice (shared earlier) to walk out of a medical office where you aren't getting the care you need, or where you don't feel safe.
Working on self-care, self-advocacy, self-kindness, self-growth, self-esteem – all of these contribute to self-love.
Resources:

Final Words of Wisdom from Mitch (49:21)

With autoimmune disease, the body is attacking itself. When we don't accept and honor who we are, we compound that.
For Mitch and many transgender people, it's common to feel disconnected from the body when it doesn't match who you are on the inside. That can sometimes lead to neglect – not wanting to care for a body you feel has betrayed you. People with autoimmune disease can have similar feelings. When you honor who you really are, you start being able to make choices out of love for yourself, and that's a prerequisite for seeking help and health.
When Mitch came out as trans, he felt immense relief. His nervous system calmed down, he was no longer attacking himself mentally, he felt safe and whole in his body, and connected to his body for the first time in his life.
For anyone listening to this podcast, whether trans or not, Mitch encourages you to think about the areas in your life where you may not be living as authentically as you want to be, and the stress that may be causing. He encourages everyone to embrace and be who you are.

Outro (52:49)
You May Also Be Interested In
Spreading the Word
If you like the podcast, please leave a positive review in iTunes. It would mean the world to me, and also helps others find the podcast. Here are some quick instructions using your iPhone:
If you are already subscribed to my podcast: (1) Click the purple podcast icon. (2) At the bottom of the screen, click Library. (3) At the top of the screen, click Shows. (4) Click the Phoenix Helix podcast image. (5) Scroll down the page, and you'll see Ratings and Reviews. Scroll down a little bit more and click on Write a Review. This will bring up the review screen. Tap 5 stars (if you love the podcast), and then click in the title box, and it will bring up the keyboard. Enter a title and short review. (6) Click Send in the upper right corner. (7) Thank you! Positive reviews give the podcast a higher search ranking in iTunes, helping people find it and letting them know it's a quality podcast and worth their time to listen.
If you haven't subscribed to my podcast: (1) Click the purple podcast icon. (2) In the lower right corner, click the magnifying class. (3) Type Phoenix Helix in the search box. (4) Click the podcast cover in the Show list. (5) If you'd like to subscribe, click the + sign at the top of the screen. (6) To write a review, scroll down the page, and you'll see Ratings and Reviews. Scroll down a little bit more and click on Write a Review. This will bring up the review screen. Tap 5 stars (if you love the podcast), and then click in the title box, and it will bring up the keyboard. Enter a title and short review. (7) Click Send in the upper right corner. (8) Thank you! Positive reviews give the podcast a higher search ranking in iTunes, helping people find it and letting them know it's a quality podcast and worth their time to listen.