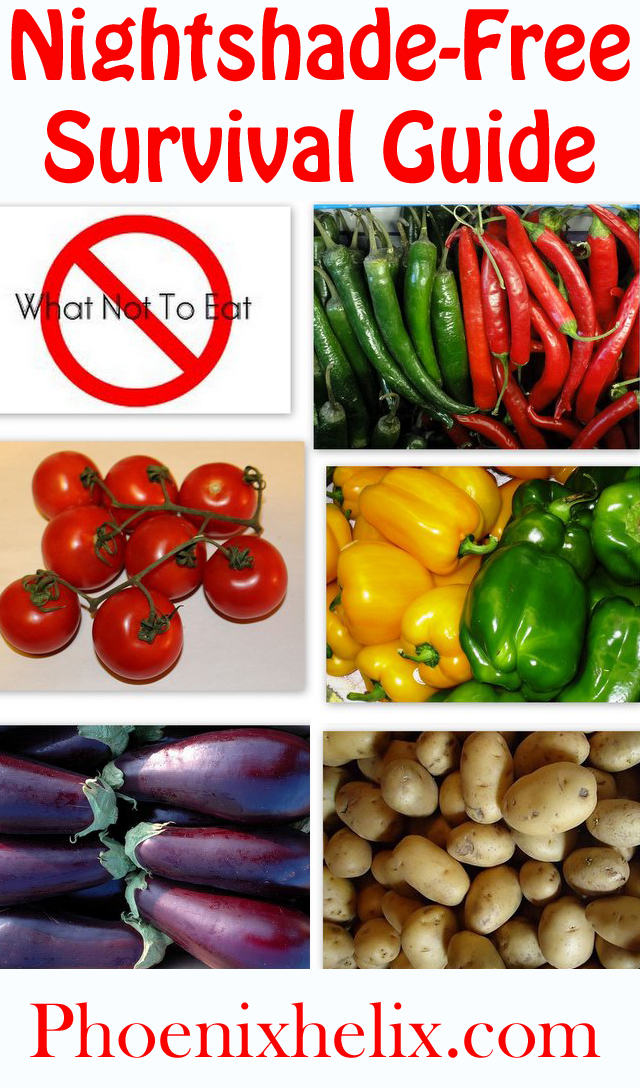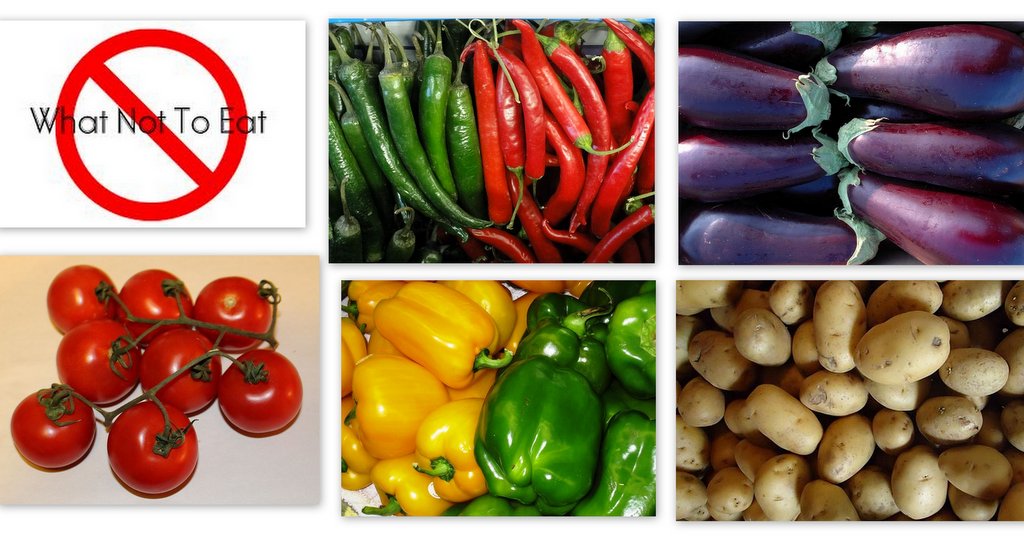 "Belladonna: in Italian a beautiful lady, in English a deadly poison."
~ Ambrose Bierce
---
What are Nightshades?
You may have heard of the term "deadly nightshade" referring to a plant called belladonna, which was used as a poison in ancient times. Lesser known are the commonly eaten vegetables in the same nightshade family. They aren't deadly, but they contain enough toxins to cause inflammation in some people, particularly those with autoimmune disease. Often, we don't realize just how much, until we stop eating them:
Tomatoes
Tomatillos
Potatoes
Eggplants
Peppers (bell peppers, banana peppers, chili peppers, etc.)
Red pepper seasonings (paprika, chili powder, cayenne, curry, etc.)
Pimentos
Pepinos
Tamarillos
Goji berries
Cape gooseberries/Ground cherries (similar to tomatoes, they have no relationship to fruit despite their name)
Ashwagandha (an ayurvedic herb)
Tobacco
Read labels: terms like "spices" and "natural flavors" often contain the above seasonings, and "starch" often comes from potatoes.
Similar sounding foods that are not nightshades:
Sweet Potatoes
Peppercorns (black, white and pink)
Beware of longer lists on the internet!
Just because it's on the internet doesn't mean it's true, and many websites list foods that aren't nightshades at all, such as blueberries, cauliflower, artichokes, okra, apples, etc. The problem is adding foods to lists based on internet rumor rather than scientific validation. Thankfully, Sarah Ballantyne did some exhaustive research in this area and busted these rumors as myths. So, don't make your life harder by avoiding more foods than necessary. If you ever wonder if a food is a nightshade, simply look up its scientific family. Only members of the Solanaceae family are nightshades.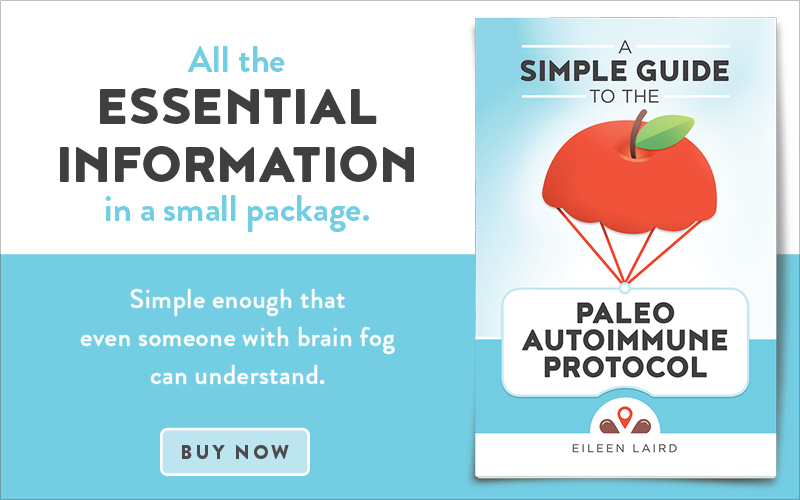 How Are They Harmful?
First of all, nightshades aren't harmful to everyone, but they are often harmful to people with autoimmune disease.
These vegetables all look so different, it's surprising to discover they're all part of the same Solanaceae family. They all contain toxic compounds called alkaloids. In nature, these protect the plants against insects, by poisoning the insect and dissolving its cell membranes. Unfortunately, alkaloids can have a similar effect in humans, increasing our inflammation, overactivating our immune system, and causing permeability in our intestinal membranes (known as leaky gut), all of which contribute to autoimmune disease. If someone's healthy, with low inflammation in their body, a balanced immune system, and a healthy and strong digestive tract, they can often eat nightshade vegetables without a problem. However, people with autoimmune disease are vulnerable, and nightshades often exacerbate symptoms.
If you want more details on these compounds and how they affect the body, here's an excellent article.
What are Symptoms of Nightshade Sensitivity?
Joint pain
Stiffness upon waking, or stiffness after sitting for longs periods of time
Muscle pain and tension
Muscle tremors
Sensitivity to weather changes
Poor healing
Insomnia
Skin rashes
Heartburn
Stomach discomfort
Digestive difficulties
Headaches
Mood swings
Depression
How Do I Learn If I'm Sensitive?
The only way to know is to eliminate them from your diet for at least 30 days. (No cheating.) Then, reintroduce them into your diet as a test: eat them at least 3 times over a 2-day period, and then stop eating them, and monitor your symptoms for 72 hours. Did you improve during the 30 days? Did you have a negative reaction when you ate them again? If yes, you're nightshade-sensitive. If no, you're not.
You'll find articles on the internet saying there are no peer-reviewed studies to support the nightshade-inflammation connection. This is true, largely because there's no profit to be made in that research and therefore no funding. But you'll also find many people who eliminated them from their diet, reintroduced them, and saw a clear connection between eating them and their symptoms. I'm one of those people, as is Sarah from Paleo Mom, Mickey from Autoimmune Wellness, and many others.
Does the Amount Matter? Can I Eat Just a Little?

I don't recommend it. When I first went nightshade-free, I gave up the vegetables but kept eating the spices. I thought, 'How can such a small amount hurt me?' My inflammation lessened, but some remained. Then I did a strict elimination protocol, avoiding the spices as well. When I reintroduced them 30 days later, I had a huge reaction. Every joint in my body hurt, and it took 2 weeks before I returned to feeling normal again. Elimination diets are powerful learning tools, because by removing a food from your circulation altogether, you eliminate the chronic inflammatory response. When the food is reintroduced, if you're sensitive, you will get an acute short-term reaction. It's a very clear communication from your body on what foods are good for you and what foods are not.
Can You Be Sensitive to One and Not the Others?
It's possible, because each vegetable has a slightly different alkaloid. You can test yourself by reintroducing them one at a time.
How Can I Live Without Them?
Let's not lie; it ain't easy. I cried when I learned I had this sensitivity. These are some of the most delicious vegetables and spices. They're also heavily used in restaurant and store-bought food, making shopping and eating out even more difficult. However, there is a clear reward to a nightshade-free life: you feel better.
We Can Do This! Here are My Survival Tips:
If you're craving potatoes, replace them with a starchy alternative: sweet potatoes, beets, parsnips, butternut squash. You can cook all of these the same way you cook potatoes: fries, chips, roasted, mashed, and you know what? They have more flavor, too!
Although there's really no substitute for a fresh summer tomato, there are nightshade-free substitutes for marinara sauce, ketchup and BBQ sauce.
Nightshade spices usually give food a hot kick. You can still get this sensation through non-nightshade spices like ginger, garlic, horseradish and wasabi. Usually you'll need more of these spices than you would of the red peppers. Experiment.
Restaurants are tricky. Many sauces and spice blends contain nightshade spices. You have two options: ask your waiter how the food is seasoned (and trust them to tell you the truth). Or order your food unseasoned and bring some spices with you. Herbamare is a good choice (lots of flavor, no nightshades).
If you want to buy lunch meat, unfortunately most of them have nightshade spices. Paprika is especially overused because it adds color. However, Whole Foods has a "naked" line of deli meats and rotisserie chickens, which means they are simply meat with nothing (including spice) added.
If you're looking for a nightshade-free meat protein bar, two of my favorites are Epic Bison Bar and Wild Zora Lamb Bar.
Be aware that nightshades can sometimes show up in medications and supplements. Always read the labels and verify the source of ingredients. When there is no label, ask your doctor or pharmacist.
If you're looking for nightshade-free recipes, I host a weekly Paleo AIP Recipe Roundtable on my blog, and every recipe shared is nightshade-free. There are thousands of recipes in the Roundtable Archives, and if you subscribe to my blog, you'll be notified whenever a new Recipe Roundtable goes live. Also, don't be afraid to modify recipes you already have. You can often remove an ingredient or two without altering the deliciousness of the dish. Get creative and see what substitutions work best for you.
Here's my favorite nightshade-free curry recipe.
And here's one of my favorite companies: KC Natural. They sell condiments that are 100% nightshade-free, and if you're following the Paleo Autoimmune Protocol, their products are AIP-friendly as well!
Credit: images in the featured collage came from Wikimedia.