This post may contain affiliate links.
Click here
to see what that means.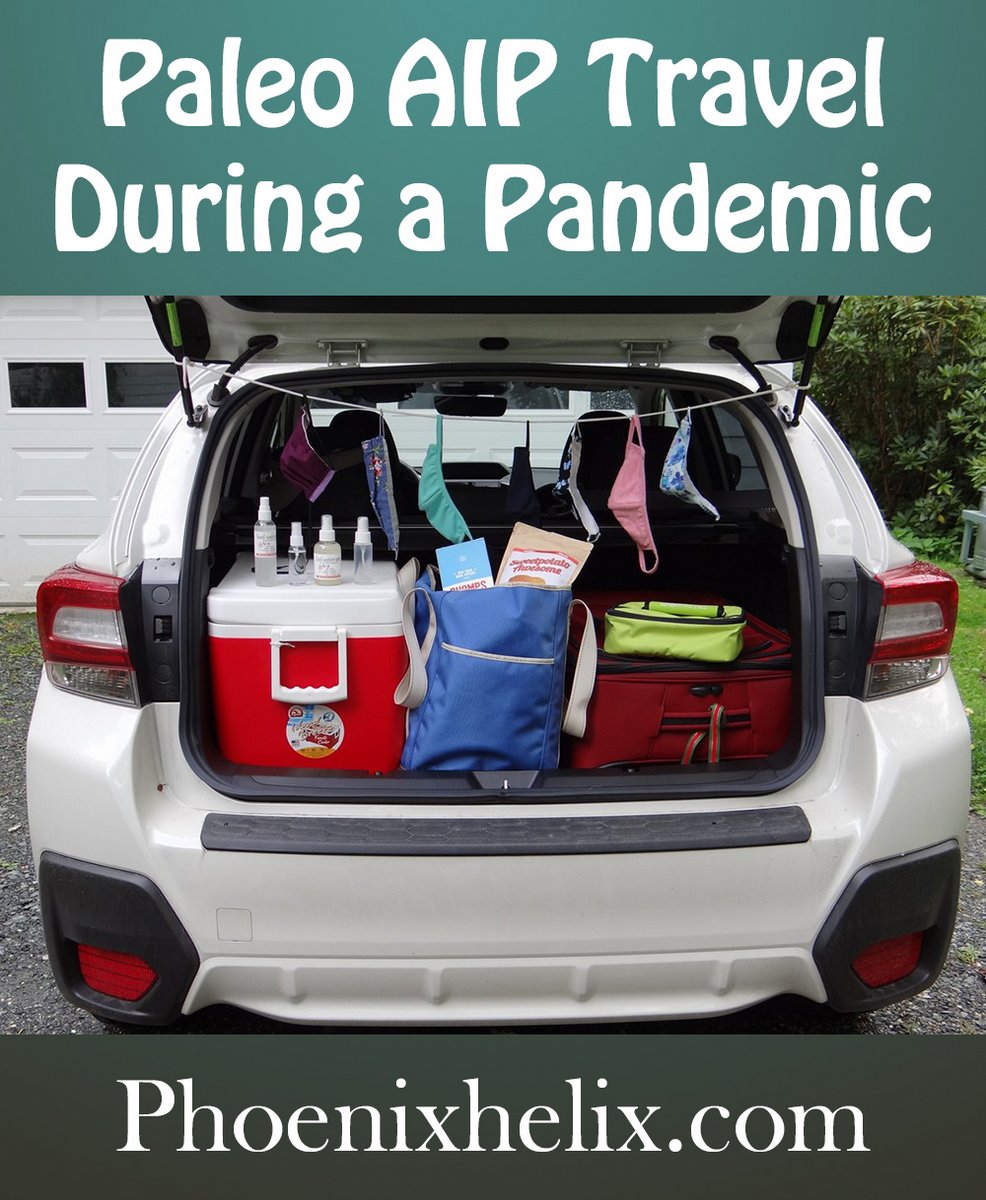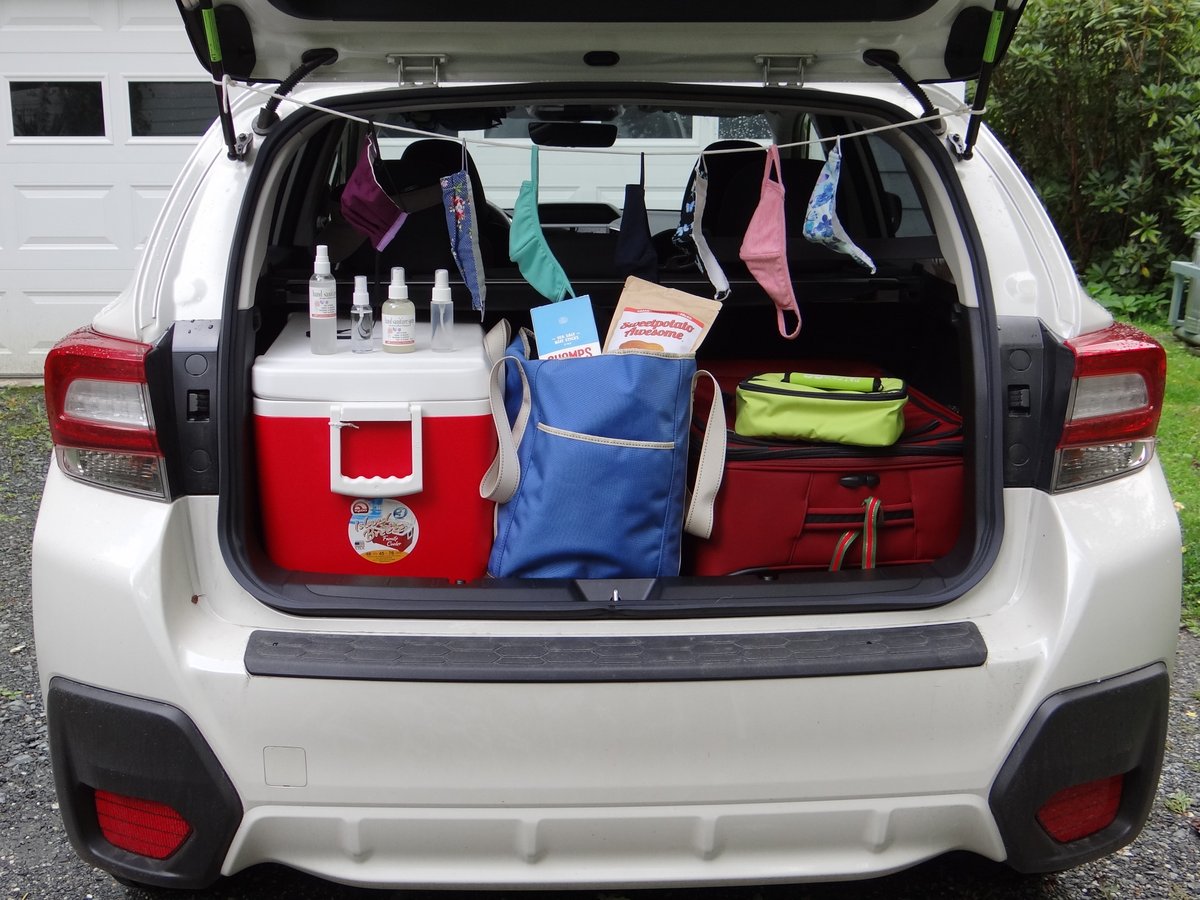 "Take calculated risks. That is quite different from being rash."
~ George S. Patton
---
Deciding to Leave Home
Like many others, when the pandemic first began, I expected it to be short-lived. I stayed safe-at-home, visiting with friends over video, getting groceries delivered, and canceled all travel plans. As the pandemic stretched out, I started researching risk and safety. How could I expand my world beyond my home, but still stay as safe as possible? I started meeting friends outside for socially distanced walking dates and picnics. I went into stores occasionally, wearing my mask and using hand sanitizer. And at the end of the summer, my husband and I started discussing the possibility of travel. Many trips we didn't consider. There's a huge spectrum of risk vs. safety within the realm of travel. In this article, I share how we evaluated those risks and chose a trip that felt right for us. We couldn't get away from the pandemic – it's everywhere. But we could get away from home for some much-needed new experiences, relaxation, and a beautiful change of scenery.
General Pandemic Safety Awareness
This is an excellent overview whenever you're making a decision on whether an activity is a good choice for you. Click on the graphic below to be taken to a larger version that's easier to read. You can also download a PDF to print.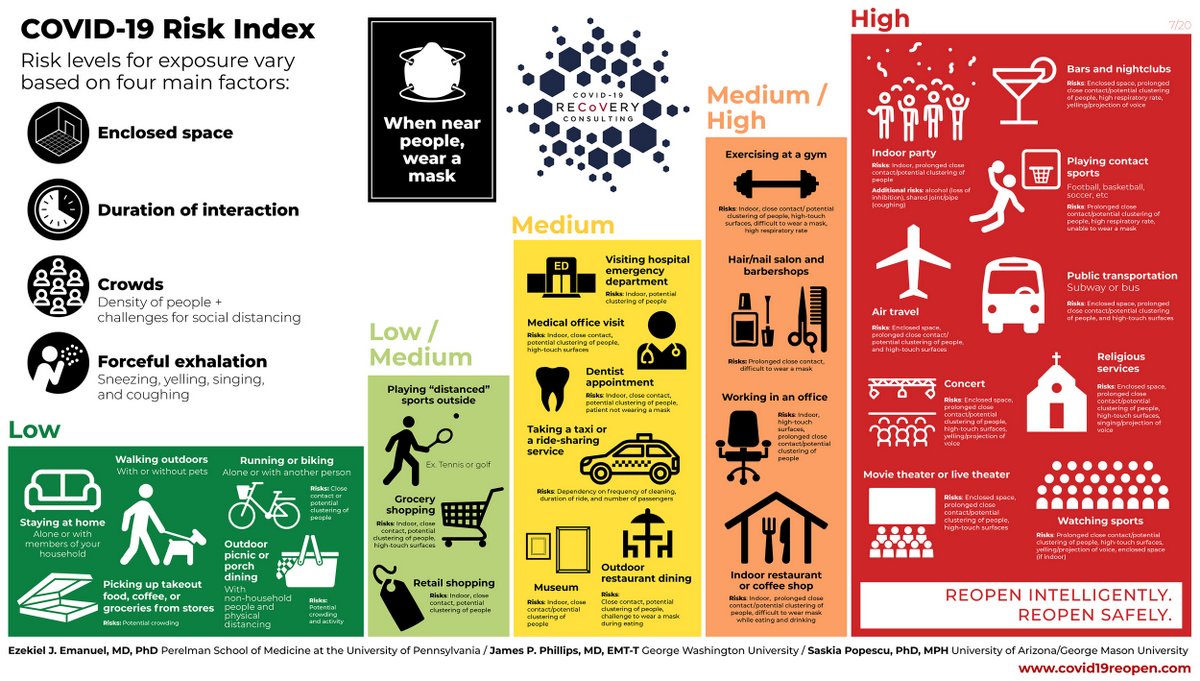 Autoimmune Disease and COVID-19
People with chronic illness are considered high-risk for COVID-19 infection. If we contract the virus, our risk of hospitalization is higher. However, like everything, there's a spectrum of risk. Since the pandemic began, doctors around the world have been collaborating and sharing information. The Global Rheumatology Alliance created a database of COVID-19 patients with autoimmune disease. This is what they've discovered:
People whose health conditions are well managed have better outcomes. Patients experiencing an autoimmune flare are at higher risk than those who are in remission. This is because the worst COVID-19 outcomes involve a severe inflammatory response to the infection. If inflammation is higher to begin with, the risk of severe inflammation with the coronavirus is higher.
Although many autoimmune medications suppress the immune system, if the result is fewer autoimmune flares and more stable health, the medication appears to decrease risk for a poor COVID-19 outcome. In fact, some medications (like TNF and IL-6 biologics) may potentially dampen the severity of the COVID-19 infection.
Other health conditions that are associated with worse outcomes include heart disease, high blood pressure, high cholesterol, diabetes, obesity, and cancer. If you have any of these conditions in addition to autoimmune disease, that increases your risk as well. However, the same rules apply – the more stable your condition, the lower the added risk.
Following an anti-inflammatory diet, lifestyle, and mindset helps lower risk for the same reason – by lowering inflammation, lessening flares, and optimizing health.
Resource Podcasts:
Transportation Decisions: Planes, Trains, Buses, Automobiles
If you have evaluated your personal risk and decided you do want to travel, how do you choose the method? If you apply the formula in the graphic above, the answer is obvious. Road trips in your own car are the safest choice, and that's the choice I made. Public transportation of any kind is higher risk due to the crowds, high-touch surfaces, and circulated air. But again, there's nuance, so I'll share best practices below.
Road Trip Tips – Every time you get out of your car and interact with other people or go into a building, that's a risk, but there are things you can do to minimize that risk. When we stopped at a store or rest area, we donned our masks and put a fresh paper towel in our back pocket to touch things like door handles and payment terminals. We always took advantage of opportunities to wash our hands, and also sanitized our hands once we were back in the car, after throwing away the exposed paper towel.
Public Transportation Tips – Maybe you don't have a car. Maybe you have to be somewhere that is too far to drive, and a plane or a train are your best option. In this case, how do you minimize risk? First, practice the basics religiously: wear a mask, keep your distance from other people, watch where you put your hands, wash your hands, and sanitize frequently. When you're in an airport or a bus/train station waiting for your travel time, try to wait in an uncrowded area. Research your transportation company before booking your ticket. Many planes, trains, and buses use air filtration systems. They aren't perfect, but they help. Most also use special COVID-19 cleaning procedures, but standards vary. Be sure they require all passengers to wear masks (this is essential). And if you can find a carrier that doesn't book to capacity but rather leaves the middle seats open, that is ideal. Lastly, if you can get a window seat with the middle seat empty next to you, do so. This puts space between you and the aisle where people pass frequently.
Solo vs. Family & Friends
This is a really difficult choice. Many of us miss family and friends who live far away from us. Normally, my husband and I travel to see family multiple times per year, or have family come visit us. Those visits have completely stopped during the pandemic. For our first trip, my husband and I decided to travel alone. If the pandemic continues into next year, we'll get creative and try to find a way to organize a family visit safely. But truthfully, it's not easy!
Pods have become popular – where people select a small number of people that they no longer practice safety precautions with. It makes sense why people are doing this. We need social interaction. We need human touch. We need to find a way to make pandemic life sustainable. But it's easy to forget that your pod contains more people than you realize. It's not just the people you've chosen for your pod, it's all of the people each member of the pod is exposed to. Here's a graphic that shows this concept well.
The safest way to minimize risk while vacationing with others is to practice social distancing on your visit. Get your own accommodations (see lodging suggestions below). Travel during warm weather, when you can visit outside. Wear masks if you're inside and sit far apart from one another. Practice all of the precautions you normally do in daily life (hand washing, being careful of touched surfaces, etc.) The hard part with this choice is that there's no hugging, no physical closeness. Social distancing can feel painful with people we love, but it can still be worthwhile to simply enjoy being together in person.
I have seen people organize group vacations, using testing and joint quarantine protocols to minimize risk. The goal is to set up a travel bubble, similar to the NBA when they scheduled their basketball season at Disneyworld. To be clear, we don't have the resources to make it 100% safe the way NBA did. It would require very long vacations, very strict protocols with 100% cooperation from all attendees, and multiple tests spread out over many days since false negatives are possible. For this reason, I can't ethically recommend this. I would love to hug my friends and family, and I'm looking forward to doing that in the future, but while the pandemic is happening it's not a safe choice for me.
Choosing Your Destination
There are two factors to consider when deciding where to go on your vacation:
Population density (crowds) – This is not the time to travel to a city if you can avoid it. The more people, the higher the risk. Also, city trips are usually organized around entertainment venues, restaurants, and shopping. All of those are higher-risk activities during a pandemic. The safer choice is to go someplace beautiful in nature, and gain the benefits of nature at the same time! National parks and state parks are wonderful choices. My husband and I chose a state park on the coast, and got our beach fix at the same time.
Virus intensity – Are the numbers going up or down at your travel destination? If you Google "COVID Graph" and the name of your destination, you can get real-time statistics. Some places are hot spots for the pandemic, and others have successfully lowered the outbreak. This largely depends on the laws in the state (or country) regarding precautions. Try to avoid traveling to places where the politicians are doing nothing to try to control the pandemic.
Timing Your Trip
My husband and I are introverts by nature, so we always like to travel off-season and mid-week to avoid the crowds. It turns out this is a great pandemic choice, too! Cusp seasons are ideal – the period right before or after a peak tourist season. The weather is usually still beautiful, but the crowds are much smaller. We like to arrive on Sunday and leave on Friday, traveling home on the weekend.
Lodging Choices
When you're on a healing diet like the Paleo Autoimmune Protocol, choosing lodging with a kitchen is ideal. I love Airbnb for this reason. Other options are state park cabins, or hotels with full kitchens or kitchenettes.
For pandemic safety, it's important to vet the lodging for their cleaning protocols and social distancing precautions. This article rates hotels on COVID-19 safety. Factors they consider are: mandatory masks for both staff and guests, social distancing in common areas, room blocking (days off between reservations), enhanced cleaning, and low-contact check-in. If you're staying at an Airbnb, you can ask the host these same questions.
PS – I am also sensitive to scents, which is true of many people with autoimmune disease. Most air fresheners contain toxic ingredients, and plugin air fresheners are the worst offenders. I always ask in advance if those are used and choose unscented rentals whenever possible.
Planning Your Food
If you're in the elimination phase of the AIP, you'll want to be in charge of your food. Unless there's a paleo restaurant nearby with AIP options (which is rare), most restaurants will use non-AIP ingredients. You can batch cook meals in advance and bring them with you in a cooler, or shop at the grocery store and cook upon arrival. If you're traveling by car, consider buying a Hot Logic Mini that plugs into your car. It heats the food while you drive, for a delicious hot meal on the road. Last but not least, stock up with ShopAIP before you go. They're an online store that sells AIP-friendly snacks and pantry staples.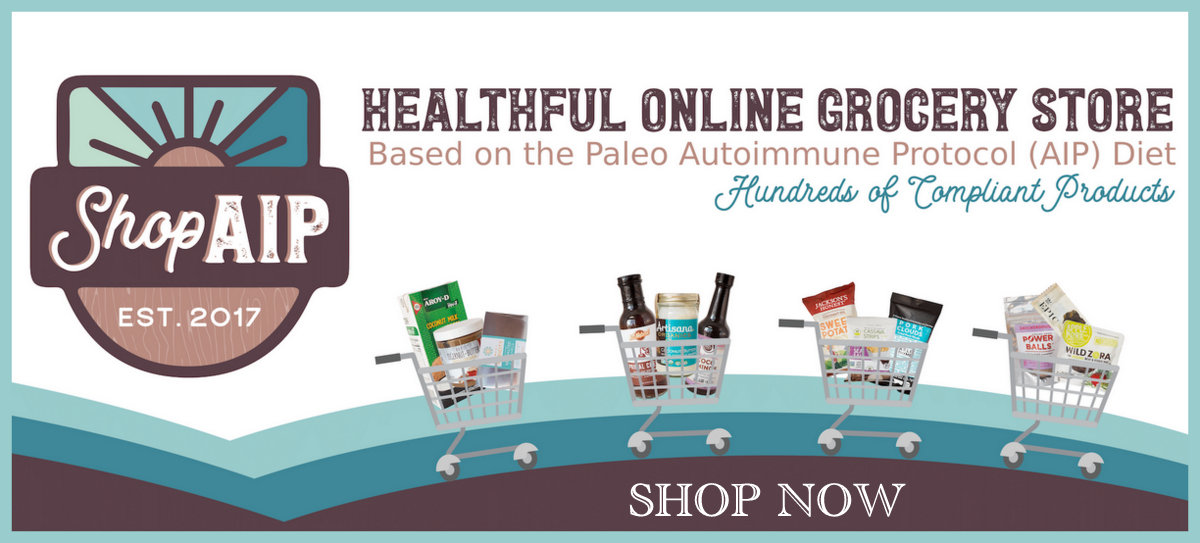 Vetting Restaurants & Grocery Stores
In the United States, there are no unified laws regarding COVID-19 safety procedures. This leaves it up to businesses to decide what to do, and they vary a lot in their protocols.
Grocery Stores – Check to see if the staff are wearing masks, and wearing them correctly (over their nose and mouth rather than draped loosely). Is the floor marked with one-way aisles, with social distancing stripes at checkout? When the staff brings the grocery carts back into the store, are the handles wiped with a sanitizer? If yes, make that your "home store" for this trip. If not, visit other nearby stores until you find one that feels like a safe choice.
Restaurants – First, you need to decide if you want to try a restaurant during your trip. I mentioned above that I don't recommend restaurants if you're in the elimination phase of the AIP, but if you have successfully reintroduced some foods and know how to recover if you get a food exposure, restaurants can be a nice treat while you travel. However, they need to be vetted in two ways: food safety and COVID-19 safety. First, look at this list of paleo restaurants. If any are near your travel destination, give them your business! Otherwise, I recommend the Find Me Gluten Free app. It helps you find restaurants with gluten-free menus and also contains reviews about how educated the staff are on food allergies and intolerances. If they pass the food test, vet them for COVID-19 safety procedures. Visit their website to see if they advertise their protocols. If not, call and ask the details. You want to be sure the staff wear masks and enhanced cleaning protocols are beings used. Curbside pickup is the safest dining choice. Second best is take-out. Third best is outside dining if the tables are spread out. Remember that social distancing inside a restaurant isn't effective due to air circulation, so avoid that choice.
Choosing Activities
By now, you know what to consider when planning your trip. Look at the safety graphic at the top of the article for a refresher. Outdoor activities are safer than indoors. Avoid crowds and go places where there's plenty of room for social distancing. Soak up nature wherever you can. When visiting businesses, look for ones that take safety precautions seriously. Most of all, enjoy your trip and savor the new sights around you. After so much time at home, a simple change of scenery can be a balm to the soul.
Mind-Body Connection: Relax & Have Fun
If you're feeling overwhelmed after reading this article, I understand. AIP travel is a challenge during the best of times, and the pandemic adds a whole new level of planning. That's why I didn't even consider traveling earlier this year. But life is meant to be lived, and staying isolated at home isn't good for our health either. Sometimes the effort is worth the reward. Only you know if it's the right choice for you.
If you decide to travel, enjoy it! Research your plans, do your best to minimize risk, and then try to relax. Perfection is impossible, and mindset does have an impact on our emotional, mental, and physical health. If we're filled with fear while we travel, that increases our risk of illness. Our mind and body are intertwined. So, harness the power of the mind-body connection for good. Practice caution, but embrace joy, and if fear arises, don't judge yourself. It's natural to feel anxious in the world today. Just pull out your relaxation techniques to soothe that fear, and get back to enjoying your trip again.
---
We're smiling under these masks. It was worth it!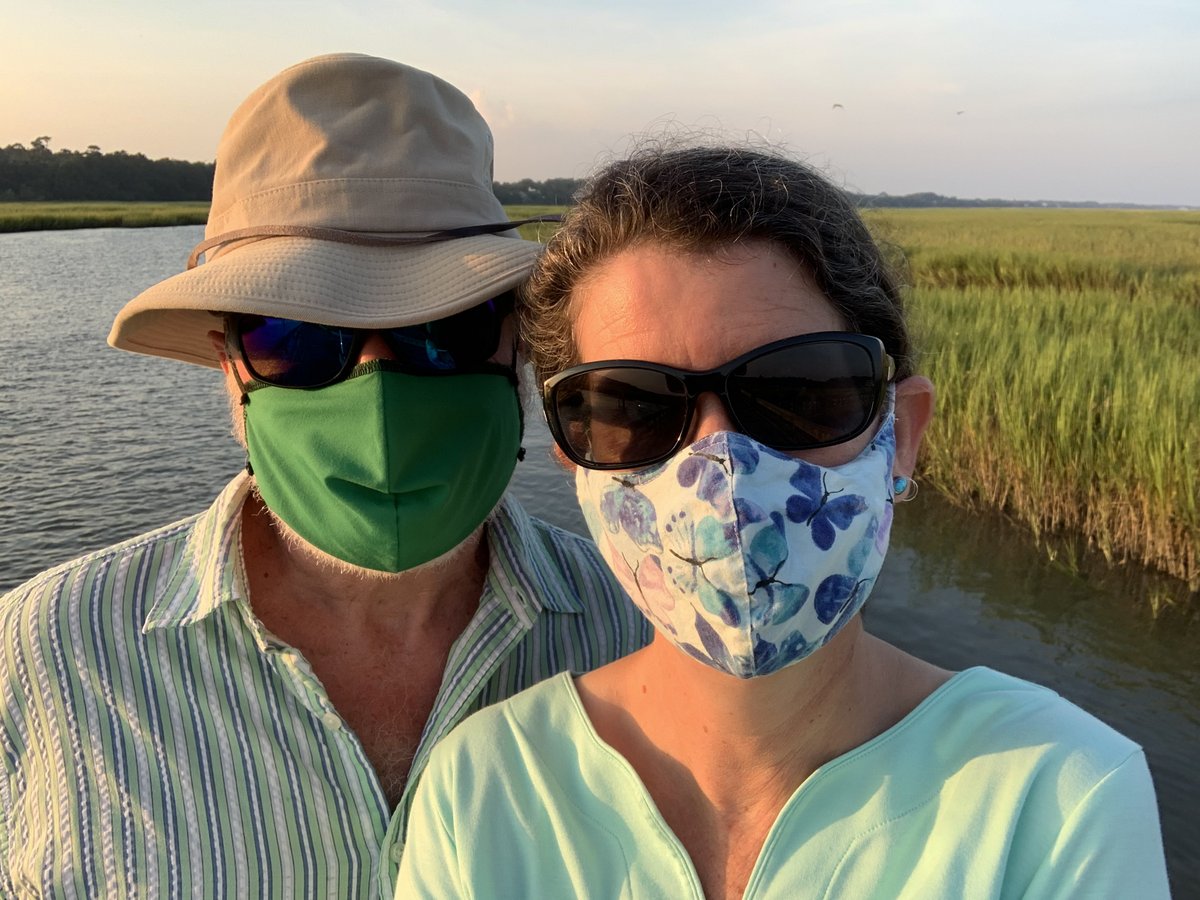 Disclaimer
Through this article, I tried to show how I made my travel decisions and the factors to consider when making your own. However, this doesn't mean travel is 100% safe. We can do things to minimize risk, but we can't eliminate it completely. Only you know if traveling is right for you.
You May Also Be Interested In