This post may contain affiliate links. Click here to see what that means.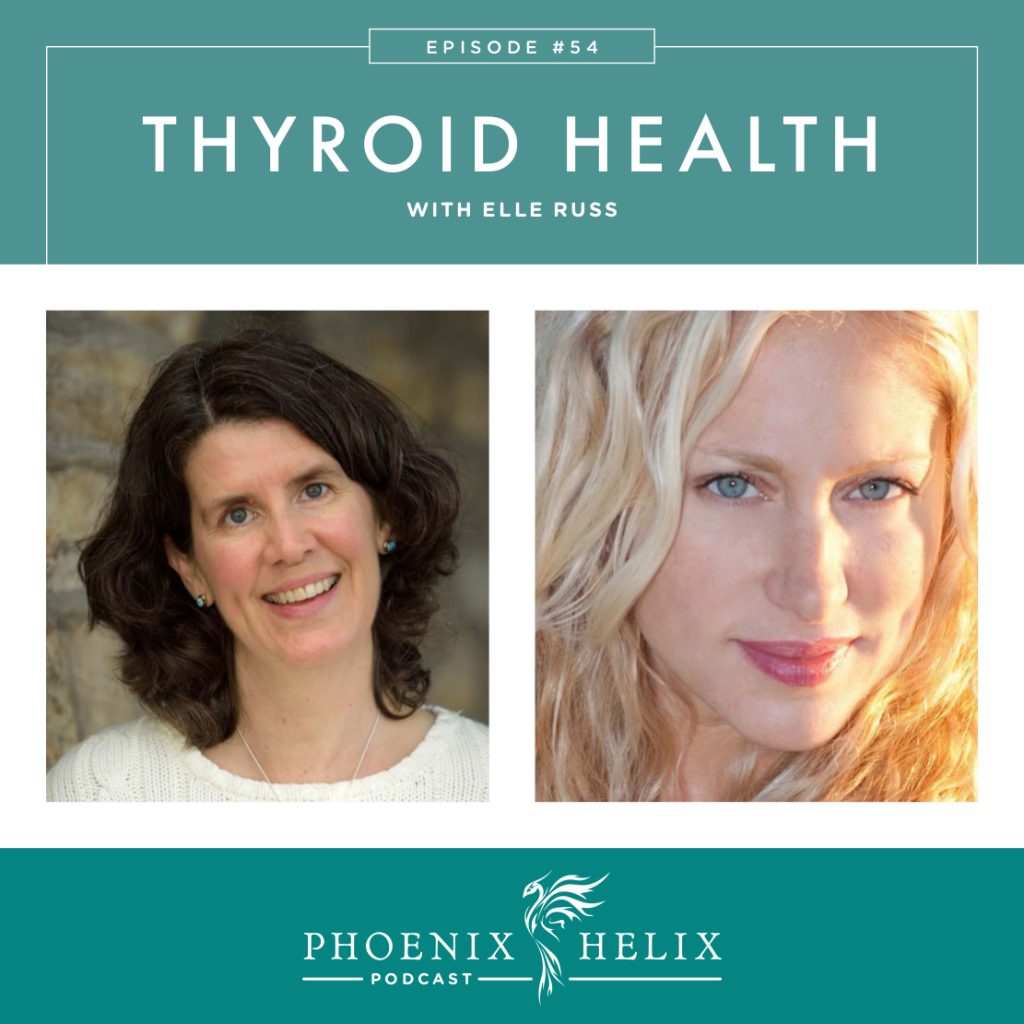 Why Is the Thyroid So Important?

A small butterfly-shaped gland located at the front our neck, the thyroid regulates the metabolism of every organ and cell in our body. That's why there's such a long and varied list of symptoms that can indicate a thyroid problem. Hashimoto's and Graves disease are autoimmune diseases which attack the thyroid, but thyroid issues are on the rise from other causes as well. In today's show, I speak with expert Elle Russ, author of The Paleo Thyroid Solution. We discuss why thyroid problems are becoming commonplace, how to test your thyroid function, what avenues are available for treatment, and the importance of self-advocacy.
Listen to the Show
There are three ways to listen:
You can subscribe to my podcast through iTunes.
You can listen through Stitcher.
You can also listen to the episode right here through the play bar at the bottom of this post. If you subscribe to my blog by email, you'll got notified of future episodes.
Show Notes
Intro (0:00)
Thank You to our Podcast Sponsor – Paleo on the Go (1:35)
Meet Elle (2:35)

Elle is the author of The Paleo Thyroid Solution. In addition to being a writer, she's an actor, comedian, health/life coach, and the host of the Primal Blueprint Podcast.
Over the course of 10 years, she was hit twice with severe hypothyroidism. She consulted with 2 dozen endocrinologists, internal medicine specialists, and general practice MDs. They all told her that her thyroid test results were normal, and there was nothing wrong with her. It turns out they weren't giving her the right tests.
At her worst, she suffered from gynecological problems, severe brain fog, depression, weight gain, skin thickening, chronic constipation, personality changes, and extreme fatigue. Now, her symptoms have resolved through a combination of diet, thyroid supplementation, and mind-body work.
In the course of writing her book, she finally found a doctor who understands hypothyroidism: Dr. Gary Foresman.

What Is the Thyroid and Why Is It Important? (10:26)

A small butterfly-shaped gland at the front of our neck, it's a master gland that affects organ and cell function bodywide. If the thyroid is having trouble, the whole body suffers.
Often thyroid problems can lead to other diagnoses when the thyroid is the true root cause – such as PCOS, high blood pressure, high cholesterol, and mental health issues.

Common Symptoms of Hypothyroidism (15:17)

Cold hands and feet and lower body temperature overall
Fatigue
Depression
Brain fog
Personality changes
Weight gain
Water retention
Puffy eyes
Skin thickening
Acne
Dry skin overall, but particularly cracked skin on the inside of the index finger
Constipation
Restless leg syndrome
Inner itching of the ear
Numb lips
Hair loss

Common Symptoms of Hyperthyroidism (17:03)

Racing heart
Extreme weight loss
Bug eyes
Diarrhea
Anxiety
Hyperactivity
Irritability
Higher body temperature
Excess sweating

Hypothyroidism and Weight Struggles (21:24)

Hypothyroidism often leads to insulin resistance, which makes weight loss difficult.
If you restrict calories and overexercise when you are severely hypothyroid, you make the hypothyroidism worse, which often leads to further weight gain. When you first start to heal, you actually need more rest and nourishment, which is counter-intuitive.
Elle offers a multi-phase approach to weight loss in her book, focusing on restoring thyroid and overall body health first, and focusing on weight loss second. But she does address the issue of weight loss and successfully lost the weight she herself gained.

Self-Love and the Mind-Body Connection as Part of Healing (27:04)

So often we judge (and are judged by) others and ourselves. Replacing that with empathy and compassion is a big step toward healing.
Our bodies are trying to save our lives in every instance, even when things go wrong. The first time Elle got sick, she was filled with anger and self-blame. The second time she focused on self-love and gratitude.
Even when she was suffering physically, mind-body techniques brought her hope. They also helped her recover faster.
Elle is a big fan of Louise Hay's affirmations and recommends her movie, You Can Heal Your Life.

Why is Hypothyroidism On the Rise? (36:30)
Thyroid Testing (40:06)

Conventional doctors only test TSH, which doesn't fully assess thyroid function. If your doctor won't order a complete thyroid panel, you can order them online through Private MD Labs or Direct Labs.
Here's the complete thyroid testing panel that Elle recommends:

TSH
Free T4
Free T3
Reverse T3
TPO
TgAB
Vitamin D 25-hydroxy
B12
Ferritin
DHEA sulfate

How to Find a Good Thyroid Doctor (47:11)
Thyroid Medications (50:18)

Synthroid is the most commonly prescribed medication. It's T4 only, and T4 needs to be converted before it can be used by the body. For this reason, some people have problems with this medication.
T4/T3 combined medications are ideal for most people. You can get this in a natural form (derived from pork) or synthetic form from a compounding pharmacy. There many different brands of natural dessicated thyroid (NDT). Westhroid (now called WP Thyroid) has the least amount of fillers and additives; it only has 3 ingredients.
T3 only. This is a rare medication for very specific thyroid issues.
Dosing: Finding your optimal thyroid medication level takes time. Usually you start at the lowest entry dose – try that for 3 weeks – get retested, and then your dose gets adjusted as needed. This may need to happen many times before you reach your personal optimal levels. An average time for this process is 6 months, so be patient. Keeping a symptom journal during this time really helps. Some people will need to try more than one brand of medication before finding the one that works best for them. Elle has detailed dosing information in her book.

Outro (1:01:08)
Spreading the Word
If you like the podcast, please leave a positive review in iTunes or Stitcher. It would mean the world to me, and also helps others find the podcast and learn about their potential for healing. Instructions using your iPhone: (1) Click the purple podcast icon. (2) In the lower right corner, click the magnifying class. (3) Type Phoenix Helix in the search box. (4) Click the podcast cover in the lower left. (5) Click the center tab: Reviews. (6) Click on the phrase: Write a Review. (7) Fill out the stars, title, and text for the review itself. (8) Click Send. (9) Thank you! Positive reviews give the podcast a higher search ranking in iTunes, helping people find it and letting them know it's a quality podcast and worth their time to listen.
Listen to the Show
There are three ways to listen:
You can subscribe to my podcast through iTunes.
You can listen through Stitcher.
You can also listen to the episode right here through the play bar at the bottom of this post. If you subscribe to my blog by email, you'll got notified of future episodes.
Podcast: Play in new window | Download
Subscribe: Apple Podcasts | Android | RSS
Have you checked out my books?