This post may contain affiliate links. Click here to see what that means.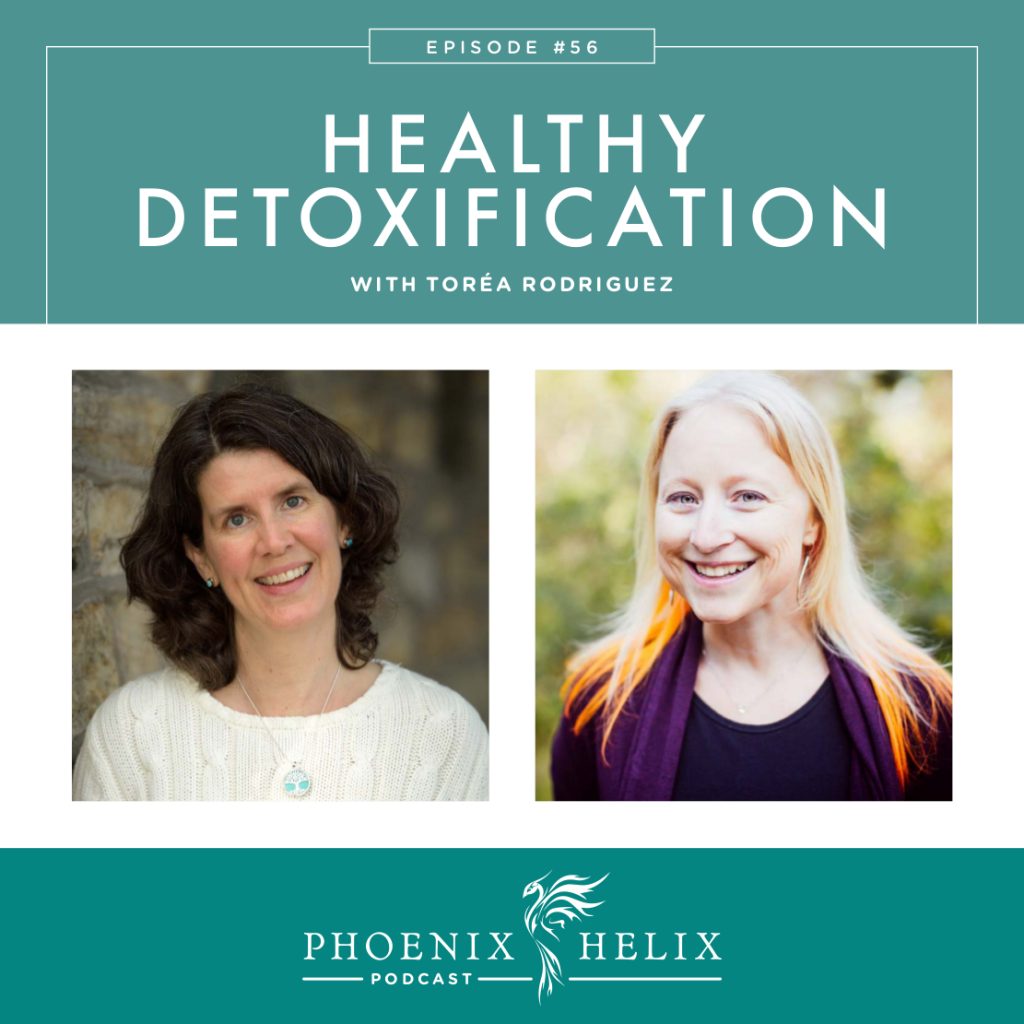 Supporting Our Bodies' Natural Detox Pathways Without Overwhelming Them

Our bodies have natural detox pathways, but they are overwhelmed by modern life. More than 80,000 new chemicals have been released into the world since the industrial revolution 150 years ago, and most of them within the past 50 years. These chemicals have never been fully tested for their effects on our bodies or the environment. We are asking our bodies to detoxify far more than they were designed to handle, and this is an important element in reclaiming our health. That said, there are a lot of scams out there related to detox cleanses, powders and programs. Many people who try these end up feeling worse. So, in this podcast we're going to learn how to detoxify in a healthy, sustainable way. My guest is Toréa Rodriguez. She is a Functional Diagnostic Nutrition Practitioner and a Transformational Life Coach. She's also a fellow autoimmune warrior.
Listen to the Show
There are three ways to listen:
You can subscribe to my podcast through iTunes.
You can listen through Stitcher.
You can also listen to the episode right here through the play bar at the bottom of this post. If you subscribe to my blog by email, you'll got notified of future episodes.
Show Notes
Intro (0:00)
Thank You to Our Podcast Sponsor: Paleo on the Go (2:06)

The Phoenix Helix Variety Pack was so popular in September, that they've made it a permanent menu item. It's a selection of my favorite, nutrient-dense AIP foods, permanently discounted $20.
If you're not familiar with Paleo on the Go, they are a frozen meal delivery service, they have a large menu of items for the paleo autoimmune protocol (AIP). I take the meals with me on vacation, and keep a stash in the freezer for emergencies.
Use the coupon code PHOENIX for 10% off your first order.

Meet Toréa (3:08)

Toréa is a Functional Diagnostic Nutrition Practitioner and Transformational Life Coach.
She also has Hashimoto's and Raynaud's Disease. When her health was at its worst, she had debilitating fatigue and was bedridden for months. She lost her ability to work, her hair was falling out, and she had extreme brain fog. In spite of taking prescribed thyroid medication, she swung wildly between hypothyroid and hyperthyroid symptoms, and her doctor suggested irradiating and surgically removing her thyroid. That's when she began pursuing alternative health solutions. She worked with Chris Kresser, who found many underlying root causes that were preventing her from healing, including anemia, adrenal fatigue, and co-infections. They worked on her issues one at a time, and over the course of three years, she regained her health. Today, she has more energy and vitality than ever before. The interventions that made the biggest difference for her were the paleo autoimmune protocol and functional medicine testing.

What Are the Detox Pathways in Our Bodies? (11:40)

Skin: Sweating is a powerful form of detoxification.
Lymph: Responsible for the internal collection and breaking down of toxins, which are then eliminated from the body.
Liver: Phase 1 detox breaks down the toxin, and phase two marks it to be eliminated from the body. For many people, phase 2 is slower than phase 1. If we detox too aggressively, we can actually make ourselves sicker because we're simply releasing toxins into circulation rather than eliminating them from the body.

What Happens When We Over-Detox? (15:17)

It's not uncommon for people to feel worse when doing juice fasts, detox cleanses or chelation. This is because aggressive detox protocols often liberate toxins faster than the body can eliminate them, which means they are just released into the circulation. This can be very harmful to health, especially for people with autoimmune disease. Autoimmune expert Dr. Datis Kharrazian warns agains chelation particularly. Toréa herself had a negative chelation experience which set her health backward, and it took her a year to recover.

How Does a Nutrient-Dense Paleo Diet Support Our Bodies' Detox Capability? (17:51)
What Is a "Toxin"? (20:42)

Any chemical substance that is causing harm to part or all of the human body.
In ancestral times, there were small amounts of natural toxins found in the soil and water, which our bodies were naturally capable of eliminating. Modern life is different. We have created over 80,000 new chemical compounds that aren't normally found in nature.. Toxins are all around us – in our air, water, food, cleaning and beauty products, furniture, kitchens, and even the components of our homes.
Article Toréa referenced: Chromium 6 Found in Drinking Water Across USA.

How to Reduce Toxin Exposure (23:38)
How Does Sleep Support Detoxification? (40:34)

We mentioned earlier in the podcast that some people struggle with phase 2 liver detox, which is essential to eliminating the toxins out of our bodies. This phase only happens when we sleep!
Resources:

Gentle & Effective At-Home Detox Therapies (42:19)

Dandelion and Milk Thistle Teas.
Clay Foot Baths: Add 1-2 tablespoons of bentonite clay to a foot tub filled with hot water. Soak feet for 15 minutes. (PS – Here's a great video of Terry Wahls wearing a clay mask while teaching people how to make a detox smoothie.)
Oil Pulling: You can start small with baby steps and work up to the full amount and time recommended in this tutorial. Toréa recommends starting with 1/2 teaspoon of coconut oil for just 30 seconds, and as you build up to more time, do something else simultaneously, as a distraction. She'll often prepare her breakfast while oil pulling.
Lymph Drainage Therapy: Find a qualified practitioner through this directory. And here's a short video teaching you how to do this technique for your neck and head, which is especially helpful for allergies, sinus congestion, headaches, and brain fog..
Saunas: Either traditional or infrared. The sweating is what's important.

Outro (50:42)
Spreading the Word
If you like the podcast, please leave a positive review in iTunes or Stitcher. It would mean the world to me, and also helps others find the podcast and learn about their potential for healing.
Listen to the Show
There are three ways to listen:
You can subscribe to my podcast through iTunes.
You can listen through Stitcher.
You can also listen to the episode right here through the play bar at the bottom of this post. If you subscribe to my blog by email, you'll got notified of future episodes.
Podcast: Play in new window | Download
Subscribe: Apple Podcasts | Android | RSS
Have you checked out my books?