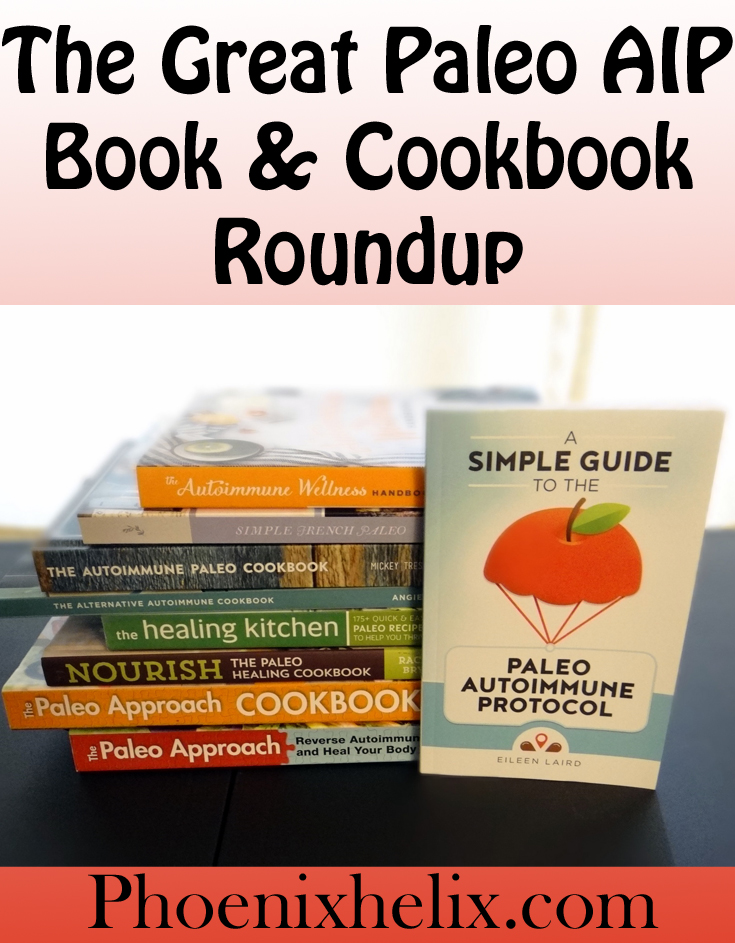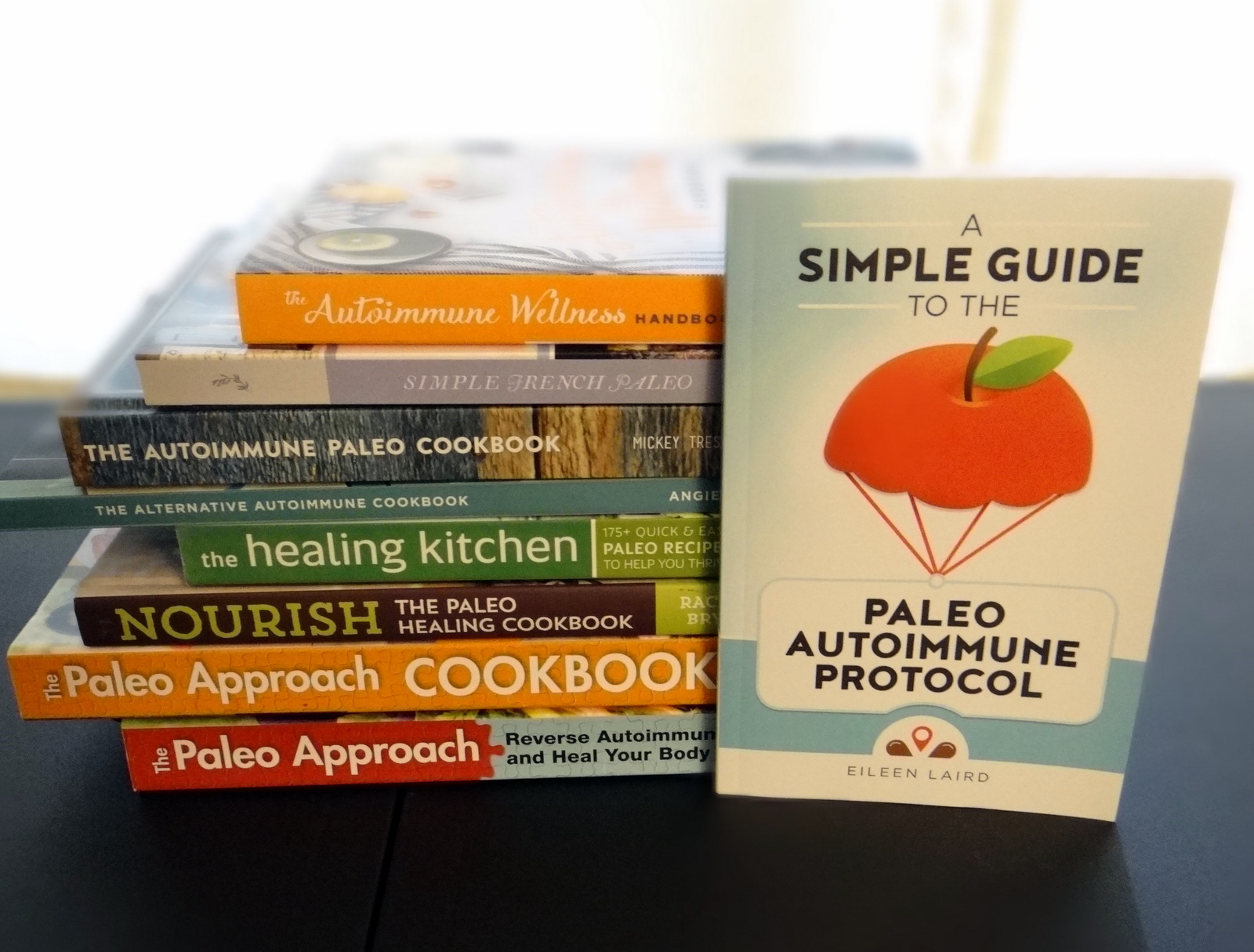 "Your library is your paradise."
~ Desiderius Erasmus
---
Abundance
When I first started the Paleo Autoimmune Protocol (AIP) on 1/1/13, there were no books for me to reference. A few people like myself had found some basic information on the internet and were figuring it out as we went along. Many of us became online friends and that's actually how I met Mickey & Angie from Autoimmune Wellness and Sarah from The Paleo Mom. It's amazing how much has changed since then. There are now 40+ resources created specifically to help people succeed on the AIP. I'm jealous, my friends! There are now simple guides to answer your questions, flavorful cookbooks to keep your taste buds tantalized, and support groups with thousands of people doing the protocol right alongside you! This is the sign of a powerful grassroots movement. People with autoimmune disease aren't content to suffer. We are phoenixes rising from the ashes, lifting each other up and showing each other the way. I am so honored to be part of this community with each and every one of you.
I thought it was time to celebrate how far we've come, and to collect all of these fabulous AIP resources in one blog post. Tell me: Which ones are your personal favorites, and which ones are you adding to your wish list?
---
I will continue to update this list as new books are published.
Last update: 1/6/23.
---
My Newest Book (Hardcopy)
Healing Mindset by Eileen Laird
The diet may be the most famous part of the paleo autoimmune protocol, but healing is about more than just food. The stress-autoimmune connection is strong, and a healing mindset is essential. This book is a practical guide to the mind-body connection for people with autoimmune disease. It contains over 90 mind-body techniques. It also includes beginner tips, advanced troubleshooting, and testimonials by fellow autoimmune warriors who have felt the power of the mind-body connection in their own lives (including me)! It's available in three formats: paperback, kindle, and PDF.
Paleo AIP Reference Books (Hardcopy)
A Simple Guide to the Paleo Autoimmune Protocol by Eileen Laird
It's all of the essential information in a package small enough to fit in your purse or backpack. It's written simply enough that even someone with brain fog can understand. And I wrote it like a conversation between friends. My goal is to make the AIP accessible to everyone. It's available in your choice of four formats: paperback, kindle, PDF, and audio (narrated by me). There is also a Spanish edition.
The Paleo Approach by Sarah Ballantyne
If you love science and want to understand why and how the AIP works, this book is for you! Sarah is a research scientist by training, and she read over 1200 studies about the immune system, inflammation and the autoimmune process and summarized them in this textbook. Get your highlighters ready and prepare to geek out.
Paleo AIP Cookbooks (Hardcopy)
The Healing Kitchen by Alaena Haber and Sarah Ballantyne
Designed for busy people, this cookbook has 175 recipes, many of which are one-pot meals, "5 ingredient or less" meals, or recipes that cook in less than 20 minutes. It also includes 12 weeks of meal plans, 2 of which feature batch cooking (another time-saving technique.) If you feel like you don't have time to cook, this is the cookbook for you!
The Autoimmune Protocol Comfort Food Cookbook by Michelle Hoover
Michelle is the voice behind Unbound Wellness, one of the most popular blogs in the Paleo AIP community. Her signature recipe style is to satisfy those comfort food cravings while nourishing your health at the same time. Here are a few recipe titles to get your taste buds tantalized: Banana Bread French Toast, Dad's Favorite Buffalo Chicken Wings, Chicken Pot Pie Soup, Pork Belly Ramen, Italian-Style Meatloaf Muffins, Lamb Gyro Skillet, Mint Chip Brownies, and many more. Over 100 recipes in all.
The Autoimmune Protocol Meal Prep Cookbook by Sophie Van Tiggelen
This cookbook focuses 100% on meal plans combined with batch cooking. You get the recipes, shopping lists, and a step-by-step plan to do a whole week's cooking in just a few hours, and you enjoy the meals the rest of the week. There are 10 meal plans, each with a different theme: Comfort Food, Easy Peasy, Super Bowl, Holidays, One-Pot, Coconut-Free, Low-FODMAP, Low-Carb, and Flavors of the World.
Nourish: The Paleo Healing Cookbook by Rachael Bryant
Are you a foodie like me? This cookbook is designed for people who love cooking, love flavor, and want to ban boredom from their kitchen. Instead of a plain burger recipe, you'll find Duck Fat Burgers with Mango and Avocado Spread. Instead of simple chicken breasts, try Chicken Street Tacos with Blueberry Salsa. Instead of sausage patties, how about Sausage Gravy "Benedict" in Portobello Mushroom Caps? With over 120 recipes, this is also the best cookbook for seafood lovers, containing the largest seafood section of all the AIP cookbooks. Note: The hardcover version is called Nourish, and the paperback is called The Paleo Healing Cookbook. They are the same cookbook. The publisher simply changed the title for the paperback version.
The Nutrient-Dense Kitchen by Mickey Trescott
Nutrient density is a key component in any healing diet, yet it's something a lot of people overlook. We spend so much time focused on the inflammatory foods to avoid, that we don't pay enough attention to the nutrient dense foods we should be eating. Mickey wrote this cookbook to make it easy to be a nutrivore! She has detailed nutrient tables which tell you the best food sources for each. She has 125 recipes to make those foods delicious. And she includes meal plans and shopping lists in this book as well.
He Won't Know It's Paleo by Bre'anna Emmitt
This cookbook is comfort food at its finest. Bre'anna has created AIP versions of these classic recipes: "cornbread" muffins, pigs in a pillow, blackberry cobbler, chicken enchiladas, broccoli "cheddar" soup, and over 95 others. There's a reason I call her the Paula Deen of the AIP community.
The Paleo Approach Cookbook by Sarah Ballantyne
This is the recipe companion to Sarah's textbook about the AIP. She would be the first to say that she's an overachiever, so this book includes over 200 recipes and 6 weeks of meal plans. With that many recipes, you'll find something in every category. Sarah is also a big proponent of nutrient-density, so this cookbook includes more organ meat recipes than any of the other cookbooks.
The Paleo Gut Healing Cookbook by Alison Marras
This cookbook has 75 recipes. Most of them are AIP as-is or AIP-adaptable, but a few of them do require reintroductions. Alison is a nutritional therapy practitioner and she wrote this cookbook with gut healing in mind, but that doesn't mean she doesn't care about flavor! In fact, many of her recipes are inspired by her Puerto Rican ancestry. I also love that there's a mindful eating section. We often think of the GI tract when it comes to healthy digestion, but digestion actually starts in the brain, and our state of mind can have a big impact on food tolerance.
The Autoimmune Protocol Made Simple Cookbook by Sophie Van Tiggelen
This cookbook contains over 100 recipes including breakfasts, small bites, soups, salads, veggies, meats, seafood, desserts, and drinks. Everything from bread to dairy-free creamers to delicious, nutritious meals. Also if you have an herb garden, you'll love this cookbook. Fresh herbs feature in many of the recipes for an added nutrient boost.
Simple French Paleo by Sophie Van Tiggelen
How cool is it that the AIP community has grown so much that we now have resources focused on international cuisine? Sophie is Belgian by birth and she grew up immersed in French culture and food. Provence was her personal favorite. This cookbook contains 90 AIP recipe re-creations of the food of her childhood. Don't be intimidated by the idea of French cooking. This isn't Julia Child where you spend hours on one meal. Provence is known for simple, fresh, flavorful, and seasonal meals.
AIP Indian Fusion by Indira Pulliadath
Indira grew up in India, and she turned to the AIP as an adult to relieve the pain of rheumatoid arthritis. However, she missed the flavors of her childhood, so she spent years adapting recipes. This cookbook is the result! It contains 114 flavorful AIP Indian recipes, including 4 weekly meal plans and menus for special occasions.
My Paleo AIP Indian Adventure by Bethany Tapp
When Bethany fell in love and married a man from India, it became her mission to re-create AIP versions of his favorite recipes, so they could enjoy them together. The result is this book! Over 60 recipes, including Chapatis, Dosa, Chutneys, Bhajis, Samosas, Kebabs, Rogan Josh, Keema, Curry, Tikka Masala, and more!
Happy Nomming by Martine Partridge
This cookbook is the legacy project of my friend, Martine, who died in 2017. She was one of my favorite people and remains an inspiration. 100% of the proceeds from book sales will go to the Make-A-Wish foundation. This cookbook captures Martine's vibrant personality and love of flavor. It contains 130 paleo recipes, and 100 of those are AIP.
The Autoimmune Paleo Cookbook by Mickey Trescott
This was the very first AIP cookbook. With 110 recipes plus 8 weeks of meal plans, this is a especially great resource for beginner cooks. None of the recipes are complicated, and all of them are delicious. There's also a Spanish version. Note: There are 3 recipes in this book that use green beans which are no longer allowed on the AIP. This is because this cookbook came out prior to the publication of The Paleo Approach (which formalized the protocol restrictions). Green beans are now considered a Stage 1 Reintroduction. Just substitute another AIP-friendly vegetable (like broccoli) in those recipes.
The Autoimmune Protocol Baking Book by Wendi Washington-Hunt
Without the traditional ingredients of eggs, wheat, sugar, and butter, baking on the AIP can be challenging! Not any more! Wendi has spent years mastering the art of AIP baking, and she shares her knowledge in this cookbook. You'll find 75 sweet and savory recipes along with a primer on AIP baking. She's also a professional food photographer, so the pictures are gorgeous.
Best of Flash Fiction Kitchen by Julie Hunter
This little cookbook is comprised of the author's 25 favorite recipes. Julie is incredibly creative and she's a storyteller as well as a recipe developer. So, every recipe is accompanied by a short story or poem. Use it for inspiration for your own creative cooking and writing pursuits.
Holiday on the Autoimmune Protocol by Bre'anna Emmitt
Your next AIP special occasion just got a lot more delicious. Bre'anna provides 19 of her best recipes for main courses, side dishes and delectable desserts, including Prime Rib, Honey Ham, Turkey and Gravy, Sweet Potato Soufflé, Grandma's Dressing, Pumpkin Pie, and many more.
Zesty Scoop by Maria Krummen
The most unusual ice cream cookbook you'll ever find. Yes, it includes sweet sorbets and dairy-free ice creams and frozen yogurt. But where this cookbook really shines is with the savory recipes: frozen dressings and sauces that can add welcome new flavors and textures to salads and meals. Note: There are 33 recipes in this cookbook: 27 are AIP and 5 require successful reintroduction of egg yolks.
The Autoimmune Protocol Reintroduction Cookbook by Kate Jay
Strict AIP isn't meant to last forever, which is why I wrote my Paleo AIP Reintroduction Guide in 2014. Reintroducing foods is how you personalize your diet for you! This cookbook offers 100 recipes for all four stages of the reintroduction process. Kate's an amazing cook. It will bring flavor and fun to your reintroduction process!
Paleo AIP Books That Defy Categorization (Hardcopy)
The Autoimmune Wellness Handbook by Angie Alt and Mickey Trescott
This is an amazing book that's hard to put in a box. It includes 30 recipes and a 4-week meal plan, all of which qualifies it as a cookbook. However, the focus of this book is autoimmune wellness in general, and it's especially helpful for anyone newly diagnosed with autoimmune disease. It's teaches people how to identify themselves on the autoimmune spectrum and put together a healthcare team. It also addresses important areas of healing beyond diet – like movement, social connection, stress management, and sleep. It's all about living an empowered autoimmune life.
The Alternative Autoimmune Cookbook by Angie Alt
This is another book that defies description. While it has "cookbook" in the title, it's really a memoir with recipes (and I love memoirs). Angie writes about the ups and downs of life with autoimmune disease, and the beauty of reclaiming her health through the paleo autoimmune protocol. It's funny, vulnerable, and wise and will make you feel less alone on your journey. Added bonus – it includes 59 mouthwatering recipes. However, this isn't an traditional AIP cookbook. Since strict AIP isn't meant to last forever and this book chronicles Angie's own journey, half the recipes in the book include foods she's been able to reintroduce successfully. However, many can easily be adapted for strict AIP.
Paleo AIP E-Cookbooks
The Paleo AIP Instant Pot Cookbook edited by Eileen Laird
The Instant Pot has taken the AIP community by storm. 7 kitchen appliances in one, it's a pressure cooker, slow cooker, steamer, rice cooker, yogurt maker, food warmer, and even has a sauté function so you can brown meat before cooking. While that's impressive, most of it fell in love with its pressure cooker function, and that's the focus of this cookbook. Do you want to make 24-hour bone broth in just 2 hours? A pork roast in just 60 minutes? A whole chicken in 30 minutes? Or a whole spaghetti squash in 20 minutes? You can see why the Instant Pot is the home cook's best friend, and with 141 recipes, you'll learn many new ways to enjoy it.
Reintroducing Foods on the Paleo Autoimmune Protocol by Eileen Laird
Strict AIP isn't meant to last forever. The reintroduction process is where we find our individual food intolerances and personalize our diets. It's a science experiment with you at its center, and it's incredibly empowering to communicate with your body this way. However, it's also hard to do it right. This e-book guides you through the process, even providing 23 recipes to easily reintroduce just one new ingredient at a time.
Freezer Cooking for the Paleo AIP edited by Jaime Hartman
How many of us in our pre-paleo days reached for Lean Cuisine or Stouffers frozen meals for a quick dinner after a long, tiring day? While those brands don't appeal to me any more, I do miss the convenience. That's what this e-cookbook is all about. With over 120 recipes, we can fill our freezers with healthy frozen meals, always keeping some on hand for those nights when cooking from scratch feels like too much work.
30 Minute Meals for the Paleo AIP edited by Jaime Hartman
I love good food, but I don't like to spend hours preparing it. This cookbook contains 120 complete meals that can be made in 30 minutes or less (and that includes preparation and cooking time). You'll find one-pot meals, sheet-pan dinners, and easy main course & side dish combos.
Enthused by Alaena Haber
If you love The Healing Kitchen Cookbook, you'll love this new ebook by Alaena Haber. It contains 80 new recipes "for a mega-delicious life".
The AIP Italian Cookbook by Ambra Torelli
Are you missing Lasagna, Ravioli, Gnocci and Tiramasu? Not anymore! Born and raised in Italy, Ambra was the perfect person to re-imagine Italian food for the paleo autoimmune protocol. With over 50 recipes, this is another great international resource for the AIP.
Food is Life – An Australian AIP Cookbook by Natasha Horvath
My friends in the Land Down Under are about to get very excited. Have you been frustrated by AIP recipes featuring ingredients you can't find in your country (plantains, I'm looking at you!) And other ingredients you can locate but they're crazily expensive (like tigernuts and palm shortening)? This cookbook was written with Australian ingredients in mind, but honestly, these 100 recipes are delicious enough for people around the world to enjoy. Both metric and imperial measurements are included, which means no more conversions needed.
Organ Meat Makeover by Gabriella Schneider
This is a small e-book with just 15 recipes, but it's one of my favorites because it's so creative! Veggie and Pate Nori Wraps, Duck Rutabaga Rice, Gravy Smothered Turkey Liver, and more. If you've been having trouble incorporating nutrient-dense organ meats into your diet, this book's for you.
Healing Eats by Kate Jay
Have you ever opened a cookbook and not known where to begin – there were just too many recipes to choose from? Kate took care of this by selecting 25 of her family favorites (and no more) for her debut cookbook. And each was chosen with healing in mind.
Let's Do Lunch by Jo Romero
This little cookbook is all about easy, nutritious lunches on the go. It includes 17 AIP recipes, along with a 28-day lunch plan with batch prepping instructions (so your lunch is waiting for you in the fridge to grab and go).
The AIP Sourdough Baking Guide by Nicole Charles
Soudough on the AIP? Yes please! This 20-page guide teaches how to make and maintain an AIP sourdough starter, along with recipes for sourdough bread, pancakes and flatbread.
AIP Gatherings by Meagan Ashley
40 celebration-friendly recipes that even your non-paleo friends and family will enjoy. Whether it's a holiday feast, brunch with friends, or a birthday party, this cookbook has you covered.
Holiday Sweet Treats by Laura Vein
This is a another small e-cookbook with some true gems inside. Laura was a pastry chef in a former life, so she put her skills to the test re-creating some of her favorite desserts. Note: While this cookbook contains 12 recipes that are 100% AIP, there are 2 recipes which require reintroductions of egg yolks and chocolate.
Paleo AIP Meal Plans
Real Plans
This online meal planning service is a wonderful time-saver. You choose the meals, and it generates shopping lists, defrost reminders, and tells you how much time is needed to prepare and cook each recipe. They have hundreds of Paleo AIP recipes available, and they also let you personalize. Do you have extra food restrictions? No problem! You can filter for those. Have you successfully reintroduced some non-AIP foods back into your diet? No problem! You can choose AIP + those foods. Do you live outside of the US? You can choose metric measurements. They even have options to sort recipes by budget and by season. How cool is that? Here's to making life on a healing diet much easier!
28 Days of AIP Meal Plan Series by Christina Feindel
Christina is a meal planning goddess. If you prefer books instead of a subscription service, this series is for you! She has five meal plan e-books available: 28 Days of AIP, 28 Days of Low-FODMAP AIP, 28 Days of No-Cook AIP, 28 Days of One-Pot AIP, and 28 Days of Low-Histamine AIP.
The FODMAP-Free Paleo Breakthrough by Anne Angelone
This meal plan is designed specifically for people with a diagnosis of SIBO (Small Intestine Bacterial Overgrowth). Often, a Low-FODMAP diet is prescribed as part of the treatment, but when you combine it with the AIP, it can be very challenging to figure out what to eat. This 4-week meal plan takes care of that for you.
30 Day Autoimmune Makeover Guide by Michelle Hoover
This is the newest meal plan on the AIP block, but it includes much more. My favorite section is the weekly Lifestyle plan, that allows you to focus on one healthy habit each day (sleep, journaling, gratitude, self-care, etc.) It's a great reminder that healing is about more than just food. However, the food plan is complete as well. It incorporates batch cooking and leftovers, and the majority of the recipes are fast and easy (35 minutes or less).
14-Day Calorie Challenge by The Ancestral RD's
Sometimes when we change our diets, we remove the old foods without replacing with enough new foods. This can lead to low energy, too much weight loss, and declining health due to nutrient deficiencies. This meal plan ensures you get the calories you need. It was written by two licensed dietitians.
You May Also Be Interested In