The Great Paleo AIP Pumpkin Recipe Roundup (70 Recipes!)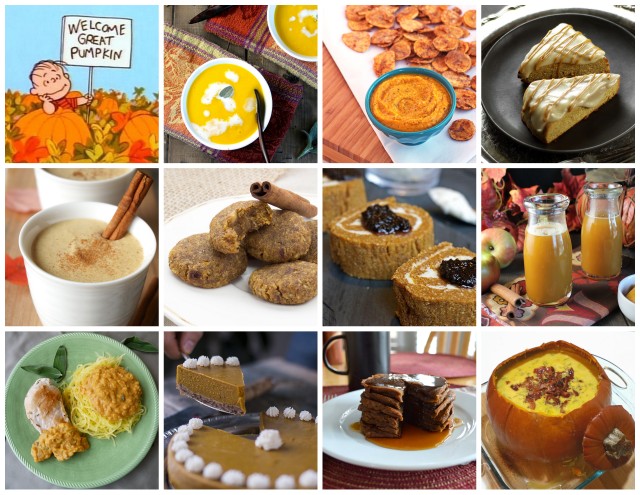 "Have you come to sing pumpkin carols?"
~ Linus in The Great Pumpkin
The Basics
Homemade Pumpkin Puree from The Healthy Foodie
Pumpkin Pie Spice Blend from Sweet Treats
Beverages
Harry Potter's 'Butter Beer' from Tessa the Domestic Diva
Pumpkin Cider 'Latte' from Paleo Parents (substitute mace for the nutmeg)
Pumpkin Spice Natte from Slightly Lost Girl
Pumpkin Spice Natte from Joy-Filled Nourishment
Spiced Pumpkin Tea Latte from Sweet Treats
Maple Pumpkin Collagen Shake from Healing Family Eats
Pumpkin Pie Smoothie from The Primordial Table
Pumpkin Spice Milkshake from It's Me Charlotte

Condiments
Creamy Pumpkin Dressing from Provincial Paleo
Pumpkin-Cranberry Butter from Athletic Avocado
Savory Pumpkin Dip from Meatified
Pumpkin Barbecue Sauce from Kaiku Lifestyle
Pumpkin Bolognese Sauce from Strictly Delicious
Pumpkin Alfredo Sauce from Perchance to Cook (substitute mace for the nutmeg and omit pepper)
Breakfasts
Oven Baked Pumpkin Spice Pancakes from Gutsy By Nature
Pumpkin Fry Bread, Apple Sausage and Cauliflower 'Grits' from Adventures in Partaking
Pumpkin 'Porridge' from Healing Family Eats
Yuca Pumpkin Breakfast Pudding from Enjoying This Journey
Pumpkin 'Oat-less' Meal from Adventures in Partaking
Chewy Pumpkin Spice Breakfast Cookies from Sweet Potatoes and Social Change
Dinners
Beef and Pumpkin Curry from Adventures in Partaking
Pumpkin Chili from Strictly Delicious
Pumpkin Clam Chowder from The Primordial Table
Cranberry and Pumpkin Pork Loin from Don't Eat the Spatula
Pumpkin Sausage Soup from Beyond the Bite
Pumpkin Spice Soup with Ginger Meatballs from Adventures in Partaking
Spanish Picadillo from The Paleo Mom
Stuffed Baked Pumpkin from Australian AIP
Rustic Bacon and Pumpkin Soup from The Paleo Mom (substitute mace for the nutmeg)
Crockpot Pumpkin Chicken Tikka Masala from Strictly Delicious (choose coconut milk)
Slow Cooker Squash and Ground Beef Curry from Strictly Delicious
Side Dishes
Creamy Pumpkin Soup from Tessa the Domestic Diva
Cauliflower Rice Pumpkin Risotto from Martha of the Main Line
Fresh Pumpkin Risotto from Autoimmune-Paleo (substitute pumpkin for the butternut squash)
Breads
Banana Pumpkin Pucks from Paleo Parents (substitute mace for the nutmeg)
Pumpkin Spice Bread from He Won't Know It's Paleo
Starbucks Copycat Pumpkin Scones from The Unconventional Baker
Cakes and Cupcakes
Pumpkin Carrot Cakes from Field Notes on Healing
Pumpkin Roll with Cinnamon Molasses Spread from Grazed and Enthused
Pumpkin Mug Cake from A Girl Worth Saving
Pumpkin Cupcakes from Simple and Merry (follow her AIP notes)
Pumpkin Pie Cupcakes with Coconut Whipped Cream from Angel Slice
Pumpkin Spice Cake with Gingersnap Crust from Autoimmune-Paleo
'Cheesecakes'
Mini Pumpkin 'Cheesecakes' from Sweet Potatoes and Social Change
No-Bake Pumpkin 'Cheesecake' Treats from Adventures in Partaking
Pumpkin 'Cheesecake' Pie from Whole Life Full Soul
Cookies and Bars
Cinnamon-Glazed Pumpkin Spice Cookies from It's Me Charlotte
Pumpkin Spice Cookies with Maple Crispies from Simple and Merry
Pumpkin Spice Macaroons from He Won't Know It's Paleo
Pumpkin Spice Thumbprint Cookies from A Girl Worth Saving
Pumpkin Bars from Cook It Up Paleo
Coconut Love Pumpkin Pie Bars from Nourishing Time (substitute vanilla powder for extract)
Gummies and Fruit Leather
Pumpkin Pear Gummies from A Squirrel in the Kitchen
Pumpkin Pie Leather from Maverick Mama
Ice Cream and 'Fudge'
Pumpkin Ice Cream from Kaiku Lifestyle
Pumpkin Fudge from It's a Love Love Thing
Pies and Tarts
Simple Pumpkin Pie from The Primitive Homemaker
Spiced Pumpkin Pie from Beyond the Bite
Pumpkin Pie Squares from Eat Heal Thrive
Mini Pumpkin Pies from The Real Food Guide
Pumpkin Panna Cotta Tart with Gingersnap Macaroon Crust from Sweet Treats
Carob Pumpkin Tart from The Unconventional Baker (substitute vanilla powder for extract)
No Bake Mini Pumpkin Pies with Coconut Whipped Cream from Livin' The Crunchy Life (substitute vanilla powder for extract)
Puddings, Mousses and Panna Cottas
Pumpkin Mousse from Eat Heal Thrive
Pumpkin Pie Pudding from A Clean Plate
Pumpkin Pudding with Cinnamon Coconut Whipped Cream from Enjoying This Journey
Pumpkin Pie Parfaits from She Swings on a Star
Maple-Pumpkin Panna Cotta with Gingered Pears from Eat Heal Thrive
*A Note About Desserts on the AIP*
Desserts are meant to be eaten sparingly on the AIP. Even natural sugars are inflammatory, and eating too much can be a roadblock to healing. However, that doesn't mean we can never have desserts, and the holidays are the perfect time to indulge a little bit. So, choose a special treat for your holiday meals, but always keep the AIP Food Pyramid in mind overall. The quickest path to healing is nutrient-density.
~~~
This post is linked to the following blog carnivals:
Paleo AIP Recipe Roundtable, Allergy Free Wednesday,
Have you checked out my books?