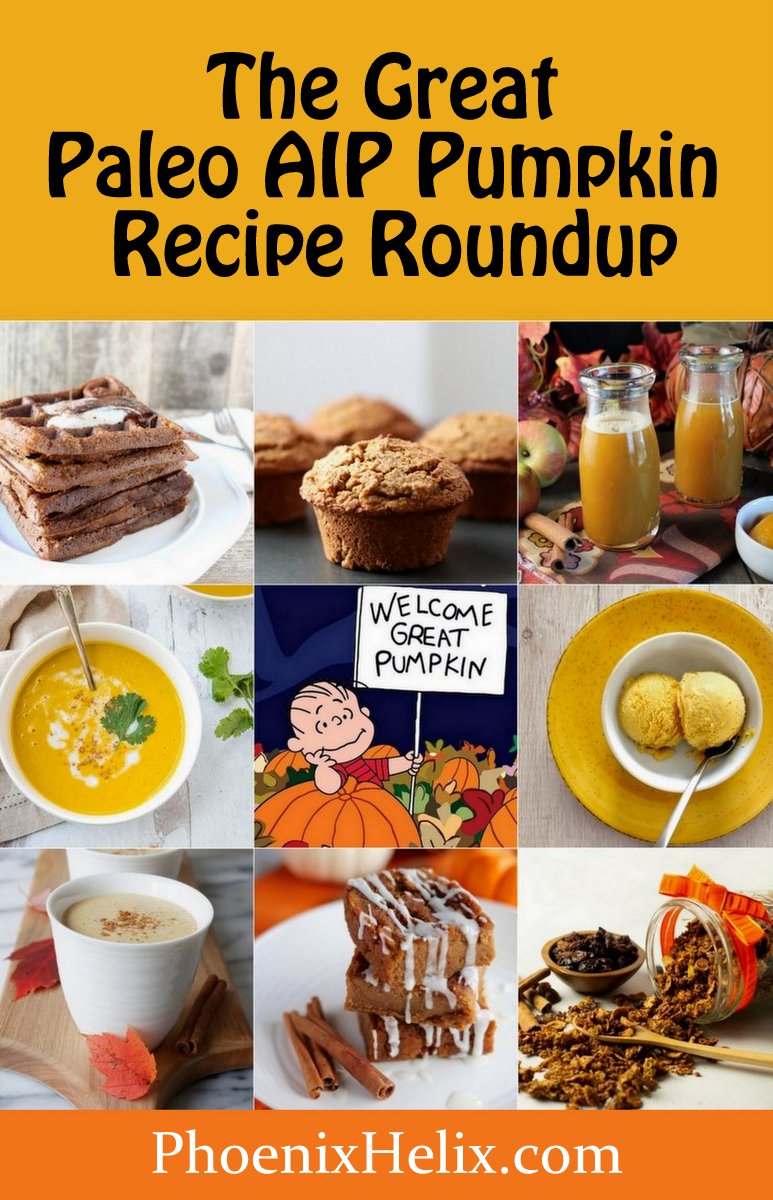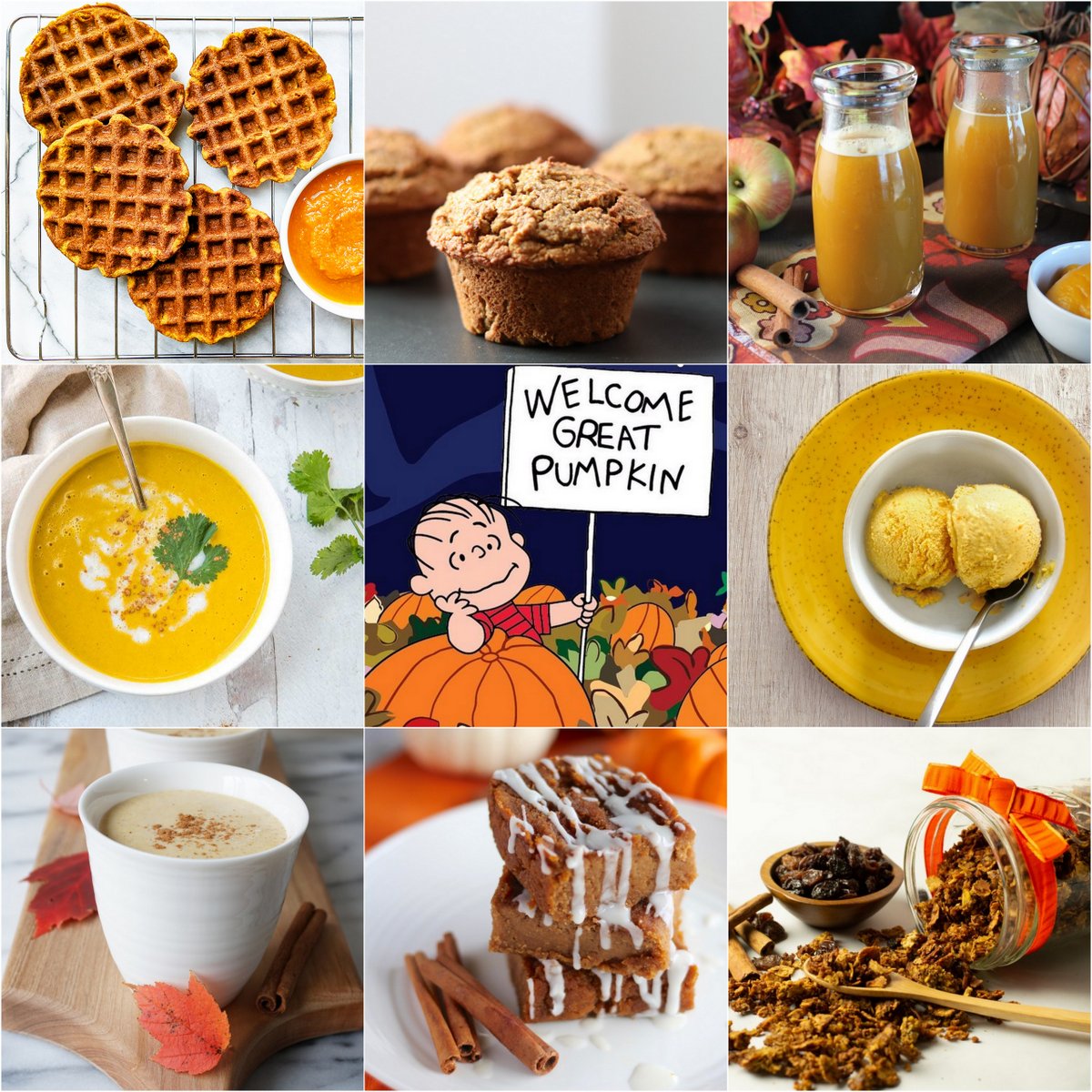 "Have you come to sing pumpkin carols?"
~ Linus in The Great Pumpkin
---
The Basics
Homemade Pumpkin Puree from The Healthy Foodie
Pumpkin Pie Spice Blend from Sweet Treats
Beverages
Harry Potter's "Butter Beer" from Tessa the Domestic Diva
Pumpkin Spice Kombucha from The Wild Gut
Maple Pumpkin Collagen Shake from Healing Family Eats
Pumpkin Spice Turmeric "Latte" from Unbound Wellness
Pumpkin Cream Cold Brew from It's All About AIP
Condiments
Slow Cooker Pumpkin Butter from The Honest Spoonful
Savory Pumpkin Dip from Meatified
Pumpkin Barbecue Sauce from Kaiku Lifestyle
Pumpkin Alfredo Sauce from Perchance to Cook (substitute mace for the nutmeg and omit pepper)
Breakfasts
5 Ingredient Baked Plantain Pumpkin Pancakes from The Curious Coconut
Pumpkin Waffles from The Open Cookbook
Pumpkin 'Porridge' from Healing Family Eats
Banana Pumpkin Breakfast Smoothie Bowl from A Squirrel in the Kitchen
Dinners
Halloween Mini Meatloaves from Wendi's AIP Kitchen
Cranberry and Pumpkin Pork Loin from Don't Eat the Spatula
Pumpkin Chili from Adventures of a Sick Chick
Pumpkin Bolognese from Strictly Delicious
Pumpkin Stuffed with Savory Pork from Kari Owens
Side Dishes
Fall Harvest Salad with Creamy Pumpkin Dressing from Fed and Fulfilled
Bacon-Wrapped Spiced Pumpkin from The Paleo Mom
Pumpkin Gnocchi & Lemon Sage Sauce from Wendi's AIP Kitchen
Slow Cooker Pumpkin Soup from Alight with Healing
Tandoori Pumpkin Soup from Thriving Autoimmune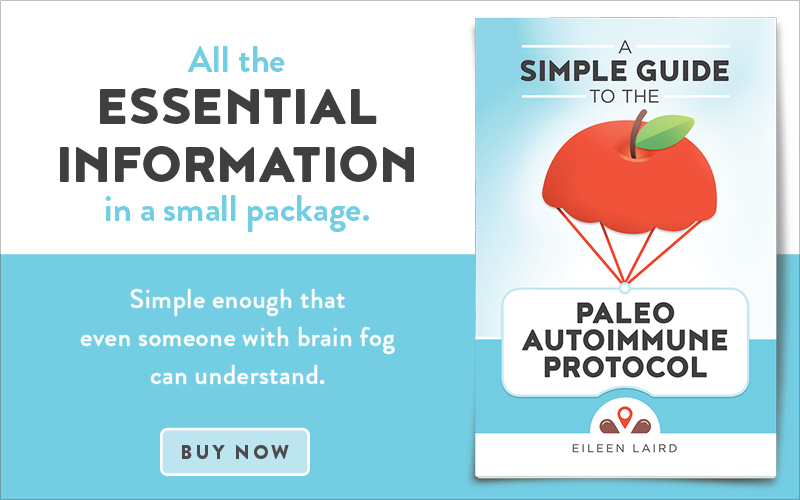 Granola, Gummies, and Fruit Leather
Pumpkin Spice Granola from Wendi's AIP Kitchen
Perfectly Pumpkin-Spice Gummies from Joanna Frankham Coaching
Pumpkin Pie Leather from This West Coast Mommy (omit allspice and substitute mace for the nutmeg)
Bread, Muffins, Donuts, and Scones
Pumpkin Bread with Raisins from The Honest Spoonful
Pumpkin Muffins from Go Healthy with Bea
Pumpkin Spice Mini Donuts from It's All About AIP
Pumpkin Donut Holes from Cook 2 Nourish
Pumpkin Scones from Heal Me Delicious
Cookies, Bars, and Balls
Pumpkin Spice Cookies from Lichen Paleo Loving AIP
Pumpkin Carob Chip Cookies from Unbound Wellness
Pumpkin Pie Crumb Bars from Food by Mars
Pumpkin Blondies from Fed and Fulfilled
Pumpkin Cranberry Cookie Dough Protein Balls from Food Courage
Salted Caramel Pumpkin Spice Collagen Balls from Lichen Paleo, Loving AIP
Pies, Cakes, and "Cheesecakes"
Pumpkin Pie from Wendi's AIP Kitchen
Pumpkin Panna Cotta Tart with Gingersnap Macaroon Crust from Sweet Treats
Pumpkin Cake with "Buttercream" Frosting from Eat Beautiful
Pumpkin Cherry Cake with Salted Caramel Glaze from Food Courage
Mini Pumpkin 'Cheesecakes' from A Squirrel in the Kitchen
No Bake Maple Spiced Pumpkin "Cheesecake" from Meatified
Pudding, Parfait, Panna Cotta, and Flan
Pumpkin Pie Pudding from A Clean Plate
Pumpkin Pie Parfait from Thriving Autoimmune
Coconut Pumpkin Panna Cotta from The Honest Spoonful
Pumpkin Caramel Flan from Cook 2 Nourish
Ice Cream and Candy
Pumpkin Orange Ice Cream from Zesty Paleo
Pumpkin Fudge from Unbound Wellness
"Chocolate" Pumpkin Butter Cups from Unbound Wellness
*A Note About Desserts on the AIP*
Finding favorite dessert recipes within a healing diet makes it more enjoyable and more sustainable. However, even natural sugars can be inflammatory when we eat too much, so be sure to balance your indulgences with nutrient-density. Keep the AIP Food Pyramid in mind overall.
You May Also Be Interested In
---
This recipe roundup was first published in 2015 but is updated annually. Last update 9/7/23.
---