This post may contain affiliate links.
Click here
to see what that means.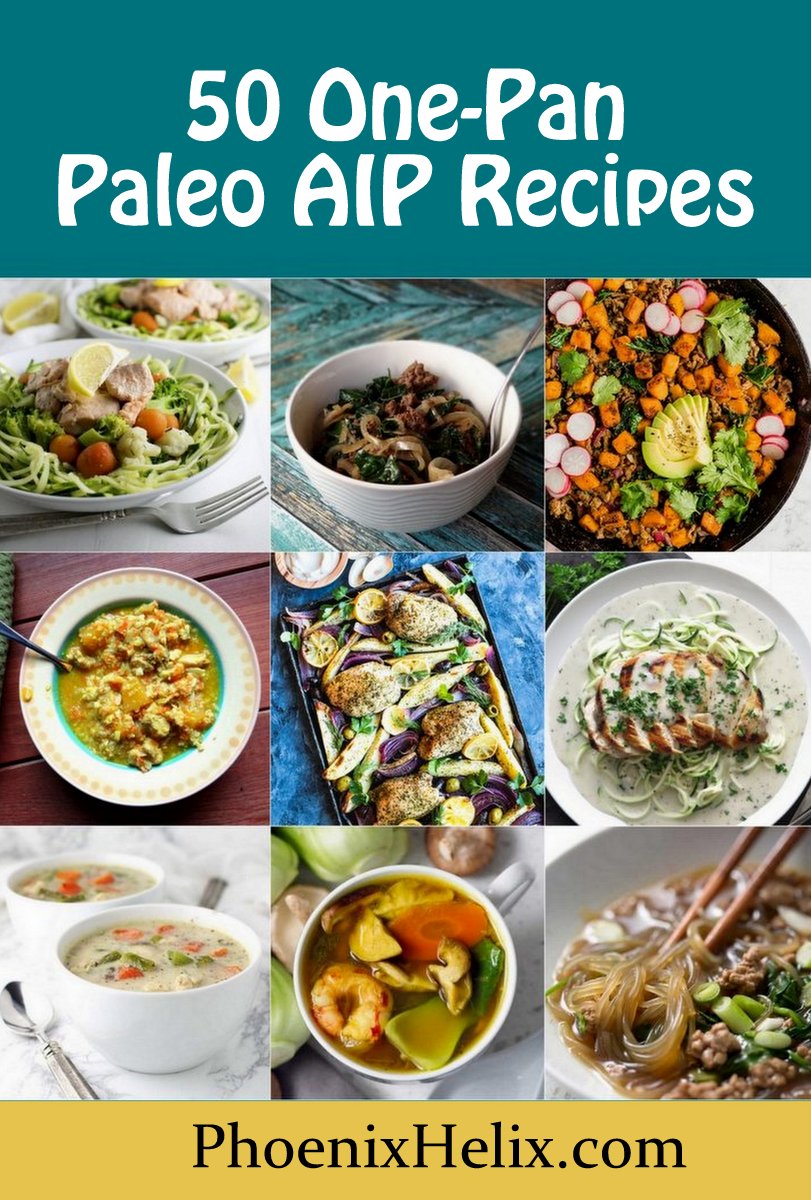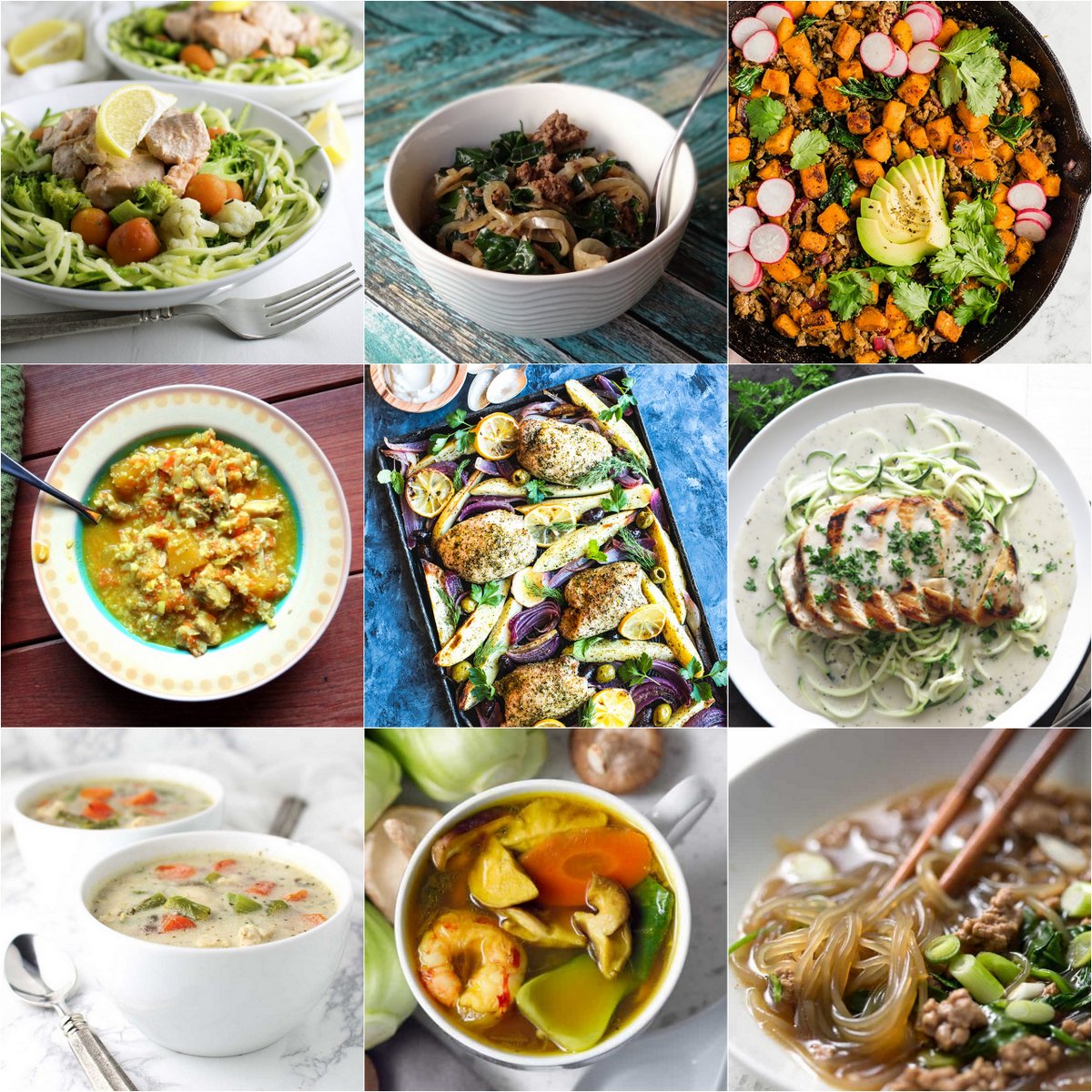 "In cooking, as in all the arts, simplicity is the sign of perfection."
~ Curnonsky
---
Less Dishes Please!
For me, the worst part of cooking is having to clean up the kitchen afterwards. I don't like to do dishes, especially when there are lots of pans. That's why I love one-pot and one-pan meals, so I've gathered together 50 of them below! All of the recipes in this roundup can be made on the stovetop or in the oven – no special equipment needed. However, if you have an Instant Pot and are looking for recipes that feature that magic device, just click the graphic below. You can tell I love this theme! Here's to simplifying our lives in the kitchen, and in life overall.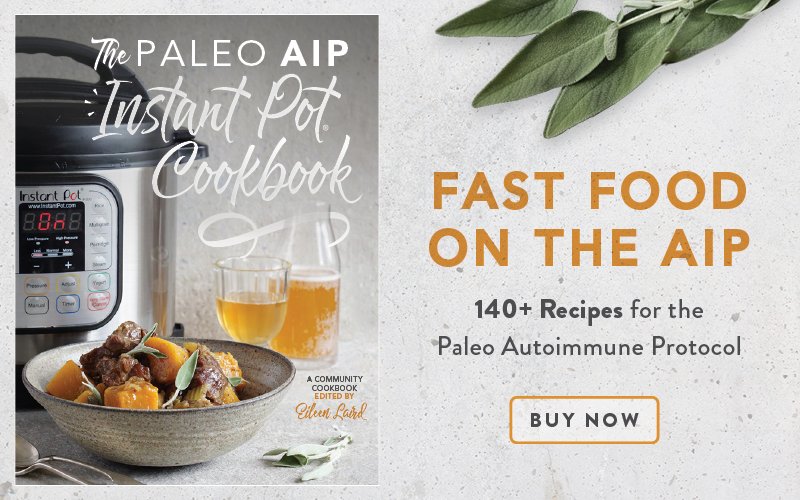 Stovetop Soups & Stews
Nourishing Chicken Soup (Eileen's Favorite Breakfast) by Phoenix Helix
Curried Chicken & "Rice" Stew by Phoenix Helix
Chicken Pot Pie Soup by A Clean Plate
"Pozole" Verde from Wendi's AIP Kitchen
Turkey and Kale Soup from Heal Me Delicious
Creamy Mushroom, Turkey, and Brussels Sprouts Soup from Food Courage
Frugal Hamburger Soup by Real World AIP
French Beef Stew "Pot au Feu" from Go Healthy with Bea
Caribbean-Inspired Beef Soup from Heal Me Delicious
Asian Pork & Noodle Soup by Bon Aippetit
Lamb Curry with Cauliflower from Heal Me Delicious
Seafood Chowder by A Squirrel in the Kitchen
Fish & Vegetable Curry Chowder from Cook 2 Nourish
Shrimp Bok Choy & Turmeric Soup by Bon Aippetit
Skillet Sautés
Easy Ground Beef Vegetable Skillet from Food Courage
Mexican Inspired Breakfast Skillet from Unbound Wellness
One-Pan Ground Beef Breakfast Hash by Hurried Health Nut
Turkey Apple Breakfast Hash by Fed and Fulfilled
Apple Pork Sausage Stir-Fry by A Clean Plate
Easy Chicken & Vegetable Stir-Fry by Unbound Wellness
Asian Slaw Beef Stir-Fry by A Clean Plate
Chicken Liver Fried "Rice" by Phoenix Helix
Skillet Shrimp and Broccolini from The Castaway Kitchen *omit pepper
Teriyaki Skillet Scramble by Eat Heal Thrive
Lamb & Rutabaga Pilaf with Bok Choy by Healing Family Eats
One-Pan Chicken Thighs with Apples from Heal Me Delicious
One-Pan Chicken Alfredo by A Squirrel in the Kitchen
One-Pan Chicken and Veggies with Bacon from Food By Mars
Salmon Primavera with Zoodles by Phoenix Helix
Sheet Pan Dinners
One Pan Chicken Pesto with Vegetables from Unbound Wellness
Greek Chicken with Sweet Potatoes, Red Onion, and Olives by Meatified
Prosciutto Chicken & Sweet Potatoes by Wendi's AIP Kitchen
Asparagus & Prosciutto Stuffed Chicken Breasts by Don't Eat the Spatula
Honey Pork Tenderloin with Roasted Vegetables from A Squirrel in the Kitchen
Sheet Pan Pork Chop Supper by Nom Nom Paleo *omit pepper
Sheet Pan Steak Dinner by Bon Aippetit
Sheet Pan Beef and Broccoli with Mushrooms by Heal Me Delicious
Sheet Pan Taco Bowls by The Castaway Kitchen
Sheet Pan Winter Meal Prep Bowls by Hurried Health Nut
Asian Meatballs Sheet Pan Dinner from Eat Beautiful
Mr. Jay's Crispy Lamb 'n Veggie Tray Bake by Healing Family Eats
Sheet Pan Salmon Vegetable Bake by Irena Macri *omit pepper
Baked Fish with Cauliflower "Rice" Pilaf by Bon Aipppetit
Sheet Pan Lime Shrimp Fajitas from Thriving on Paleo
Sheet Pan Shrimp and Broccoli from What Great Grandma Ate
One-Pot Wonders
One-Pot Herbed Balsamic Beef & Kale by Phoenix Helix
One-Pot Osso Buco by Joanna Frankham Coaching
Creamy Chicken Bake from It's All About AIP
Creamy Garlic Pork and Spinach from Heal Me Delicious
One-Pot Dry Turmeric Chicken from A Squirrel in the Kitchen
You May Also Be Interested In
---
This recipe roundup was first published in 2019 but is updated annually. Last update 10/31/21.
---