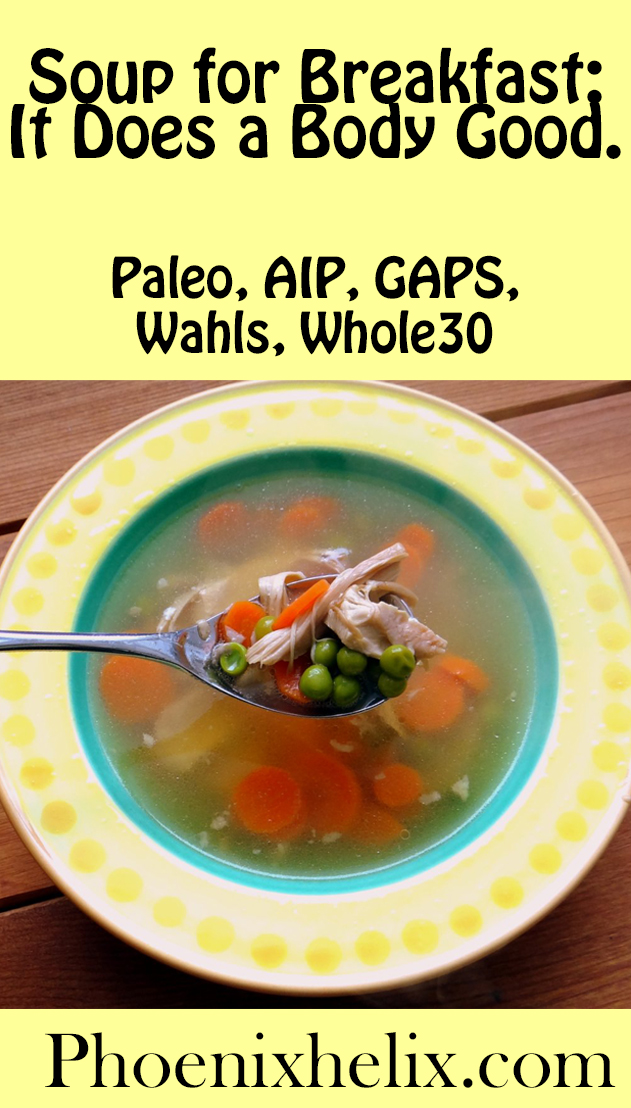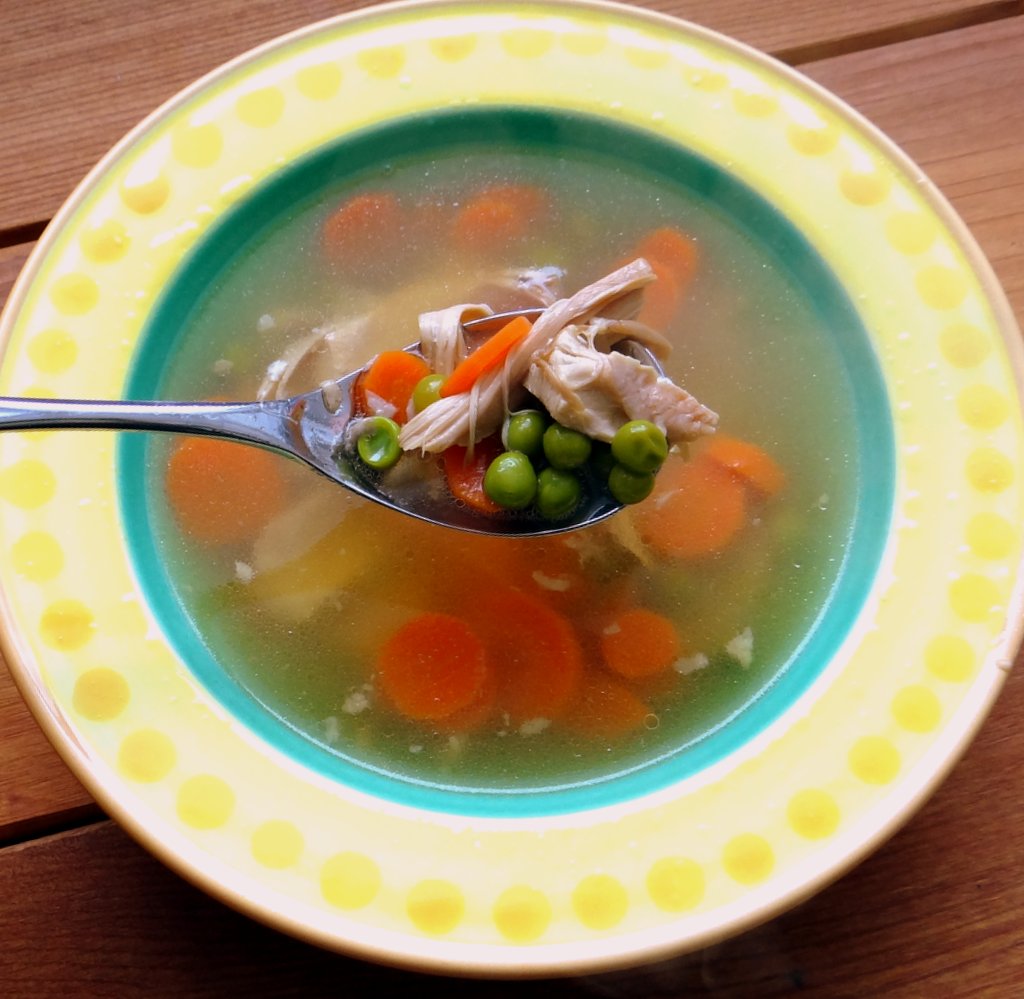 "I live on good soup, not on fine words."
~ Moliere
---
An Ancestral Healing Food
When I was a little girl and would catch a cold, in addition to the Vicks Vapor Rub my mother massaged into my chest at night, she would also heat up a can of Campbell's Chicken Noodle Soup to feed me during the day. I loved the warm, clear broth, bland aside from the taste of salt (perfect for my picky palate). The soup didn't heal me, filled as it was with additives and MSG, but my mother's love certainly helped. Homemade soup has been used for healing by cultures around the world for thousands of years. Without knowing it at the time, when I savored that canned soup as a child, my ancestral memory was reaching out for the real thing.
As an adult, I made real chicken soup for the first time, when my mother-in-law was recovering from pneumonia. I remember it so well: searching her grocery store for the solitary organic chicken tucked amid the conventional ones; scouring the produce department for its handful of organic vegetables; putting them all in her largest pot and letting it cook all day, until the meat fell off the bones and the vegetables gave their flavor to the stock. I remember the smell drew her from her room, where she had been napping all day, and how the color seemed to return to her cheeks as she ate. She stayed up visiting for hours that night, before returning to bed and waking up considerably better the next day. This is the soup that's lovingly called Jewish Penicillin, for good reason.
However, you don't have to wait until you're sick to eat this soup. In fact, for the past 6 months I've been eating this for breakfast. I started the Paleo Autoimmune Protocol in January, which doesn't allow grains, eggs or dairy. As an American, this can leave you wondering what on earth to eat, but did you know that millions of people around the world start their day with soup? And how smart they are! What's a more nurturing, soothing and healing way to start the day? For people with autoimmune disease, homemade broths are recommended as an essential healing food. This recipe involves slow cooking of the whole chicken, releasing beneficial gelatin and amino acids, making bone broth a natural component of the meal. The soup also contains other healing foods such as onion, garlic, ginger and coconut oil. The result is a delicious and nutritious soup that I never tire of eating. I also notice that it keeps me satiated far longer than my former breakfasts ever did. An added bonus? This recipe makes a big pot that can last the whole week.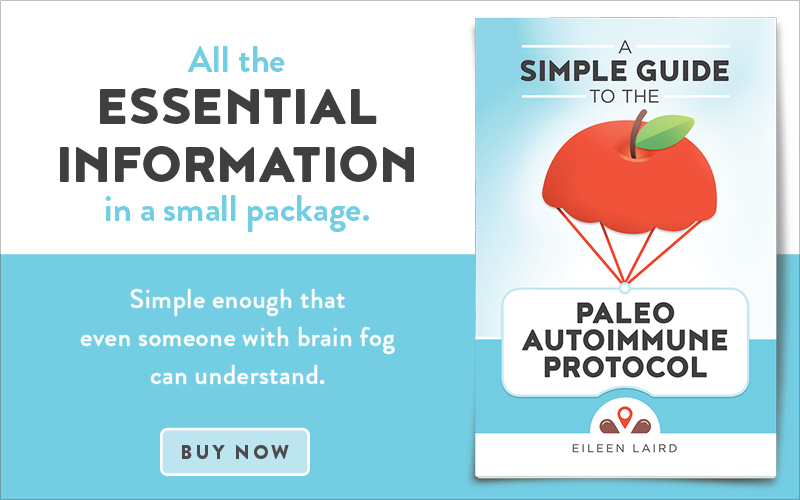 Recipe
adapted from Jordan Rubin
Print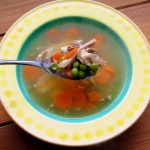 Nourishing Chicken Soup (Paleo, AIP, GAPS, Wahls, Whole30)
---
Author:

Total Time:

9 hours

Yield:

10-12 servings
1

whole chicken

(3-4 lbs)

2

–

3

large onions (peeled and quartered)

6

stalks celery (rinsed and halved)

6

carrots (scrubbed and halved)

6

cloves garlic (peeled)

4

inch piece ginger (peeled and quartered)

1 Tbsp

.

apple cider vinegar

4 Tbsp

. unrefined

coconut oil

2 Tbsp

.

sea salt
~~~~~~~~~~~~~~~~
4

–

6

cups water

4 cups

carrots (sliced thinly)

1

lb. frozen peas (for strict AIP, substitute 1 lb. frozen broccoli)
---
Instructions
Place the first 9 ingredients in a large soup pot. Fill with water, cover and bring to a boil. Once boiling, turn down the heat and simmer gently for 8 hours. Add more water throughout the day as needed.

Use 2 large spoons to gently lift the whole chicken from the pot. Place it in a large bowl and set aside.

Strain the stock into another bowl and then pour the stock back into the pot. Throw away the cooked vegetables (their nutritional value is now in the stock).

Remove the chicken meat from the bones, and return the meat to the soup pot. Throw away the bones (their nutrition is also in the stock).

Add more water to the pot (4-6 cups) and add the sliced carrots and bring to a simmer.

When carrots are almost tender, add the frozen peas or broccoli, and simmer another 2 minutes.
Notes
AIP Note

: Although fresh peas and green beans are technically legumes, they don't usually cause the digestive problems of the dried varieties. However, as a precaution they are removed during the elimination phase of the paleo autoimmune protocol. After that, they are considered a stage 1 reintroduction (one of the first foods you can try reintroducing). If you are in the elimination phase, use the broccoli substitution offered in the recipe, or another one of your favorite AIP-friendly vegetables.
Prep Time:

30 minutes

Cook Time:

8 hours 30 minutes

Category:

Main Courses

Method:

Stovetop
Keywords: paleo, aip, gaps, wahls, whole30, one pot, nourishing chicken soup, breakfast soup
More Delicious Recipes & Resources