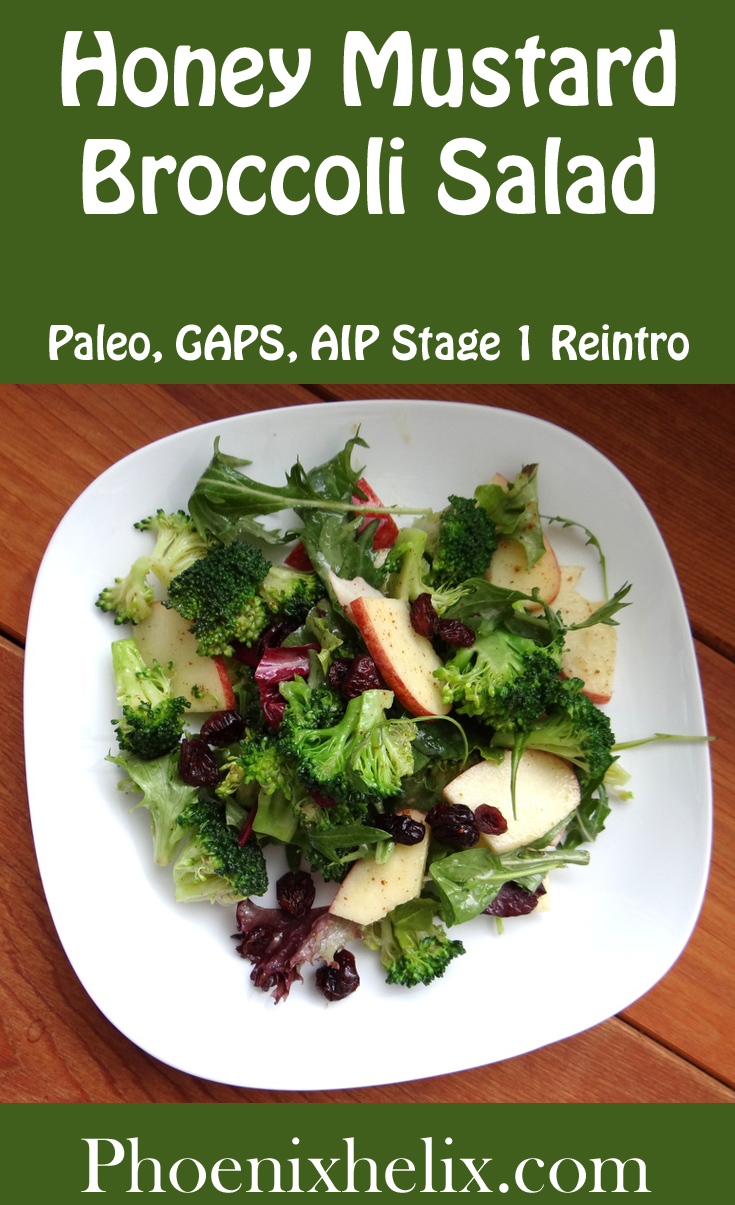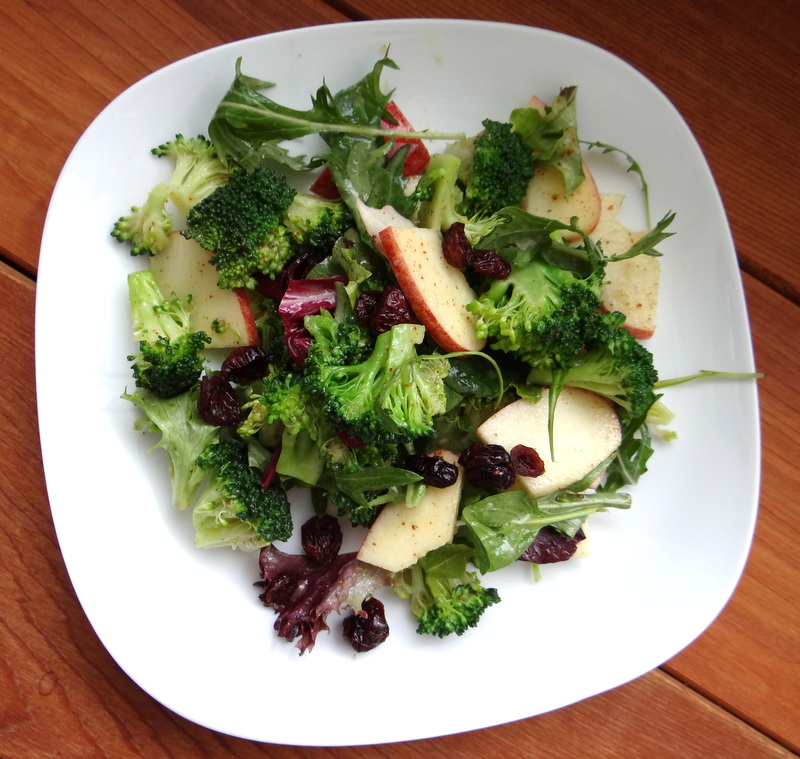 "I am better off with vegetables at the bottom of my garden than with all the fairies of the Midsummer Night's Dream."
~ Dorothy L. Sayers
---
A New Way to Enjoy Broccoli
For about 10 straight years, all I did with vegetables was steam them and serve them with butter, salt and pepper. All of my cooking energy went into the main dish, and I didn't spend time on the sides. We ate large amounts of vegetables, but in a very boring way. Not surprisingly, I burnt out on all of my favorites, including broccoli. What's amazing is that it took 10 years. To this day, I don't like "plain" broccoli, so when I found this recipe that prepared it in a totally new way, I was excited. After a few adaptations, I ended up with a new favorite way to eat broccoli, that's anything but boring.
Nutrition
Earlier this week, I did a detailed Q&A about Dr. Wahls' recommendation of 9 cups of vegetables daily. Broccoli falls into the sulfur-rich category. Let's find out how this salad helps us heal.
1 cup of raw broccoli florets contains:
110% of your daily need for Vitamin C (needed for the growth & repair of every tissue in your body).
43% of your daily need for Vitamin A (works together with Vitamin D to regulate the immune system, especially important for those with autoimmune disorders).
A flavonoid called kaempfero (which has an anti-inflammatory effect and lessens the impact of allergy-related substances in the body. I like the sound of that!)
Folate (an important B vitamin which supports cardiovascular health and allows our nerves to function properly.)
And is a detoxification superfood: "Three glucosinolate phytonutrients are found in a special combination in broccoli. This dynamic trio is able to support all steps in the body's detox process, including activation, neutralization, and elimination of unwanted contaminants." ~ World's Healthiest Foods

Don't forget about the stalks. Peel them and slice them like water chestnuts. They taste delicious and provide even more vitamin C and folate than the florets, along with a fair amount of potassium and manganese.

Recipe
adapted from the Sprouted Kitchen

Print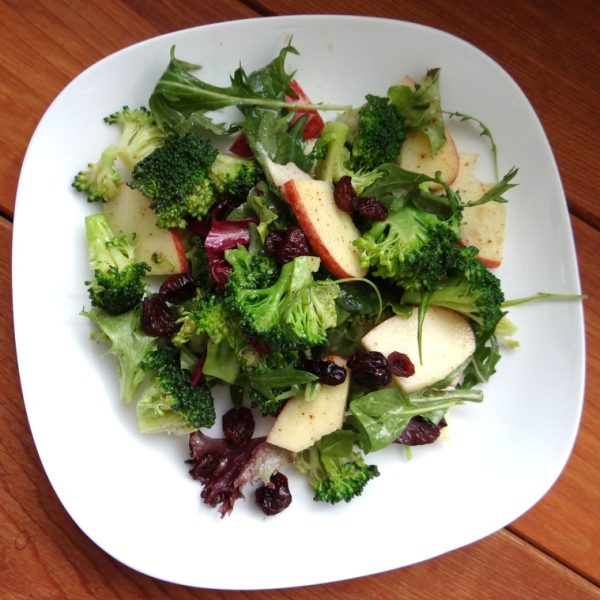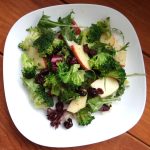 Honey Mustard Broccoli Salad (Paleo, GAPS, AIP Stage 1 Reintro)
---
Author:

Total Time:

42 minutes

Yield:

4 servings
---
Instructions
Chop the broccoli into medium sized florets (not too small); peel & slice the stems like water chestnuts. Steam the broccoli for just 2 minutes (enough to brighten, without losing the crunch). Immerse broccoli immediately in cold water until cooled, drain thoroughly and then pat dry with a towel (otherwise the florets hold water which dilutes the dressing.)

Core & slice apple thinly, and add to a large bowl, along with broccoli and mixed greens.

In a bowl or liquid measuring cup, whisk together the dressing ingredients (mustard, olive oil, apple cider vinegar, honey, salt and pepper.) Taste and add more of any of the ingredients, to your preference.

Pour dressing over the salad, toss to blend & refrigerate 30 minutes.

In a small bowl, toss the raisins with the final 1/4 teaspoon sea salt.

Portion into bowls & top with the salted raisins.
Notes
AIP Note: If you're on the

Paleo Autoimmune Protocol (AIP)

, you should know that mustard is a seed-based spice and black pepper is a fruit-based spice.

These spices

are Stage 1 reintroductions (the foods considered least likely to be problematic). The recommendation is to eliminate them for 30 days and then

reintroduce

. However, if you're still in the elimination phase, just substitute your favorite AIP-friendly herb. 
Prep Time:

40 minutes

Cook Time:

2 minutes

Category:

Side Dishes

Method:

Stovetop
Keywords: paleo, gaps, aip stage 1 reintro, honey mustard broccoli salad
You May Also Be Interested In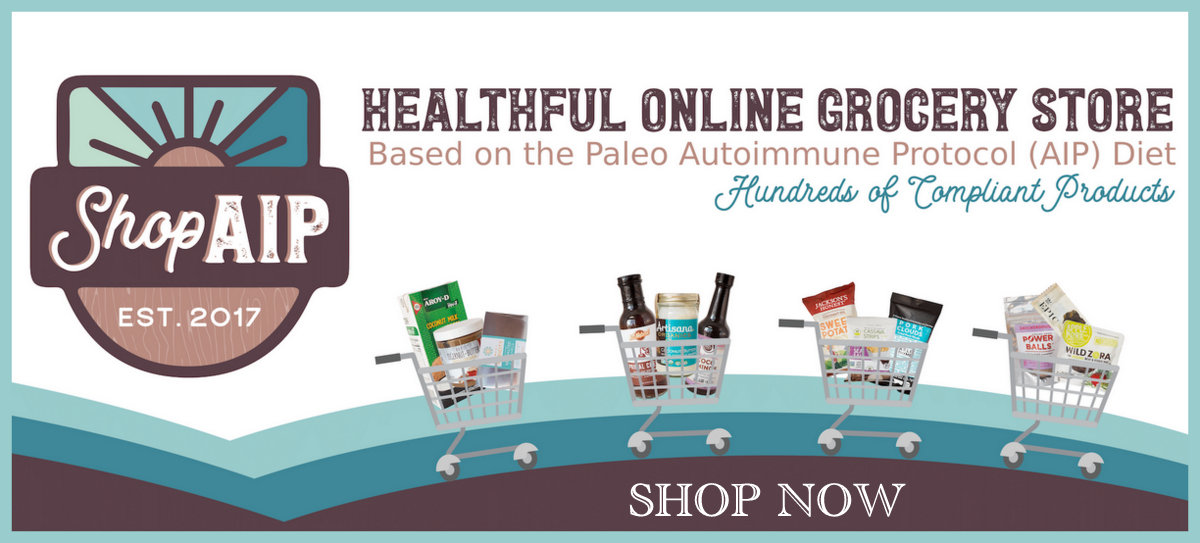 Let's finish with a broccoli song. Who loves Sesame Street?