Curried Chicken & "Rice" Stew
(Paleo, AIP, GAPS, Wahls)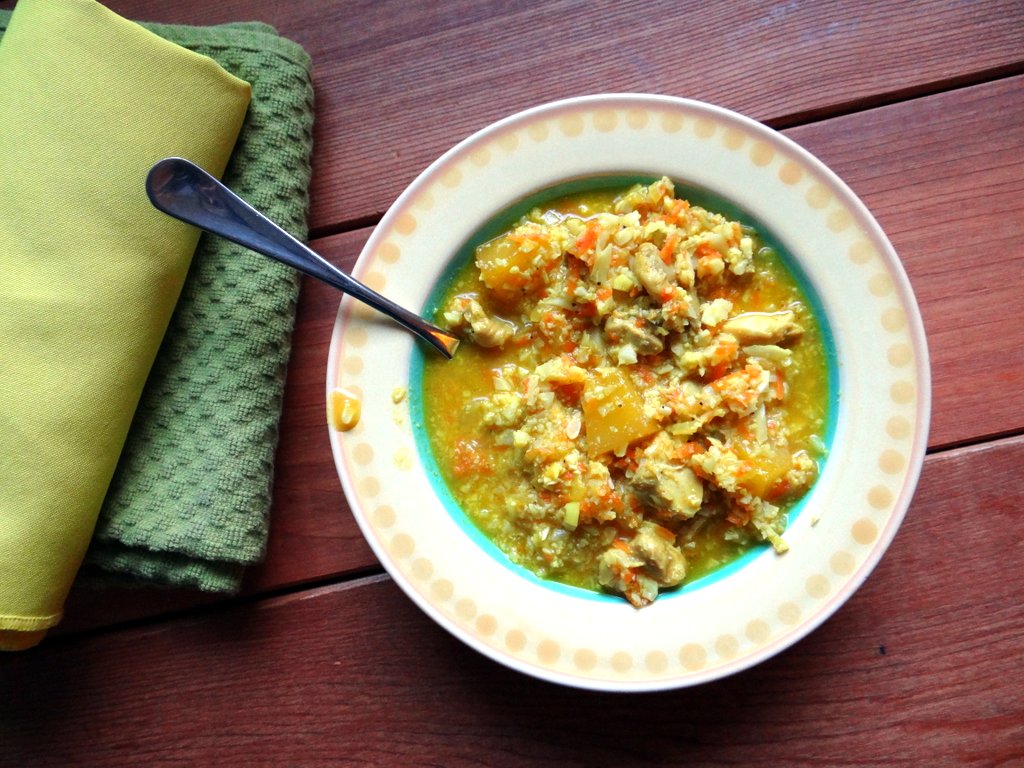 "He who controls the spice controls the universe."
~ Frank Herbert
Sometimes I wish I could photograph a smell or a taste, because curry is so strong in both, that a photo just doesn't do it justice. When I first learned I had a nightshade intolerance, I thought curries were behind me. I had already made peace with giving up tomatoes and peppers and chorizo sausages, but a girl has to draw the line somewhere! So with a little experimenting, I created a nightshade-free curry that I love. Its heat is mild, but it's full of flavor. If you thrive on nightshades, go ahead and cook this recipe with your traditional blend (and eat a tomato for me please!)
Recipe
Ingredients
1 Tbsp. coconut oil
2 lbs. boneless chicken thighs (cut into cubes)
1 large onion (chopped)
4 medium carrots (grated)
3 cloves garlic (minced)
2½ Tbsp. nightshade-free curry powder (see options below)
2 cups chicken broth (homemade or AIP-friendly brand)
2 large mangoes (peeled and cubed)
1 small head cauliflower (cut into florets)
1 lime
sea salt
Nighshade-Free Seeded Curry
my recipe and recommended if you tolerate seedbased spices
2 Tbsp. ground coriander
2 Tbsp. ground cumin
4 tsp. turmeric
2 tsp. black pepper
1 tsp. powdered ginger
1 tsp. dry mustard
Nightshade-Free Seedless Curry
Rachel's recipe (use for strict AIP)
1/2 Tbsp granulated garlic
1/2 Tbsp granulated onion
1/2 Tbsp turmeric
1 tsp dried cilantro
1 tsp dried basil
1 tsp dried dill weed
1 tsp cinnamon
1/2 tsp powdered ginger
1/4 tsp ground clove
Directions
Choose your nightshade-free curry recipe. Whisk the ingredients together and put in a spice jar.
In a large soup pot, melt coconut oil over medium heat.
Add the chicken and cook until browned on all sides. (You might need to brown the chicken in two batches. It's okay if it's not completely cooked, because it will cook more in later steps). With a slotted spoon, remove the browned chicken from the pan and set aside. Leave the chicken fat and juices in the pan.
Add chopped onion to the soup pot and sauté 5 minutes.
Add carrots, garlic and curry and sauté another 2 minutes.
Return chicken to the pot and add broth and mangoes. Increase heat to a boil, then reduce heat, cover pan & simmer 15 minutes.
Pulse cauliflower in food processor until it reaches a rice consistency. (You might need to pulse the cauliflower in 2 batches). Add cauliflower "rice" to soup pot & simmer a final 5 minutes.
Juice the lime over the pot and stir to blend. Then add salt to taste.
Notes: (1) You can substitute 3 peaches or 4 apricots for the mangoes.(2) If you don't have a nightshade sensitivity, you can use regular curry.

Looking for more curry recipes? Check out my
Sweet Coconut Shrimp Curry recipe & the SPICE e-cookbook

This post is linked to the following blog carnivals:
Paleo AIP Recipe Roundtable, What Am I Eating?, Whole Food Friday, Sunday School, Natural Living Monday, Make Your Own Monday, Fat Tuesday, Healthy Tuesday, Tuned-In Tuesday, Traditional Tuesday, Hearth & Soul Hop, Party Wave Wednesday, Whole Foods Wednesday, Real Food Wednesday, Gluten-Free Wednesday, Allergy-Free Wednesday, Well Fed Wednesday, Simple Lives Thursday, Tasty Traditions, Thank Your Body Thursday, Paleo Rodeo, Pennywise Platter Thursday,
Have you checked out my books?