Rainbow Chard with Bone Broth and Bacon
(Paleo, AIP, GAPS, Wahls)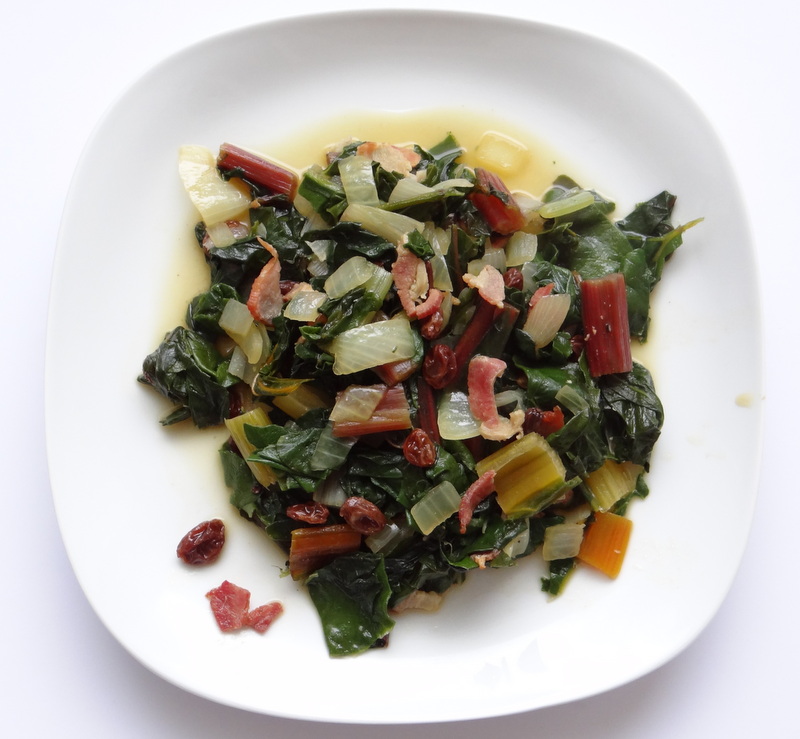 "This is a universal idea – to connect the garden with the kitchen and with the table and back to the garden again." ~ Alice Waters
Introduction
With bacon for flavor, bone broth for nutrient-density, and rainbow chard for beauty and a bounty of micronutrients, this recipe is one of my new favorites. Interestingly, most chard recipes tell you to cook only the leaves and discard the stems, but the stems are not only edible, they're full of nutrients you can't find elsewhere. If we're using food as medicine, we don't want to throw our medicine away!
Nutrition
Dr. Terry Wahls recommends we eat 3 cups of greens daily, and the more variety the better. That's because every green (and every vegetable actually) has a unique micronutrient profile that helps our bodies heal. Let's find out what gorgeous chard has to offer:
Antioxidants

: Chard leaves contain 13 different antioxidants, including kaempferol, which promotes heart health, and syringic acid, which regulates blood sugar.

Eat the Stems

: The stems contain betalains, which are natural anti-inflammatories and also help support our bodies' natural detoxification pathways. Doesn't that sound like a perfect prescription for someone with autoimmune disease?

Healthy Bones

: 1 cup of chard provides 374% of your daily need for vitamin K. People who have higher levels of vitamin K have greater bone density, while low levels of vitamin K can lead to osteoporosis.

Brain Support

: In addition to helping build strong bones, vitamin K also supports brain function and is essential for memory, cognition and development of the myelin sheath.

Vitamins

: Chard is also a rich source of vitamin A, vitamin C, magnesium and manganese. Since vitamins A and K are fat-soluble vitamins, be sure to cook your chard with plenty of healthy fats, to help you absorb these valuable nutrients.
Recipe: Rainbow Chard with Bacon & Bone Broth
inspired by Rachel Ray
Ingredients
1 Tbsp. extra virgin olive oil
1 slice bacon
1 small onion
1 bunch rainbow chard
2 Tbsp. raisins
½ cup bone broth (homemade or AIP-friendly brand)
sea salt, to taste
black pepper, to taste (optional – omit for AIP)
Directions
Heat the olive oil in a large skillet over medium heat.
Cut the slice of bacon into small pieces and scatter across the bottom of the skillet.
While bacon begins to cook, peel and dice the onion. Add it to the bacon and stir to blend.
Next, prepare the rainbow chard. First, cut off the thick bottom stems and slice them like celery. Add them to the skillet and toss to blend.
Cut the chard leaves away from the remaining center stems, and throw the skinny center stems away. Rip the leaves into small pieces and rinse them through a salad spinner, if you have one. Otherwise, rinse them and pat them dry with a clean towel. Add the chopped leaves to the skillet and toss to blend.
Scatter the raisins over the top of the skillet and then add bone broth.
Cover skillet and turn heat to medium-low. Set timer for 7 minutes.
When timer goes off, stir everything in the skillet. The chard leaves will be starting to shrink at this point. Cover pan again and set timer for another 7 minutes.
When timer goes off this 2nd time, add a generous sprinkle of salt (and pepper if using). Toss to blend and taste. Add more if needed.
Looking for another delicious way to cook nutritious greens? Try
Kale with Cranberries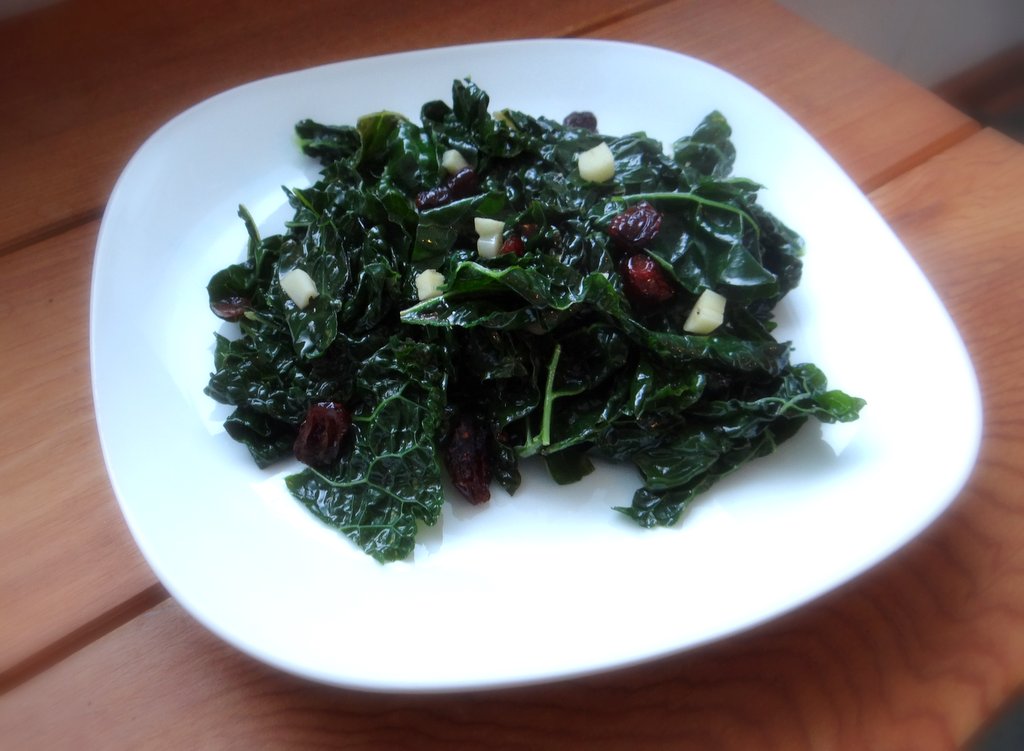 This post is linked to the following blog carnivals:
Paleo AIP Recipe Roundtable, Natural Living Monday, Fat Tuesday, Healthy Tuesday, Waste not Want Not Wednesday, Allergy Free Wednesday, Wellness Wednesday, Simple Meals Friday, Healing with Food Friday, Paleo Rodeo, Eating Inside the Box,
Have you checked out my books?