This post may contain affiliate links. Click here to see what that means.
(Paleo, AIP, GAPS, Wahls, Low-FODMAP)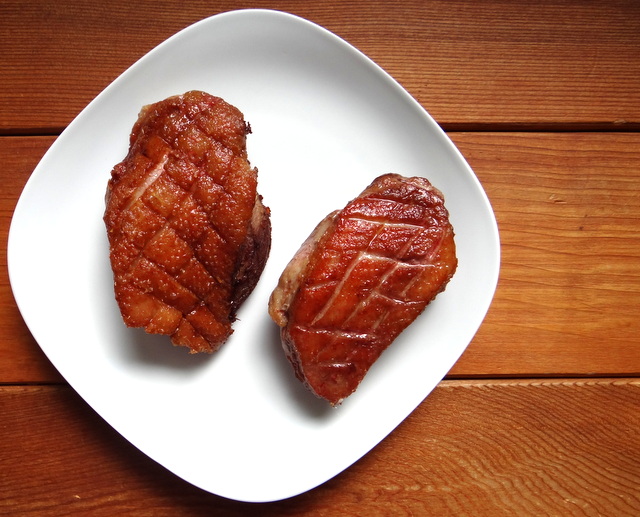 "If you will stay close to nature, to its simplicity, to the small things hardly noticeable, those things can unexpectedly become great and immeasurable."
~ Rainer Maria Rilke
Simplicity
This might be the simplest recipe I've ever prepared, and the most delicious. My friend Karen was raving about the duck breast from US Wellness, and I've been testing out different ways to prepare it ever since. My first efforts in the oven weren't very successful, so I decided to switch to a skillet. I scoured food magazines and cooking forums, gleaning various tips, and tried lots of different methods before settling on this combination. To me, it's perfection, yielding a crispy skin, tender meat, and plenty of duck fat leftover for future cooking projects. Added bonus? It's easy and fast to prepare.
Recipe
serves 2
Ingredients
Directions
Pat duck breasts dry with a paper towel.
Using a sharp knife, crosshatch the skin. (If you're not sure what this means, here's a picture.) You want to cut through the skin, but not so deep it cuts into the meat. The fat lies between the skin and the meat, and the crosshatch pattern allows it to render as it cooks.
Sprinkle both sides of duck breasts with sea salt and then put them skin-side-down in a large, cold, dry skillet. Cover with a fat splatter guard, if you have one. Otherwise, leave the skillet uncovered.
Turn heat to medium and set timer for 15 minutes. That's approximately how long it takes for the fat to melt out from under the skin and into the pan, which allows the skin to turn crispy. It might take a few minutes less or a few minutes more, so keep an eye on it.
Once the skin looks thin, golden and crispy, turn the duck breasts over and cook another 5 minutes.
Remove from pan and allow to rest 5 minutes. Then carve into diagonal slices.
Save the rendered fat to cook other things, and keep it stored in the refrigerator. Root vegetables are especially delicious cooked in duck fat.
Looking for another quick weeknight meal? Try
Steak Salad with Arugula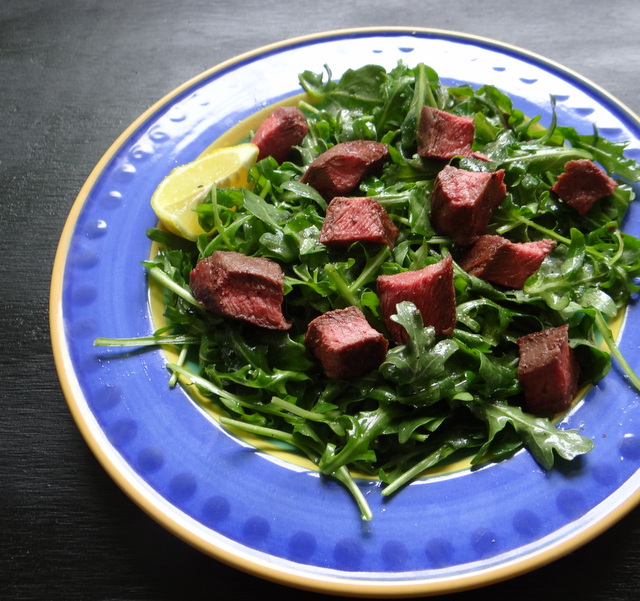 This post is linked to the following blog carnivals:
Paleo AIP Recipe Roundtable, Fat Tuesday, Allergy Free Wednesday, Paleo Rodeo, Fast and Easy Paleo Recipes,
Have you checked out my books?