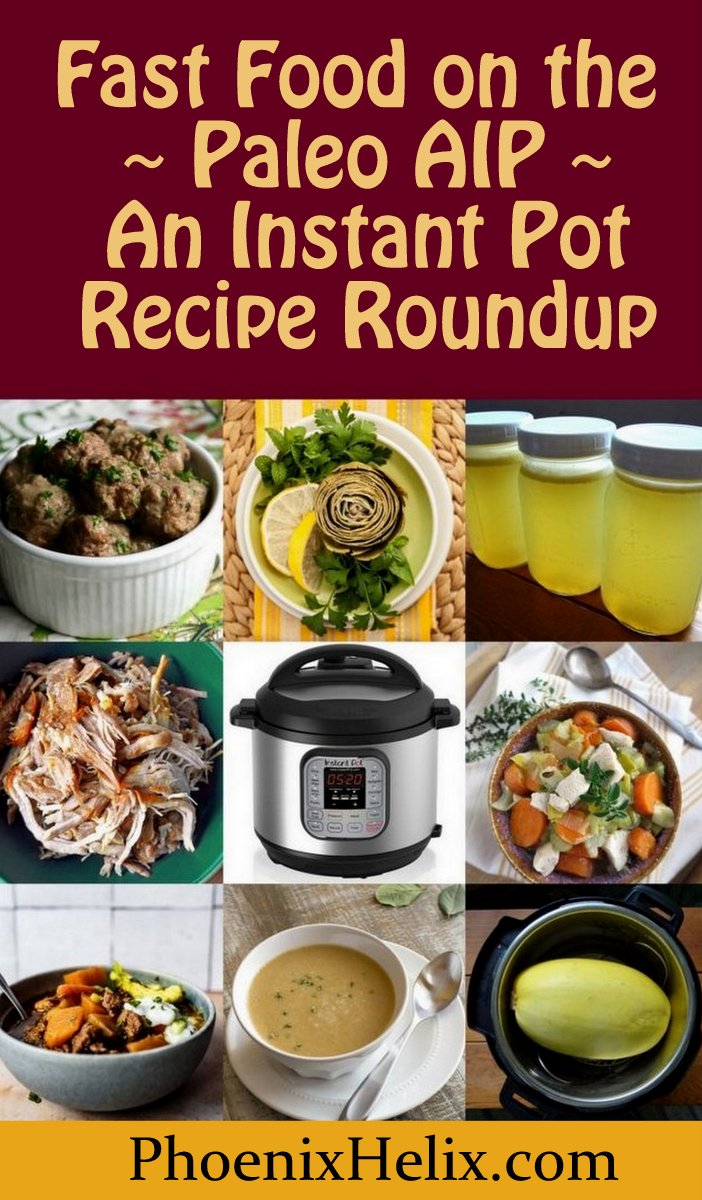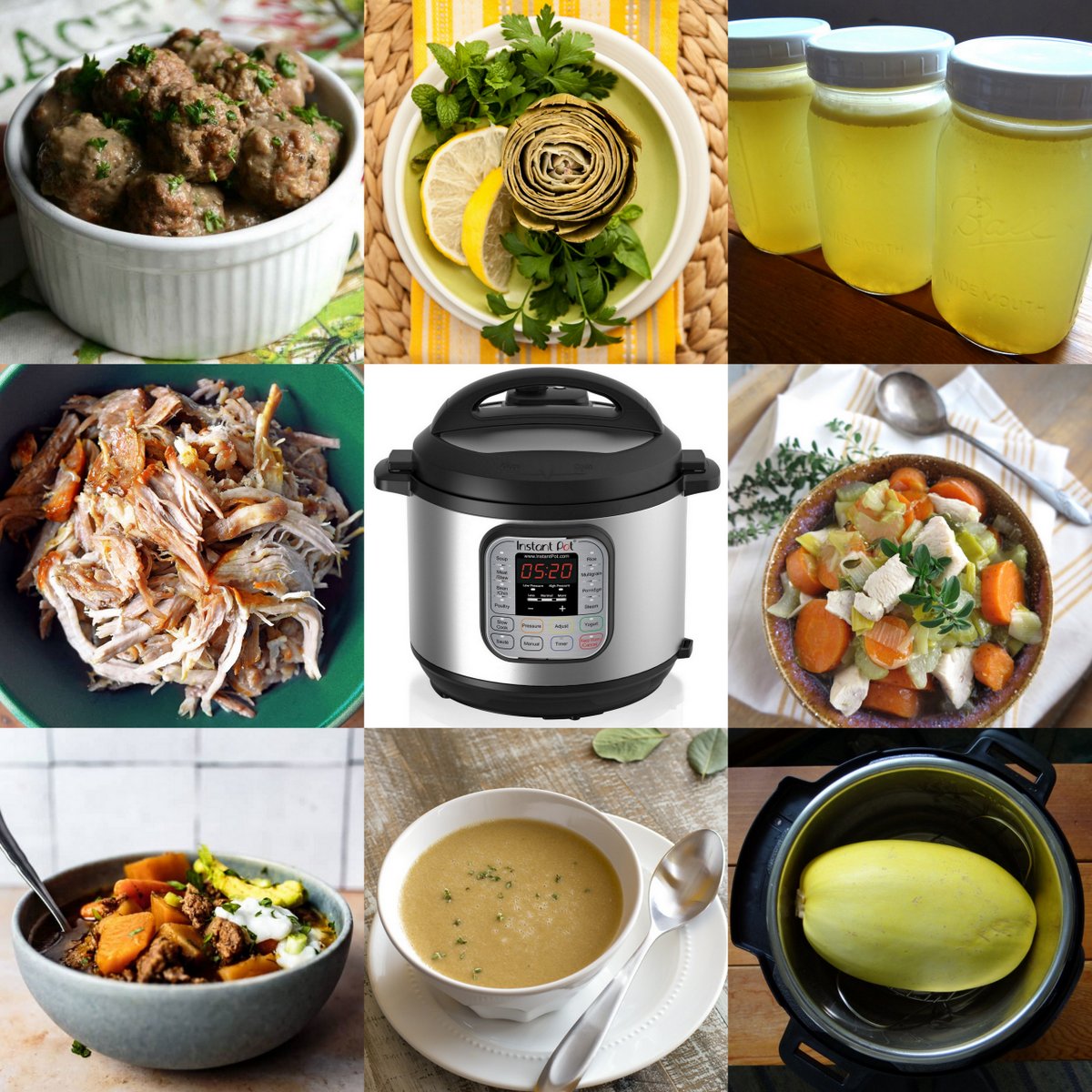 "I'm so fast that last night I turned off the light switch in my hotel room and was in bed before the room was dark."
~ Muhammad Ali
---
What's An Instant Pot?
The Instant Pot is a kitchen appliance that's many tools in one. Its primary function is a pressure cooker, and that's the focus of this recipe roundup. But it also serves as a slow cooker, rice cooker, steamer, yogurt maker, food warmer, and it has a sauté function as well (meaning you can brown meat before cooking, and reduce sauces and gravies afterward.) It saves a lot of room in my kitchen by replacing a bunch of appliances at once, and turns many recipes into one-pot wonders.
That said, the pressure cooker function is probably my favorite part. It's worth it for bone broth alone. (It makes gelatinous broth in just 2-1/2 hours, as opposed to 24.) When you're on a healing diet, you spend a LOT of time in the kitchen, and pressure cookers save time. I can't think of a better gift. So, I've gathered together this list of Instant Pot pressure cooker recipes that fit the Paleo Autoimmune Protocol (AIP). Here's to healthy fast food!
P.S. If you have a stovetop pressure cooker, you can still use these recipes, but you'll have to adapt them and experiment with timing, as different brands cook at different speeds.
Bone Broth
Bone Broth from Phoenix Helix
Sauces and Dips
Nomato Sauce from Food and Sunshine
Lemon-Garlic Hummus from A Squirrel in the Kitchen
Cinnamon Turmeric Applesauce from Zesty Paleo
Vegetable Recipes
Whole Spaghetti Squash with Duck Fat Apple Juice Glaze from Phoenix Helix
Garlic Mashed Cauliflower from Phoenix Helix
Garlicky Mashed Rutabaga from Phoenix Helix
Cabbage with Bone Broth from Fed, Fit, Happy
Sweet Potatoes from Finished with Salt
Steamed Artichokes from Flavor RD
Quick Onion Soup from Meatified
Chicken Recipes
Shredded Chicken with Tarragon and Kale from Healing Family Eats
Hawaiian Shredded Chicken from Lichen Paleo Loving AIP
Effortless Turmeric Chicken from Hurried Health Nut
Chicken Vegetable Soup by A Squirrel in the Kitchen
Spicy Lemongrass Chicken Curry from Zesty Paleo
Low-Histamine Chicken and Sweet Potato Stew from Eat Beautiful
Pork Recipes
Chili from Food By Mars
Kalua Pig from Nom Nom Paleo
Pork Carnitas from Fresh Tart
Cuban Lechon Asado from The Curious Coconut
BBQ Ribs from The Honest Spoonful
Pork Cheek Stew from Meatified
Beef Recipes
Swedish Meatballs and Mushroom Gravy from The Paleo AIP Instant Pot Cookbook
Smoked Parsley Meatballs from The Castaway Kitchen
Braised Beef Short Ribs from Fresh Tart
Balsamic Roast Beef from The Paleo Mom
Beef Stew from Meatified
Low-FODMAP Beef Stew from Sweet Treats
Lamb Recipes
Lamb Stew from The Paleo Mom
Rosemary "Curried" Lamb Stew from Lichen Paleo Loving AIP
Bonus AIP Yogurt Recipe
This one's not fast, but it is easy! You need the 7-in-1 Instant Pot which includes a yogurt maker function. Here's the recipe: Coconut Milk Yogurt from Flame to Fork.
Want More Recipes? Check Out The Paleo AIP Instant Pot Cookbook.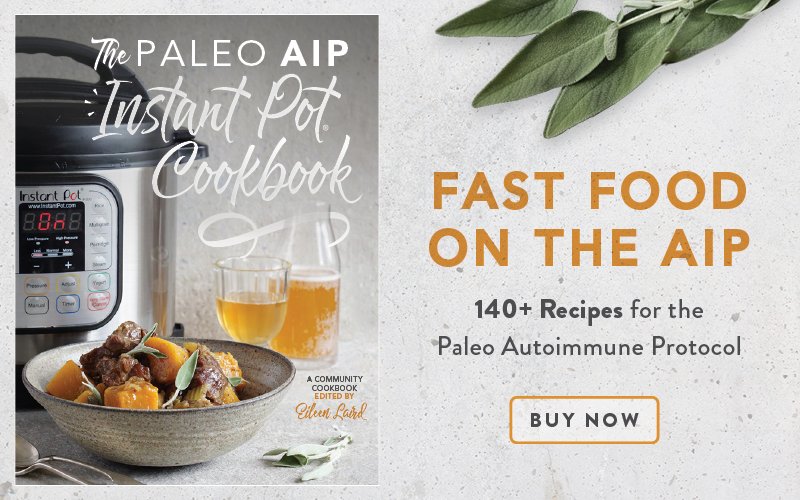 You May Also Be Interested In
---
This recipe roundup was first published in 2015 but is updated annually. Last update 9/7/23.
---