This post may contain affiliate links. Click here to see what that means.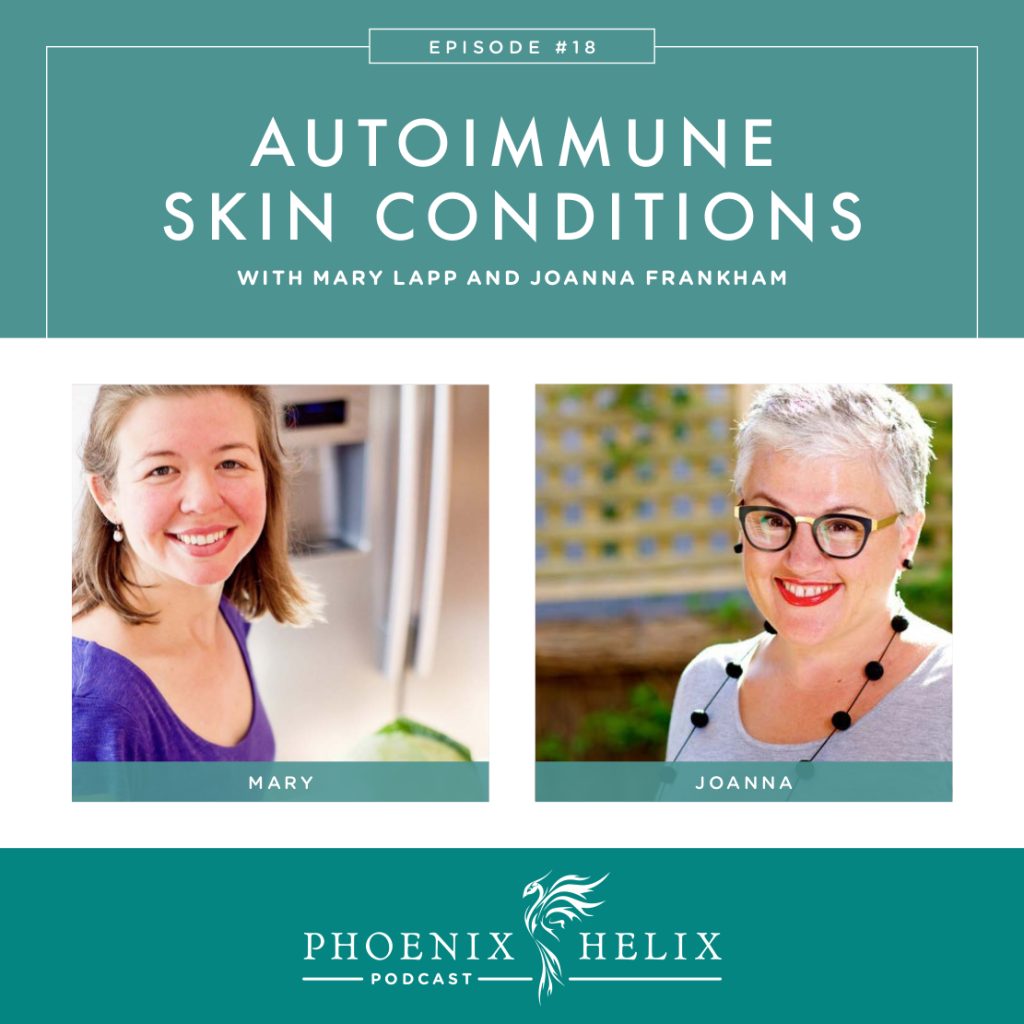 Healing Your Body From The Inside Out

While all autoimmune diseases have common factors (molecular mimicry, an overactive immune system, leaky gut, food and stress triggers, etc.), autoimmune skin conditions sometimes have additional influences. So, that's the focus of our podcast today. Whether you have psoriasis, eczema, lichen planus, hidradenitis suppurativa, rosacea, or another autoimmune or immune-stimulated condition, listen in! And even if you don't have skin issues, but are looking for some troubleshooting ideas for symptoms that aren't resolving quickly, this episode might have the answers you seek.
Listen to the Show
There are three ways to listen:
You can subscribe to my podcast through iTunes.
You can listen through Stitcher.
You can also listen to the episode right here through the play bar at the bottom of this post. If you subscribe to my blog by email, you'll got notified of future episodes.
Show Notes
Intro (0:00)
Meet Our Guests (0:51)

Joanna Frankham is the blogger and health coach behind Joannafrankham.com (formerly This Sydney Life). She is using the paleo lifestyle to reverse hidradenitis suppurativa (HS). HS is often misdiagnosed and can take 20 years before getting an accurate diagnosis, which was the case for Joanna. In fact, doctors often blame symptoms on poor hygiene, leaving patients feeling unfairly ashamed, having no idea autoimmunity is at its root. HS symptoms are pea-sized lumps under the skin wherever your skin rubs together: armpits, groin, buttocks and breasts. These lumps can come and go, or last for years, and they're very painful. Joanna finally learned about HS through this article on Mark's Daily Apple, written by Tara Grant, author of the book, The Hidden Plague. Joanna started with a primal diet and transitioned into the paleo autoimmune protocol (AIP). That combined with functional medicine have reduced her symptoms by 95%.
Mary Lapp is the blogger and nutritional therapy practitioner behind Simple and Merry. She follows the paleo lifestyle to manage rosacea. Rosacea is a skin condition that causes the face to become red, inflamed and bumpy. It isn't painful, but it's very visible and often leaves people feeling embarrassed. Mary developed rosacea at around 10 years old and it worsened during puberty. She first tried to address it through the Weston A. Price diet but her condition actually worsened. It wasn't until she switched to the AIP that it started to improve. She is now 80% better. One challenge for her in staying strict with her diet is that her symptoms aren't debilitating, so she sometimes eats foods she knows will cause a flare.

Food Triggers & Reintroductions (11:42)
Gut Health (19:25)
Stress Triggers (28:13)

Mary: Stress is a flare trigger for her rosacea. She incorporates the following stress management techniques into her life: deep breathing, EFT/tapping, journaling, prayer, and getting plenty of sleep. Also identifying and addressing the source of the stress.
Joanna: Stress is her biggest trigger for HS. She reduces her stress through Julia Cameron's Morning Pages, from her book The Artist's Way. She also finds walking and playing with her dog to be very relaxing.
Resource Podcast: The Art of Stress Management.

Emotional Triggers (35:24)

Eileen's blog post: My Body Is NOT My Enemy
Mary's health and nutrition coaching program: Loving Your Body to Wellness.
Joanna: HS is often a secret condition and one that leaves people feeling ashamed. She has found healing through the AIP to be healing on an emotional level as well as a physical one.

Sleep and Autoimmunity (40:28)
Skincare Products (45:19)

Mary: Most skincare products exacerbate her rosacea, so she has to be very careful. Her favorite moisturizer is Dr. Ron's moisturizer with CoQ10, but it doesn't have a healing effect. She focuses on gut health for healing. She also chooses all-natural cleaning products, because they impact her skin as well.
Joanna: Her experience matches Mary in that she tries to avoid anything unnatural on her skin, but she looks to diet and stress management for healing. She uses rose hip oil on her face, and coconut oil as a moisturizer. She stopped dying her hair. And she uses all-natural cleaning products as well.
Resource: What Is Paleo Skincare?

The Impact of Weather and Sunshine (50:49)

Joanna: It's possible that heat might exacerbate HS slightly, but overall, she notices no real difference in her symptoms based on weather. She did have chronically low vitamin D and raising that level has improved her health overall.
Mary: Weather is a huge trigger for her rosacea: too much sun, a harsh wind, too much heat, too much cold. She wears a hat outdoors and finds that helpful.

Final Words of Wisdom (53:57)

Mary: Sometimes skin issues can become part of our identity, so that's part of healing too – getting comfortable with the "new you" as you heal.
Joanna: Her sister has eczema and her father has psoriasis, so there is a genetic link between different skin conditions, and both her father and sister have experienced improved symptoms with the paleo diet as well.

Outro (56:19)
Spreading the Word
If you like the podcast, please leave a positive review in iTunes or Stitcher. It would mean the world to me, and also helps others find the podcast and learn about their potential for healing. Instructions using your iPhone: (1) Click the purple podcast icon. (2) In the lower right corner, click the magnifying class. (3) Type Phoenix Helix in the search box. (4) Click the podcast cover in the lower left. (5) Click the center tab: Reviews. (6) Click on the phrase: Write a Review. (7) Fill out the stars, title, and text for the review itself. (8) Click Send. (9) Thank you! Positive reviews give the podcast a higher search ranking in iTunes, helping people find it and letting them know it's a quality podcast and worth their time to listen.
Listen to the Show
There are three ways to listen:
You can subscribe to my podcast through iTunes.
You can listen through Stitcher.
You can also listen to the episode right here through the play bar at the bottom of this post. If you subscribe to my blog by email, you'll got notified of future episodes.
Podcast: Play in new window | Download
Subscribe: Apple Podcasts | Android | RSS
Have you checked out my books?