This post may contain affiliate links. Click here to see what that means.
(Paleo, AIP, GAPS, Wahls, Whole30)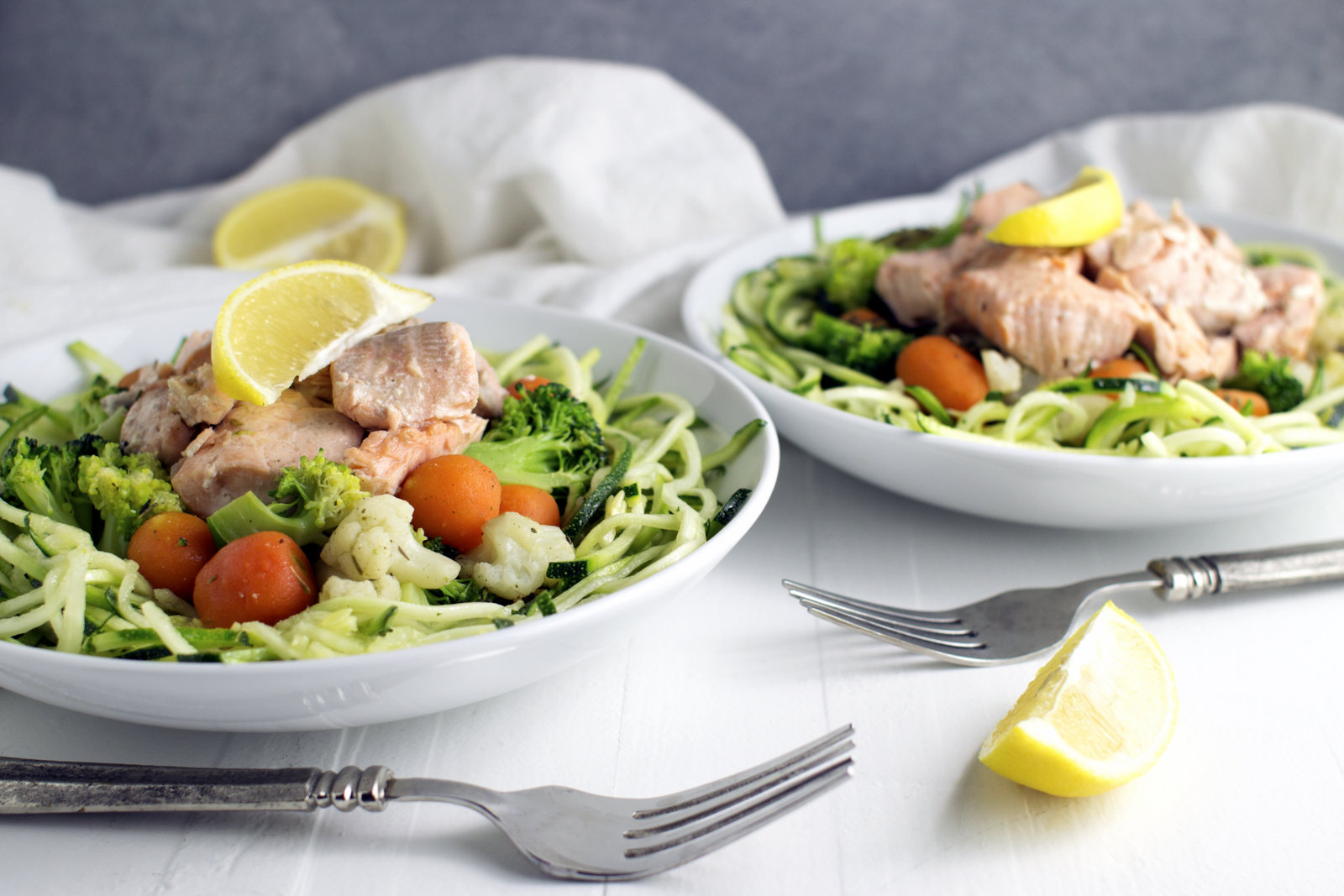 "I may not be Julia Child, but I can do pretty well with a simple recipe and a lot of enthusiasm."
~ Marlo Thomas
Playing in the Kitchen
I finally got a spiralizer for Christmas, after 2-1/2 years on a paleo diet. The inner child in me is very pleased! Do you have one? It is super-fun! If you don't have one, no worries. You can make zucchini noodles with a julienne peeler, or wider noodles with a regular vegetable peeler. Zucchini's not picky.
The Importance of Seafood on a Healing Diet
As part of my healing protocol, I've made an effort to eat more seafood. This was a big switch for me. Although I grew up on Cape Cod, I hated seafood as a child. Now, I've come to love it. I'm still kind of amazed. Taste buds do change (with a little effort).
Why the effort? Both Dr. Terry Wahls (author of The Wahls Protocol) and Dr. Sarah Ballantyne (author of The Paleo Approach) recommend wild-caught seafood as an important part of our diet. This is because it's the best natural source of anti-inflammatory omega 3 fatty acids.
If you have concerns about eating seafood, read my article: Does Healthy Sustainable Seafood Exist? Wild Alaskan Salmon is one of the best choices you can make. If you can't find it locally, I recommend Vital Choice Seafood. They sell salmon pieces in 1 lb. packs for a much lower price than the filets. Those pieces are perfect for this recipe. If you're a new customer, use the code VCAFINT for a 10% discount off your first order.
A Quick Meal

This recipe takes about 30 minutes from start to finish, including prep and cooking time. And it's simply delicious. I've been making it every week!
Recipe
Makes 3 Servings
Ingredients
2 medium zucchini (spiralized)
3 Tbsp. extra virgin olive oil (divided)
1 pound salmon (cut into 1 inch pieces)
juice of 1/2 lemon
2 tsp. dried Herbes de Provence
1 tsp. sea salt (divided)
10 oz. bag frozen California vegetables
AIP Note: Make sure your Herbes de Provence is AIP-friendly. Some brands add other ingredients like black pepper. California vegetables should contain only broccoli, cauliflower, carrots and zucchini. But always check the labels to be sure.
Directions
Spiralize 2 medium zucchini. Toss with 1 Tbsp. olive oil in large bowl and set aside.
De-skin the salmon and cut into 1 inch cubes. Set aside.
Juice 1/2 lemon and set aside.
Heat remaining 2 Tbsp. olive oil in large skillet over medium heat.
Add 2 tsp. dried Herbs de Provence and stir until fragrant (about 1 minute.)
Add frozen California veggies. Toss to coat with herbed oil, cover pan & cook 5 min.
Push veggies to side of skillet and add salmon cubes in single layer if possible. Sprinkle salmon with 1/2 tsp. sea salt. Cover pan and cook 3 minutes.
Flip the salmon pieces over, cover pan, and cook another 3 minutes.
Put zucchini noodles on top of salmon & veggies. Sprinkle with remaining 1/2 tsp. sea salt. Cover pan and cook a final 3 minutes.
Add lemon juice, toss to blend and serve.

More Delicious Recipes & Resources
---
Photo credit: Christina Feindel
Have you checked out my books?