This post may contain affiliate links.
Click here
to see what that means.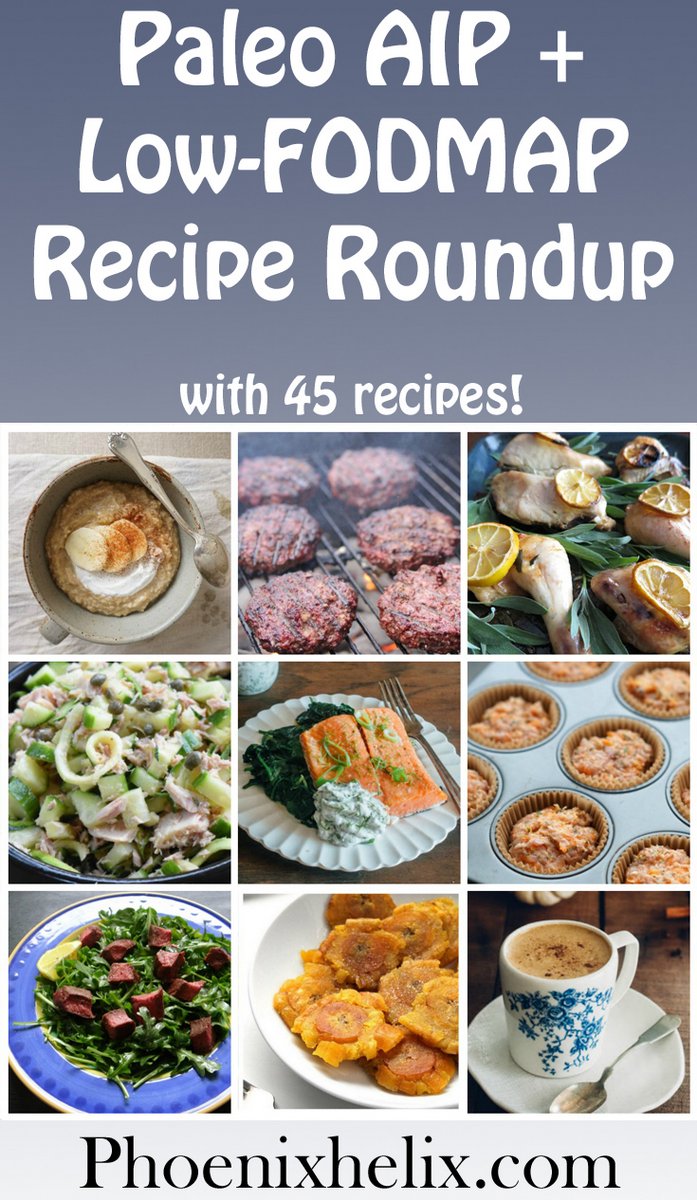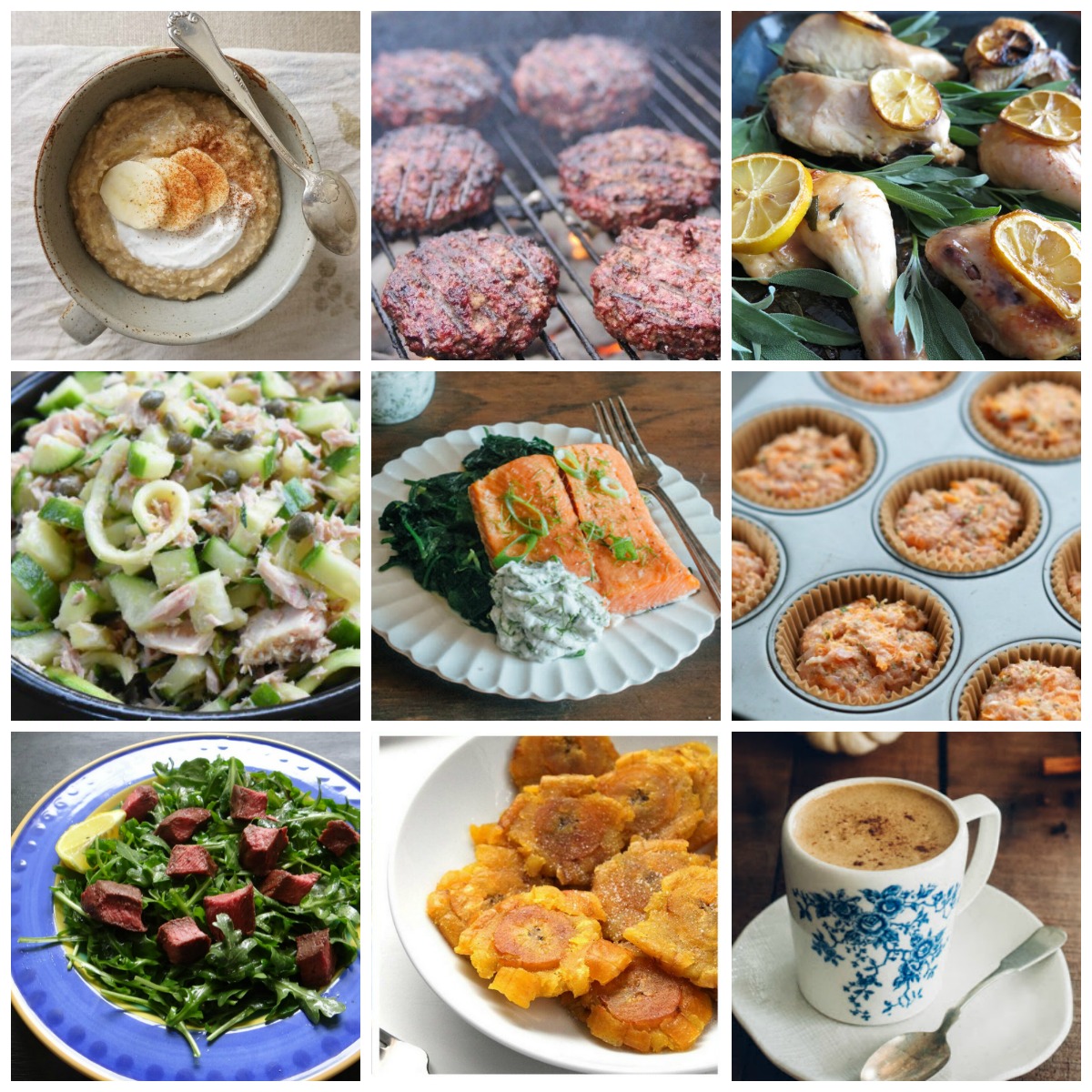 "The greater the obstacle, the more glory in overcoming it."
~ Molière
---
Low-FODMAP + Paleo Autoimmune Protocol
Both the Paleo Autoimmune Protocol (AIP) and the Low-FODMAP diet are a challenge to do on their own. Combining their restrictions is incredibly hard! So, why do it? Honestly, most people shouldn't. We want to eat the widest variety of foods possible, because nutrient-density is essential to reversing autoimmune disease. However, there are two health conditions that sometimes accompany autoimmune disease: Small Intestine Bacterial Overgrowth (SIBO) and Irritable Bowel Syndrome (IBS). A Low-FODMAP diet can be part of the treatment plan for these conditions. Only follow this diet if prescribed by your practitioner, and remember, it's not meant to last forever. Just like the AIP, a Low-FODMAP diet has an elimination phase and a reintroduction phase, where you test your body against specific foods to see which ones you can safely add back into your diet. I compiled this recipe roundup for those of you combining these temporary protocols. My goal is to make it a little bit easier, and a lot more delicious!
Finding Accurate Food Lists
There's a lot of misinformation on the internet when it comes to FODMAPS and the Paleo Autoimmune Protocol. Monash University is the world expert on Low-FODMAP diets, and they have an app that I recommend you use if you are following this protocol. Also, here's an AIP Grocery List of allowed foods on the AIP. Cross-reference both lists when combining these diets, because many recipes on the internet are mis-labeled. However, with this recipe roundup, I cross-referenced these lists for you!
Meat Recipes
Perfect Breakfast Sausage from Phoenix Helix
Pork Chops with Herbs and Grapes from Gutsy By Nature
Crispy Pork Belly from Heal Me in the Kitchen
50/50/50 Burgers from The Paleo Mom
Meatloaf from Instinctual Wellbeing
Beef Stew from Sweet Treats
Asian Beef Liver Paté from Beyond the Bite
Stuffed Pattypan Squash from Don't Eat the Spatula
Beef Skillet Supper from Sweet Treats
Steak Salad with Arugula from Phoenix Helix
Shepherd's Pie with Golden Horseradish Mash from Healing Family Eats
Ginger Lime Noodle Bowl by Adventures in Partaking
Lamb Curry from Noodlechips
Poultry Recipes
Easy Crispy Duck Breast from Phoenix Helix
Chicken Liver Paté from Sweet Treats
Oven Roasted Chicken Pieces with Sage and Lemon from A Squirrel in the Kitchen
Lemon and Mint Roasted Whole Chicken from Healing Family Eats
Creamy Chicken Soup from Beyond the Bite
Chicken and Ginger Mini Meatloaves from Healing Family Eats
Seafood Recipes
Slow Roasted Salmon with Herbed Yogurt from Sweet Treats
Turmeric Baked Tilapia with Red Palm Oil by Hope Heal Cook
Citrus Tuna Pasta Salad from Earthy Mamacado
Simple Shrimp Scampi from A Clean Plate
Cilantro Grilled Tuna Steak with Duck Fat Plantains from Beyond the Bite
Steamed Black Cod with Ginger and Chives from Hope Heal Cook
Grilled Spaghetti Squash Shrimp Scampi from Beyond the Bite
Roasted Herb Cod from A Clean Plate (follow low-FODMAP notes)
Vegetable Recipes
Banana Cinnamon "Oatmeal" (featuring Spaghetti Squash) from Healing Family Eats
Sea Salt & Vinegar Rutabaga Fries from Beyond the Bite
Roasted Carrot & Thyme Mash from Joanna Frankham Coaching
Roasted Leek Greens from Beyond the Bite
Tostones from A Clean Plate
Cilantro Carrot Mash from Healing Family Eats
Celeriac Fries from A Clean Plate
Roasted Black Radishes from Beyond the Bite
Turnip, Radish and Fennel Sauté from Autoimmune Wellness
Crushed Roots with Herbs from Healing Family Eats
Bacon Braised Collard Greens from A Clean Plate
Turnip-Dill Puree with Bacon and Chives from Autoimmune Wellness
Creamy Parsnip Puree from Gutsy by Nature
Dessert & Drink Recipes
Spiced Pumpkin Tea Latte from Sweet Treats
Oven Baked Lemon Blueberry Pancake from Gutsy by Nature
Blueberry Tigernut Muffins from The Open Cookbook
Arnold Palmer Gummies from Sweet Treats
Blueberry Lemonade from A Clean Plate
Low-FODMAP AIP Meal Plans with Recipes
These E-Cookbooks Include Low-FODMAP Adaptations for Over Half of Their Recipes