This post may contain affiliate links.
Click here
to see what that means.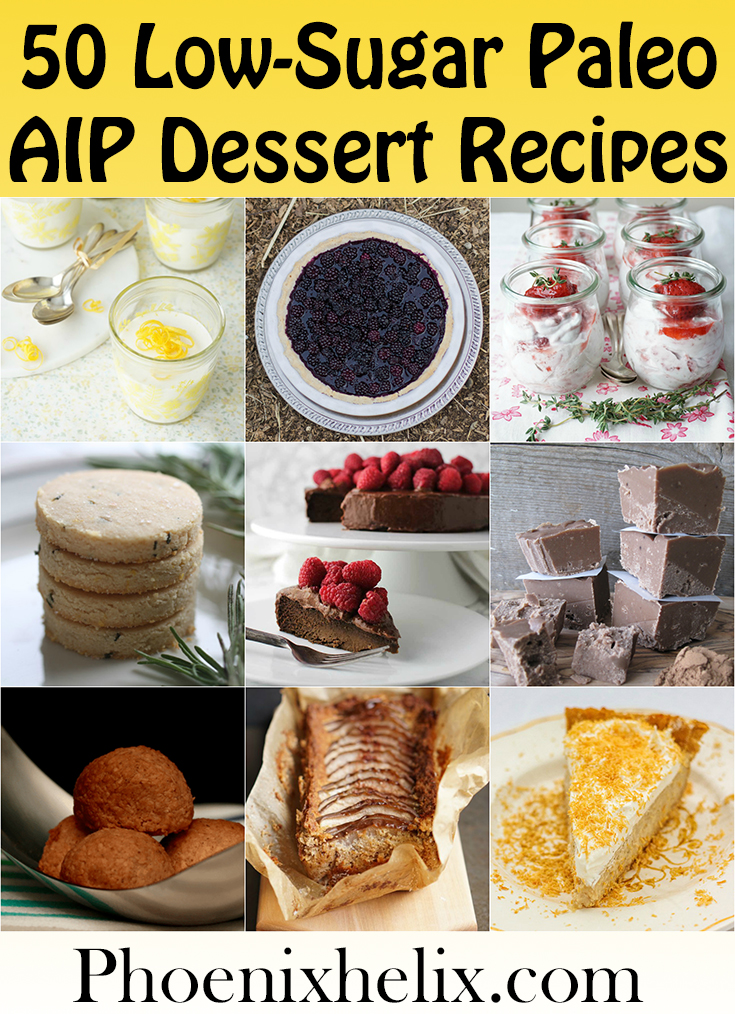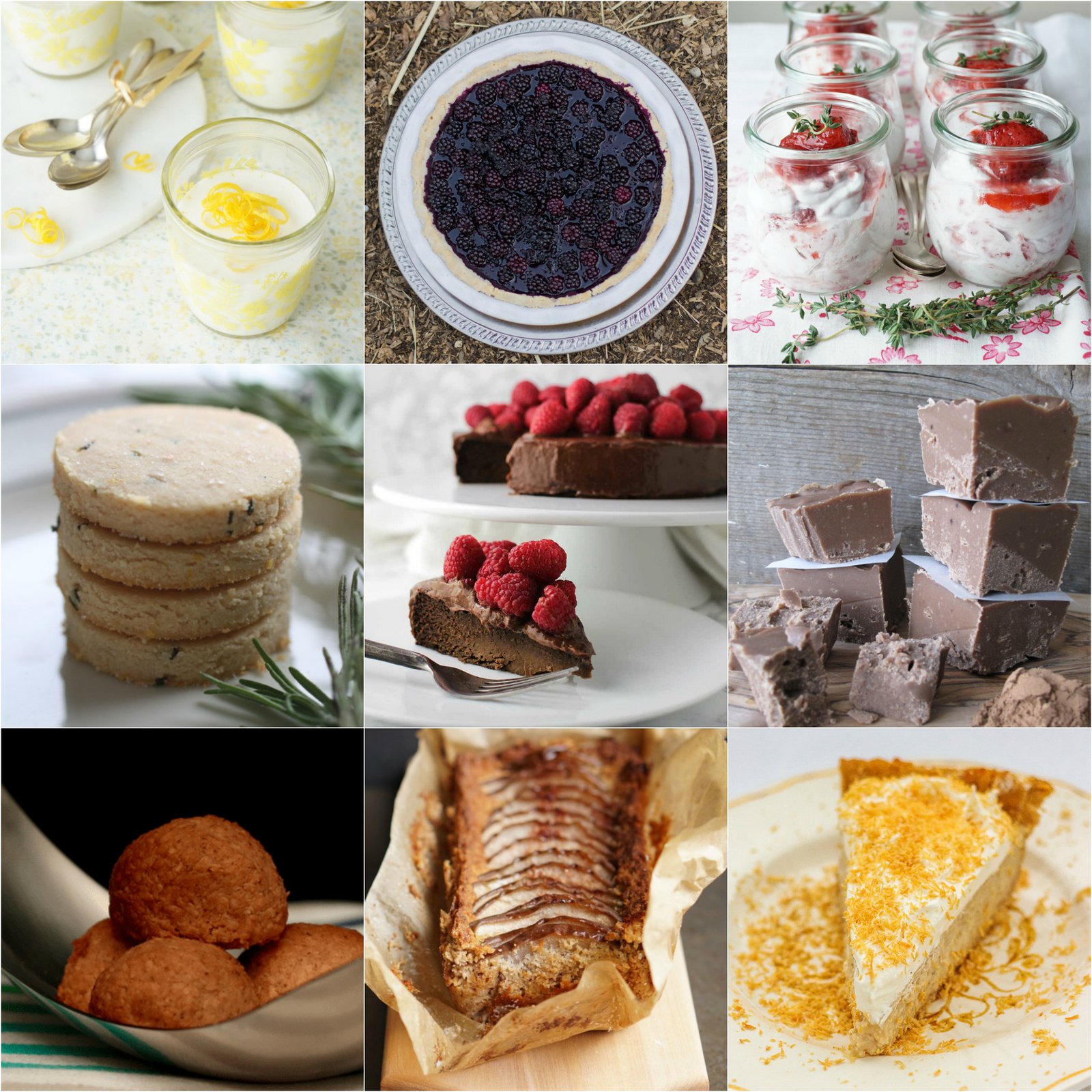 "One of the reasons that our eating challenges tend to persist is that we're still learning the lessons that they're here to teach us."
~ Marc David
---
Natural Sugars are Still Sugar
Honey, maple syrup, and dried fruit may not be refined, but our bodies still process them as sugar. Sometimes we forget this when we're following a healing diet. We scan an ingredient list, and if it's on the "yes" list, we think we can eat as much as we want. Not so! Too much sugar in any form is inflammatory, which is why the leaders of the paleo community warn against eating too much. So, this recipe roundup is designed to help us make healthier choices when our sweet tooth beckons. Every recipe on this list has just one tablespoon (or less) added sugar per serving. And here's another secret: for many of us, the less sugar we eat, the less we crave. Our taste buds begin to change, until simple fresh fruit starts to taste decadently delicious.
Baked, Sautéed, and Dipped Fruit
Honey Brûléed Grapefruit from Heal Me Delicious
Thyme-Scented Strawberry Fool from Autoimmune Wellness
Oven-Baked Ginger Pears from Little Bites of Beauty
Southern Fried Apples from Phoenix Helix
Easy Baked Peaches from 50 Shades of Avocado
Blueberry Topped Baked Sweet Potato from Comfort Bites Blog
Carob-Dipped Strawberries from Wendi's AIP Kitchen
Cakes and Rolls
"Chocolate" Cake from A Clean Plate
"Chocolate" Mug Cake from Don't Eat the Spatula
Cinnamon Rolls from Heal Me Delicious
Strawberry Shortcake from Unbound Wellness
Pumpkin Pie Cupcakes from AngelSlice
Pear and Parsnip Teacake from Healing Family Eats
Cookies and Donuts
No-Bake Cookies from It's All About AIP
Orange Macaroons from Create Delicious
Crispy Cinnamon Thin Cookies from A Squirrel in the Kitchen
Lemon Herb Shortbread from Eat Heal Thrive
Cinnamon and Coconut Fat Bombs from Joanna Frankham
Pumpkin Pie Donut Holes from Unbound Wellness
Fudge, Truffles, and Bark
"Chocolate" Fudge from A Squirrel in the Kitchen
Sweet Potato Fudge from Adventures in Partaking
Lemon Coconut Fudge from Zesty Paleo
2 Ingredient Strawberry Truffles from Forest and Fauna
Peppermint Bark from Unbound Wellness
Gummies
Coconut Gelatin Squares from Heal Me in the Kitchen
Dragon Fruit Gummies from EarthyMamacado
Superfood Lime Gummies from Flash Fiction Kitchen
Apple Cinnamon Gummy Candies from Phoenix Helix
Sour Blueberry Gummies from Lichen Paleo, Loving AIP
Ice Cream, Popsicles, and Sorbet
Ice Cream Truffles from Meatified
Purple Sweet Potato Ice Cream from Zesty Paleo
Strawberry Rhubarb Sorbet from Fresh Tart
No-Churn Roasted Nectarine and Lavender Sorbet by Sweet Treats
Kombucha Berry Popsicles from Phoenix Helix
Water Kefir Popsicles from Happy Gut Pro
Greensicles from The Paleo Mom
Puddings, Parfaits, and Whips
Banana Cream Pie Parfait from Food By Mars
Meyer Lemon Fluff from Healing Family Eats
Carob Ganache Mini Tortes from The Paleo Mom
Carob Avocado Mousse from Sweet Treats
Apple Pie Pudding from Meatified
Ginger Whipped Coconut Cream with Pomegranates from Kari Owens
Pies, Bars, and Crumbles
Summer Blackberry Pie from Autoimmune Wellness
Mixed Berry Galettes from Heal Me Delicious
Coconut Cream Pie from He Won't Know it's Paleo
"Chocolate" Cream Pie from AIP Sisterhood
Tigernut Berry Crumble from Food and Sunshine
Peach Cobbler from Our Grain-Free Life
Peach Apple Galette from Little Bites of Beauty
Cran-Apple Gingerbread Crumble from Eat Heal Thrive
You May Also Be Interested In