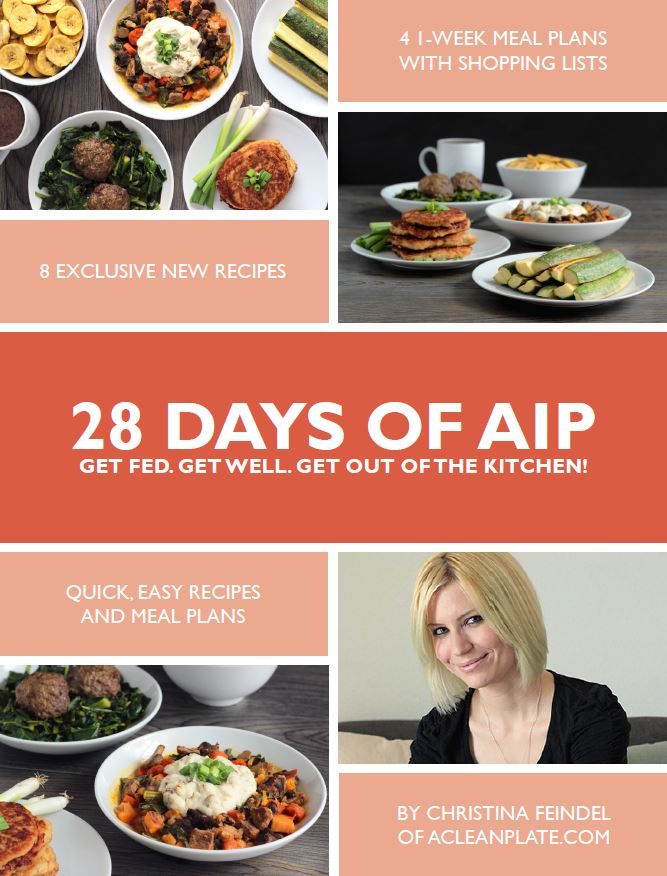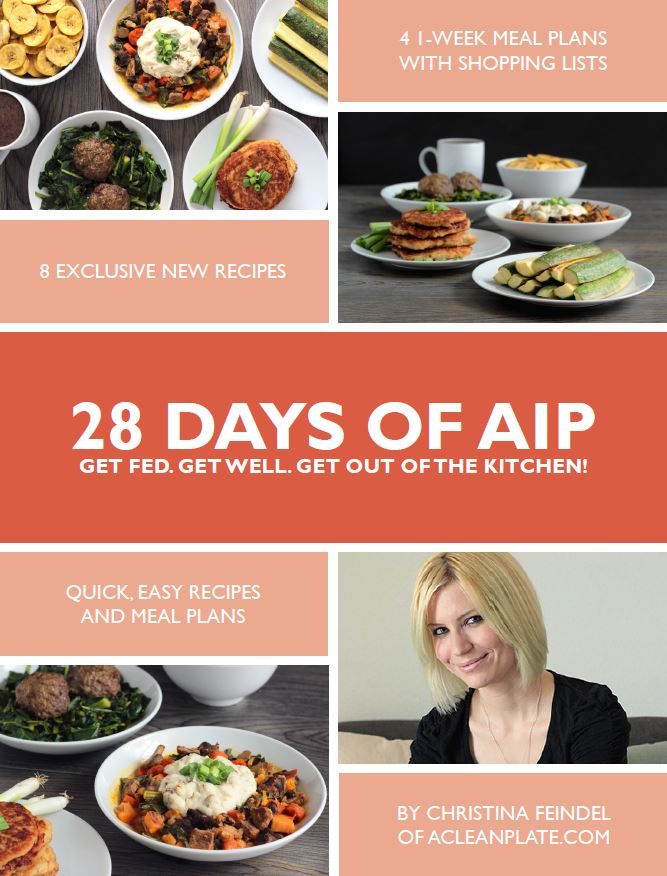 "Organizing is what you do before you do something, so that when you do it, it is not all mixed up."
~ A.A. Milne aka Winnie the Pooh
---
Taking What's Hard and Making it Easy
Let's face it – the paleo autoimmune protocol is hard to do. It's a huge change to the way you're used to eating, and many favorite foods are off the table. When first considering this diet, most of us ask, "What on earth can I eat?" It's important to find an answer to that question, because otherwise, we wind up hungry, unprepared, and reaching for foods we shouldn't.
The key to succeeding on the AIP (and with almost anything really) is to have a clear plan. The challenge is that many autoimmune diseases come with brain fog, which makes planning very difficult.
This is where this meal plan is a lifesaver. Christina Feindel, author of the blog A Clean Plate, has done all of the planning for you with her e-book 28 Days of AIP. As someone who followed the AIP herself for over a year, she's very familiar with the protocol. She's also Sarah Ballantyne's assistant, making her an AIP expert professionally, as well.
Why Do I love It?
Organizational Genius: Even without brain fog, meal plans are hard to do well. They are a total brain squeeze, and cookbook authors say they are the worst part of writing a book. Christina did an amazing job.
4 Weeks of Nutrient-Dense Plans: She has written four weeks of meal plans that take into account all of the recommendations of the Paleo Approach, which means they include healing foods like bone broth, fermented foods, seafood, organ meats, and a wide variety of vegetables.
Creative Comfort Food: At the same time, she's included some wonderful comfort food: spiced chicken wings, sausage and apple stir-fry, beef fajitas, spaghetti and nomato sauce, hawaiian burgers, and sweet potato fries, to name just a few.
Desserts: While she doesn't include desserts in the plans themselves, she has 5 dessert recipes at the end of the book, for those special occasions when we want a treat. AIP "Chocolate" Cake, anyone?
Saving Time in the Kitchen: She knows you don't want to spend all your time in the kitchen. So, she incorporates batch cooking, simple meals, and leftovers into the meal plan. Almost all of the lunches are comprised of leftovers, which I think is a great choice. Batch cooking is scheduled for the first day of each week; while traditionally this would be Sunday, feel free to start "your week" with whichever day you have the most time to cook. She's also incorporated visual cues in the meal plan itself: underlined recipes need to be cooked; regular text indicates leftovers.
Weekly Grocery Lists: For each week's meal plan, she's compiled a complete grocery list. Just print it off and take it with you to the store.
Serves 2 People: If you're single, you can cut this meal plan in half, or simply freeze the extra portions, saving you time in the future. If you have a family, double (or triple) as necessary.
Important: Pre-Stocking your Pantry and Freezer
Each week's grocery list includes a freezer and pantry section. Review these before you start this meal plan. They're items that you're expected to keep stocked in your house. Some might need to be ordered online. Others (like bone broth and sauerkraut) will need to be made in advance. She provides links to the recipes, but their cooking time isn't incorporated into the meal plan.
Update: More AIP Meal Plans
After the success of her original meal plan, Christina continued to create many more! Click the images below for details, or you can find them all on her website.
---
Are you new to the Paleo Autoimmune Protocol?
Check out my series of articles and podcasts.
---
Update: A giveaway was held to celebrate the publication of this meal plan, and the winner was chosen with a random number generator. Congratulations to Carolyn! If you didn't win, don't despair. The meal plan is just $9.99 and worth every penny. You can purchase a copy here.