This post may contain affiliate links.
Click here
to see what that means.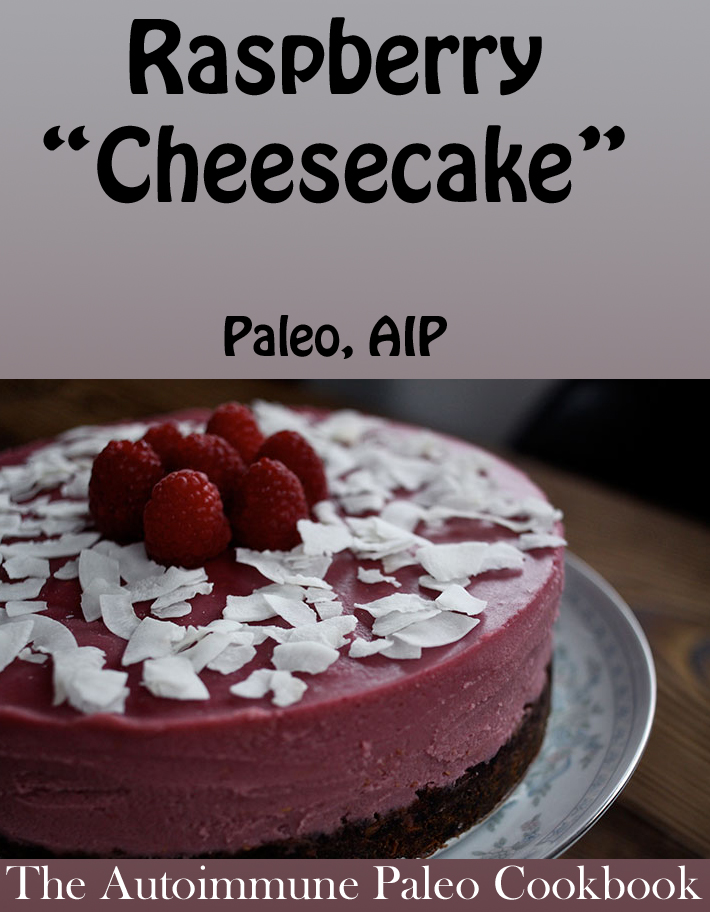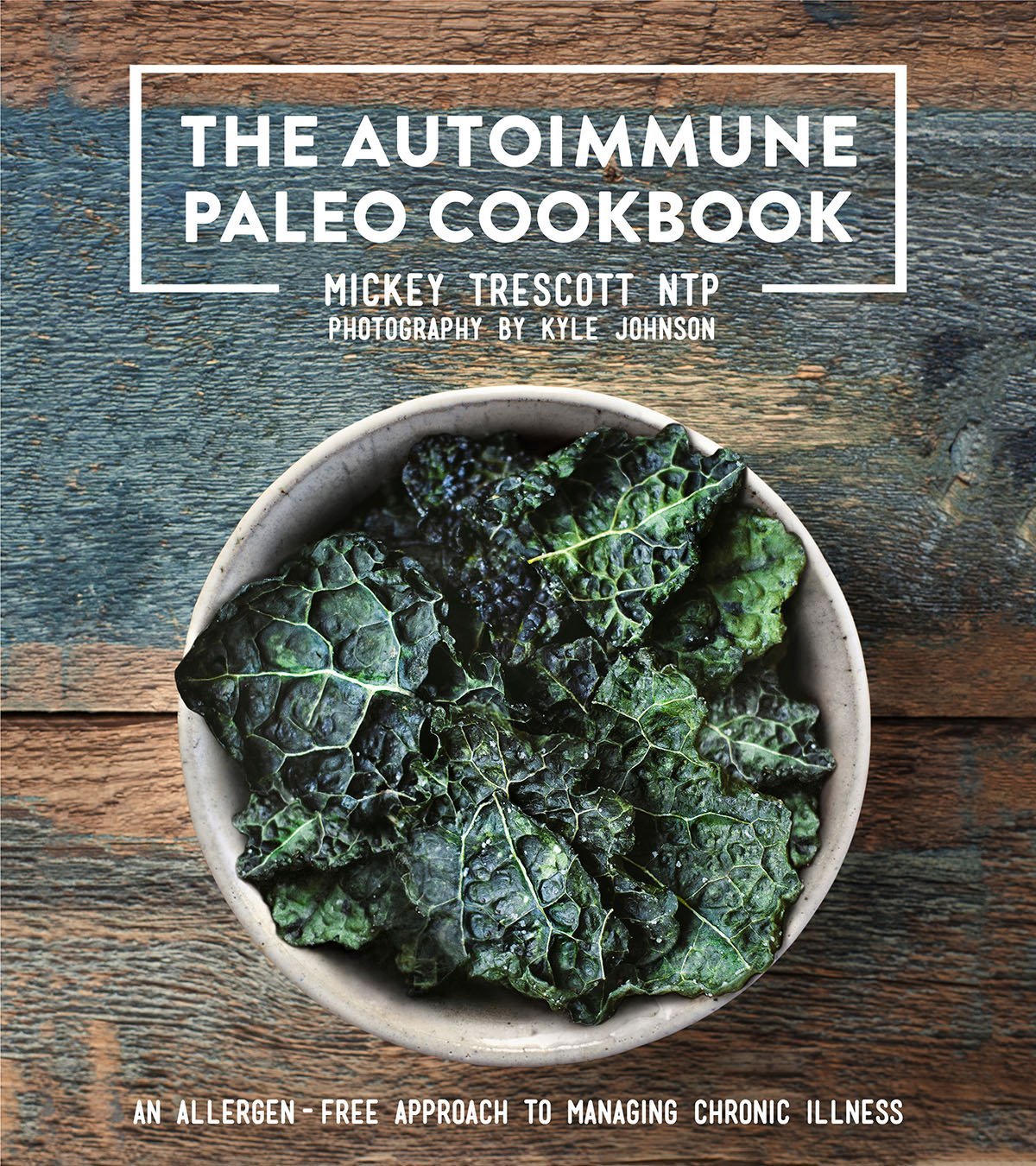 "Nothing would be more tiresome than eating and drinking if God had not made them a pleasure as well as a necessity."
~ Voltaire
---
Introduction to Mickey and Her Books
Mickey Trescott is a personal chef with celiac and Hashimoto's. She healed herself through the Paleo Autoimmune Protocol and was the first to create a cookbook, to help others do the same. First came her ebook (you can read my review here). Now, that amazing resource has been updated and printed in hardcover. These are NOT recipes that leave you feeling deprived. They are simple, delicious, and will please anyone, whether they are on the autoimmune protocol or not.
What's The Difference Between the Ebook and the Hardcover?
I love both versions of this book. The ebook is portable, which means you can bring it with you on vacations to visit friends or family, and have all the recipes you need to maintain your health away from home. The hardcover is beautiful enough to be a coffee table book, and especially nice for anyone who likes to hold their books in their hands and physically turn the pages.
The ebook was published in 2013. The hardcover was published in 2014. Both books include over 100 recipes, covering every category from appetizers to desserts. Both include shopping lists and meal plans, making the autoimmune protocol much easier to follow. I've made a number of recipes from the ebook over the past year, and never been disappointed. Mickey even has a recipe for Beef Bacon Liver Pate that got me to like beef liver (a task I would have thought impossible)! The hardcover book has 10 new recipes which aren't included in the ebook version: Nomato Sauce, "Spaghetti" and Meatballs, Salmon Chowder, Curried Chicken and Vegetable Soup, Cornish Hens, Orange-Rosemary Duck, Lamb Patties, Apple-Cranberry Crumble and Pear-Caramel Pie. It also has a new section on choosing nutrient-dense foods, and reintroducing foods after the elimination period of the AIP.
International Translations
This book is now available in Spanish, German, and an English Metric version!
Video Preview of the Hardcover Version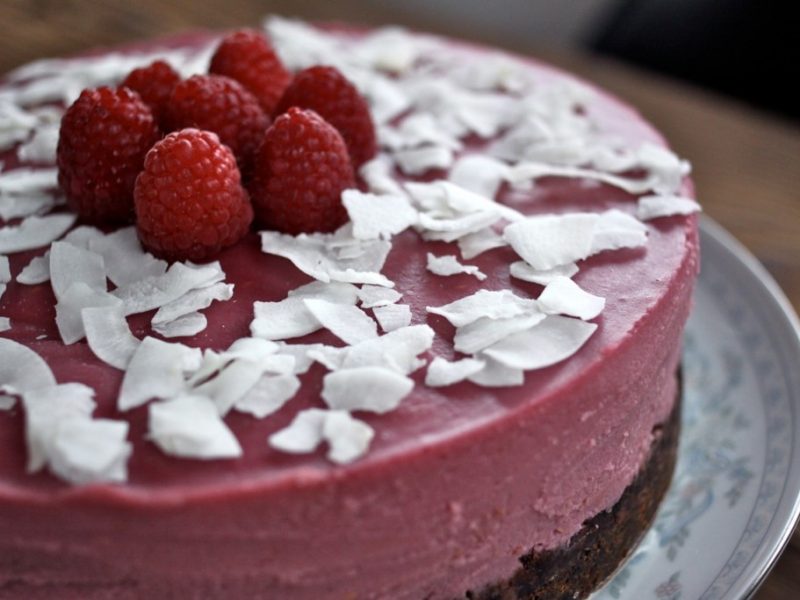 In my review of the ebook, I shared Mickey's recipe for Coconut Crusted Cod with Mango Salsa. If you haven't tried it yet, it's delicious! Today, I'm sharing one of Mickey's famous desserts.
Print
Raspberry "Cheesecake" (Paleo, AIP)
Author:
Prep Time:

15 minutes

Cook Time:

30 minutes

Total Time:

12 hours 45 minutes

Yield:

12 servings

Category:

Treats

Method:

Oven
Crust Ingredients
Filling ingredients
Garnish
Instructions
Place the jars of coconut oil, coconut butter and raw honey in a pan with very hot water in order to let them soften.

Prepare the Crust: Preheat your oven to 325 degrees. Strain the dates and place in

a food processor

or

high-powered blender

with the 1 cup melted coconut oil. Blend for 30 seconds or so until a chunky paste forms. Be warned you may have to stop and scrape the sides if you are using a blender, and the oil will not completely mix with the dates, but the crust will still turn out fine. Combine the coconut flour, shredded coconut and salt in a bowl. Add the date paste and mix thoroughly. Place the mixture into the bottom of an 8″ spring-form pan, pressing the mixture down evenly. Use a small spatula to clean up the top edge around the sides of the pan, where the filling will meet the crust. Bake for 30-35 minutes, until the crust browns and hardens a little bit. The texture will still be soft until it finishes cooling. Set aside while you make the filling.

Make the Filling: Combine the raw honey, coconut butter, coconut oil, and frozen raspberries in a saucepan on low heat. Stir until the raspberries are no longer frozen and the mixture is warm, about 5 minutes. Transfer to a blender and add the tapioca starch, vanilla, and salt. Blend on high for about a minute, until completely mixed. Pour carefully into the spring-form pan on top of the crust.

Set in the refrigerator undisturbed for at least 12 hours to allow the cake to cool and completely harden. When it is solid, carefully remove the spring-form pan. Decorate the top of the cake with thick flake coconut chips and fresh raspberries.
Keywords: paleo, aip, raspberry "cheesecake"
More Delicious Recipes & Resources