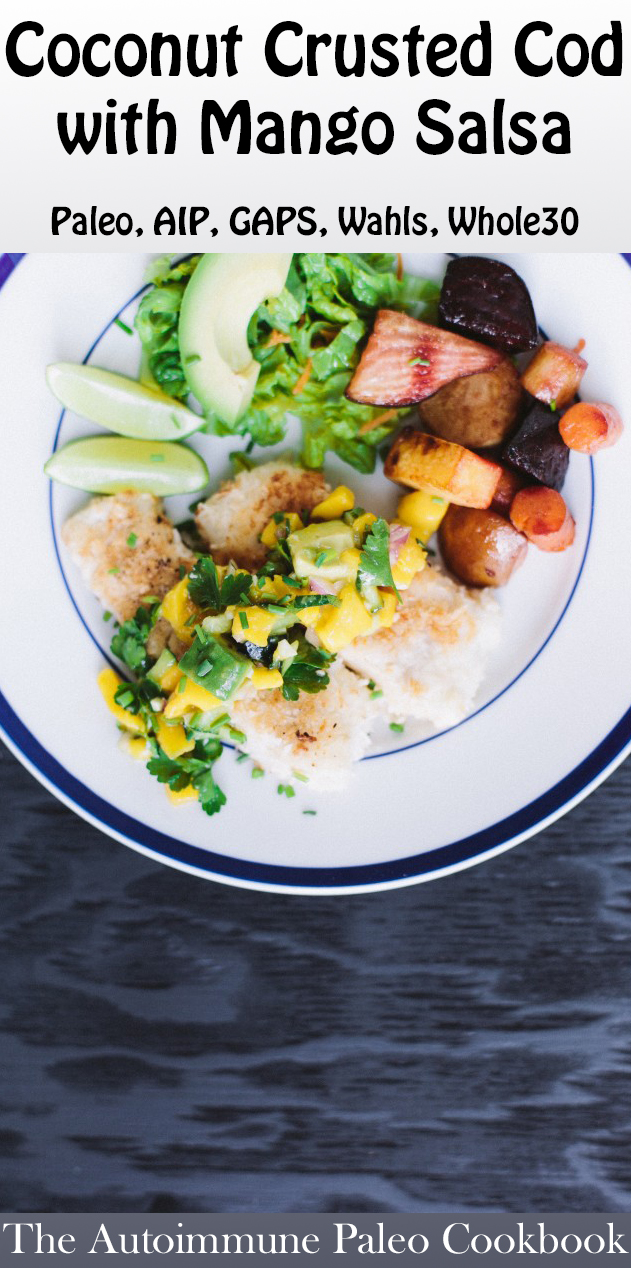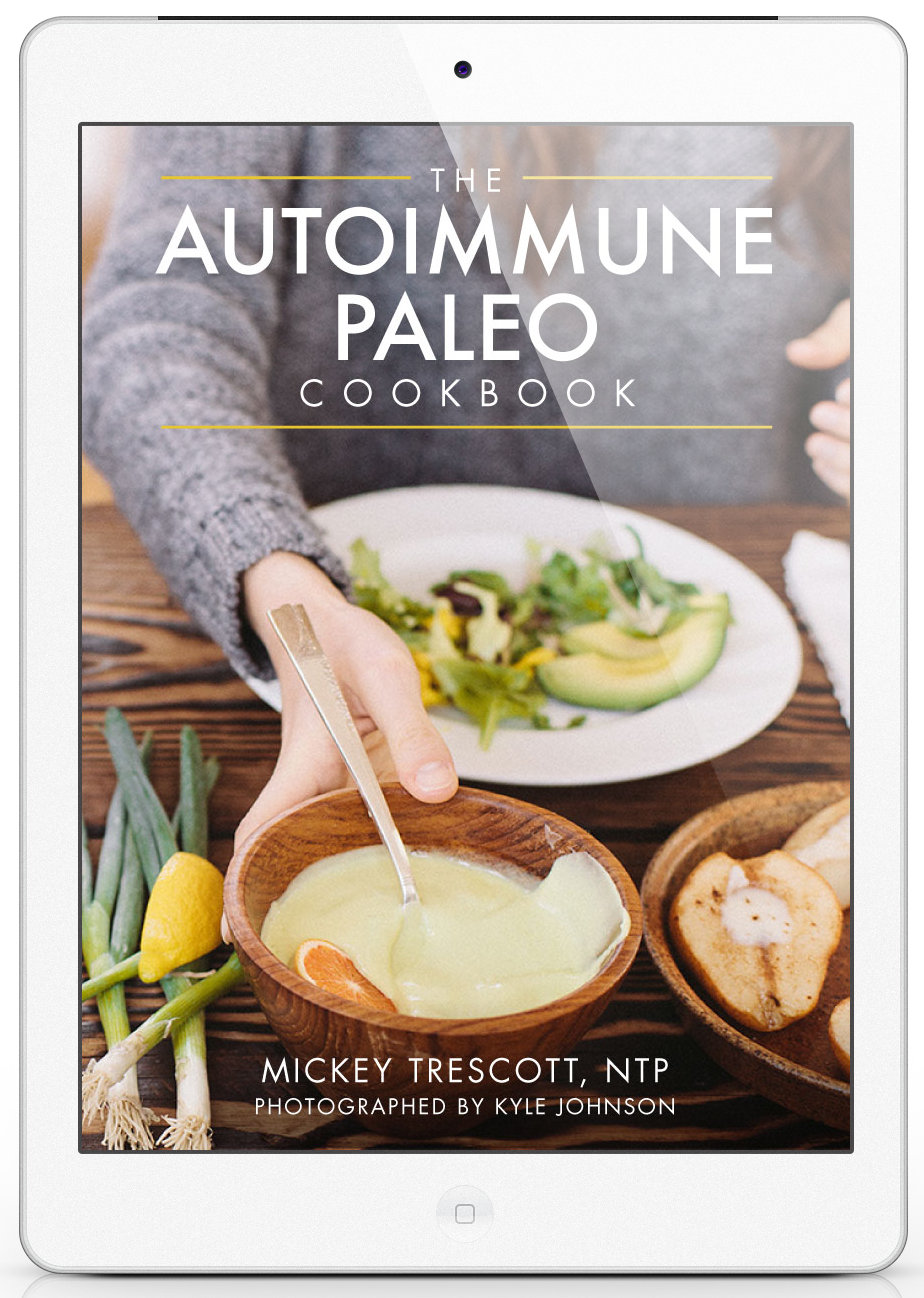 "When the student is ready, the teacher will appear."
~ Anonymous
---
Book Review
Update: This cookbook is now also available in hardcover.
If you have autoimmune disease and follow the paleo blogs, you've no doubt heard of Mickey Trescott's cookbook. If you haven't, listen up, because this is a book you don't want to miss. Today, I'm sharing Mickey's story, a detailed review of the book, a delicious recipe for Coconut Crusted Cod with Mango Salsa, and a chance to win a free copy for yourself.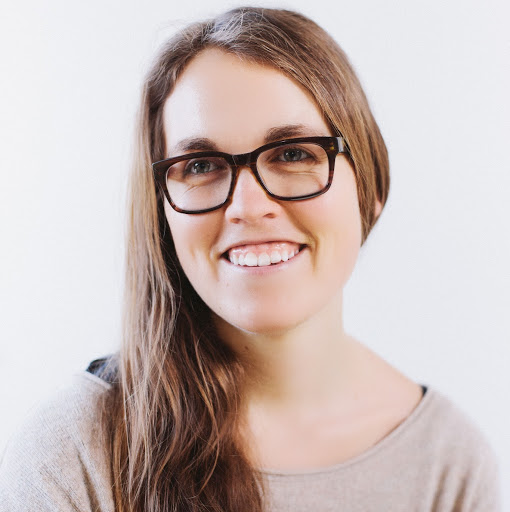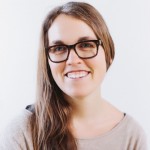 First, a little about Mickey. She co-writes the blog, Autoimmune Wellness, and she couldn't be more qualified. She's a personal chef (which shows in her recipes), and she has autoimmune disease herself (celiac and Hashimoto's), so she understands the autoimmune experience intimately. She's also a nutritional therapist and knows that healing isn't just about which foods to avoid, but also the nutrient-dense foods and healthy fats we need to heal, so you'll find those heavily featured in her cookbook as well. After being vegan for a decade with deteriorating health, it was the Paleo Autoimmune Protocol that turned her health around and became the inspiration behind the cookbook. Healing is as much about lifestyle as diet, and if we live a high-stress life, our bodies pay. While she was writing this cookbook, Mickey took a sabbatical from her blog, because the increased work was causing her health to suffer. I can't tell you how rare that is; routinely bloggers sacrifice their health in their efforts to become authors, which is such a sad irony. Mickey protected her health, while creating a resource which can help the rest of us heal. She's an excellent role model.
Now, let me give you the deets on the book itself. There are 112 recipes, divided into the following categories: Skills & Staples, Appetizers, Beverages, Dressings & Sauces, Salads, Soups, Vegetables, Chicken, Seafood, Beef & Lamb, and Desserts. If you're new to home cooking, you'll be happy to know that Mickey includes many of the basics in her cookbook, such as homemade coconut milk, roasted root vegetables, cauliflower rice, kale chips, bone broth, roast chicken, pot roast, and many other simple recipes that beginners can master. If you're an experienced cook looking for some fresh ideas, here are just a few titles to get your mouth watering: Seared Ahi Tuna Salad with Orange-Avocado Dressing, Cranberry-Braised Short Ribs, Bacon Beef Liver Paté, Moroccan Lamb Stew, and Blueberry-Lemon "Cheesecake."
In addition to recipes, the cookbook includes 2 months of meal plans, with accompanying shopping lists. She takes the intimidation out of starting the autoimmune protocol, by doing the planning for you. Even better, the meal plans make good use of leftovers, so you won't be spending all of your time in the kitchen.
Now, let's talk format. This is an ebook that you download as a PDF. The hyperlinks within the text allow you to flip quickly between connected content. You can also use the search feature to find recipes that feature favorite ingredients, or quickly locate a needed reference page. It also has beautiful photography for about 1/3 of the recipes, the other recipes being simply text. If you're a cook who prefers hardcopy cookbooks, you'll be happy to know that a print version is planned for 2014.
Do I have any critiques of the book? Honestly, just one. Mickey has included two references lists of foods allowed on the autoimmune protocol and foods that are restricted. At first glance, this seems like a great idea, but the problem is that they aren't complete. It's human nature to look for loopholes, and I've seen people post to Mickey's facebook page, saying, "Oooh. Cashews aren't on the list of forbidden nuts. Does that mean I can eat them?" Answer: No. All nuts are forbidden on the autoimmune protocol. Another person asked, "OK, if I can't have chicken, duck or goose eggs, what eggs can I have? Quail?" Answer: None. Eggs aren't allowed on the autoimmune protocol. There are accidental omissions in each category. So, while I believe she created these lists in an effort to be helpful, I think they actually cause confusion. My advice? Trust the category headings, and don't look for loopholes.
Print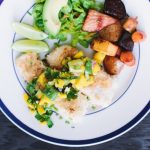 Coconut Crusted Cod with Mango Salsa (Paleo, AIP, GAPS, Wahls, Whole30)
---
Author:

Total Time:

35 minutes

Yield:

4-6 servings
Salsa Ingredients
1

large mango, peeled and diced

1

avocado, cubed

1/2

small red onion, diced

1

cucumber, diced

1

bunch cilantro, chopped

2

cloves garlic, minced

1/2 teaspoon

sea salt

1 tablespoon

olive oil

1

lime,

juiced
Fish Ingredients
---
Instructions
First prepare the mango salsa and set aside.

Wash, dry, and debone the cod fillets.

Combine the coconut flour, ginger powder and salt on a plate or shallow bowl. Place the coconut milk in another shallow bowl, as well as the shredded coconut. Dip the cod strips into the coconut milk, then the coconut flour mixture, back into the coconut milk, and finally into the shredded coconut, paying special attention to creating a thick breading.

Heat the coconut oil in a large skillet on medium-high heat. When it is hot, cook the cod strips for five minutes a side depending on thickness of the fish, or until the top and bottom are nice and browned and the fish is cooked throughout. Once the cod strips are in the pan, try not to fuss with them too much – because there is no egg in the breading, they are a little delicate.

Serve with mango salsa.
Notes
The mango salsa is absolutely delicious and can be used in any number of recipes: as a topping for meats, salads and grain-free wraps, as well as a dip for grain-free chips and crackers.
Prep Time:

25 minutes

Cook Time:

10 minutes

Category:

Main Courses

Method:

Stovetop
Keywords: paleo, aip, gaps, wahls, whole30, coconut crusted cod with mango salsa
More Delicious Recipes & Resources
Update: A giveaway was held to celebrate the publication of this book, and the winner was chosen with a random number generator. Congratulations to Barb H! If you didn't win, don't despair. The book is reasonably priced and worth every penny. You can purchase an ebook copy here. As of 3/25/14, the cookbook is also available in hardcover, which you can buy here.