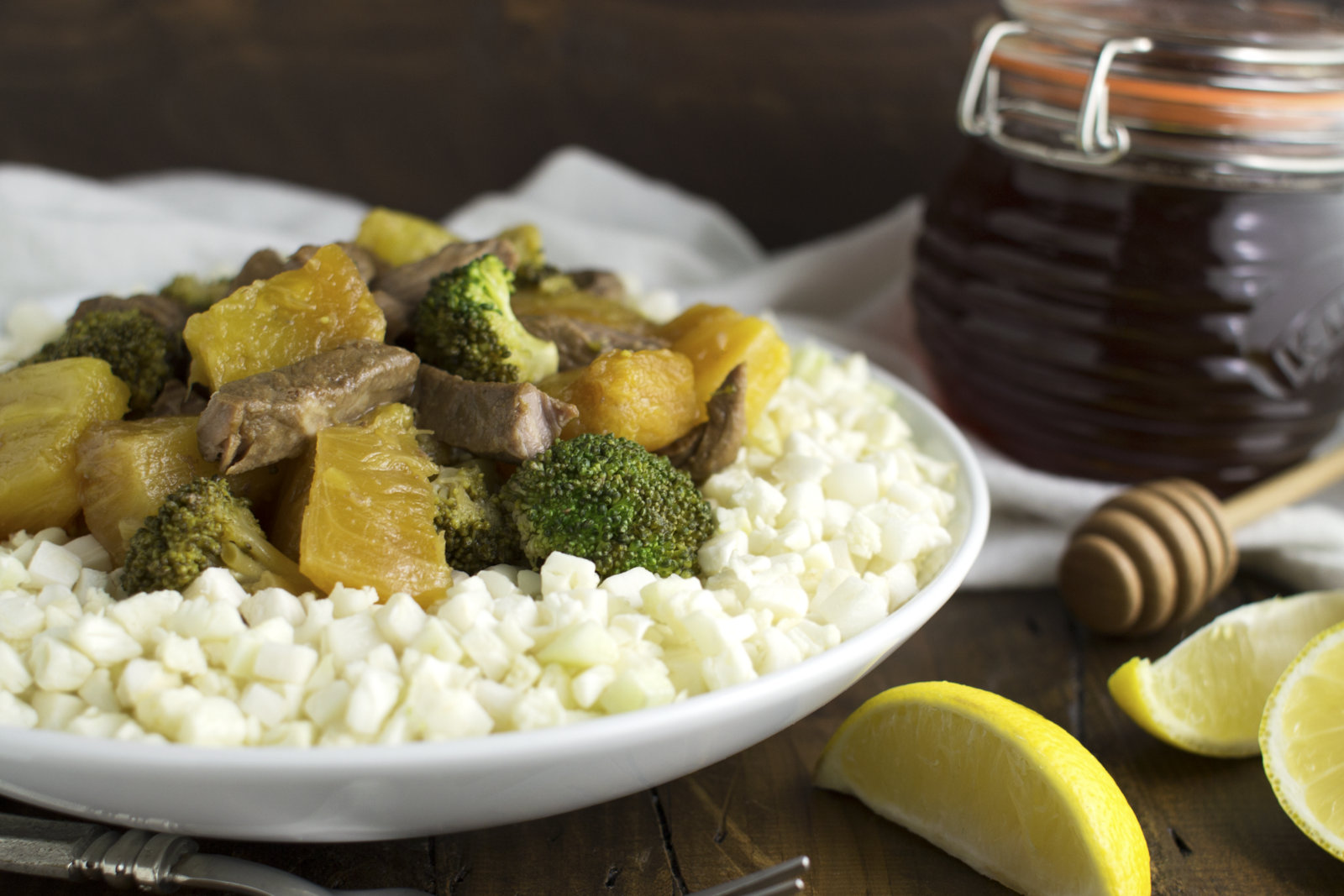 "The world is full of magic things, patiently waiting for our senses to grow sharper."
~ W.B. Yeats
---
Do You Believe in Magic?
Two weeks ago, I featured a recipe called Mackerel in Magic Sauce, because the sauce was so delicious, it transformed the fish. But the true test of a magic sauce is if it does the same for many different recipes. So, I put this one to the test on a beef, broccoli and pineapple stir fry. Result? Again, one of the most delicious things I've ever eaten. Magic Sauce is well-named! If you use it in other recipes, please let me know. What should I try it on next?
The Power of Sulfur
Dr. Terry Wahls recommends we eat 3 cups sulfur-rich vegetables daily, and this meal has you covered with broccoli, cauliflower and garlic all falling into this category. Why are these vegetables so important? Sulfur is involved in hundreds of biological processes in our bodies and is particularly important in supporting our natural detoxification pathways. In the past century, over 80,000 new chemicals have been released into the environment and no matter how careful we are, we can't avoid them all. We are all toxic to some degree, and thankfully our body is set up to detoxify daily. The problem is that those systems were never intended to process the amount of toxins we are faced with today. There's medicine in our groundwater, pollutants in the air, and plastic in our bloodstream. I know that sounds scary, but there are also sulfur-rich vegetables available to eat, and they really are medicinal foods. They boost our bodies' ability to detoxify more toxins, more efficiently.

Print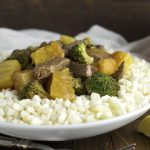 Stir Fry with Magic Sauce Over Cauliflower "Rice" (Paleo, AIP, GAPS, Wahls)
---
Author:

Total Time:

50 minutes

Yield:

4 servings
Magic Sauce Ingredients
Cauliflower "Rice" Ingredients
Stir Fry Ingredients
3 Tbsp

.

coconut oil

(divided)

1

lb.

beef

(either sirloin tips or your favorite steak cut into bite-size pieces)

1

large bunch broccoli (cut into florets)

1/4

cup

water

2 cups

pineapple chunks
---
Instructions
This recipe moves quickly, so prep. all of your ingredients in advance.

Magic Sauce: Put the magic sauce ingredients in a medium saucepan and bring to boil. Reduce heat & simmer 10 minutes uncovered, then turn off heat. Use slotted spoon to remove garlic & ginger. Cover pan to keep warm.

Cauli-Rice: Cut cauliflower into small chunks and pulse in food processor until it reaches rice consistency. Set aside. Melt coconut oil in large skillet over medium heat. Add cauliflower rice and sprinkle with sea salt. Cook 3 minutes. Use spatula to turn over, sprinkle with more sea salt, and cook another 3 minutes. Remove from heat and cover to keep warm.

Stir Fry: Melt 1 tablespoon coconut oil in large skillet over medium-high heat. Fry beef pieces for 2-3 minutes, until both sides are browned & meat is cooked. Transfer beef to the pan with the magic sauce & melt another tablespoon coconut oil in skillet. Add broccoli. Toss to coat evenly with oil and cook 2-3 minutes. Add ¼ cup water and cover pan, steaming broccoli to desired level of tenderness (2-5 minutes more). Transfer broccoli to pan with magic sauce & beef. Melt final tablespoon coconut oil in skillet & add pineapple. Fry 1 minute each side until browned, and then transfer to magic saucepan.

Use a large spoon to stir everything in the saucepan, until all is coated evenly with the magic sauce.

Serve stir fry and magic sauce over the cauliflower "rice".
Notes
The cauliflower stem is edible and nutritious, too! Include it when making your cauliflower-rice.

Time Saving Tip:

Many stores sell pre-chopped cauliflower rice in the frozen food aisle. 1/2 large head cauliflower is equivalent to about 3 cups of cauliflower rice.
Prep Time:

20 minutes

Cook Time:

30 minutes

Category:

Main Courses

Method:

Stovetop
Keywords: paleo, aip, gaps, wahls, stir fry with magic sauce over cauliflower "rice"
You May Also Be Interested In
Credit: recipe photograph taken by Christina Feindel