This post may contain affiliate links. Click here to see what that means.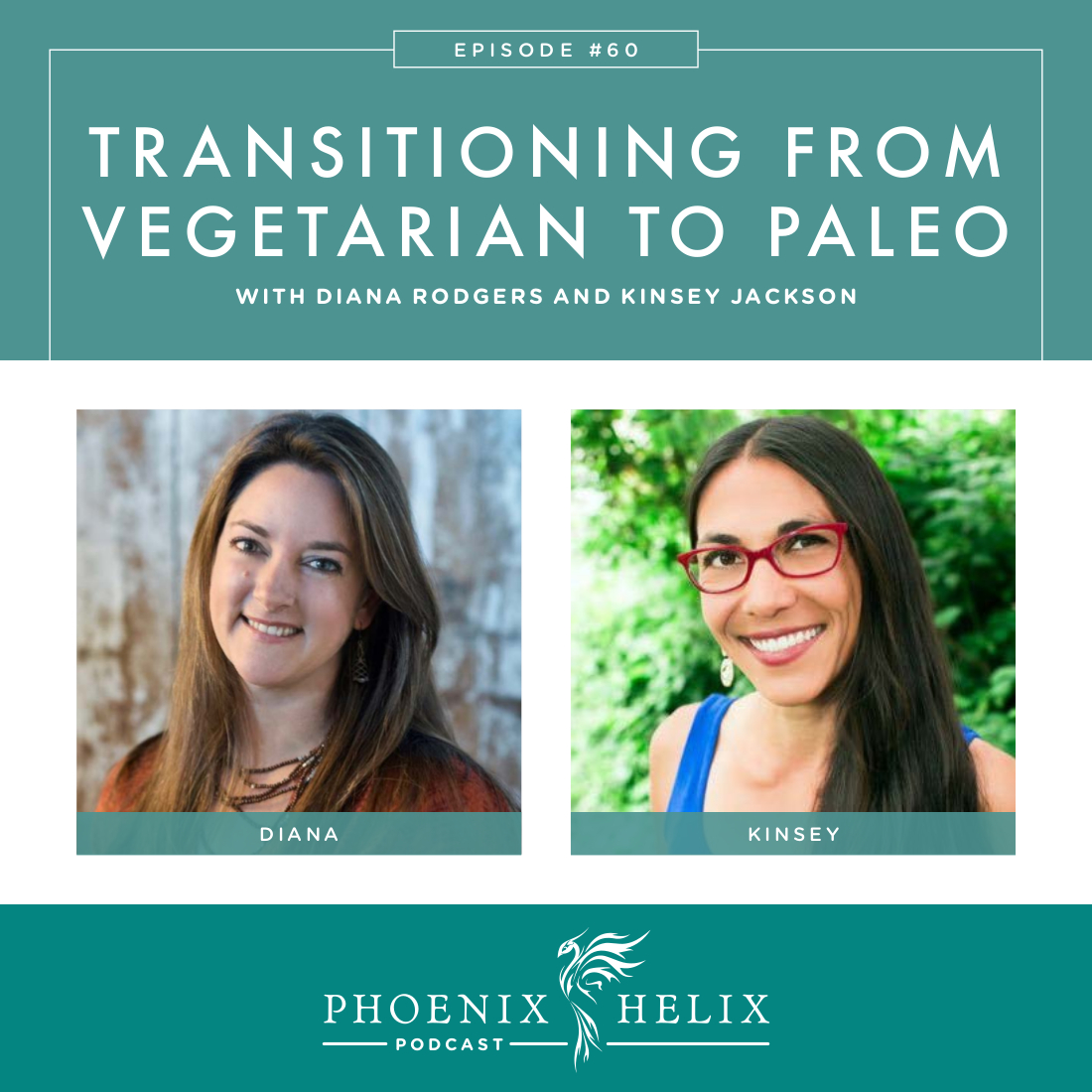 Ethics, Nutrition and Navigating Change

Many people come to the paleo community after years of veganism or vegetarianism. The reason is usually a health crisis, which can be shocking after eating a diet you thought was healthy for years. Some people embrace meat again without difficulty, but others struggle with ethical concerns, taste and texture issues, and even a loss of identity. In today's podcast, I interview Registered Dietitian Diana Rodgers on the nutritional difference between these diets, and how to be an Ethical Omnivore. I also interview nutritionist Kinsey Jackson on her personal journey transitioning from vegetarian to paleo. It was a difficult change for her, but led to dramatic improvements in her autoimmune health.
Listen to the Show
There are three ways to listen:
You can subscribe to my podcast through iTunes.
You can listen through Stitcher.
You can also listen to the episode right here through the play bar at the bottom of this post. If you subscribe to my blog by email, you'll got notified of future episodes.
Show Notes
Intro (0:00)
Thank You to Our Podcast Sponsor – Paleo on the Go (1:46)
Meet Diana (3:02)
History of Vilifying Meat (8:50)

Kellogg's Corn Flakes were invented to try to get people to eat less meat, because Kellogg felt that meat increased people's sexual desire and that sex was unhealthy for mind, body and soul. Crazy, but true! This association of vegetarianism with purity and health continues as a cultural belief. However, it's not grounded in science.

Nutritional Difference Vegan, Vegetarian and Paleo (10:32)

Ideally, vegetables are an important component of all three diets, because they contain phytonutrients that can't be found elsewhere. That's why they're the foundation of the AIP food pyramid.
However, meat and seafood are also necessary for health. They are the most nutrient-dense proteins (providing the most protein per calorie and per gram). They also contain all of the amino acids our body needs to thrive, in a form our bodies can easily digest. And most people aren't eating enough protein.
Iron deficiency is the #1 nutrient deficiency worldwide, and heme iron from red meat is the most bioavailable form. Iron from plant sources needs to be converted by the body and much is lost in conversion.
B12 is a common deficiency for people following a vegan diet, because it's a nutrient that's only found in animal products. B12 deficiency can cause numerous neurological issues and even mimic the symptoms of autoimmune disease.
Meat also contains the most bioavailable form of important fat soluble vitamins: A, K and D.
Omega 3 anti-inflammatory fatty acids are essential to health, and seafood is the best source. Plant sources of omega 3 (like flax and chia) again need to be converted to be used by the body, and 95% is lost during conversion (that's not a typo). While grass-fed meat contains some omega 3's, it's a very small amount compared to seafood.
Meat does

not

rot in your colon. This is a vegetarian myth.
Grains and legumes are the foods that are difficult to digest. They contain anti-nutrients and digestive inhibitors. This means that not only is it hard for our body to absorb their nutrition, they can actually remove nutrition from our bodies.
Soy is a common meat replacement in a vegetarian/vegan diet, but it's a phytoestrogen which can affect hormone balance, and hormones and autoimmune disease are linked. Tofu is also a highly refined food, and most soy comes from GMO crops.
Resources:

Environmental Difference Vegetarian/Vegan and Paleo (28:18)

Mono cropping of grains and soy are very destructive to the soil as well as being water and energy intensive.
Pasture-raised animals help the environment by grazing land that can't be farmed (hillsides and arid land). The animals simultaneously fertilize the soil, increasing its health and ability to sequester carbon which helps reduce global warming.
We agree that factory farmed animals harm the environment, largely by the amount of grain that needs to be grown to feed them.
Resources:

Ethics of Eating Meat (38:39)

A vegetarian diet isn't an animal-free diet. Many animals die through grain farming. Tractors kill high numbers of mice and rabbits. And other animals die through loss of habitat taken for grains.
A natural death isn't a painless death. In fact, it's usually the opposite. Farms where animals are raised in good conditions and killed humanely are kinder to the animals.
Resources:

Putting It All Together – A Sustainable Paleo Checklist (45:47)

Join a Meat and/or Seafood CSA (community supported agriculture).
Buy from small local farmers and visit their farm if possible.
Learn to cook unique cuts of meat. Eating the whole animal is the best way to honor the animal, and these cuts are often less expensive.
Terry Wahls was a vegetarian for 20 years, and she shares her advice for baby steps in adding meat back into your diet in podcast Episode 7.
Resources:

Meet Kinsey – Her Personal Transition from Vegan/Vegetarian to Paleo (51:01)

Kinsey Jackson is a nutritionist, and she has multiple autoimmune diseases, including rheumatoid arthritis, alopecia areata, and Hashimoto's disease. She was a long-term vegetarian before switching to the paleo diet, and now helps others make this transition.
Kinsey was a vegetarian (and at times vegan) for 23 years before transitioning to paleo for her health. While she believed a vegetarian diet was the healthiest diet, her health plummeted and she developed multiple autoimmune diseases. Finally, her naturopath said she would no longer work with her if she didn't switch to the paleo diet. She went vegetarian and age 8 and was 31 years old before she ate meat again.
Within a few days of going paleo, she felt more energetic and clear-minded than she ever remembered feeling in her life. He pain started to subside and she could actually see her joints decreasing in size. Her rashes disappeared and her hair began to grow back. She was also doing blood tests during this time and her inflammation markers dropped dramatically. She's now been paleo for 6 years, and she is mostly in remission.
Kinsey's vegetarian friends were hard on her when she made the switch, so joining paleo support groups was very helpful. Here are two online ones: AIP Support and The Paleo Approach Community. And here's a list of meetup groups worldwide: paleo and AIP.
It was very hard for her – both mentally and emotionally – to start eating meat again. Some people make the transition easily, but if you're struggling, here's her advice:

Harness your warrior spirit. You're doing this for your health. Kinsey's mantra was "Meat is Medicine."
If possible, have someone else shop and cook your meat for you in the beginning. Or buy pre-cooked meats from your local health food store.
It's OK to take baby steps: Start with broths. Then work up to meat pureed into soups. Then hide some ground meat in mostly vegetable dishes. Then slowly increase the amount of meat on your plate. When she was first ready to chew meat, she started with Applegate sausages because they looked like the soy sausages she was used to. Now, she loves all meat.
It can also be helpful to distract yourself when you're eating meat in the beginning. While mindful eating is best for digestion, if this transition is difficult, it's absolutely fine to watch TV while you eat, so you're not thinking about it too much.

Resources
 Outro (1:11:49)
Spreading the Word
If you like the podcast, please leave a positive review in iTunes or Stitcher. It would mean the world to me, and also helps others find the podcast and learn about their potential for healing. Instructions using your iPhone: (1) Click the purple podcast icon. (2) In the lower right corner, click the magnifying class. (3) Type Phoenix Helix in the search box. (4) Click the podcast cover in the lower left. (5) Click the center tab: Reviews. (6) Click on the phrase: Write a Review. (7) Fill out the stars, title, and text for the review itself. (8) Click Send. (9) Thank you! Positive reviews give the podcast a higher search ranking in iTunes, helping people find it and letting them know it's a quality podcast and worth their time to listen.
Listen to the Show
There are three ways to listen:
You can subscribe to my podcast through iTunes.
You can listen through Stitcher.
You can also listen to the episode right here through the play bar at the bottom of this post. If you subscribe to my blog by email, you'll got notified of future episodes.
Podcast: Play in new window | Download
Subscribe: Apple Podcasts | Android | RSS
Have you checked out my books?