This post may contain affiliate links. Click here to see what that means.
(Paleo, AIP, GAPS, Wahls, Whole30)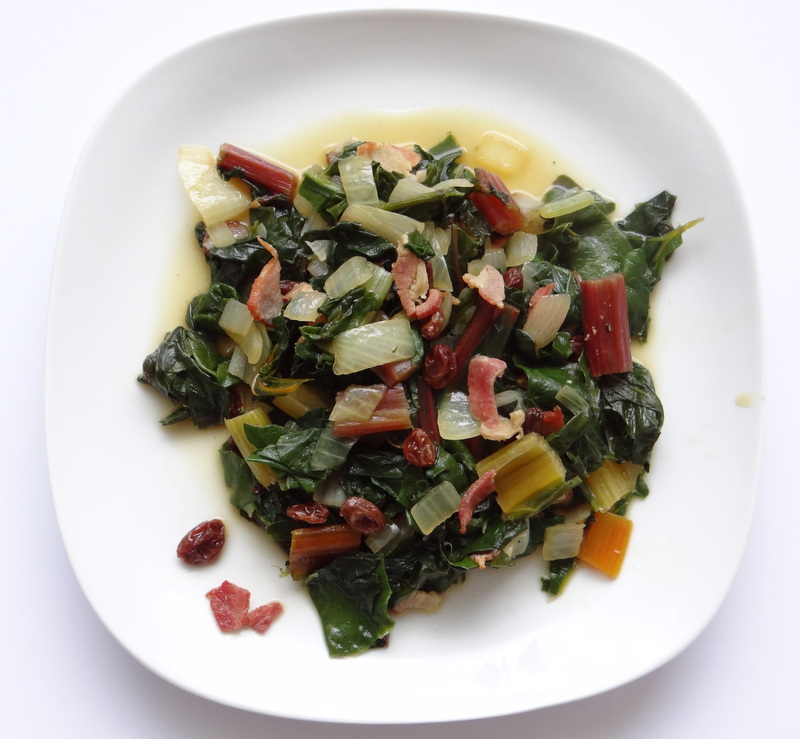 "This is a universal idea – to connect the garden with the kitchen and with the table and back to the garden again."
~ Alice Waters
Introduction
With bacon for flavor, bone broth for nutrient-density, and rainbow chard for beauty and a bounty of micronutrients, this recipe is one of my new favorites. Interestingly, most chard recipes tell you to cook only the leaves and discard the stems, but the stems are not only edible, they're full of nutrients you can't find elsewhere. If we're using food as medicine, we don't want to throw our medicine away!
Nutrition
Dr. Terry Wahls recommends we eat 3 cups of greens daily, and the more variety the better. That's because every green (and every vegetable actually) has a unique micronutrient profile that helps our bodies heal. Let's find out what gorgeous chard has to offer:
Recipe: Rainbow Chard with Bacon & Bone Broth
adapted from Rachel Ray
Ingredients
1 Tbsp. extra virgin olive oil
1 slice bacon
1 small onion
1 bunch rainbow chard
2 Tbsp. raisins
½ cup bone broth (homemade or AIP-friendly brand)
sea salt, to taste
black pepper, to taste (optional – omit for AIP)
Directions
Heat the olive oil in a large skillet over medium heat.
Cut the slice of bacon into small pieces and scatter across the bottom of the skillet.
While bacon begins to cook, peel and dice the onion. Add it to the bacon and stir to blend.
Next, prepare the rainbow chard. First, cut off the thick bottom stems and slice them like celery. Add them to the skillet and toss to blend.
Cut the chard leaves away from the remaining center stems, and throw the skinny center stems away. Rip the leaves into small pieces and rinse them through a salad spinner, if you have one. Otherwise, rinse them and pat them dry with a clean towel. Add the chopped leaves to the skillet and toss to blend.
Scatter the raisins over the top of the skillet and then add bone broth.
Cover skillet and turn heat to medium-low. Set timer for 7 minutes.
When timer goes off, stir everything in the skillet. The chard leaves will be starting to shrink at this point. Cover pan again and set timer for another 7 minutes.
When timer goes off this 2nd time, add a generous sprinkle of salt (and pepper if using). Toss to blend and taste. Add more if needed.

More Delicious Recipes & Resources
Have you checked out my books?