This post may contain affiliate links. Click here to see what that means.
(Paleo, AIP, GAPS, Wahls, Whole30)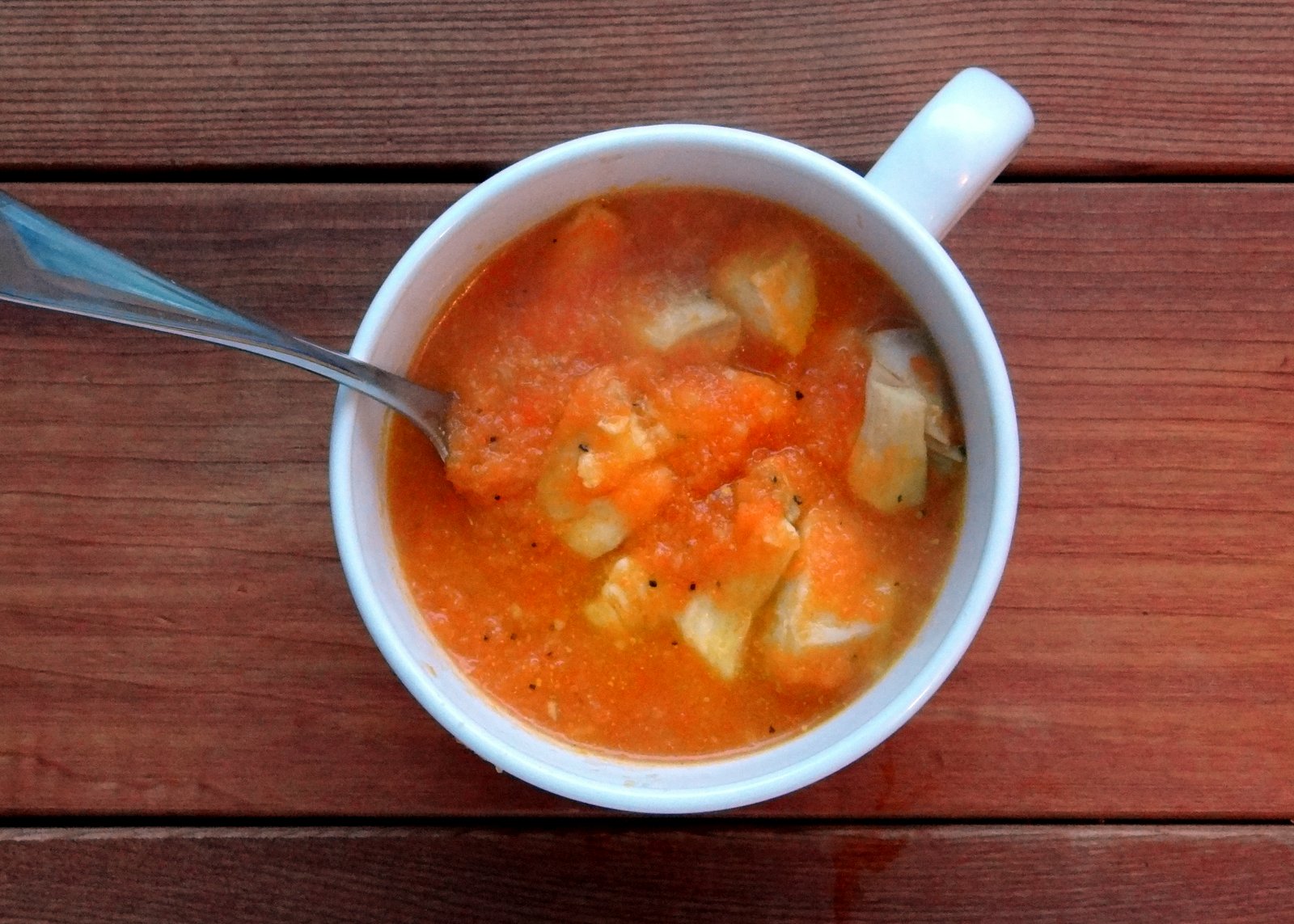 "Mixing one's wines may be a mistake, but old and new wisdom mix admirably."
~ Bertolt Brecht
An Old Favorite Recipe with a New Nutritious Twist
I love carrot ginger soup, and it's been a staple in my kitchen for years, but this is the first time I've added seafood. The old me would be horrified, having grown up despising the flavors of the sea. But I have since learned about the unique nutrition of seafood and why it's specifically recommended for autoimmune healing. With that in mind, I've been expanding my palate, and halibut is a new favorite. It's a mildly flavored fish with a great texture, that happens to go great with this flavorful soup. Added bonus: it's a fast recipe, simple enough to prepare on a weeknight. If you don't have halibut, try scallops or any mildly flavored fish as a substitute.
The Beautiful Nutrition of Halibut
Recipe
Ingredients
1 Tbsp. coconut oil
1 large onion, chopped
1 lb. carrots, peeled & sliced
1-2 Tbsp. peeled & minced fresh ginger (depending on how much heat you want)
2 cups chicken broth (homemade or AIP-friendly brand)
1 cup water
1 lb. halibut, cut into 1" chunks
1/2 tsp. black pepper (optional – omit for AIP)
sea salt, to taste
Directions
Melt coconut oil in a medium-large pot over medium heat.
Sauté onion until translucent (5-8 minutes).
Add carrots, ginger, broth and water. Bring to a boil, reduce heat and simmer covered for 20 minutes.
Use an immersion blender to puree in the pot, or transfer soup to stand-up blender to puree, then return to the pot.
Add halibut (and pepper if using). Bring to a simmer again, and cook uncovered 5 more minutes.
Add sea salt, to taste. Serve!

Concerned About Mercury, Sustainability and Seafood Fraud?
Me, too! Which is why I wrote a detailed article delving into this complex topic. It's long, but worth your time to read. However, I know you're busy, so the quick summary is this: as long as we're careful about the source of our seafood, we can ensure that it's healthy for us and the oceans. It takes effort though, and one option is to buy from a company that does the research for you. That's why I'm an affiliate for Vital Choice. They make sure everything they sell is fished sustainably from clean waters. A little fair warning: If you look around their website, you'll see it's expensive. Comparing their prices to farmed seafood (which is what's usually sold at the grocery store) is very similar to comparing CAFO meat to organic, grass-fed. If you click around the website, you'll find their best prices in their bulk packs. That's where I found the halibut pieces I used in this soup. Use the code VCAFINT for 10% off your first order.
More Delicious Recipes & Resources
Have you checked out my books?