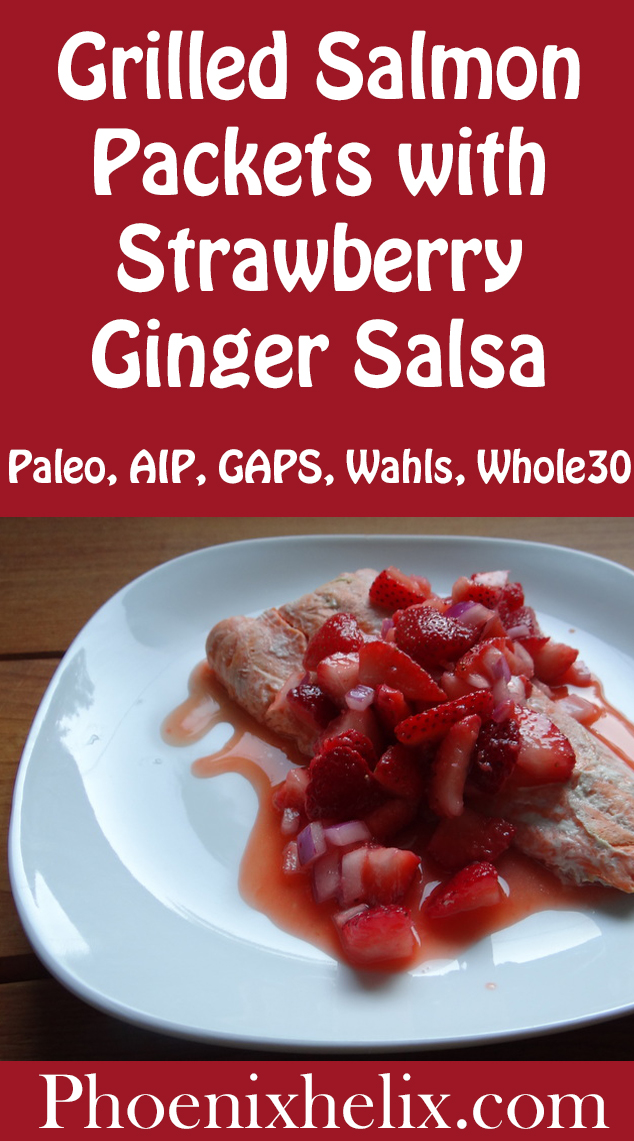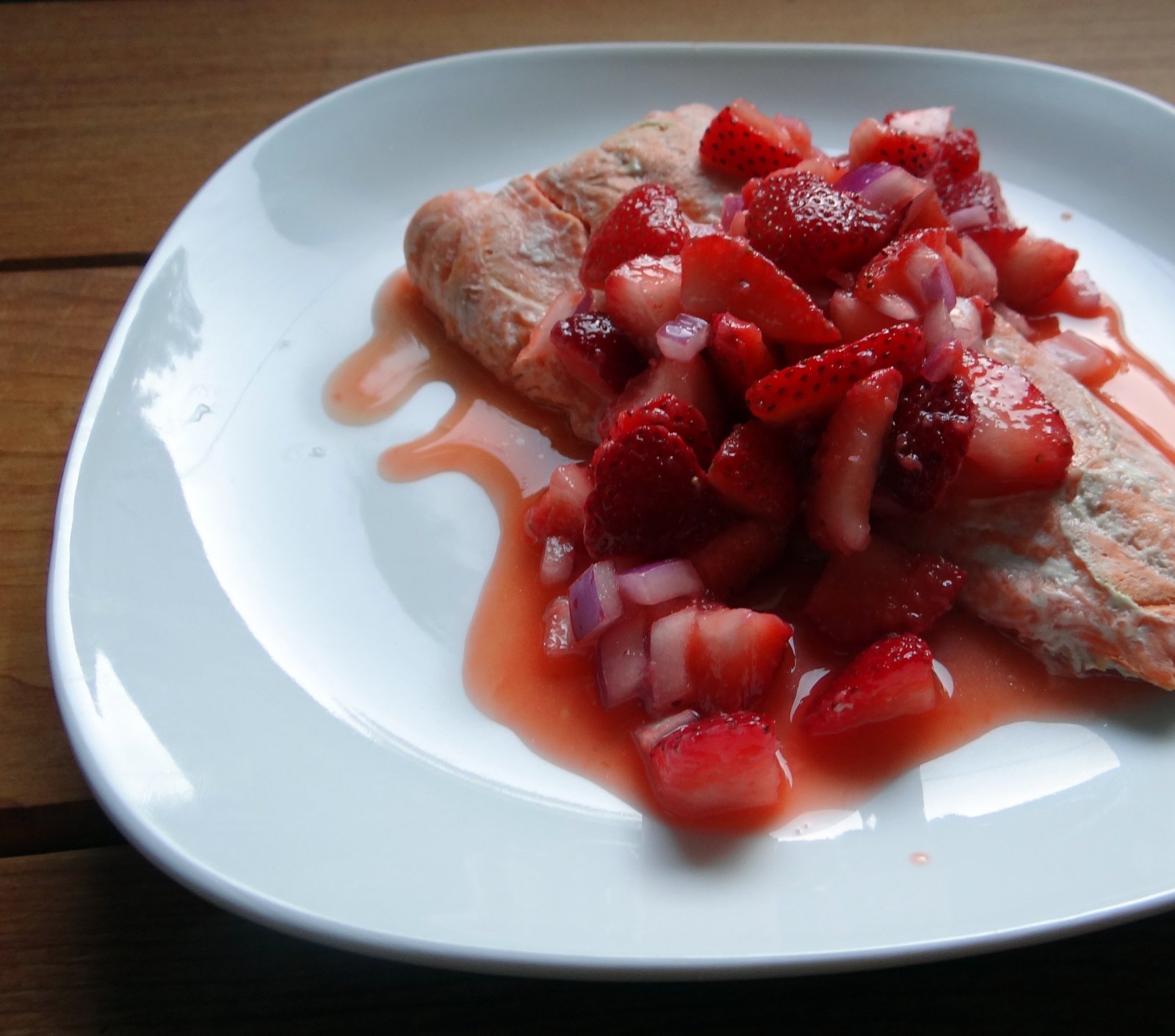 "I love the culture of grilling. It creates an atmosphere that is festive but casual."
~ Bobby Flay
---
Learning to Love Seafood
If you've followed my blog for a while, you know that I used to hate seafood. I grew up on Cape Cod and would choose PB&J's over wildcaught fish for dinner (I kid you not). Things change. Life threw me a curveball in the form of rheumatoid arthritis, I chose the path of dietary healing, and that meant opening myself up to all sorts of foods I had considered off limits in the past (organ meats, anyone?) Some people I highly respect, like Sarah Ballantyne and Terry Wahls, insist that seafood is an important part of a healing diet. Why? Because we're trying to reduce inflammation in our bodies, and seafood is full of anti-inflammatory omega 3's – 2500 mg in just one 3.5 oz. piece of salmon, in fact! Vitamin D deficiency has also been linked to autoimmune disease, and salmon provides over 100% of your daily need in that same serving. So, I've been opening my mind and mouth, and developing recipes that have slowly transformed my tastebuds. Now, I much prefer seafood to PB&J's!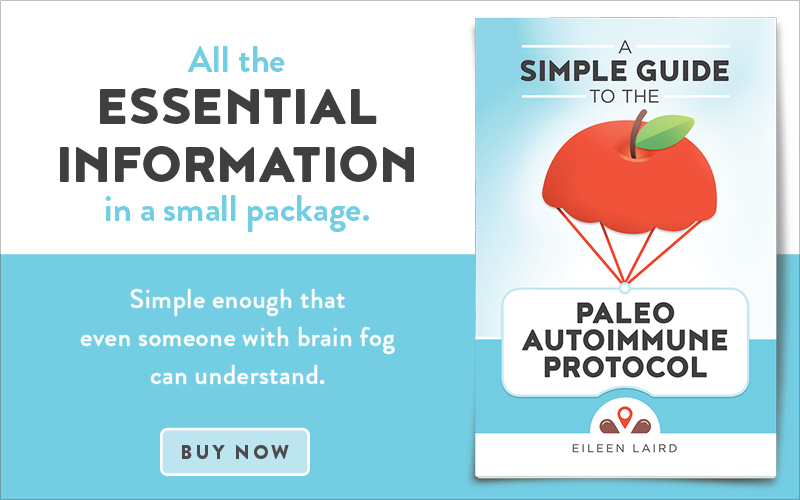 Strawberries on Salmon?
On the paleo autoimmune protocol, traditional nightshade-laden salsa is off limits. But that doesn't mean flavor is off limits. With a little creativity, you can make a fruit salsa that's delicious and even has a kick, thanks to some diced red onion and fresh grated ginger. All of those foods are medicinal as well. Strawberries are full of antioxidants (ranked 3rd among all foods), and onions and fresh ginger are anti-inflammatories themselves. Healing food never tasted so good.
The Aluminum Question
I've avoided cooking with aluminum foil, due to a vague knowledge that it's not good for me. However, cooking salmon on the grill often results in dried out fish and a messy grill. The foil packet technique is a foolproof cooking method with great flavor and no cleanup. That appealed to me, so I did further research. Aluminum is the most abundant metal on earth and is present in all soil, food and water; 95% of our aluminum intake comes from food itself, not the cooking method. Thankfully, our bodies absorb less than 1% of all of the aluminum we consume on a daily basis. The best way to protect ourselves from aluminum toxicity is support our body's natural detox pathways by eating lots of sulfur-rich vegetables, and incorporating gentle detoxifying practices into our routine. However, Alzheimer's runs in my family, so I'm extra cautious. For that reason, I added a layer of unbleached parchment paper between the salmon and the foil, eliminating any risk of the aluminum leaching into the salmon. Win-win! However, if you're tempted to try grilling with parchment paper alone, don't do that! It will catch on fire!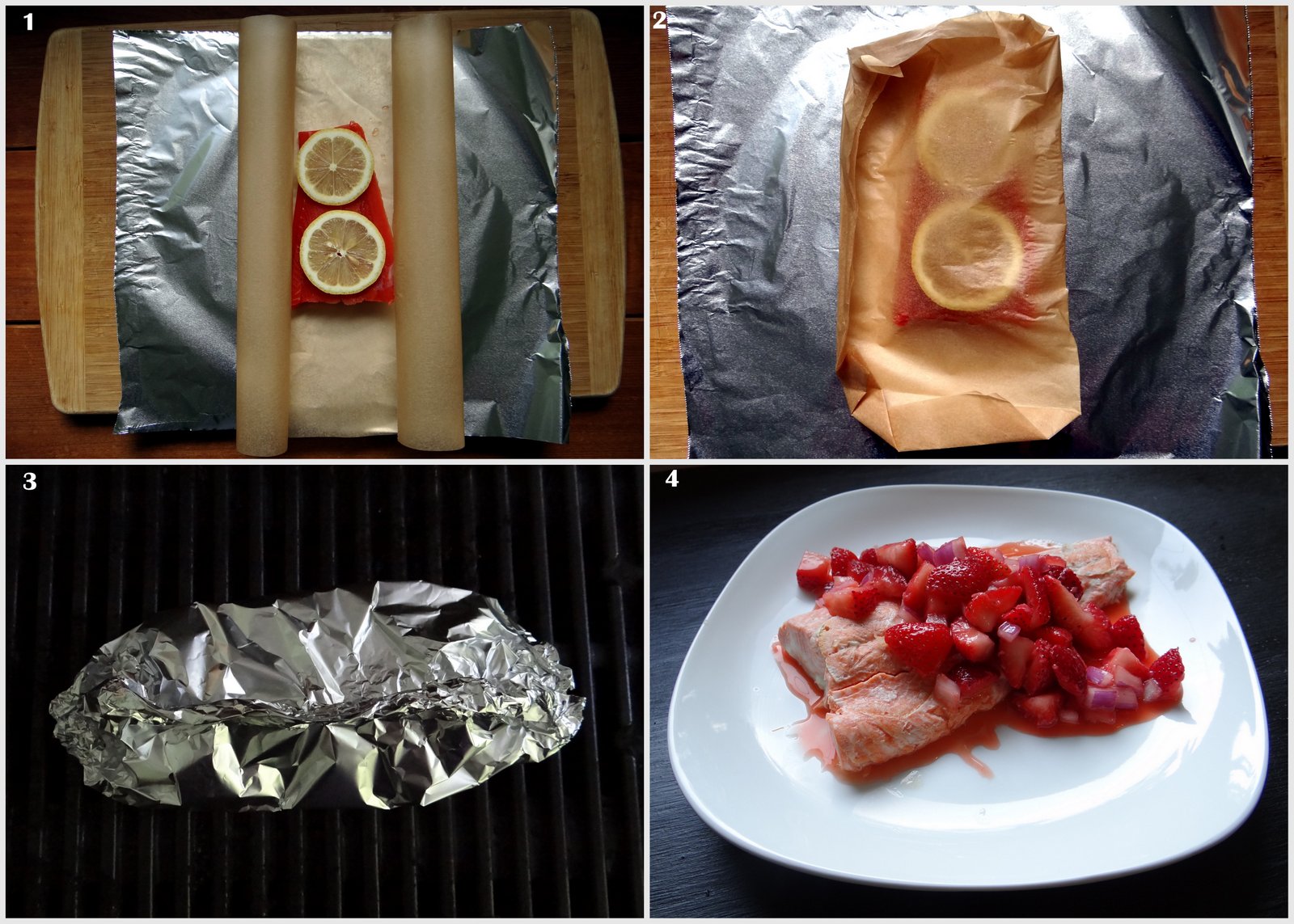 Print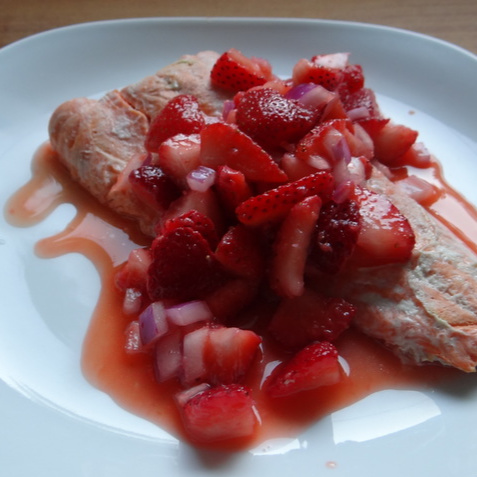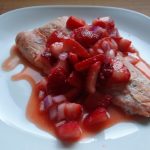 Grilled Salmon Packets with Strawberry Ginger Salsa (Paleo, AIP, GAPS, Wahls, Whole30)
---
Author:

Total Time:

35 minutes

Yield:

4 servings
Salsa Ingredients
1 1/2 cups

diced strawberries

1/4 cup

diced red onion

1 tsp

. finely grated fresh ginger (I like

this ginger grater

)

Juice from

1/2

orange
Juice from

1/2

lemon
Salmon Ingredients
1

lb.

salmon

(cut into

2

pieces)

1

lemon, thinly sliced
---
Instructions
Make the salsa first: combine strawberries, red onion, grated ginger, orange juice and lemon juice in a bowl. Stir to blend and let flavors combine as the grill preheats.

Preheat gas grill on high for 10 minutes.

Cut 2 pieces of tin foil & 2 pieces of parchment paper, large enough to make the packets. 

Place each piece of salmon, skin-side down, on separate pieces of parchment paper. Sprinkle salmon generously with sea salt and lay lemon slices on top.

Fold the parchment paper over the salmon, cinching the edges. Then, wrap the parchment packet loosely in foil and pinch the edges of the foil closed. Do the same for the second piece of salmon.

Turn grill heat down to medium and place the packets in the center of the grill. Close grill cover, and cook 15 minutes. They're done when the flesh flakes easily with a fork.

Open salmon packets carefully to let the steam escape, and discard the lemon slices. Transfer the salmon to plates and serve topped with strawberry salsa.
Notes
This salsa is versatile. Enjoy it over other meat or fish. I've also made this recipe with a side of

cauliflower rice

, and the salsa tasted delicious on top of the cauli-rice, too.
Prep Time:

20 minutes

Cook Time:

15 minutes

Category:

Main Courses

Method:

Grill
Keywords: paleo, aip, gaps, wahls, whole30, grilled salmon packets with strawberry ginger salsa
You May Also Be Interested In